Hawaii's Top 250 Companies 2019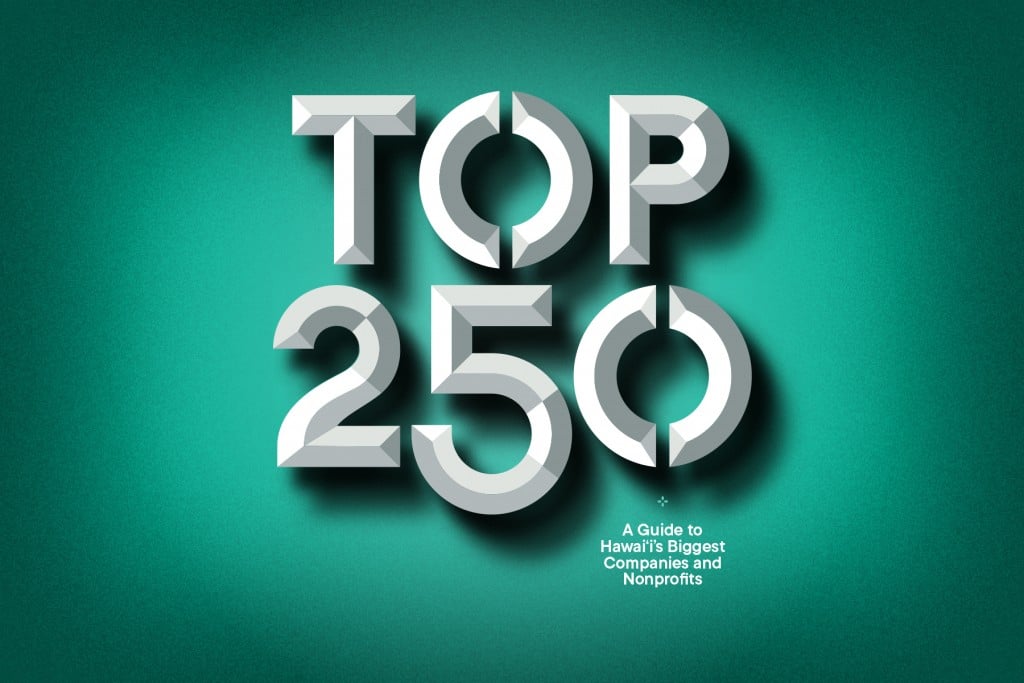 Major Changes in the Top 250
The rising price of oil and a big land sale significantly revised this year's ranking
Oil is the reason for the biggest changes this year in the Top 250.
The annual ranking of Hawai'i's largest organizations is based on gross sales during the previous year. And world oil prices rose for most of 2018 before dropping sharply in the fourth quarter.
Hawaiian Electric Industries, the parent for the state's three largest public utilities and American Savings Bank, regained the No. 2 spot from Hawaiian Airlines with an increase in gross sales of 11.9%. The high price of oil last year had a lot to do with that double-digit increase.
"It's fair to say that significant year-over-year changes in HEI's revenue are mainly driven by the price of fuel purchased by the utility to generate electricity," wrote Jim Kelly, VP of corporate relations, via email.
A record year for American Savings Bank also contributed significantly to HEI's results. Hawai'i's third-largest bank enjoyed a 23% increase in net income to $82.5 million in 2018, according to an HEI news release.
The local oil industry also saw significant increases in gross sales in 2018, largely because of the high price of oil:
Par Hawaii rose one spot to No. 4

on the Top 250 with increased sales of 33.6%.

Island Energy Services climbed from No. 9 to No. 7 with a 32.1% increase.
Aloha Petroleum climbed two ranks to No. 16 with sales up 17%.
If you think those numbers were good news for the oil industry, Jim Yates put things in perspective. The president of Par Hawaii says that in the energy sector, revenue is not always the best indicator of how a company is doing financially.
"The most significant driver of both our revenue line and our cost line is the feedstock, the crude oil that is brought in," Yates says. "The bottom line is that financial performance actually does better when you see revenues declining."
A big reason for that is because Par does not have its own oil reserves. It buys oil in the marketplace and has to pay more for oil when prices go up. Yates says it's difficult to convince consumers that oil companies like his in fact want crude oil prices to remain low.
"People seem to assume that we like it when gasoline prices are high, which is not the case. When crude is low and other prices are low it's good for our consumers and it's really a boost for the entire economy."
Yates says additional factors contributing to Par's increased revenue include the acquisition of $45 million in assets obtained from Island Energy Services. IES purchased Chevron's Hawai'i refinery and other assets in 2016 but closed the refinery last year. Par acquired local refinery assets plus two Mainland refineries and 33 retail outlets that will help the company to spread its operating costs over a larger network.
"At first glance those acquisitions may seem like they have nothing to do with Hawai'i," Yates says. But, he says, Par's expanded Mainland networks provide flexibility in purchasing feedstock along with an expansive infrastructure of pipelines, tanks, rail and harbor facilities that will deliver ethanol from the Midwest "to help meet renewable obligations here in Hawai'i."
Yates also says new regulations requiring marine engines to use very low-sulfur fuels or install scrubbers to reduce emissions encouraged Par's $27 million investment in a distillate hydrotreater module scheduled to come online in August.
"That new unit allows us to take dirtier, high-sulfur diesel and convert it either into ultra-low sulfur diesel and/or jet fuel, both of which the state is short of," says Yates. The new module is expected to increase Par's jet and marine fuel production by as much as 4,000 barrels per day for a 14.8% daily production increase. Par also supplies low-sulfur fuel used for energy production by the Hawaiian Electric Cos.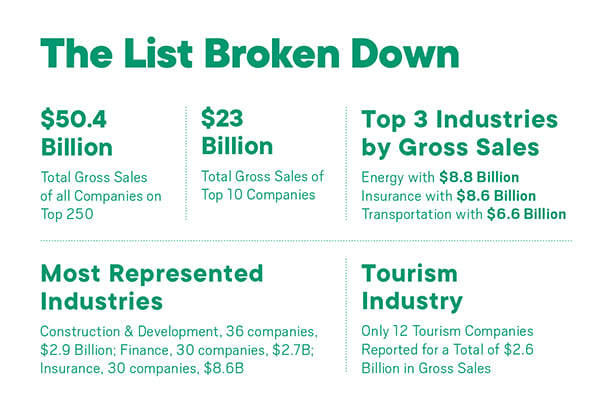 Major Health Care Provider
UnitedHealthcare Insurance Co. joined the Top 250 this year at No. 12. The health insurance provider had $854.2 million of direct premiums written in Hawai'i, according to a report the company submitted to the state Department of Commerce and Consumer Affairs insurance commissioner. UnitedHealthcare is a global company and a subsidiary of UnitedHealth Group, a company headquartered in Minnetonka, Minnesota, that is ranked sixth on the 2019 Fortune 500 list.
UnitedHealthcare provides only Medicaid and Medicare coverage and Med-Quest integration plans in Hawai'i. According to DCCA officials, the Medicaid and Medicare market in Hawai'i is a competitive one with numerous Mainland companies vying for a share. UHC overtook Kaiser Permanente Hawaii for the most Medicare and Medicaid premiums written in Hawai'i in 2018, the DCCA says.
An interesting highlight is UnitedHealthcare's participation in the Centers for Medicare and Medicaid Services' Accountable Health Communities Model implemented on O'ahu in 2017. Using a $4.5 million grant from the CMS, UnitedHealthcare connects impoverished patients with social services at participating clinics or emergency rooms. According to CMS, the goal is to test if bolstering the overall health and well-being of Medicare and Medicaid beneficiaries with social services will reduce the cost of health care.
A&B's Land Sale
Alexander & Baldwin rose six spots to No. 18 on this year's Top 250 because of gross sales totaling $644.4 million during 2018, a 51.4% increase over 2017. A&B did not respond to phone calls and emails from Hawaii Business Magazine, but during the company's fourth quarter earnings conference call in February, CEO Chris Benjamin said the $162 million net profit from the sale of about 41,000 acres of Maui agricultural land was key to the company's conversion to a Hawai'i-based commercial REIT.
"The Maui land sale was transformative in many ways because it transitions us largely out of diversified agriculture and will result in roughly a $12 million increase in net operating income once we have reinvested the 1031 proceeds and properties have stabilized. It also puts us an important step closer to the focused Hawai'i commercial real estate company we've committed to become," Benjamin said.
In keeping with Benjamin's goal for "simplification" of operations and assets, "A&B is evaluating strategic options for the eventual monetization of some or all of the GP (Grace Pacific) businesses," writes Benjamin in the 2018 annual report.
How We Compile the Top 250
Welcome to the Hawaii Business Top 250, which has highlighted the state's biggest companies for 36 years now. Our ranking tool is gross sales, a key indicator of market dominance and influence.
To assemble the list, we tap into a variety of public records as well as self-reported data from the companies themselves. Nevertheless, some companies with large local presences do not appear on the list for a host of reasons, including:
Their U.S. or international parent did not provide separate data for Hawai'i operations.
The company is Hawai'i-owned, but is privately held and declined to disclose its annual gross sales.
Collecting the Data
Each March, Hawaii Business researchers lay the groundwork by delving into annual reports, databases, referrals and previous Top 250 lists.
HB researchers also use public sources such as filings with the federal Securities and Exchange Commission, reports from the Department of Commerce and Consumer Affairs, federal tax forms 990 and current investor relations reports. When these documents were not available, our researchers surveyed the companies directly and asked for self-reported financial data.
Businesses are asked to use generally accepted accounting principles for their industries in calculating gross sales for 2018. If questions about GAAP arose, we relied on the expertise of the accounting firm Accuity LLP.
Nonprofits reported their total annual revenue. Depending on the organization, this might include contributions, funding for services or proceeds from activities that support the nonprofit's mission.
Our Definitions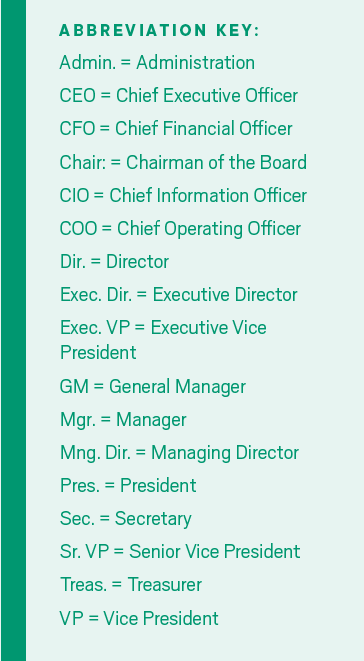 Rank: Companies and nonprofits are ranked by total gross sales. Some companies are tied based on the data we collected; others may appear tied, but are not, because the figures have been rounded.
Gross sales: We use the latest available annual revenue for each company's local operations and its subsidiaries. Calendar-year revenue for 2018 is requested, but fiscal-year revenue is reported if calendar-year information is not readily available. For companies headquartered in Hawai'i, sales reflect the revenue of the company and its subsidiaries worldwide. For a company whose parent is based outside of Hawai'i, revenue reflects Hawai'i sales only.
Employees: In most cases, the figure reflects full-time employees only.
Parent company: This refers to the parent of the ranked company. Each company surveyed was asked to identify its ultimate parent company and its headquarters location.
---
Updates to Top 250 List
Changes needed because many local financial institutions use a different accounting method
Every year, Hawaii Business Magazine sends surveys to companies requesting information for our Top 250 list of Hawai'i's biggest companies and nonprofits. The key metric sought is gross sales from the previous year. We ask organizations to adhere to generally accepted accounting principles (GAAP) for their industries when they calculate this metric.
Under U.S. GAAP, net interest income combined with other non-interest income comprise a financial institution's total revenue, says Cory Kubota, partner at accounting firm Accuity LLP.
Because of the different ways financial institutions generate loan interest, "amortization of loan costs are required to be reported net against interest income in accordance with GAAP," Kubota says.
We discovered that the 2019 Top 250 list contained a difference in methods used to report gross sales for financial institutions. Not all were in accordance with the GAAP method.
Many banks and credit unions combined total interest income with total non-interest income to get gross sales. ln fact, we found this was the more common method in the local financial industry, so we updated the list to reflect that and applied the same method to all financial institutions. Income numbers were taken from FDIC and National Credit Union Administration reports.
The full Top 250 list at hawaiibusiness.com now reflects these changes. A few organizations changed rank – this is denoted by an "a" after the number. You can also read more about our research methodology there.
We appreciate the value Hawai'i's business community places on the Top 250 Companies list and we encourage everyone to participate next March when we survey for our 2020 list.
Should Your Company Be in the Top 250?
If your company would like to be considered for next year's Top 250, email jeffh@hawaiibusiness.com.
Log in to view the full issue. Not subscribed? Sign up here.