14 percent: Why are women under represented in the C-suites of corporate America?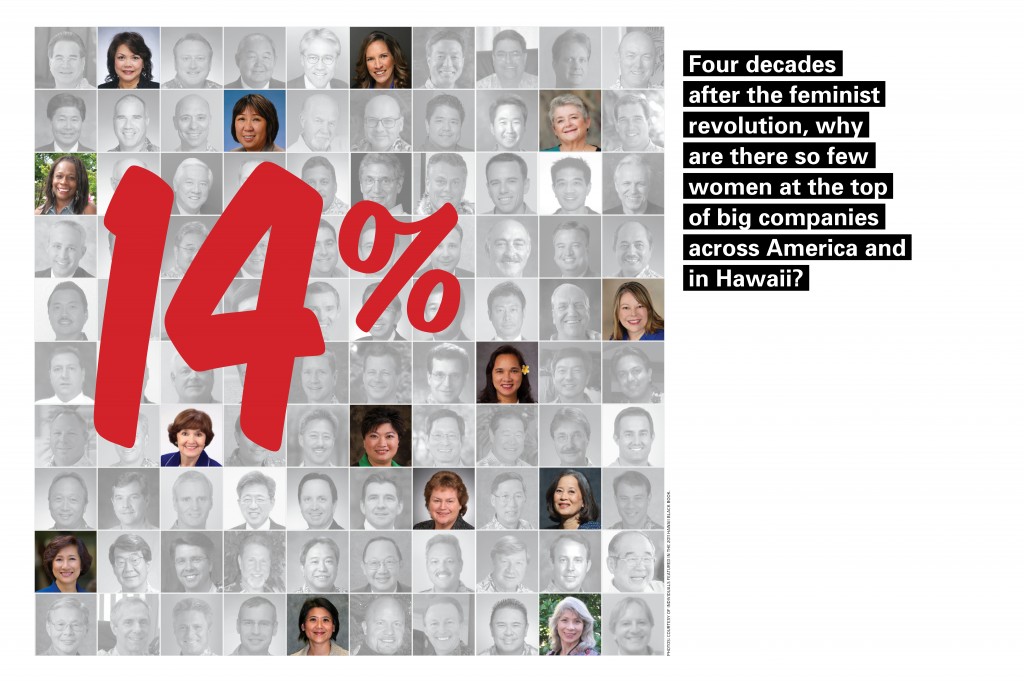 In the C-suites of America's biggest corporations, just 14.1 percent of the executive officers are women, according to the 2011 Catalyst survey of Fortune 500 leadership. That's one woman for every six men, and Catalyst says that basic ratio hasn't changed in six years.
No such comprehensive survey has been done in Hawaii, but one key indicator provides a similar number. The Hawaii Business Black Book lists leading executives at the state's biggest for-profit and nonprofit organizations. Overall, there are four men for every woman, but, if you count only for-profit leaders, men outnumber women five to one.
After growing for decades, the number of top women business leaders has stalled. Clearly, power and influence in America's and Hawaii's business worlds remain firmly in male hands. Why isn't as clear.
Meda Chesney-Lind, director of the Women's Studies Program at the University of Hawaii, puts part of the blame on the U.S. Supreme Court, which she says has been chipping away at gains made by women during the height of the feminist movement from the 1960s through the 1980s.
"The political backlash against feminism that started a couple of decades ago has really taken its toll," says Chesney-Lind. "It's not a surprise that we've lost ground. … The U.S. Supreme Court already overthrew the protection against pay discrimination, the foundational victory of the second wave of feminism. It took Congress to pass the Lilly Ledbetter Fair Pay Act of 2009 (see box on page 36) to reinstate those protections."
Hawaii women leaders in business, education and nonprofits suggest these additional perspectives:
Images of women in the media continue to focus on bodies over brains, undermining other female role models so important in helping girls develop strong self-images for success.
Many women have sidestepped traditional power centers in favor of leadership in philanthropy, nonprofits, academia and community organizations.
More women have started their own businesses. Data this year from U.S. Census Bureau's Survey of Business Owners shows that, over the past 15 years, the number of women-owned companies nationwide has grown 54 percent compared with 37 percent growth in the number of businesses overall.
High-achieving women, more than men, are opting out of the 80-hour-a-week "fast-track" business jobs in favor of a work/life balance that leaves more time for their families.
Many men in traditional businesses are still reluctant to share power, not only with women but also with minorities. When women don't see other women in leadership positions, they tend not to want to be part of a company.
Because of responsibilities to children and families, women often miss networking and bonding experiences like golfing, meeting for drinks or participating in professional organizations that are important in advancing careers and meeting mentors.
In the latest edition of their classic textbook, "The Constitutional and Legal Rights of Women," Judith A. Baer and Leslie Friedman Goldstein explain that women are still far from equal to men in the eyes of the law.
"The United States remains a male-dominated society," they write. "Men hold power. Though not all men have equal amounts of power, virtually all men have some power over at least some women.
"Whatever the want ads say," they continue, "men's jobs and women's jobs still exist – and the higher the status of the occupation, the greater the imbalance in favor of men."
The U.S. never ratified the proposed Equal Rights Amendment to the Constitution and never adopted the Convention on the Elimination of all Forms of Discrimination Against Women, an international bill of rights for women adopted by the U.N. General Assembly in 1979.
However, there are some trends that could lead to more women at the top. For instance, more women now graduate from college in America than men, and the number of women with professional degrees in business, law and medicine continues to increase. Also, corporate America has put more and more value on social skills – what is often labeled emotional intelligence – that, in general, are more prevalent in women than men.
Terri Fujii, managing partner at the Honolulu office of accounting firm Ernst & Young, points out that, while the top leaders at many companies are still usually men, many of the key supporting roles, such as vice president, are held by women. Fujii has run Ernst & Young's Honolulu office for five years and says there are an equal number of men and women leaders there. She says accounting is one field that offers fulfilling and lucrative careers for women.
"Women are paving their own paths to leadership positions by starting their own companies, being very entrepreneurial and being more in control of their own destinies," says Fujii, who has been with Ernst & Young for 27 years and says she was mentored and promoted all along the way.
"I was given a lot of opportunities and was told basically that I could keep moving forward." The company prides itself on its support of all its employees, she says, and salaries for men and women doing the same jobs are comparable.
"Gains have been made," agrees Coralie Chun Matayoshi, CEO of the American Red Cross, Hawaii State Chapter, "but there is still a wage gap overall and that's going to slow the growth of being on top.
"Women working fulltime earn 81 percent of what men make for the same job," says Matayoshi, a former U.S. Justice Department attorney in Washington, D.C., and former executive director of the Hawaii State Bar Association. "Twelve years ago, when I wrote a chapter in 'Price of Paradise' on Women and Jobs, it was 65 percent."
Matayoshi, currently a member of the University of Hawaii Board of Regents, says that, while "there should be no gap," it remains highly challenging, especially in small communities, for women to reach equal status.
"Although there are laws that say you can't discriminate, who is going to sue and be out there like that? You're not going to be pushing rights you might have but you don't want to exercise. It has to be really bad before you'd sue because you're labeled. It's, 'Gee, who wants to hire her?' It's hard to get a job after that."
For V. Vance Roley, dean of the Shidler College of Business at the University of Hawaii-Manoa, there's a growing sense that many women graduates are turning down a shot at the high-powered places at the table.
"It's possible that, instead of working in a corporate culture, more women are out trying to start their own companies," says Roley, who sees a consistent equal breakdown of men and women in the college's MBA programs that prepare graduates for business leadership.
"We're all more comfortable being our own boss. But I've also read about this generation and how work/life balance is much more important to them. They're making choices to not necessarily take the path leading to a C-level position and instead taking something more comfortable for their work/life balance."
Roley believes women are being hired by companies who plan to move them up, but some women opt out of the fast track. Instead, he says, "They're getting to the level of the company where they're comfortable, and have enough money where they can do what they want to do and also spend time with their family."
Susan Yamada tends to validate that theory. The executive director of the Pacific Asian Center for Entrepreneurship at Shidler College thinks women have achieved a kind of sweet spot in the business world: They have the choice to succeed in big companies, but can also choose to succeed in the less-frantic world of nonprofits or elsewhere within their communities, and still have time to care for families. They can have it all, says Yamada, but not all at the same time.
"I think women are smarter than men in not wanting to chase the C-suite," says Yamada. "If you have family, what you are trading for that position is seeing your child walk for the first time … missing the soccer games … not going to the school plays. Women are saying, 'I'd rather spend time with my family, because, at the end of the day, what's more important?' It's like that saying, 'When you're on your deathbed, who's going to be there? The people who work for you or your family?'
"And God forbid you try to do everything at once. It will make you crazy."
Those who do make it to the top, and have a family, seem to require a strong support system. Just ask Constance Lau, CEO and president of Hawaiian Electric Industries, and Hawaii's highest paid executive in 2011. She has explained that her husband, Russell Lau, CEO and president of Finance Enterprises Ltd., parent company of Finance Factors, helped take care of their children so she could work long hours.
More than a decade ago, while Mrs. Lau was running American Savings Bank and serving as an interim trustee at Kamehameha Schools, it wasn't uncommon for Mr. Lau to bring the children and dinner to her office, and help the kids bathe in the office shower before they fell asleep on the couch.
Donna Vuchinich, president and CEO of the University of Hawaii Foundation, says she would not have been able to take on a top leadership position when she had young children. "In the future, when we have more support for families, women may have better opportunities," she says.
She sees women move in and out of advancing careers because of family needs. That often hurts their long-term prospects or persuades them that a less-demanding, consulting role is the best option.
Vuchinich originally chose a career in the male-dominated field of banking, then switched to academia and philanthropy, a field that now welcomes women and has become a female stronghold. She has seen similar career changes by other women, including engineers who moved from industry to academia because it offers more flexibility.
"I had come out of banking and had gone to a university as a budget and personnel officer because women weren't going up in banking fast," says Vuchinich. "The opportunities were much greater in a university setting. Oftentimes, you have to look outside the traditional industries to see where women are aspiring and moving up. Even when I came here (to the UH Foundation) as a VP, and then assumed the presidency, I was probably one of just a couple in the country who were presidents of their foundations. That has now changed dramatically. You see more leaders and presidents who are women."
Even in academia, women often face challenges that men do not and that hinders them from landing jobs and getting promoted, says Susan K. Hippensteele, who has spent the last six months studying how the career paths of men and women differ at the UH-Manoa. Hippensteele is a professor of women's studies and the strategic planning coordinator for the UH-Manoa chancellor.
One area she is looking at is how to keep more women in the academic STEM fields of science, technology, engineering and math. She says many women leaders in those fields are "scratching their heads," wondering why there aren't more women leaders in STEM.
"Is there still that much hostility and discrimination that women aren't getting hired? By and large that doesn't seem to be the case. What does seem to be the case, and we're seeing it here, anecdotally looking at the data, is that some women report they're uncertain what they need to do for tenure and promotion," even though their backgrounds and resumes are equal to those of their male counterparts.
"Many women have done double duty throughout graduate school as mothers and caregivers," she said. "They didn't have as much time to socialize as their male counterparts. They might not have been invited to socialize and these are the opportunities for the transmission of valuable advice … and opportunities for forming richer social relationships."
Hippensteele says that, while women once flocked to academia as a place to excel in their fields and become leaders, they are now becoming independent consultants so they can have autonomy, control and flexibility.
"My hat's off to women who come through and excel in their programs, get top-notch credentials, and then go off and do what they want. They graduate and say 'I'm outta here,' " she says. "… But I also want some of these brilliant people to stay in academia and take leadership roles. We need both to happen."
Some male-dominated fields have been transformed by a female invasion, says real estate broker and appraiser Stephany Sofos, whose candid new book, "Untold Stories of a Real Estate Diva," documents her journey from the sexist workplaces of 1970s Hawaii to running her own company.
"The traditional corporate ladder (in Hawaii) is still very, very conservative because of the cultural atmosphere," she says. "It's even more conservative than the mainland U.S. because people still get jobs here because of what high school they went to. And you can't be too aggressive or assertive or you'll be called brassy. That cultural environment has made it difficult for women, which is why you have so many in the real estate industry where you can be assertive. The more assertive you are, the more money you can make. The same in the retail business. That's why women do well in sales, in retail, where they can be as successful as men.
"We want to be women, but we want to earn the same amount of money as men and we want the same social status," says Sofos. "The other profession is law. When you have a legal degree and you're in front of a judge, you're on an even keel."
That's exactly what motivates Sandra Theunick, head of school for St. Andrew's Priory: putting women on an even keel with men. She says the best way to do that is to teach girls and women that they can tackle anything, and to provide them a superior education in all-girls' schools to help thwart persistent media images focusing on bodies over brains.
"We are continuing to battle what it means to be a woman in today's society," says Theunick. "For example, look at the 'Miss Representation' documentary about how the media views women. It brings into question the role models young women are given, how girls are endorsed in their families and how they are persistently portrayed."
Instead, says Theunick, we must offer girls and young women a broader range of female role models so they see many possibilities for themselves. She wants her girls to be "comfortable in their own skin. … You learn you can do anything, and you're just fine the way you are."
Women in the Black Book
For 15 years, Hawaii Business' annual Black Book has been a list of the state's business and nonprofit leaders, largely drawn from the executives of the Top 250 organizations in Hawaii.
2011: 20.19 percent of Black Book executives were female.
1997: 4.31 percent of Black Book executives were female.
---
Women at the Top of Corporate America
This chart shows the percentage of women who serve on the boards of directors, and as executive officers of Fortune 500 companies within various sectors of the American economy.
Source: 2011 Catalyst survey of Fortune 500 leadership. Catalyst is a nonprofit membership organization working to expand opportunities for women.
Highs and lows highlighted in yellow
| Industry | Percentage of women directors | Percentage of women executive officers |
| --- | --- | --- |
| Accomodations and Food Services | 14.2% | 15.9% |
| Agriculture, Forestry, Fishing, Hunting | 15.2% | 8.8% |
| Arts, Entertainment, Recreation | 0.0% | 6.3% |
| Construction | 5.6% | 10.0% |
| Finance and Insurance | 18.3% | 18.4% |
| Health Care and Social Assistance | 14.3% | 16.4% |
| Information | 15.6% | 12.2% |
| Manufacturing – Durable Goods | 14.3% | 11.1% |
| Manufacturing – Non-Durable Goods | 17.6% | 13.3% |
| Mining, Quarrying, Oil, Gas Extraction | 12.4% | 12.7% |
| Professional and Businesss Services | 16.1% | 10.8% |
| Public Administration | 10.0% | 18.2% |
| Real Estate, Rental and Leasing | 16.7% | 12.5% |
| Retail Trade | 17.9% | 18.7% |
| Transportation and Warehousing | 13.7% | 11.8% |
| Utilities | 16.3% | 11.4% |
| Wholesale Trade | 14.7% | 13.9% |
| TOTAL | 16.1% | 14.1% |
---
We've Come Halfway, Baby
Women's earnings as a percent of men's (comparing median usual weekly earnings of full-time wage and salary workers).
2010: 81.2 %
2000: 76.9 %
1990: 71.9 %
1980: 64.2 %
Source: Federal Bureau of Labor Statistics
---
Laws Govern Equal Pay
The Equal Pay Act of 1963 put into law the principle that women and men should be paid the same amount for equal work, but, 46 years later, it was the Lilly Ledbetter Fair Pay Act that gave women a powerful weapon with which to actually collect that equal pay.
Ledbetter was a production supervisor for a Goodyear tire plant in Alabama who, shortly before her retirement in 1998, filed an equal-pay lawsuit. After working its way through various lower courts, the case came before the U.S. Supreme Court in 2007, which ruled 5-4 that the 180-day statute of limitations for Ledbetter had run out, since the clock began ticking years before, on the day her employer made its first discriminatory wage decision.
That same year, Democrats in both the U.S. House and Senate introduced bills that would have revised the statute of limitations so that it would begin anew each time a person is issued a discriminatory paycheck. The legislation was defeated then by Republicans, who said such a law would open the door to frivolous lawsuits.
In January 2009, with Democrats holding a majority in both chambers, the House and Senate each passed the law that bears Ledbetter's name. It was the first bill signed into law by President Obama.
– Beverly Creamer
---
Women-Owned Businesses, by the Numbers
8.3 million U.S. businesses owned by women
7.7 million People employed in those businesses
$1.3 trillion Annual revenue generated
54% Growth in number of women-owned businesses since 1997, compared with overall growth rate of 37 percent
31% Percentage of businesses in Hawaii owned by women, compared with 28.8 percent nationally
Source: U.S. Census Bureau and bureau's 2012 Survey of Business Owners
---
Women in the Workforce
Source: 2010 and 2011 figures from Catalyst, Bureau of Labor Statistics, American Bar Association.
---
Sidetrack Women at Your Own Risk
Meda Chesney-Lind, director of the Women's Studies Program at the University of Hawaii at Manoa, says the new generation of women coming out of business, law and medical schools are more numerous and tougher than their predecessors. She offers these warnings to business leaders:
"This generation won't be as tolerant as we were.
"Women are a majority of those in college. Businesses are going to have to start worrying about running out of men to hire and turn to these women they've been ignoring. There's going to be a man shortage; business will run out of men with the credentials.
"Savvy business people are going to understand that gender is important. There are some workplace issues where good business people realize that, 'If we have more women here it would be better for everyone.' For instance, having people trained in understanding workplace violence, sexual harassment, same-sex violence, domestic violence, it's better for the work environment of everyone."