20 for the Next 20: Hawaii's People to Watch 2019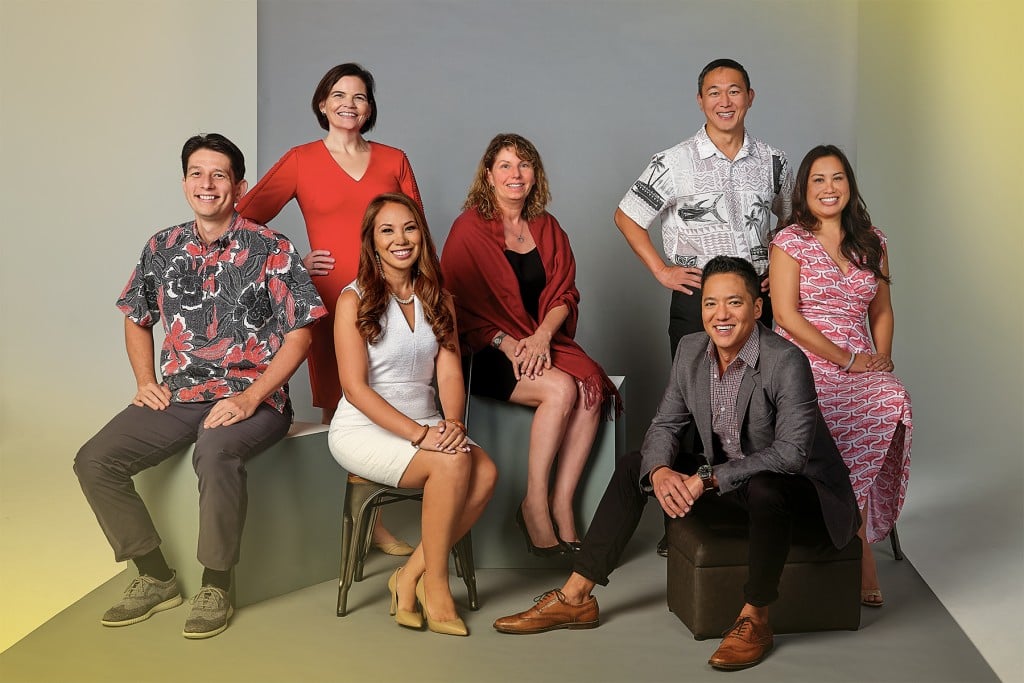 Each year, Hawaii Business recognizes 20 people who we believe will have a major impact on Hawaii over the next two decades.
They have already proven themselves by their accomplishments, intelligence, charisma, leadership and passion, but we expect even more from them in the future. They come from all walks of life, including businesses, nonprofits and education.
2020 Cohort – Know someone who belongs on this list? Nominate them for the Class of 2020 at hawaiibusiness.com/nominations.
━━
Kuhao Zane
OCCUPATION: Creative Director,
Sig Zane Designs and SigZaneKaiao (SZK)
AGE: 36
By Meghan Miner Murray
Kuhao Zane is the only child in a family with deep artistic and Hawaiian cultural roots: His father is Sig Zane, the aloha shirt designer, and his mother is Nalani Kanakaole, a renowned cultural practitioner and kumu hula. It would have been easy for the younger Zane to ride the coattails of family successes, but he has emerged as a designer, leader and cultural practitioner in his own right and is helping make Hawaiian culture more accessible for the next generation.
Noelani Kalipi, executive director of the Kohala Institute, worked with Zane during the 18-month accelerator program Hawaii Investment Ready. "I think for me the gift he brings is that of a young Hawaiian leader who has years of experience who is not afraid to be innovative – to perpetuate and preserve while being innovative."
Zane is the sixth generation in his family to practice hula, and hula sessions with his halau are more important to him than any business meeting. "It's a matter of foundation," he says.
It was through his halau and the way his mother challenged her students – including translating ideas into visual shapes – that he began to appreciate art as a medium for communication.
Kuhao has helped to push the Sig Zane brand beyond aloha wear. He's leveraged social media to share stories behind designs to new audiences. He formed the spinoff design house SigZaneKaiao, and through it he's helped put his dad's culturally imbued imagery on airplanes, and brokered collaborations with Hurley and Converse.
He's especially proud of helping to remake Hawaiian Electric's branding. Given the company's long ties to Hawaii, Kuhao's mother found an ancient chant that spoke of electricity (in the form of lightning) being passed from island to island. Then, he says, "It was that same practice of translating concepts into shapes and how these shapes can tell a story to this company. It was basically the same thing that I've been doing since I was 10."
His family's work, at face value, he says, "May just be aloha shirts. But, if we share a story and we share the print and share it to that level, at a small point each of these aloha shirts can influence people to do Hawaiian practice or at least view things from a Hawaiian perspective. … That's the power of artwork, that's the power of a narrative to influence and educate people."
━━
Diane Paloma
OCCUPATION: CEO,
King Lunalilo Trust and Home
AGE: 45
By Tyne Phillips
Diane Paloma, who grew up hearing her parents tell her that she could be anything she wanted, found her passion in health care.
Her career has taken her to HMSA, UH's Burns School of Medicine, The Queen's Medical Center and now to the King Lunalilo Trust and Home, a Hawaii Kai nursing home on 5 acres at the base of Koko Crater.
Paloma has always wanted to serve the health care needs of her community, especially Native Hawaiians. She says Queen's and Lunalilo Trust made that possible.
"These alii organizations really are like the bridging of two worlds," Paloma says. "You have a western hospital infrastructure with very, very strong native Hawaiian cultural grounding. And I think that makes for really unique organizations, very mission driven."
Joseph Keaweaimoku Kaholokula, chair of Native Hawaiian Health at the Burns School of Medicine, says Paloma's collaborative spirit makes her the perfect person to expand Lunalilo Home's mission and that she provides the "kind of leadership Hawaii needs."
She stepped into her CEO role about a year and a half ago and has already expanded the nursing home's reach. Paloma says there soon will be more people over the age of 60 in Hawaii than children, yet kupuna care has grown little. So to serve more than the 42 kupuna living at Lunalilo, she launched a system in which hot meals are delivered to kupuna living elsewhere in the community. She's also working on farm-to-table and senior day care programs.
"I don't think Lunalilo intended just to have his namesake take care of 42 people; I'm sure he wanted to take care of all kupuna," she says. "My approach is: There's always some way to do it. So how can I be creative or innovative to solve that problem, rather than just say, 'Oh sorry, I don't have the resources to do that.' That's not acceptable."
Robert Nobriga, president at Island Holdings Inc., describes Paloma as very humble and attributes her success and innovative ideas to her character and mentality.
"She just has good core local values," he says. "She always has the community in the front of her mind."
━━
Miki Tomita
OCCUPATION: Founder and CEO
Education Incubator
AGE: 43
By Tyne Phillips
During nearly 20 years as a teacher, education administrator, curriculum developer and researcher, Miki Tomita recognized both the challenges and possibilities of Hawaii's education system.
Every effort she made helped, but they were just "Band-Aids," Tomita says. "There were wounds that were much deeper than we were able to fix by
just adding better things in the classroom."
When she became a mother, her worries increased about the education system her daughter would grow up in.
"Our kids are often a resource that we see bottled up in schools rather than allowing them to become transformative with their communities now," Tomita says. "As a mother, I had so much fear in me around what might happen if we don't fix these things."
In 2017, Tomita and a small group of teachers created Education Incubator, a nonprofit social innovation hub for kids. Schools and other organizations bring students to local hubs where the EI team helps them to find and use their passions to positively impact the community.
"Once they get the idea standing up, we bring in a lot of these experts to take it to the next level so they can actually have a working prototype," Tomita says. "The work that we do here is really about self-determination, about the kids determining what matters to us and what matters to Hawaii."
Tomita was born on Maui, graduated from Baldwin High School, then earned an undergraduate degree in biosystems engineering at UH Manoa and a doctorate in education at Stanford University. Among her many education roles, she was the education director at the Polynesian Voyaging Society for Hokulea's worldwide voyage and served onboard during three legs of that journey.
Pono Shim, president and CEO of Enterprise Honolulu, is one of Tomita's mentors and says he's a "huge fan" because of Tomita's work ethic.
"She's a different kind of educator," Shim says. "She doesn't measure her accomplishments … Miki is not afraid of failure and she aspires greatly." Many people are drawn to her because of her passions and innovative ideas, he says.
About 200 children are currently involved with the Education Incubator and more companies and people are approaching Tomita to collaborate.
"There will always be a need for collaboration, there will always be a need for collective engagement and impact. There will always be a need for someone to step out of the system," she says.
━━
Sean Dee
OCCUPATION: Executive VP &
Chief Marketing Officer,
Outrigger Enterprises Group
AGE: 52
By Adrienne Robillard
Sean Dee was born in San Francisco and raised in Pasadena but has roots in North Kohala on Hawaii Island and says he has always been attracted to the Islands' culture, lifestyle and spirit of aloha.
The graduate of Stanford University has a lot of national and international business experience. He led Levi Strauss & Co.'s global digital initiatives during the internet's early days. As Hard Rock International's first executive VP and chief marketing officer, Dee pivoted the business to a broader hospitality expansion plan. He returned to California in 2009 as CMO of AEG Global's sports, entertainment and hospitality leadership team.
Now at Outrigger, Dee says, "The opportunity to move to Hawaii with my wife and daughter and be part of the global expansion of one of the oldest hospitality companies in the world was very compelling."
Jeff Wagoner, Outrigger Enterprises Group's CEO and president, says, "Sean has been exceptional at developing relationships within the entire community and is well-respected by industry and business leaders across the state."
Dee spearheaded Outrigger's initiatives to preserve the coral reefs and oceans surrounding Outrigger's resorts, including coral planting, energy-use reduction and the elimination of single-use plastics. When Nainoa Thompson and the Polynesian Voyaging Society team met with him about its vision for the Hokulea's worldwide voyage, he offered the Outrigger Mauritius Beach Resort as a home to accommodate navigators when they traveled to the region, storing supplies for the next leg and providing them food and comfort while in the Indian Ocean. He also negotiated a Tori Richard-Outrigger partnership for a successful aloha shirt series with proceeds going to PVS.
"I've always believed that professional and personal lives are intertwined and in the hospitality industry that's clearly the case."
Dee serves on the Hawaii Tourism Authority's board of directors and supports the Waikiki Aquarium, the Waikiki Community Center and the Henry Kapono Foundation. As a believer in the power of music to inspire people and the community, he also supports the many musical venues inside the Outrigger hotels as well as the Na Hoku Hanohano Awards, the Hawaii Academy of Recording Arts and the annual Mele Mei celebration.
"We have so many challenges to face over the next 20 years, from income inequality to homelessness to climate change, that we need the next generations of leaders to strive for collaboration and positive change for the planet," he says.
━━
Kahi Pacarro
OCCUPATION: CEO,
Parley for the Oceans Hawaii
AGE: 40
By Alan Fraser
Standing on Kailua Beach in 2010, Kahi Pacarro was proud to show his Kiwi friend from the nonprofit program Sustainable Coastlines the clean beach he had been surfing since he was a kid. But then his friend encouraged him to look down. Tiny ocean debris – microplastic – was everywhere around his feet.
Kahi recalls his thoughts in that moment: "I'm a young successful dude, well-traveled, well-educated, and I'm completely blind to this issue. It's at the front door to my home beach. … If I'm blind to this issue, how many more of us are?"
His epiphany led to his co-founding of Sustainable Coastlines Hawaii with like-minded friends. The nonprofit, which has grown into the state's largest beach cleaning organization, started in response to a simple question.
"How do we convince thousands of people every year to come and clean beaches, to have this awakening experience? We realized the trick was just making it fun," says Pacarro.
In addition to cleanup events, the organization uses a mobile classroom – a gift from New Zealand's Sustainable Coastlines – to educate the community about marine pollution and how to help. As executive director, Pacarro also allied with the National Oceanic and Atmospheric Administration, training its research teams on debris identification and cleaning practices before they depart for work in the Northwestern Hawaiian Islands.
"We did a lot of the manual labor based on his training, and then he and Sustainable Coastlines made sure all the debris got to the right places," says Charles Littman, of NOAA's monk seal conservation research program. Parley, a nonprofit partner of SCH, takes the gathered plastics overseas to be pelletized and turned into things like bottles, mannequins and store displays.
In November, Pacarro stepped down as director of SCH to become CEO of Parley for the Oceans Hawaii. In his new position Pacarro will develop the company's recycling infrastructure.
"Part of what I'll be doing with Parley will be bringing that machinery that recycles ocean plastic to Hawaii. So, we're going to be building out a recycling plant that takes our ocean plastic and actually creates high-end products on the other end," he says. Companies and brands like Corona, Adidas and American Express are already on board.
Pacarro still plans to be active with SCH. "It's almost too much for any one person to take on, but he seems to be wildly successful on all fronts," says Littman. "He's an impressive man to know."
━━
Matt Emerson
OCCUPATION: Senior executive VP &
director of eCommerce, Bank of Hawaii
AGE: 41
By Kathryn Drury Wagner
Matt Emerson attended Iolani School and still hangs out with friends from kindergarten, but it wasn't always clear his future would lie in the Islands.
He attended college at Northwestern, where he played baseball, and returned there for an MBA at the Kellogg School of Management. He put in nine years in San Francisco, where he met his wife, and rose to VP of strategic planning at Wells Fargo Bank.
"My wife is born and raised in Hawaii and we decided if we didn't move back then, we might never," Emerson says.
In 2010, he joined Bank of Hawaii as VP and internet banking manager in the Online and Mobile Banking Department. "I had no idea where it would go. I just wanted to do something where I could contribute," he says. "And then you see how things go. At Bank of Hawaii, it's worked out."
It's worked out, indeed. In his years at BOH, he's held leadership positions in private banking, investment services, credit cards and other areas. "My background had always been in corporate strategy," Emerson says. "I really hadn't executed anything until I got to Bank of Hawaii. Here it was all execution roles. But I could add value on the strategy side."
Says Peter Ho, chairman, president and CEO of Bank of Hawaii: "We haven't given him the easiest operations to manage. The role he's in right now, with global responsibility for our e-commerce business, is a really important area for Bank of Hawaii.
"Matt is a very thoughtful individual. He's someone who is always trying to understand a situation or an organizational issue. He's not a quiet person but he can seem quiet because he doesn't speak for the sake of speaking."
Emerson is a board member at St. Clement's School, Hawaii Asia Pacific Association Young Leaders and PBS Hawaii, where he focuses on the Hiki No student news show. He also enjoys time with wife Jodie and son Luke, who takes after dad by playing baseball.
When thinking about the future of banking, he says, "Change is happening so much faster than it used to." Emerson is well-suited for it. As Ho notes, "He's a great listener and observer, and when you are thinking about change, those are quite important qualities as you push forward."
━━
Karen Tan
OCCUPATION: President and CEO,
Child & Family Service
AGE: 50
By Jackie Perreira
Child & Family Service is one of the state's largest and oldest nonprofits, but president and CEO Karen Tan says it is also a business, and that she strives to keep it functioning effectively and serving the community.
"I like to push the limits a bit, to think about being creative in how we solve problems and not just doing everything status quo," Tan says.
She introduced Transition to Success, a program that was created in Detroit to meet struggling families' many needs. CFS is testing it on Maui and Kauai in partnership with over 15 organizations and together they provide support in such areas as literacy, education for parents and children, financial literacy, volunteerism, and job training and placement.
"You hear a lot about … homelessness here in our community, and a lot of that is really kind of thinking about: What do we do to address the poverty and how do we help people move into a livable wage and off of the street?"
The program helps people map the path to their success with steps they can take every day. Tan says the CFS team starts with one question: What are your hopes and dreams?
"If a child says, 'I want to be an NBA star,' we say great, how are you going to get there? First thing is get to school. But you haven't been going to school. You need to go to school because they usually sign their NBA players at universities.
Let's get you an alarm clock and a way to go to school."
"Karen really is a passionate and inspirational leader. We're fortunate to have her. It has been wonderful to witness her leadership," says Bank of Hawaii Executive VP Tony Mizuno, who is CFS chair.
"She leads with an infectious enthusiasm, she has an eye toward innovation in helping to solve some of our community's most complex and difficult social problems. She brought cutting edge, national best practices to CFS … She is changing the face of how social services are provided," Mizuno says.
Tan says her focus is to keep CFS moving in an upward direction.
"We have a lot of employees, we have a business to run. The risk is, with the current economy and the challenges to human services organizations, we are going to see more organizations closing or struggling than ever before," she says.
━━
Chris Dods
OCCUPATION: Executive VP & Group Manager,
Digital Banking & Marketing Group,
First Hawaiian Bank
AGE: 44
By Kathryn Drury Wagner
You could say banking is in Chris Dods' blood. His father, Walter Dods Jr., is a former CEO of First Hawaiian Bank, where Chris is highly successful. But he didn't plan to follow in Dad's footsteps.
"Those were big shoes to fill," says Chris. "Even today, he's been retired over 15 years and he's still a big part of the culture and spirit of the bank. Growing up, you want to move away and do the opposite."
As a teen he attended boarding school at Hawaii Preparatory Academy, then enrolled at Trinity College on the East Coast. He lived in Beijing, Sydney and San Francisco. But eventually, the "spirit of family brought me to First Hawaiian."
"About 15 years ago, I was planning to move back to China and had a job lined up. I was home on vacation when the SARS virus broke out. My grandma was like 97 at the time and she did not want me moving back to China. I started to think about jobs in Hawaii."
Connecting with the woman who became his wife, Starr (Wedemeyer) Dods, further cemented his plans. He began working in acquisitions, helping form Mid Pac Petroleum, and then joined First Hawaiian in 2007. He's had many roles at the bank and today leads the Marketing and Communications, Card Services, Business Services and Digital Banking divisions, as well as the Market Intelligence Department.
"I love that I have the ability to innovate and develop, to push boundaries here," says Dods, "and I'm proud of the teams we have built."
"Chris connects very well with people," says FHB Chairman and CEO Bob Harrison. "He pulls the best out of people, rather than telling them what to do."
He recalls Dods deftly handling a crisis: Aloha Airlines had gone out of business, leaving the bank scrambling to replace its affiliated credit card. "He created a whole new destination travel card, doing in a number of weeks what could have taken a year to develop."
Dods serves on several boards; at the nonprofit Child & Family Service, he helps with marketing. "There's such a range of services, from keiki up to kupuna, so it's about how to make people aware of that."
This year, First Hawaiian will roll out "a lot of things Dods has been working on, on the technology and mobile side," says Harrison. "His hallmark is to look at things a bit differently."
━━
Ben Godsey
OCCUPATION: President & CEO,
ProService Hawaii
AGE: 46
By Adrienne Robillard
After studying biology at Pomona College in Claremont, California, Ben Godsey's first job was at the Hakalau National Wildlife Refuge on Hawaii Island, where he discovered that rats were threatening endangered bird species. Learning that another five years of study was required to take action, he sought out more fast-paced work, researching biotechnology companies at a Wall Street firm.
Godsey got an MBA at the University of Chicago's Booth School of Business, then held an associate position with Morgan Stanley for three years before venturing out on his own. The goal was to acquire a company and run it. "My partner and I searched throughout the Western U.S. for a little over two years, focusing on business-to-business and technology-enabled services that had a large opportunity for growth. In 2005, we came upon ProService Hawaii. … Fourteen years later, I now realize our opportunity is even bigger than we initially imagined," he says.
ProService has grown to become Hawaii's largest HR solution provider, enabling clients to focus less on the complex details of HR and more on achieving their business goals, Godsey says. "We meet the needs of our customers and make it easier for them to be employers."
Richard "Dick" W. Gushman, owner and president of DGM Group, says, "Having watched Ben for a considerable period of time as a client, advisor and friend, I am always struck by his expansive intelligence, extreme skill at focusing on a wide array of issues and simultaneously orchestrating the growth that his company has experienced."
Godsey is also active in the community. He served on the board of directors for the Chamber of Commerce Hawaii for 10 years, the board of the Kapiolani Medical Center for Women & Children for seven years and with the Hawaii Business Roundtable.
Gushman says, "One of the benchmarks in my assessment of corporate leadership in our community is the rare combination of a very successful executive while experiencing significant growth in their businesses as well as their position in the community, all at the same time giving back in various ways to help enrich the way our society functions. Ben has definitely rolled up his sleeves in numerous ways to help out even when he was most challenged in the growth of his company and at the same time being a terrific father and husband."
━━
Ryan Kalei Tsuji
OCCUPATION: President & CEO,
RKT Media Hawaii
AGE: 35
By Alan Fraser
You've probably seen Ryan Kalei Tsuji: His resume includes college sports telecasts, TV morning news and state politics, and he has his own video production company.
Tsuji graduated from UH Manoa with an undergraduate degree in communications and political science and a master's in public administration. After years as a manager and assistant coach for the Rainbow Wahine volleyball team, he signed on as their TV color commentator in 2009.
His on-air skills led to sports reporting with Hawaii News Now and then to the KITV morning news team. In 2014, he joined state Sen. David Ige's gubernatorial campaign, eventually becoming director of executive management for the new governor.
Two years later, his experience emboldened him to change course again and launch his own company, RKT Media Hawaii.
"The stations don't have the capacity to cover everything. They're one-man bands now," he says. "I realized that there was a market there, just in what I knew from the news and in what I heard from the people I met working at the governor's office. There were some great stories out there that just weren't being told."
Tsuji's creation now has a contractor team of 12 former TV reporters and anchors to cover events and produce stories for clients. Organizations and individuals hire them to create video news releases that are used on social media and sent to news outlets.
"He's so instrumental in us getting the word out in a video capacity," says Melissa Torres-Laing, VP of corporate communications for Bank of Hawaii, which has used RKT since its inception. "He also keeps on top of trends and what's happening out there in terms of social media. He's just super creative."
A year ago, the Honolulu Star-Advertiser asked Tsuji and former KITV colleague Yunji de Nies to spearhead its Digital Billboard Network. The two supply daily newscasts for the paper's retail stands-cum-kiosks – digital screens that run a loop of advertising and news.
Tsuji still covers UH athletics for Spectrum Sports, and produced a documentary, "Rise of the Wahine," out this past fall. He is also an American Heart Association BEAT Young Professional Board member, chairs the Make a Wish Hawaii Young Leaders Board, and is a big brother for Big Brothers Big Sisters Hawaii.
"I don't sleep much," he says with a laugh.
━━
Chad Goodfellow
OCCUPATION: President & CEO,
Goodfellow Bros. Inc.
AGE: 38
By Ilima Loomis
When Chad Goodfellow says he grew up in the construction business, he means it literally.
As a child on Maui in the 1980s and '90s, Goodfellow spent his after-school time hanging around the offices and base yard of his family's company, Goodfellow Bros., where he'd do his homework on the conference room table or tag along with truck drivers delivering materials to the company's job sites.
"This business was my family growing up, and personally that's where I get a lot of my passion to give back to our people and help the company be successful," he says.
Goodfellow has been president of Goodfellow Bros. since 2012, and took over as CEO last year, making him the fourth generation to lead the heavy civil construction company founded by his great-grandfather in 1921 in Wenatchee, Wash. Back then, the company built roads through the Cascade Mountains, and cost estimates included the bales of hay required to feed the horses. Today, Goodfellow Bros. works on civil construction projects in Washington, Oregon, California, Idaho and Hawaii, and employs around 1,200 people.
"In today's world there are fewer and fewer family-owned companies," Goodfellow says. "When we have a board meeting, it's me, my father and my uncle, and when we have to think about the shareholders we're not thinking about our quarterly earnings, we're thinking about the next generation."
Former Lt. Gov. Shan Tsutsui, senior VP of operations at Mahi Pono, notes Goodfellow's focus on giving back to the community – whether by contributing heavy machinery to fight wildfires, donating building materials to schools or supporting local nonprofits. "Besides being smart, young, intelligent and energetic, he has great values and is deeply rooted in the community," Tsutsui says. "He leads by example, and I think that's the kind of leader our next generation should be looking up to."
As the company approaches its 100th anniversary, Goodfellow has been reflecting on why it has endured.
"When so many businesses, particularly family businesses, fail in one generation or two generations, what have been the factors in allowing our business to last as long as it has?" he asks. "I'm a real believer that it's the values created by my great-grandfather: It's about integrity, taking care of your people, taking care of the community you're part of and taking care of your clients. Those are the values that have made us successful."
━━
Kanani Fu
OCCUPATION: Director,
Kauai County Housing Agency
AGE: 37
By Ilima Loomis
Kanani Fu's passion for the people of Kauai started early.
Raised in poverty by a single mother who worked as a store clerk – her father was homeless for part of her childhood – Fu credits the community with supporting her family and lifting her up.
"I never felt without, and that's what the beauty of Kauai is," she says.
After attending boarding school at Kamehameha Schools and going away to college, Fu returned on a mission to give back. "I wanted to serve the community I grew up in, Anahola," she says.
She worked as a poi maker and led a local youth-based nonprofit before joining the County of Kauai's Office of Elderly Affairs, in part so she could have an easier schedule to raise her children. "That didn't happen," she says. "I actually fell in love with the work."
When then-Mayor Bernard Carvalho appointed Fu housing director in 2016, the island's housing shortage was at its worst. "When I came in, it was a housing crisis," she says. "All out-of-the-box ideas were game. There was no perfect way to solve housing, so we just created models and did off-the-wall stuff."
Fu's focus has been partnering with private developers to bring more affordable housing to the market. The county provides land, infrastructure and land-use entitlements while the developer secures private financing to build the project, taking advantage of state and federal low-income housing tax credits. "Our role as government is to lessen the risk and lessen the time, so we can let the developer develop."
Kauai County Prosecuting Attorney Justin Kollar says Fu's impressive results can be attributed to her dedication and outside-the-box approach. "County government can be mired in inertia," he says. "The one thing she hates to hear is, 'That's the way we've always done it.' What sets her apart as a leader is the fact that she never stops trying to innovate, even though she's working in a field that's so densely regulated. She's always looking for ways to advance the project, advance the mission and get the job done."
Fu says her connection to Kauai is her secret weapon. "I'm going to be here forever. I'm born and raised here, my kids were born here, and I can't mess it up. I have a great responsibility to these people."
━━
Jason Chang
OCCUPATION: Executive VP & Chief Operating Officer,
The Queen's Health Systems
AGE: 41
By Adrienne Robillard
Jason Chang is often perceived as local but was actually born in Fresno in California's Central Valley, where the Japanese side of his family settled after World War II.
"My upbringing was influenced by both the medical field and farming. The Japanese half of me was heavily influenced by the Executive Order 9066 (the infamous wartime internment order), as most Japanese post-World War II settled together in farming communities," he says.
"I also became interested in medicine and science at a young age and thought that would be an ideal career path. Although I didn't pursue either, the convergence between health care and business was my personal calling."
He moved to health care administration early in his career and developed a passion for hospital operations. "Having some influence on how a hospital or health system can impact its community is one of the most gratifying things about my work," Chang says.
In 2014, while working at Tenet Health in South Texas, he promised his wife, Losa, and their children, Amari and Christian, that their next move would be permanent. "They are the most supportive and understanding people on Earth," he says. That move came in October 2015 when he became the executive VP and COO of The Queen's Health Systems.
In alignment with the mission Queen Emma set in 1859, Chang says, he and his team strive to improve the well-being of Native Hawaiians and all the people of Hawaii, with a focus on how health care is delivered.
Art Ushijima, president and CEO of The Queen's Health Systems, says, "Those who work with Jason have high regard and respect for him."
Jason also serves as chair of the Oahu Workforce Development Board and he sits on the board of directors for the Blood Bank of Hawaii. "Most people don't realize how many hundreds of pints of donated blood are needed each month to keep cardiac and trauma patients alive," Chang says. "And it's fitting, because Queen's is the largest utilizer of blood in the state."
He also knows how to have fun, says Cedric Yamanaka, Queen's director of corporate communications. "We always find time to talk sports. Since Jason grew up in the Bay Area, he follows the San Francisco Giants and Golden State Warriors pretty closely."
━━
Chris Hause
OCCUPATION: VP of Marketing,
Sales & Business Development,
Kaiser Permanente Hawaii
AGE: 49
By Adrienne Robillard
Chris Hause found her calling in health care by chance. She'd graduated in international economics from Cal Poly San Luis Obispo and went straight to Vanderbilt University for an MBA in finance. After working on Wall Street for several years, she bumped into a college classmate in San Francisco who convinced her to shift into a career in health insurance.
"When I first started out," Hause says, "I was in the field a lot, talking with people about their health issues and about the different options available. I loved the feeling of helping people find the right plan to stay healthy and improve access to care."
In 2011 Hause moved to Kaiser Permanente Hawaii and found that the health care provider matched her values. "Kaiser Permanente's vision of total health is all about addressing the physical, mental, emotional and spiritual well-being that is essential for a community to thrive.
"I'd spent a number of years working with the Hawaii market as a part of my territories, so I was familiar with the landscape and challenges facing the health care system. … I felt it was the perfect time to change the perception of Kaiser Permanente in the Hawaii marketplace – to share its vision for total health and its ideas for shaping health care for the future."
Dave Underriner, president of Kaiser in Hawaii, says, "Her passion is driven by her desire to meet and exceed the needs of the employers and individuals who are making decisions about their health care."
Hause is also active in the community and serves as secretary on the executive board of the Boys & Girls Club of Honolulu and is second vice chair on the executive board of the Hawaii Foodbank.
Hause is also a breast cancer survivor. "I was diagnosed in August and thanks to early screening and intervention, my prognosis is excellent," she says.
While she has been fortunate, her sister, who died a few years ago, was a Medicaid recipient on the Mainland unable to get the care she needed to treat her chronic illness. Hause spent hours on the phone dealing with insurance providers on her behalf.
"Many people in Hawaii and across the U.S. struggle with the same issues," Hause says. "As an industry, it's important for us to address these challenges and barriers to health in the community."
━━
Bernard Uy
OCCUPATION: Co-founder
& Executive Creative Director,
Wall-to-Wall Studios
AGE: 52
By Natalie Schack
When Wall-to-Wall Honolulu team members finish a major design or advertising project, they celebrate.
They gather and cheer as someone bangs the office gong, a cathartic tradition that marks the end of weeks toiling over a job. This happens in their Chinatown headquarters, which has an open layout with no private offices, a bar and the remnants of a vintage plane, which is quite the conversation piece with clients.
It's not typical, but Bernard Uy isn't interested in typical.
When Uy co-founded Wall-to-Wall Studios in Pittsburgh 26 years ago, the vision was of a fun, inspired and collaborative office culture in which team members click on a professional and personal level, and each project is touched, seen, amended by everyone. Ego and sole ownership of a product don't play a part. "That kind of thinking doesn't survive at our studio," explains Uy.
It was also about rethinking the design and advertising business. After years spent doing corporate work, Uy craved something more challenging and inspiring. He wanted to work with interesting clients and projects that gave his team the freedom to solve a design or branding challenge in their own creative way.
Today, the studio is known for innovative local projects with the Surfjack Hotel & Swim Club, Biki and many others. "We're really trying to solve an interesting marketing or communications problem through visuals, storytelling … through something emotional," says Uy.
In 2005, he moved to the Islands, where he spent some of his childhood, to launch the Honolulu office, and those values pervaded. Jennifer Tanabe, now a partner at Wall-to-Wall, was initially a client when Uy gave a presentation.
"I remember thinking that this person was going to change the landscape of branding and advertising in Hawaii," says Tanabe. "He has a very clear vision of what Wall-to-Wall stands for, the kind of work we want to do, the kind of people we want to hire. And he's remained true to that. There's a steadfast commitment to … upholding that vision, whether that means that we hire a certain type of person or we start a relationship with a certain type of client."
Uy says he often passes on contracts that aren't best for the team, and on job candidates who aren't the right fit.
"The more as a group that we feel connected to each other, the better the work we turn out," he says.
━━
Chris Lee
OCCUPATION: VP of Farm Development,
Pono Pacific
AGE: 39
By Natalie Schack
Chris Lee doesn't want to talk about himself.
"There are so many amazing people named Chris Lee!" he jokes, when I tell him he's been selected as one of the 20 for the Next 20. "Are you sure it's not one of them?" He lists off, excitedly, stories of other Chris Lees and the great work they're doing.
This Lee is also doing great work but you won't hear it from him. He's currently VP of Farm Development at Pono Pacific, having recently moved on from his role of VP at Popeyes Hawaii, where he helped grow business at the company's six locations on Oahu. His resume, however, also includes work with the Kapolei Chamber of Commerce, the Hawaii Restaurant Association and other organizations. And he's a current Omidyar Fellow.
Lee is always diving into issues that resonate most with him – from education to women's rights – to make the community a better place. He says he's most concerned with the bigger picture and how he can unite individual elements into a stronger, more effective entity that can enact change.
"In Waianae we're working on a program where we actually bring in the DOH and DOE (state departments of health and education) to be at the table to share their strategic plans. It's like: 'Hey, we have a lot of similarities. Imagine how much greater it would be if we realigned our resources and focused on a specific initiative.' "
Making connections has always been Lee's strong point. When he worked on the opening and development of ChefZone, a wholesale club for food-service operators, his people skills and networking savvy stood out, remembers Russell Hata, owner of ChefZone and CEO of Y. Hata & Co.
"In my opinion, to be a good leader you have to really understand yourself and be really honest with yourself so you can see yourself as true as possible and he really tries hard at that," Hata says. "He just sees a lot of things that most people don't. Chris is someone who can connect with people … on more than a superficial basis, in a very short time."
Lee wants to talk about the community he serves in West Oahu, the other Omidyar Fellows and his former team at Popeyes. "I work with so many amazing people and when you ask me these questions, I want to share those stories. Because they're the people that are driving the work and making a difference on a daily basis."
━━
Malia Kaaihue
OCCUPATION: President,
DTL Hawaii
AGE: 39
By Ilima Loomis
When she learned an employee was struggling to find child care near work, Malia Kaaihue helped to adjust her schedule so she could work closer to home. "I want my employees to work where they're best thriving," she says.
Making family a priority comes naturally to the founder and president of consulting firm DTL Hawaii, who recently gave birth to her eighth child and whose oldest just turned 21. One reason she founded DTL was to have the freedom to work in a way that made sense for her family – including moving back to Makaha, where her husband grew up. Today she works from her home office and spends one day a week in town, to hold meetings and attend the company's mandatory weekly Hawaiian language class.
Kaaihue has a background in academia. She received a bachelor's degree in Hawaiian studies and language, and a doctorate in political science, then taught at UH for more than a decade before moving to the business world with a goal of using indigenous culture to solve contemporary problems.
"My personal mission is to bring Hawaiian knowledge into mainstream spaces in Hawaii," she says. "The only way I saw that happening was in the private sector."
After trying out different roles, which included editing MANA Magazine and working at WCIT Architecture, a Native Hawaiian design firm, Kaaihue launched DTL in 2013. The firm offers cultural consulting, planning and branding services for companies doing business in Hawaii, including Maui Brewing Co., the Kona Village Resort and The Howard Hughes Corp.
"We have a Hawaiian business model," she says. In addition to caring for employees holistically, that includes a "triple bottom line" of community, culture and profit. Kaaihue says she reinvests 60 percent of profits back into the business, while funneling 20 percent into community redevelopment and 20 percent into cultural programs. "We want to be socially and community responsible," she says.
"Malia has been at the forefront with others in the Native Hawaiian community who have been applying ancestral wisdom, values, customs and traditions to our modern-day context," says Jack Wong, CEO of Kamehameha Schools. "Malia has accomplished an impressive array of initiatives during her career, and she is definitely a leader who has the ability to create innovative and culturally grounded footprints that will move us forward as a lahui."
━━
Kevin Chang
OCCUPATION: Executive Director,
Kuaaina Ulu Auamo
AGE: 46
By Jackie Perreira
"Grassroots growing through shared responsibility." Slowly and with purpose, Kevin Chang describes a mission of his nonprofit, Kuaaina Ulu Auamo.
Chang is passionate about helping the working class enact change in their environments. "Our economy is dependent on the health of our environment. So why do we spend less than 1 percent of our time on taking care of the environment? The folks we serve have seen this deficit in the way we govern our community and we want to fill that gap," he says.
"It starts with small efforts, in small, mostly rural Hawaiian communities where members have already been managing their places on their own." One of KUA's main roles is to help connect these people and communities, so they learn from each other and take collective action.
KUA serves three main networks. E Alu Pu helps youth nurture a sense of community responsibility and work together to ensure the vitality of natural resources. Hui Malama Loko I'a is a growing network of fishpond practitioners, restoration efforts and organizations. And Limu Hui is comprised of over 30 traditional limu practitioners; the aim was to "gather the gatherers" to share knowledge of seaweed and algae and work together to protect them.
Chang's passion for community service began in his hometown of Kahaluu. His mother was the editor of Kalama, a small community newspaper in the 1970s. The area was "a hotbed for civic action," Chang says, and he heard about the issues firsthand.
"My mom would take me with her, I would sit on her lap. She'd go, meet with the pig farmers, meet with the schools, meet with the church groups, see the things they were up to and what they wanted to do and she would report on that."
Chang was previously a land manager at the Office of Hawaiian Affairs and a field representative at the Trust for Public Land. He's currently on the board of the Hawaii Alliance for Nonprofit Organizations and the Council for Native Hawaiian Advancement.
Music is Chang's other passion: He sings and plays ukulele in the group Kupaaina.
"What I love about working with him is he is just so passionate and so sincere in his care about local communities and the natural resources of Hawaii. And then he communicates that love so poetically in his music," says his former boss, Lea Hong, Hawaiian Islands director for the Trust for Public Land.
━━
Avis Poai
OCCUPATION: Director of Archives, Legal History & Student Outreach,
Ka Huli Ao Center for Excellence in Native Hawaiian Law
AGE: 40
By Alan Fraser
"It seems like all the work I do is guided by Chief Justice Richardson, his vision," says Avis Poai, who completed her Juris Doctor at UH's William S. Richardson School of Law in 2004. "He was really committed to achieving social justice in the community, which means providing justice to those who don't have a voice and can't speak for themselves. That really resonated with me."
After graduation, Poai worked as a labor and employment attorney with Carlsmith Ball until 2011 but chose to make a different impact. "I felt that I needed to do more to give back to my community. That's what drew me back to the law school, first as a lecturer and then to Ka Huli Ao."
Ka Huli Ao is a center dedicated to the promotion of Native Hawaiian culture and justice through education, scholarship and community outreach. When the director of archives position opened, Poai, who also holds a master's in library science, was a natural choice.
"I consider myself the guardian of Punawaiola," she says, referring to the bilingual, digitized repository of Hawaiian Kingdom historical and legal materials. In 2008, the website contained around 30,000 images; through Poai's guidance, it has reached almost 200,000.
Like several of the law school's faculty, Poai wears many hats. Besides her dedication to the law school aptitude test preparation program and outreach, she facilitates events with charter and immersion schools, including field trips to teach students about the different branches of government.
"When we do stuff like that, we try to incorporate the teachings of our Native Hawaiian scholars," she says, explaining the importance of using the native language, olelo Hawaii.
"It's like the kupuna's teaching hour, and I'm just being the medium that helps students hear from the voices of our ancestors."
Kale Hannahs, digital archivist for the Office of Hawaiian Affairs, attests to Poai's passion for her work. "She's always been like that, even in high school," says Hannahs, who shared a class with her at Kamehameha Schools.
"She's doing great things for not only our lahui, our Hawaiian community, but making these types of digitized documents available and searchable, it's a huge advantage, and it helps OHA's mission in further educating the general community in the history of Hawaii."
━━
Joan Obra
OCCUPATION: Partner,
Rusty's Hawaiian & Isla Custom Coffees
AGE: 44
By Meghan Miner Murray
When Joan Obra's parents retired from suburban New Jersey to Kau on Hawaii Island in 1999, she wasn't surprised; they had talked about it. Even when they planted coffee on former sugar cane land – when they were neither farmers nor coffee drinkers – her surprise was brief. "Ours is a family who takes very big risks," says Obra.
Her parents built Rusty's Hawaiian, a coffee farm, mill and roastery and aimed to get Kau coffee recognized among the world's best. But in 2006, with those goals largely unrealized, her father, the company's namesake, passed away. Even though she was living in California and working as an agriculture and food reporter for The Fresno Bee, Obra says, "I felt personally invested. … I always saw the company as a sibling."
Obra helped her mom by applying for a federal grant for the Kau Coffee Grower's Cooperative. "We described how Kau's small-scale coffee farmers were trying to build a new, sustainable economy," she says. Though she'd never written a grant application before, the group was awarded $112,000.
Obra soon took her own big risk: She and her husband left their jobs and moved to Pahala. Her family's gambles and those of other Kau growers have reaped many returns: The region's beans – including those from Rusty's – have won numerous national and international awards.
Sugandha "Soni" Pomaski, co-owner of Moon & Turtle, a popular Hilo restaurant for locavores, says she only serves Rusty's Hawaiian coffee. "A big part of it is the story of Rusty's Hawaiian – why they do what they do in honor of Rusty and the dream he wanted to see … come to fruition. You taste that love and that dedication in what they serve," she says. And she says Obra "strives to bring everybody else up. … She's a great person, a great connector."
Obra has helped build another company, Isla Custom Coffees, and writes grants for the Synergistic Hawaii Agricultural Council, a collaboration of the coffee, floriculture and papaya industries. The council's administrator, Suzanne Shriner, says Obra has the important and rare ability "to work at the big picture level and tie it back to the very important reality of small farms."
Obra's achievements have given her confidence. "It's taken awhile to get there, but I feel like I'm finally at a sweet spot in my life where my education and prior experience are melding together."