5 Things to Know about Leading Through Change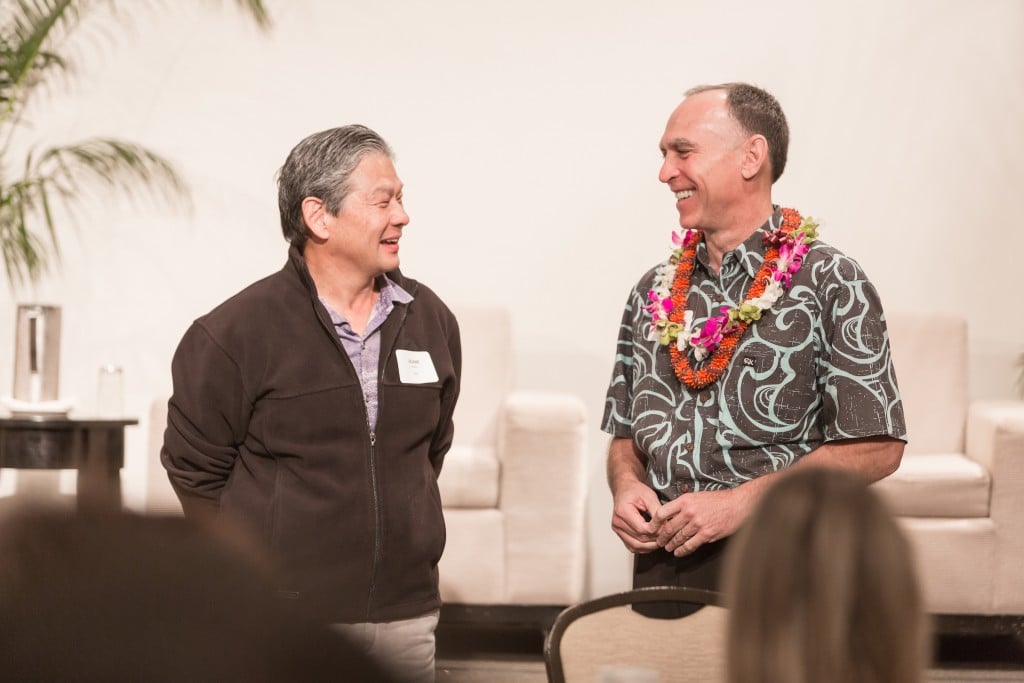 Change is inevitable in business. So organizations need to be thinking about and anticipating change, said Don Horner, former chairman and CEO of First Hawaiian Bank.
He suggested that business leaders reevaluate their company visions at least once a year: "You don't sit there and say, 'I'm doing great, so I'm not going to make changes.' You look for it in the market and see that there's changes coming. … It's up to the boss to help the troops identify what the changes are and collaboratively make adjustments to make the vision, what it's going to look like, and execute it."
Navigating change in your business can be challenging, so Hawaii Business magazine put together a panel of business leaders to discuss this challenge at its final C-Suite Speaker Series event of the year. More than 150 people attended the event, which was held at the Pomaikai Ballrooms on Thursday.
The panel featured Horner, HMSA president and COO Michael Stollar, and First Hawaiian Bank chairman and CEO Bob Harrison, who is also Hawaii Business' 2017 CEO of the Year.
Here are five things to know about leading through change:
1. Don't focus on the endpoint too much or you'll get paralyzed. "You really have to just walk step by step by step, "says Harrison. "Lay it up, develop a plan and just start working it through with everybody." Since it's the people that make change possible it's important to make sure you have a cohesive group that communicates well and understands each other. "Once you have that, you can do anything," he added.
2. Being a good listener is a critical skill for a leader to possess. It allows for the development of camaraderie and the ability for a group of people to collaborate and work together. Without that, employees will go elsewhere, Harrison said.
3. Even as a leader, you can't control everything, so it's important to know what you can change and what you have no control over, Harrison said. "If you worry about things you have no control over, you're just wasting your time getting all worked up over nothing. Because if it's someone else's decision and action, you just got to let that play out."
4. Businesses should to have a process in place to figure out what the problem is when things go wrong, Horner said. "Any change is almost like a movie: It involves pre-production, which is critical, it involves production, which is critical, and it involves post production, which is critical," he said. "If you've done those well, you'll know where the issues are and where you made mistakes. And normally it's because you didn't do one of those things well."
5. To avoid change fatigue – a phenomenon suffered by people who feel they have been pressured to make too many changes in too little time – make sure you have a plan for your business to navigate change. "If you don't have a plan, you're just bouncing around from one change to the next," said Harrison. "People can lose faith and just get tired, but if they know where they're going, they can see they're making progress."