A New Way of Thinking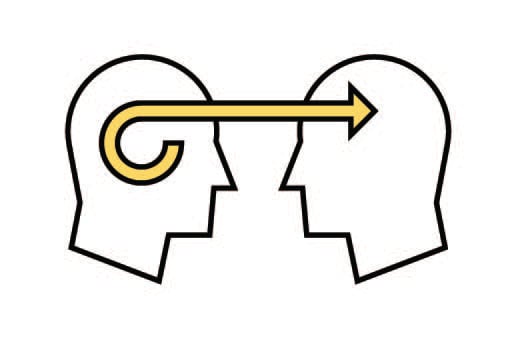 Five years ago, Honolulu consultant and social-media expert L.P. "Neenz" Faleafine was talking with Ian Kitajima, corporate development director of the Honolulu R&D firm Oceanit, when he told her about a new idea called "Design thinking."
Developed at the Institute of Design at Stanford University, the term describes a methodology for arriving at creative solutions and out-of-the-box ideas, and Kitajima was convinced it would transform his business.
"All I heard was that it's a process for innovation, and I was like, 'Ok, buzzword, buzzword, I get it,' " recalls Faleafine. "And then (he) said the first step was 'empathy.'
"When I heard 'empathy,' I perked up."
Two years later, Faleafine has joined Kitajima as a design-thinking evangelist, helping lead an annual "boot camp" sponsored by Design Thinking Hawaii to train others in the process, and serving as a consultant and facilitator to help bring it into the workplace and beyond.
In addition to industry and nonprofits, Kitajima's boot camps target school administrators, teachers and students with the goal of training the next generation of design thinkers and the hope that the process might be used to transform public schools. Through design thinking, he says, diverse groups can come together to take on some of Hawaii's biggest challenges.
"We need a way to actually work together," Kitajima says. "Not just in our companies, but in our community and in our state."
What makes DT so compelling to the people who try it? For Faleafine, it was the focus on communication, listening and paying attention to human needs.
"I truly believe that everything begins with the way people feel, and, if we understand how people feel, we can solve the right problems," she says.
Kitajima says the first time he saw DT in action, he felt like someone was showing him how to turn on the creativity spigot anytime, anywhere.
"It was like, 'Wow, we've discovered this great secret,' " he says. "I thought: 'This is going to change everything we do.' "
All Ears
Design thinking outlines a five-step process that leads a team through the stages of identifying and defining a problem, then brainstorming, prototyping and testing solutions (see box on opposite page). But, while a conventional design team might spend the lion's share of its time on the last three steps – what some might think of as the actual designing – design thinking does the opposite, frontloading the process with a lengthy information-gathering stage known in DT-speak as empathy.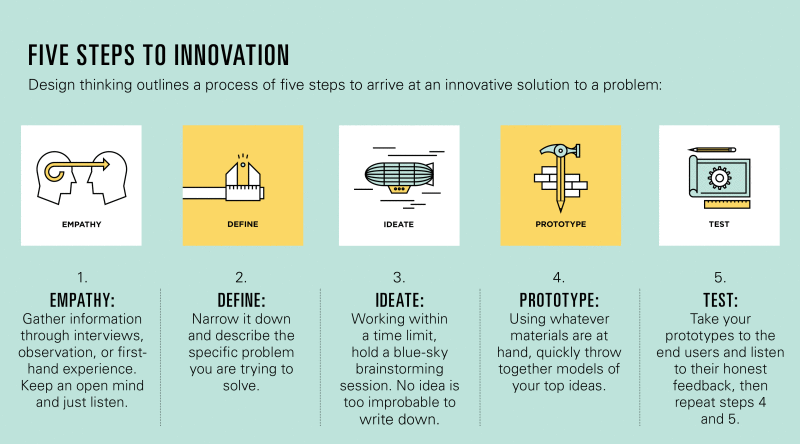 "If you spend more time on the front end, understanding the problem, you're going to have way better outcomes," Kitajima says.
To "gather empathy," team members might observe an existing workflow, interview customers about their experiences or test drive the current system for themselves. What's most important is to approach the process without judgment and learn how to really listen, Faleafine says. "If you allow your biases to dominate the interview, people aren't going to open up."
It helps to start with a diverse group, with at least some team members drawn from different departments. Employees who are too close to the problem actually may not be in the best position to find a solution, she notes. "If they knew what to do, they would have done it already," Faleafine says.
The result of a meaningful empathy stage is often a realization that you didn't really understand the true problem, or that the customer complaint you're responding to is actually just a symptom of something deeper.
"The most important question you ask is 'Why?' " Faleafine says. "What I've learned is, it's a challenge for people in Hawaii to ask why – you're not supposed to be niele," she says, using the Hawaiian word for nosy.
When participants at a design-thinking boot camp were given the challenge of improving the hotel check-in process, they initially focused on allocating staff to reduce lines. But, through interviews, they eventually realized, "It's not the check-in process, it's the fatigue," Faleafine says.
Realizing visitors' real issue was exhaustion after a long flight, they addressed that concern directly. Proposed solutions included working with airlines to provide an on-board hotel check-in so they could go straight to their rooms on arrival.
Design-thinking newbies often balk at the time spent on empathy, but, Kitajima says, it pays off in the end: Prototyping goes faster, and you're less likely to wander off course, and more likely to develop something the client really wants.
"By the time you finish the end product, they feel like they built it themselves," Faleafine adds. "You get buy-in early on, versus no buy in, after you've spent the budget."
Every Idea on the Board
After the information-gathering stage, design thinkers focus on narrowing down the specific problem they are going to solve, in a process called define. Next comes ideate ("Otherwise known as brainstorming," says Faleafine).
Participants write down as many ideas as they can think of in a set amount of time, with an emphasis on blue-sky thinking, keeping an open mind and setting aside any preconceived ideas about how things are done.
"I hear it all the time," Faleafine says. "People say, 'I've been here 40 years, and we tried that in the '80s, and it didn't work.' I say, 'How do you know it's not going to work this year?' Every idea, you put it on the board."
It's an alternating process of "flare and constrain," Kitajima says, meaning you throw open the floodgates during the process of empathy or ideate, then tune out the noise and focus deeply on defining just one problem or building out your top three ideas.
When it comes time for the prototype stage, team members work fast, throwing together working or dummy models of their ideas with whatever materials they have on hand. The goal is to get a prototype into the hands of end users as quickly as possible, moving on to the test stage and gathering feedback – and then repeat, repeat, repeat.
For a recent project to create a device that could charge cell phones using only the heat from a campfire (the project is aimed at humanitarian missions and disaster response, but could find a consumer market with the backpacking crowd), an Oceanit team went from idea to working prototype in a couple of hours – first with a mockup of cardboard and tape, then a more functional model made from soda cans and their breakroom toaster oven.
The goal is to not invest too much time creating a perfect model, so you can "fail fast, fail cheaply," Kitajima says. That can be hard to stomach for adults in the workforce who feel they've been punished in the past for making mistakes or not having the right answer. But, Kitajima says, learning to embrace a mistake as something that moves the project one step closer to success is key to thinking like a designer.
"Failing is good, because failing means learning," he says. "And the faster you can learn, the better."
Better Call-Center Screens
Design thinking might sound like a good way to build a hot new gadget or genius app, but a number of Hawaii business leaders are investing in it as a tool that has applications beyond the tech industry.
At Hawaiian Telcom, "Everyone from the CEO to people out in the field have taken design thinking," says John Komeiji, SVP and general counsel, and an executive sponsor of the design-thinking program.
Hawaiian Tel has trained five employees as instructor/facilitators, and offers quarterly classes in design thinking to anyone in the company. So far, more than 300 employees across all islands have participated. The DT process has also been applied to a number of projects within the company.
Komeiji says the push followed an enthusiastic response from employees who had tried design thinking, as well as a companywide initiative to increase employee engagement – something he believes the DT process offers, in addition to serving as an effective problem-solving tool.
"Part of what is really cool about it to me is seeing the energy when people who have regular jobs are introduced to design thinking," he says. "You see how excited they are about the project and what they're doing. That to me is the best."
Ryan Suzuki, Hawaiian Telcom's director of treasury and a design-thinking trainer/faciliator, participated on a project to overhaul call-center computer screens.
"There was a big focus on empathy in terms of getting to what the actual end user would want," he says. That made some team members nervous. They worried they were taking too long interviewing call-center workers, and would run out of time to actually work on their designs.
"We tell them, 'If you spend the time up front gathering that empathy and defining the problem, you'll get a better result and it'll go faster in the end,' " Suzuki says. "We tell them, but it's hard for some to be convinced."
But when the team eventually rolled out their final design, "There were hardly any questions," Suzuki recalls. "It was just, 'When is it going to be available?' That was an 'aha' moment for them."
At Bank of Hawaii, design thinking was adopted as part of an attempt to improve the bank's ability to innovate and adapt in an industry that has been seeing rapid, often disruptive change.
"Being the nature of a bank, it's often steeped in risk aversion," says David Oyadomari, executive VP for retail banking – product management, payments, digital channels. "We wanted to find a way to instill a greater sense of innovation throughout our culture, greater risk-taking and acceptance of failure – as long as the failure was quick and small, and not large and catastrophic."
The company hired Faleafine as a "master facilitator" to create a design-thinking curriculum and facilitate some initial training. It then brought the program in-house and has offered training classes to some 350 employees to date. The initiative has received an enthusiastic response from employees, he says.
"Design thinking hits that sweet spot," he says. "It's not the only tool out there, but it's certainly one that's gotten a lot of buzz."
Less clear, Oyadomari says, is how to apply it day to day.
"I think it's most applicable to those situations where there's a very specific customer pain point, and you're trying to understand the root cause and really think outside the box about how you can solve the problem," he says.
For a problem that's already clear and defined, launching into a full-court-press empathy session may be "overkill," he says.
"When everybody's moving as fast as they can to solve a problem, do you really have time to say, 'Stop, let's spend a day doing design thinking'?" he asks. "I don't think it fits every situation, but it's another tool."
Designing a Better World
Three years ago, Faleafine helped facilitate a DT workshop to address the problem of high drop-out rates and low test scores in a complex of public schools. Educators had their own theories about why students were failing, and had tried different approaches to the problems, but nothing had worked.
So Faleafine volunteered to conduct empathy interviews with some of the most at-risk students and their families at a nearby public-housing complex. The results surprised even teachers who believed they knew what was happening in their students' lives.
"What we discovered was that the students who were dropping out didn't live at the housing," Faleafine says. "They just pretended to live there. They'd been homeless since elementary school and the schools didn't even know."
Services like A+ and free breakfast helped kids make it through elementary school, but those programs eventually dropped off, making it harder for older children to stay in school, they learned.
"Really, the kids are smart," she says. "They want to learn, they just didn't know when they were going to eat again."
Improving services for homeless students and offering tutoring at night improved test scores, keeping the schools out of restructuring, she says.
That's one reason Faleafine sees design thinking as a tool with the potential to do more than just improve customer service.
"Maybe that's the way we solve homelessness," she says. "I believe in people, in the human race, that we will solve it on our own, as individuals."
Kitajima agrees. A few generations ago, on the plantation, "Pidgin became the language so we could communicate between our cultures," he says. "Design thinking in my mind is the next generation of pidgin in Hawaii. It's a way for industry, nonprofits and government to all work together."
And Faleafine is hopeful design thinking can solve some of the world's most intractable problems, even those closest to home.
"How might I get my son to clean his room?" she muses. "I don't know. So I ask my friends who are not parents. I'm just too close to the problem."