Acts of Aloha: A Partnership for Angels [Sponsored]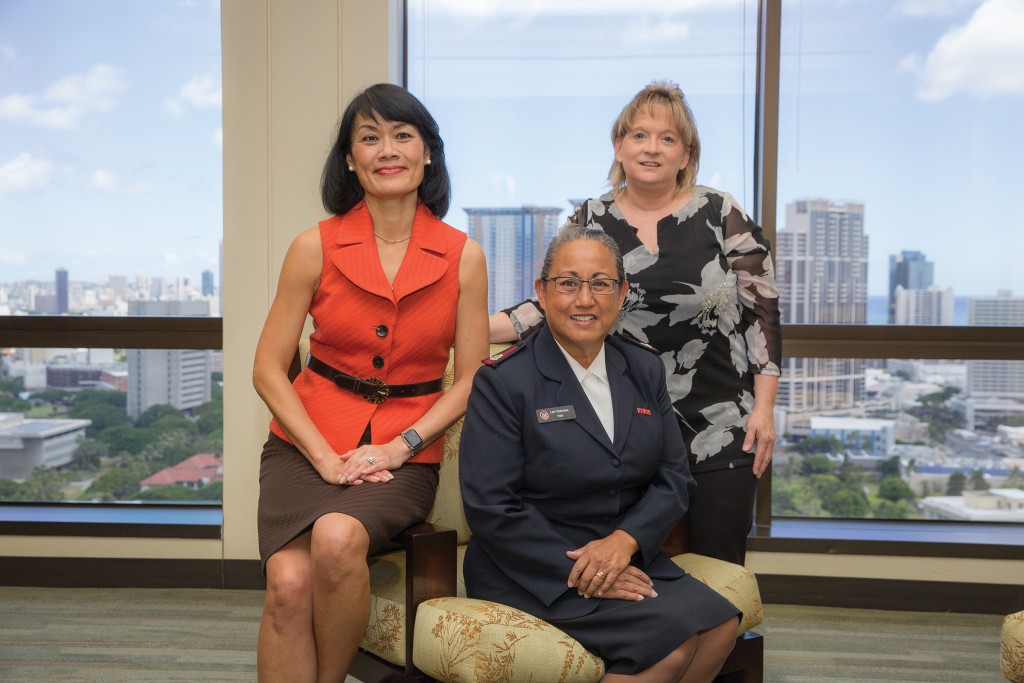 Something as simple as a toy or a blanket can lift the spirits of people in need, light up their faces and perhaps even change their lives. During the holidays each year, The Salvation Army's statewide Angel Tree program invites the community to experience the joy of giving to keiki or kupuna in need.
Thanks to partnerships with Central Pacific Bank, Aloha United Way, and Burger King, The Salvation Army is able to maximize its efforts to kokua local families. The leaders of those organizations are successful, influential women who understand the power of people banding together to achieve a common goal.
"Angel Tree is a wonderful program that is more than just buying presents for needy children and seniors who otherwise may not have gifts under their trees," says Catherine Ngo, President and CEO of Central Pacific Bank. "It's also about making connections in our community and offering others comfort in knowing that someone cares." This is the eighth year that CPB is participating as an Angel Tree partner; all of their branches sponsor their own Angel Tree.
Aloha United Way and Burger King are teaming up to raise money for Angel Tree gifts. All 24 of Kazi Restaurants of Hawaii's Burger King stores throughout the state will serve as collection sites for Angel Tree. The monies collected at each restaurant will be used to purchase gifts for Angels living on the same island.
"Burger King is honored to have been able to participate in this program and give back to the community for five years," says Denise Yamauchi, Director of Kazi Restaurants of Hawaii/Burger King. "It is so heartwarming to know that we are helping to grant Christmas wishes of children and families who need it most."
And that is what Christmas is all about—instilling hope, extending a helping hand and spreading aloha wherever and however we can.
"Thanks to our partners, we were able to distribute more than 24,000 gifts to keiki and kupuna in need last year," says Major Lani Chamness, Divisional Leader for The Salvation Army. "I can't stress enough how important their partnership is to us and our local community. We're able to bring happiness to more people during the holidays because of their generosity."
PARTICIPATE IN ANGEL TREE THIS CHRISTMAS!
Visit hawaii.salvationarmy.org/hawaii/angeltree for Angel Tree locations and how to participate in helping a keiki or kupuna in need on your island.