A Solution to Homelessness: Build a Village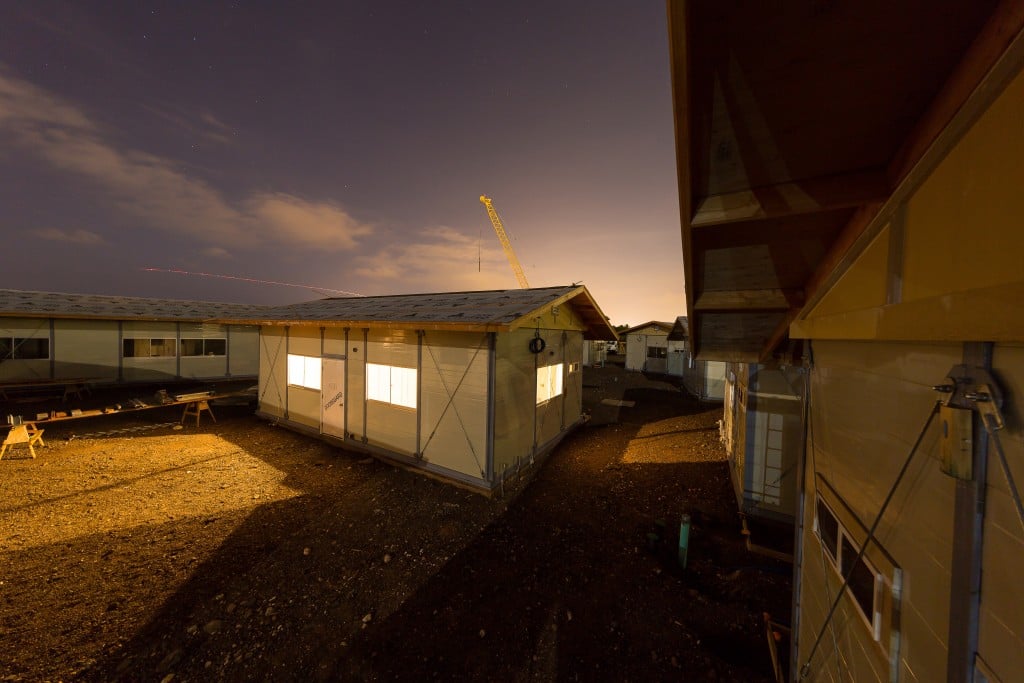 A small peninsula wedged between Sand Island and Keehi Lagoon Park doesn't look like much. The mauka section is mostly dirt and gravel, and nondescript trees and shrubs cover the makai area. But by the end of this year, it will be the home for previously homeless families.
The plan is to build a village of about 150 homes for 630 adults and children, with gardens, a daycare/recreation center and a preschool. "This will mean that we will be taking care of half of the homeless families on Oahu," aio Hawaii CEO and chairman Duane Kurisu said to a group of aio Hawaii employees on June 21. The blessing for the project will be on July 11. (aio is the parent of Hawaii Business.)
Kurisu and the aio foundation are partnering with numerous private companies and nonprofits, plus the state and city governments – the first such collaboration in Hawaii, he said. The state owns the land, which was transferred to the City and County of Honolulu, which leased it to aio Foundation for $1 a year for 10 years, with the option to renew the lease for another 10 years.
Kahauiki Village is part of Gov. David Ige's Emergency Proclamation on Homelessness. This allows the foundation and its partners to bypass the city's permitting and environmental assessment processes, which reduces the project's costs and timeline. Nonetheless, Kurisu added, project leaders have still done environmental studies and asked the city to review building plans.
The village will sit on 11.3 of the peninsula's 13 acres (the rest is reserved for a radio antenna). One- and two-bedroom units will have their own bathrooms and kitchens. They are a second life for modular homes originally built for Tohoku earthquake and tsunami victims; they will be shipped from Japan and upgraded with pitched roofs to look more like plantation homes. The first of six phases will build 30 homes for 30 families, who are expected to move in by early December.
"This is different from any other project in the U.S.," Kurisu said, "because we are building a village. We're not building shelter, we're building a village. We're building a community. So, we're stopping with phase one, 30 homes, to make sure this concept, this culture, this plantation culture, this culture of community, is in place before we start building the rest of the phases."
His inspiration came from a childhood spent on a Hawaii Island plantation. "A lot of us would say that, without the plantation, maybe we would have been homeless ourselves. So, the plantation camps, I remember our rent was $23 a month. Water was $1 a year. There was a school, there was a community store, a post office.
"And it was a culture of everybody shared, because you had to share. So, if you caught two fish, you didn't keep the two fish, you gave one away. Everyone had a garden. When you harvested your garden, you kept some but you always gave some away to your neighbors. So, that's the culture that we're planning for at Kahauiki Village."
The village is in a prime location, Kurisu said, because it's close to public transportation – bus routes run nearby and so will the rail – and it's a short walk from potential employers, like United Laundry and Hawaii Coffee Co., who have offered to provide jobs to tenants. A low-cost daycare center and preschool on the property will free parents to work.
Rent, which will include water, sewer, electricity, gas and wifi, will cost families $900 a month for two-bedroom units, and $725 a month for one-bedroom units, Kurisu said. The Institute for Human Services and Newmark Grubb|CBI will manage the property. Eligible families are required to live in transitional housing before they can apply to be tenants at Kahauiki Village.
Kurisu and his team are preparing to start construction, and the National Guard and the U.S. Navy will assist them in July. He said this project has shown how generous the community is: "There are so many people that have stepped up and said they've always been looking at how to resolve the issue but don't know what to do. So, with this, I think it's actually bringing them, the community, together."
The village will be powered by solar panels and gas provided by PhotonWorks and Hawaii Gas, and Hawaiian Electric will provide backup power. RMY Construction is grading the property, Island Flooring has volunteered to do the flooring for the units, and multiple community members have said they will donate fruit-bearing trees.
Kurisu said: "This project is really about our children and the future of our children. If we can give them hope and a place to live with dignity, then we will hopefully prevent homelessness from repeating itself in a family."