A Treat for Your Ilio's Teeth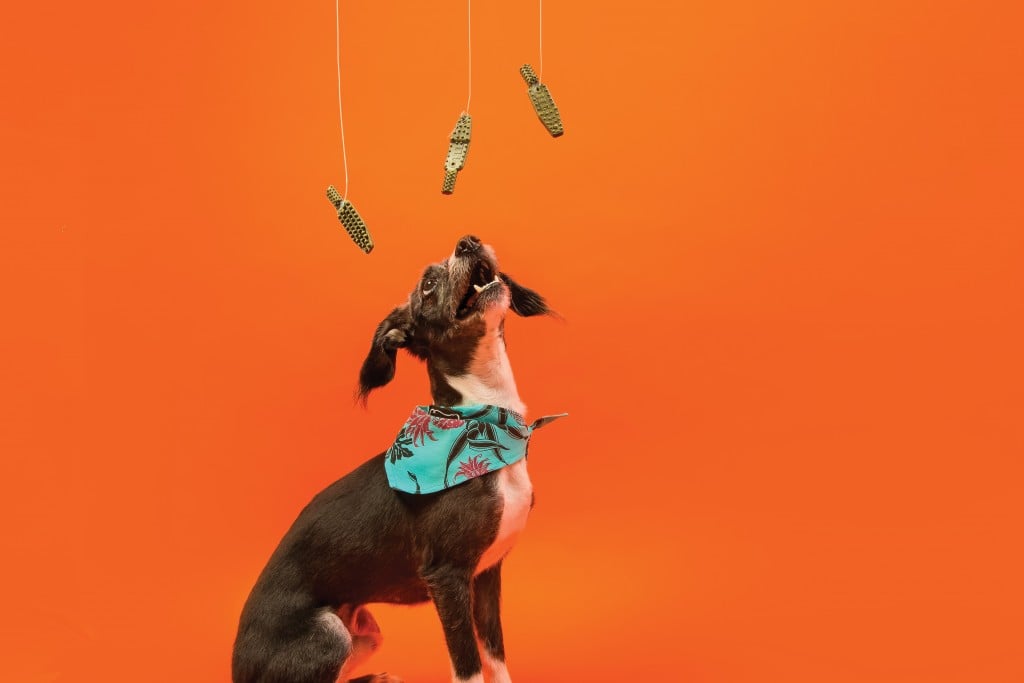 ORIGIN: David Pang has been creating pet products for years, first when he owned a chain of pet stores in Taiwan and then after he opened Pet Spot Ward at Ward Warehouse in Honolulu. So he launched a company to market his creations and called it Ilio Products, using the Hawaiian word for dog. The first item was a puppy pad – an absorbent mat designed to help potty train young dogs while protecting floors.
In 2010, Pang says, he learned the FDA was receiving reports from owners that dog treats were sickening their pets and, in one case, killed a dog. He set out to develop an organic dental treat that would be safe and easily digestible.
He says he worked with doctors at the Kapalama Pet Hospital, where samples were given to clients with good results. Further experiments and trials were done in Taiwan and California before Ilio Dental's Teeth Treat was launched in 2012.
DESIGN: Pang says Teeth Treat freshens breath and helps reduce tartar buildup and the chance of gum disease. He says dogs have a hard time picking up most treats, so they clamp onto them and damage their teeth. He created an asymmetrical shape with pliable nubs that are easy to grip and encourage prolonged chewing. Because the treat breaks apart, dogs slow down and chew longer, he says.
Pang says he personally tastes the treats every month when he visits the San Diego factory.
OUR TEST: Hawaii Business account coordinator Anela Apostadiro says that, after a week and a half of feeding Teeth Treat to her 10-year-old dog, Bear, she did a breath test and found, "It really made a difference."
Bear likes the treats, without any stomach problems that other treats have caused, Apostadiro says. "When I bring out the package, he sits up because he wants another."
MARKET: Teeth Treat and other Ilio products are sold in over 100 stores nationwide, including chains such as Petco and Walgreen's. At Amazon.com, a 4-ounce package is $6.18, but Pang says that, when the product is on sale at Longs in Hawaii, a 4-ounce pack costs $3.99.
"We spend a lot of time making the product right and then marketing it," Pang says about himself and his partner, Mike Choy. Pang says Ilio Products employs eight people in Honolulu. Teeth Treat had $100,000 in sales in its first year and he estimates total sales will reach $2 million by the end of 2016.