ADUs Seemed Like a Simple Solution to Hawai'i's Housing Crisis
But the reality of building accessory dwelling units was far more complicated, leading to just a trickle of affordable units. Could regulatory changes boost the numbers?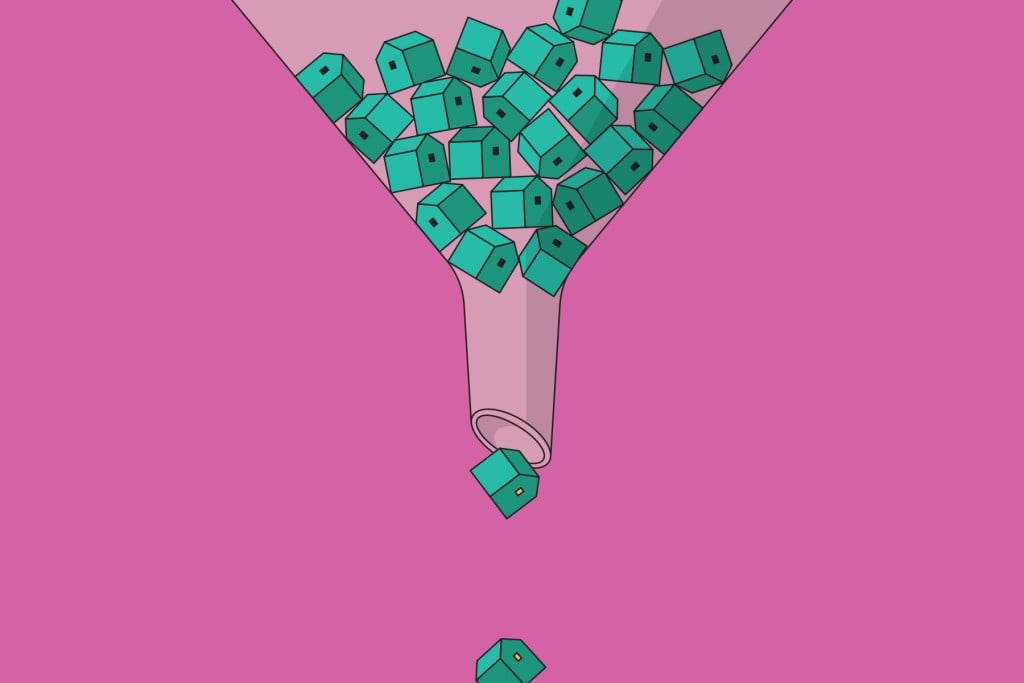 In the beachside town of Kailua stands a dark green house with a large carport, clean lawn and a second story with a wraparound lānai that gives occupants picturesque views of the Ko'olau and Olomana mountains.
You wouldn't know by looking at it, but the second story is an 800-square-foot accessory dwelling unit, a second residential unit on the lot with its own kitchen, bedroom and bathroom. These types of units can be attached to the primary house or detached, and can be rented to anyone – related or unrelated to the homeowner.
ADUs are a key piece of some jurisdictions' attempts to add housing. California, Oregon and Vermont recently passed statewide laws to relax ADU regulations. And several cities have either passed their own laws, such as Bremerton, Washington, and Missoula, Montana, or are considering them.
Hawai'i has allowed second dwellings on certain residential lots since the early 1980s, though it wasn't until the 2010s that counties started making it easier for homeowners to build ADUs. Today, each county specifies where ADUs can be built, what they can be used for and the public infrastructure required to service them.
Several community groups, homeowners and government officials have pushed for ADUs because they can add affordable housing without drastically altering the character of neighborhoods. However, many advocates also acknowledge that ADUs have had a limited impact since they're built individually rather than at scale. In addition, infrastructure limitations and other challenges prevent some homeowners who want ADUs from building them.
Today there are more than 7,700 ADUs across the state – a little more than 1% of the estimated housing supply in 2020. County officials say most are being used for long-term renting.
About 850 are on O'ahu, which began allowing ADUs in 2015. The units are often used by the adult kids of the owners, or aging parents, or they're rented out to create additional income, says Marshall Hickox, president of Homeworks Construction, the company that built the Kailua ADU mentioned in the opening paragraph.
"We were seeing all sorts of social dynamics happening with the ADU bill being passed, and they were all very, very positive," Hickox says.
The 7,737 ADUs statewide do not include 'ohana units, which can only be occupied by family members, or guest houses, which under county laws are smaller and generally can't have kitchen facilities.
More Housing
Kathy Hudson and her husband bought their Kailua house in 1988; back then, she says, it was the "worst house on the block." The exterior hadn't been painted in years and the kitchen countertops were made of floor tiles.
Several projects turned the house into their forever home, Hudson says, and they added a one-bedroom, one-bathroom ADU in 2017 to help fund their retirement.
"It was the best idea we could have had for that property," she says.
The couple has lived on the mainland for the last few years. County rules prevent them from renting out the primary house and the ADU at the same time, so they're renting out the main house and stay in the ADU when they visit. They plan to eventually move back into the main house and rent out the ADU.
The Hudsons took advantage of the 2015 Honolulu law that allows ADUs in areas designated for residential and country use and has since resulted in 852 permitted ADUs. (Areas zoned as "country" can be used for some agricultural activities, low density residential development, and some support services and uses.)
Previously, the rules only permitted 'ohana units, which had been limited to family members since 1992. According to the Department of Planning and Permitting, there were 254 'ohana units given permits on O'ahu from January 2000 to May 2021. The department says it doesn't know how many units were permitted before 2000 as its computers don't have records before then.
The 2015 law was part of then-Honolulu Mayor Kirk Caldwell's affordable housing strategy. It allows ADUs up to 400 square feet to be built on lots between 3,500 and 4,999 square feet, and up to 800 square feet if the lot is 5,000 square feet or larger. The size limits are meant to keep the units affordable to renters, Caldwell says.
Lots must be supported by adequate wastewater, water supply and transportation services, and one off-street parking space must be provided for each unless located close to a rail station. The ADUs can only be used as long-term rentals.
In addition to O'ahu's 852 units, more than 1,392 ADUs have been built in Maui County, 4,051 on Hawai'i Island and 1,442 on Kaua'i. Michele Chouteau McLean, Maui County's Planning Department director, says the county's ADU inventory does not include units built between 1982 and 1994. The number of those units is unknown because those records are on Maui's old permit system.
Maui and Hawai'i counties call their ADUs "accessory dwellings" and " 'ohana dwelling units" respectively, but this story refers to them as ADUs since they are not limited to family members and meet the basic requirements of having their own kitchens and living areas.
Kaua'i's ADUs include 24 additional rental units – a type of ADU up to 800 square feet that can only be used as a long-term rental. The county began allowing them in 2018 in hopes of addressing its need for thousands of new housing units. The county does not limit the sizes of regular ADUs.
Ka'āina Hull, Kaua'i County Planning Department director, says owners of qualifying residential lots can build attached or detached rental units for every dwelling on their property. For example, a 1-acre residential lot that's zoned for four dwellings per acre can have four dwelling units, plus an affordable rental unit for each of those units.
Permitting officials with each county believe most of their ADUs are used for long-term renting. Honolulu hasn't allowed new ADUs to be used as vacation rentals for the past seven years, and Maui for the past four, though some older ADUs on Maui may be legal vacation rentals. McLean doesn't know how many fall into that category, but the county had only issued 338 permits for vacation rentals as of early April and not all the permits are for ADUs.
Kaua'i County says 28 ADUs located in the island's visitor destination areas – places where short-term rentals are allowed – can be used as legal vacation rentals. Hawai'i County allows ADUs to be used as vacation rentals in certain areas as well, but Zendo Kern, Hawai'i County planning director, says he's unsure how many are used that way.
---
What's in a Name?
Accessory dwelling units are sometimes called granny flats, 'ohana units, guest cottages and in-law suites. But county rules distinguish between ADUs and other types of secondary dwellings.
Accessory dwelling unit/additional dwelling unit: A secondary residential unit attached to the main house or detached, with its own kitchen, bedroom and bathroom facilities. ADUs can be rented to anyone regardless of their relation to the homeowner.
ʻOhana unit: A secondary dwelling that can only be occupied by family members. Honolulu is the only county that distinguishes between an ADU and an 'ohana unit. 'Ohana units must meet the zoning district's requirements and have two off-street parking stalls. There is no maximum 'ohana unit size. O'ahu 'ohana units permitted before Sept. 10, 1992, do not have a family occupancy requirement.
Guest house: A second unit on a property that is less than 500 square feet and generally does not have kitchen facilities. Honolulu, Kaua'i and Hawai'i counties regulate them. Kaua'i is the only county that allows kitchens in its guest houses.
---
In Demand
Daryl Takamiya, 2022 president of the Building Industry Association of Hawaii says the local building industry has seen a lot of interest in ADUs among homeowners. DR Horton offers ADUs for some of its Ho'opili homes, and some builders now include ADU designs and services in their standard offerings.
HK Construction offers three ADU packages between 700 and 799 square feet. VP Alan Twu says the designs, which are often modified to fit homeowners' lots and requirements, have helped clients see what's possible.
Homeworks Construction's Hickox says a large part of his business before 2015 focused on multifamily homes, in which two families share a central kitchen but have their own living rooms and bedrooms. The ADU law met the high demand for that combination of independent but close-by living, he says.
And he points to a trend he noticed early on: Homeowners would often move into their newly built ADU and rent out the main house.
"That happened enough times that I started to notice that OK, A, we must be doing a good job that they like the ADU, it looks great, and, B, hey, that kind of makes sense," he says. "That's kind of the opposite situation where it just shows how diverse and how helpful this law that came into effect is. … The ultimate goal is creating more affordable homes, more affordable rentals across the island."
In a March 2022 survey of Honolulu Board of Realtors members, 89% of respondents said ADUs are at least somewhat important to buyers and 92% said an existing ADU raises a property's value. However, 3% said an ADU lowers property value because it negatively impacts street parking, creates permitting or building code issues, or goes unused.
"Families are doing it just because they want their kids to be able to stay home in Hawai'i and not leave the island, so it can be positive," says Chad Takesue, 2022 president of the Honolulu Board of Realtors and a partner with Locations Hawaii. "It just has to be managed well because, as you said, there are other impacts when you add density to any neighborhood."
Keone Ball, 2022 president of the Realtors Association of Maui, says properties with ADUs are probably the most desirable real estate as the Valley Isle struggles with high prices and a lack of housing. According to the Maui association's data, 181 properties with ADUs sold in 2020 – about 17% of single-family home sales. In 2021, the number increased to 296 properties with ADUs – about 21% of single-family home sales.
"It allows our local property owners to be part of the housing solutions that Maui needs and provides economic benefit to our local property owners who really carry a significant tax burden in Maui County," says Jason Economou, the association's government affairs director.
Building Challenges
The push to add ADUs across the state has been met with challenges, and some of the county officials and builders Hawaii Business spoke with acknowledge that more could be done to increase production.
When the 2015 Honolulu law was being discussed, it was estimated that 20,000 ADUs could eventually be built. As of today, 1,322 ADU permits have been issued but only 852 have been built.
"There's a reason people aren't building," says Honolulu planning and permitting director Dean Uchida. Many single-family homes in urban Honolulu were built years ago when old building codes were in place. Those properties and their neighborhoods aren't up to today's standards to have an ADU.
For example, the homes must be on streets that are at least 20 feet wide and have at least 13.5 feet of vertical clearance to allow fire trucks in. Otherwise, a single-family home or ADU must receive a variance from the fire chief and have a fire sprinkler system, which is costly, BIA Hawaii's Takamiya says.
Another challenge on all islands is sewer capacity. Kern says most of Hawai'i Island's rural areas and some urban ones don't have sewer systems. The state Department of Health only allows one individual wastewater system, such as septic, on a 10,000-square-foot lot. And an individual system maxes out at five bedrooms. That means a house and ADU that exceeds those limits needs to be served by two septic systems if they are located on a lot of at least 20,000 square feet. Otherwise, they need to be served by a sewer system.
Takamiya, who is also senior project engineer of Castle & Cooke Homes, says for developers, ADUs count against the number of housing units they can connect to sewer, water and electrical infrastructure because ADUs are counted like a regular house, despite their smaller size.
"Families are doing it just because they want their kids to be able to stay home in Hawai'i and not leave the island, so it can be positive."
– Chad Takesue, 2022 president of the Honolulu Board of Realtors
"So if you're a developer and you're doing a master planned community, like Ho'opili, you have to decide: Is it worth building these ADUs if it's like I'm building another unit, like another condo or another house," he says, adding that Castle & Cooke does not plan to provide ADUs in its Koa Ridge development.
Caldwell, who served as Honolulu's mayor from 2013 to 2021, says lack of sewer capacity was a major reason why some ADU applications were initially denied in Windward O'ahu. Capacity grew once the city completed its $375 million gravity sewer tunnel between Kāne'ohe and Kailua in 2018, and applicants whose permits were originally denied were encouraged to reapply.
Uchida says his department is working with the county Department of Environmental Services to identify areas on O'ahu where existing sewer capacity can serve new housing units.
"We avoid what happened with the ADUs where we said we want affordable housing across the island and projects come in and you find out you have no sewer capacity," he says. "So if we can identify areas where you have capacity, chances are developers will be very available to start putting up some affordable housing."
Ultimately, it's up to the individual homeowner whether to add an ADU – and for some the cost may be too great. Adam Roversi, Kaua'i County Housing Agency director, says he hears that construction costs are $330 per square foot at their lowest, so an 800-square-foot ARU would cost at least $264,000. At allowed rental rates, it might take more than 10 years for homeowners to pay off the construction costs.
Homeowners might also have to dig up landscaping, create trenches or otherwise alter their properties to qualify for ADUs, Takamiya adds.
O'ahu and Kaua'i have tried to incentivize the construction of ADUs by waiving building permit, sewer and other fees, which can save homeowners thousands of dollars.
Kaua'i County's Affordable ARU program only applies to additional rental units whose rents do not exceed the maximum housing cost based on 90% of Kaua'i's median household income. That means the owner of a three-bedroom ARU can only charge $2,107 a month if the owner pays all utilities. If the tenant pays any utilities, the rent is capped at $1,826.
The program began accepting applications in 2021 and 16 applicants have been approved, though construction has yet to be completed on any of the projects. Roversi thinks one reason why so few homeowners have participated is because the required allowable rents won't cover a homeowner's construction costs.
"The square footage cost is just too much," he says. "You got to take out too much of a loan that you can't afford to rent it at those reduced rates."
Impact of Community Rules
Restrictive covenants that govern some residential neighborhoods also prohibit homeowners from building ADUs even if their properties qualify under their county's zoning rules and there's sufficient infrastructure.
Uchida says that's true for some of O'ahu's master-planned communities because they generally want to maintain the character of their single-family neighborhoods. That's why there are many ADUs in Honolulu, Pearl City and Waipahu, but not in Mililani and other areas.
The Mililani Town Association covers about 15,800 single-family homes and townhouses. According to its covenants, only one residence is allowed per lot. However, a guest suite or similar facility without a kitchen can be attached to the main house.
The Villages of Kapolei Association, which includes about 3,000 single-family homes, plus several apartment and condo complexes, has similar rules. GM Laurence Sussman says the association is not against ADUs, but the community's single-family lots were not designed for two dwellings. Homeowners can build extensions, but they must connect to the rest of the house.
"It has to be contiguous with the house and has to follow the design plans," he says. "Now if they have a door that goes from the living room to the next room and then a door that goes to the outside, that would be up to our design review committee to make those decisions."
Typically, the counties have not interfered with private covenants that restrict ADUs, but the Kaua'i County Council in March unanimously passed a bill that bans new developments from prohibiting ADUs and ARUs in their covenants. The county's mayor signed it into law March 15. The law does not affect existing covenants.
Kaua'i Councilmember Luke Evslin co-introduced the bill after hearing concerns from constituents. Neither he nor officials at the planning department know exactly how many Kaua'i neighborhoods prohibit ADUs, but they say it's a problem.
"It's really the units that have not been built because of it or the people who cannot buy into a neighborhood because they can't partition the house and make a rental unit," Evslin says of the covenants' impacts.
He adds: "It's just recognition that we can only do so much through zoning if the covenants are just going to take the place of zoning and become just as restrictive as they used to be."
Key Partial Solution
Evslin purchased his first home before he began serving on the Kaua'i County Council in 2019: a two-story house in Līhu'e with an existing illegal rental downstairs. Kaua'i's 2018 additional rental unit law turned that illegal rental into a legal one.
"Now I'm a proud homeowner with the downstairs half of my house rented to a tenant," he says. "And I think often it's the only way that, for the most part, everybody but high-income earners on Kaua'i could afford a house is to be able to partition it and add a rental unit."
Many of the officials and stakeholders we spoke with agree that ADUs are not the cure-all to Hawai'i's housing crisis but will play an important role.
Gavin Thornton is executive director of the Hawai'i Appleseed Center for Law and Economic Justice, a Honolulu-based nonprofit that strongly supported the 2015 ADU bill. He says the organization used to believe that ADUs represented an opportunity to create affordable housing without government subsidies but has since shifted its advocacy to publicly funded affordable housing.
He says market-driven solutions like ADUs are not enough, based on income levels and the scale of affordable homes needed.
The Hawai'i Housing and Finance Development Corp.'s latest Housing Planning Study, issued in 2019, found that the Islands will need about 50,000 more housing units between 2020 and 2025. A little more than 19,000 of those units would be for people at or below 60% of area median income – that's $72,480 a year for a family of four in Honolulu.
The various county officials also recognize that Hawai'i's housing shortage is pushing some people to live in housing that's not permitted or not meant for long-term dwelling. McLean says she believes there are still a number of unpermitted ADUs in Maui County, where homeowners have converted bedrooms or garages without permits.
The county's 2018 ADU law increased the maximum ADU size and allowed more ADUs on larger lots. McLean says the bill sought to broaden the opportunities for people to build ADUs and also help legitimize the ones that don't have permits.
Guest houses are another type of secondary unit: They are smaller than 500 square feet and generally don't have kitchens. To provide another affordable housing option, in 2019 Kaua'i began allowing guest houses to have kitchens. In addition, Hull, the Kaua'i County Planning Department director, says that most guest houses his department saw before 2019 already had illegal kitchens.
"If there are black markets for homes, that means there are actual government regulations that prevent that supply from meeting its market," Hull says. "And so when we were looking at the guest house situation, it was like they're already living in it, they're using a kitchen, technically it's our own regulations that make that an illegal dwelling unit, so let's normalize that ability to utilize guest houses for habitable purposes because they're already being used for that."
---
ADUs on the Rise Nationwide
Homes with ADUs made up 4.2% of the U.S. homes sold on multiple listing service boards in 2019 – that's about 70,000 homes. In 2000, only 1.1% of homes sold on MLS boards, or fewer than 9,000, had ADUs.
Source: "Granny Flats, Garage Apartments, In-Law Suites: Identifying Accessory Dwelling Units from Real Estate Listing Descriptions Using Text Mining," Freddie Mac, July 2020
---
More ADUs Needed
Other efforts are in the works to build more ADUs.
The state Department of Hawaiian Home Lands is preparing to launch a five-year pilot program to allow lessees on certain residential homestead lots to build ADUs. These units can be rented to lessees' family members or to a renter with at least 50% Hawaiian blood.
Cedric Duarte, information and community relations officer for DHHL, says this is in response to a handful of requests from beneficiaries who wanted to build ADUs after Honolulu passed its 2015 law.
And Hawai'i County is updating its zoning code to clarify its ADU rules and encourage their construction. Hawai'i County saw its ADU production peak in 1991, a year when 581 units were built. Planning director Kern says he's not sure what explains that jump, but ADU production has significantly decreased since. Between 1996 and 2008, only six to 20 were built per year. And from 2008 to 2020, only four to nine units were built per year.
"Even though we're in a housing crisis right now, we haven't seen a big uptick in 'ohana units here," Kern says. Today, most of the county's ADUs are in Puna, North Kona and South Hilo.
On Kaua'i, Evslin says he's focused on making it easier for residents to build ADUs and additional rental units so more housing can be unlocked in existing communities. In recent years, he's co-introduced a package of bills that make up the county's Affordable ARU program; some of the bills' initiatives are partly based on his experience of paying expensive fees for his own additional rental unit.
"So much of the solution, I think, can be built in a way that doesn't really transform what our communities look and feel like, but they can be a way to ensure that the people who live in our communities are not displaced by high housing costs," he says.