Acts of Aloha: Cooking with a "Touch of Heart" [Sponsored]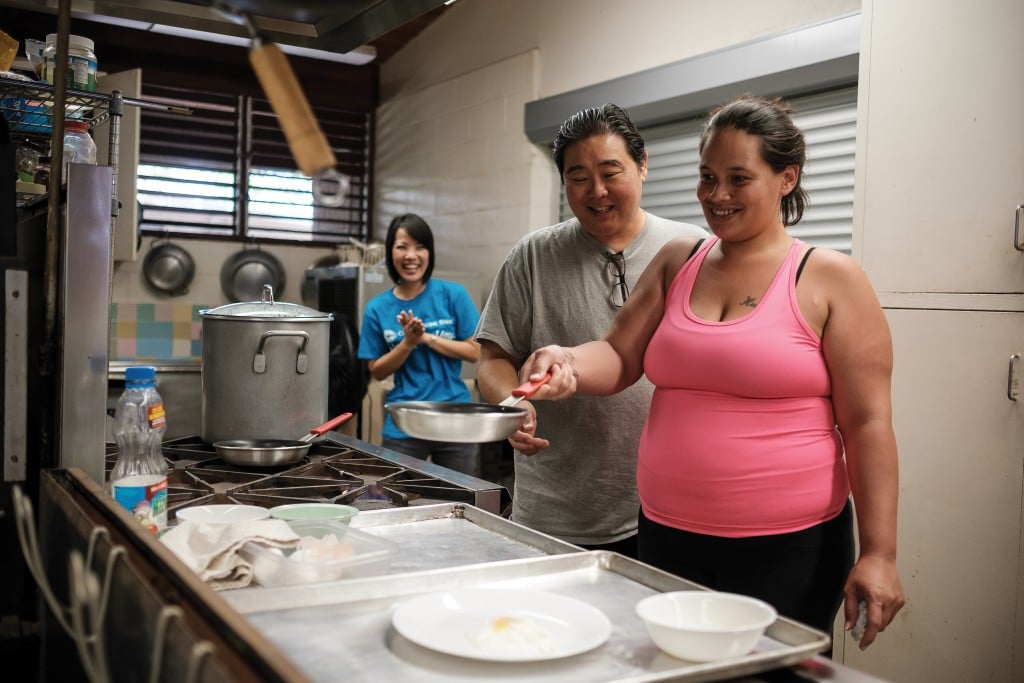 The mission of Touch A Heart is to teach single mothers – who are recovering from addiction – the culinary arts so they may join the workforce. But more importantly, cooking is a skill
that promotes a healthy lifestyle and a foundation to build a stable home. This vocational training program is held at The Salvation Army Kaimuki Campus and is offered to women in The Salvation Army Family Treatment Services.
Since May 2015, the Touch A Heart team has been training up to four students per cohort in the culinary arts. For eight weeks, four days a week and four hours a class these women learn to cook everything from a fried egg to fromage blanc. In addition, they are also coached and taught how to pass the food safety certification so they are able to find a job in the hospitality industry after the program.
While job-placement is the end-goal, there is an immense feeling of satisfaction witnessing these single mothers transform their personal lives says Touch A Heart Director of Operations Colin Kumabe.
"For us, it's actually seeing the women use the skills they learned, go out there, take care of their families and find jobs," explains Kumabe. "But the program itself is not only about teaching skills, we build people. Skills can always be learned, but we are building a person from the inside out that has been abused, into drugs and out of life. We build hearts and that is what is more important."
Touch A Heart is a two-phase program and the first phase is the culinary arts training in partnership with The Salvation Army. The second phase is "self-sustaining" initiatives: a baking operation, catering services, ice cream development and breadfruit flour production with farmers. After the first phase of Touch A Heart, the instructors build a friendship with the students and try to maintain contact to offer guidance and more opportunity, explains Kumabe.
"During the program we try to look for jobs and look for certain services or referrals, but we try to stay with [the rehabilitated single mothers] and follow up," he says. "If we have other opportunities we will present it and work with them."
In addition to its partnership with The Salvation Army, The Touch A Heart program is also a beneficiary of the Central Pacific Bank Foundation. Central Pacific Bank is well-known for its involvement with The Salvation Army Angel Tree program during the holidays, but the acts of Aloha are year-round as demonstrated by its involvement with this program.
"I think The Salvation Army and Touch A Heart are great organizations that work together to really help people get back on their feet," says Donna Takeda, Vice President & Director of Customer Experience at Central Pacific Bank. "Anything we can do to help folks avoid being in a homeless situation I think is something we need to do as corporation to support those efforts."