Adding "Wow" to Events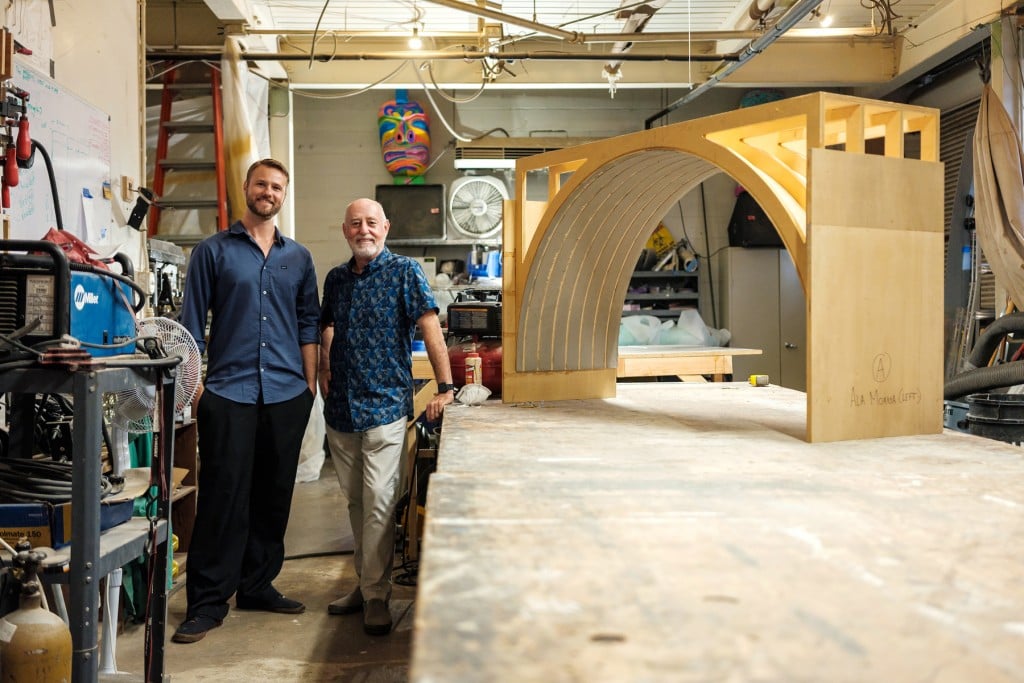 Events International has been
planning, producing, marketing and servicing events throughout the Pacific since 1987. In 2017, it merged with Arch Hawaii, a custom design and fabrication shop – allowing the combined company to offer customers even more services.
"We're always looking for that 'Oh wow' moment – for the client to walk in and have their jaw drop when they see their project," says Rick Schneider, president and CEO of both companies.
"We're always looking for ways to give them something extra."
Some of the "wow" they've created have been jumbo-sized harps for a beach wedding, two 40-foot-long train-car facades for an event on Maui and 6-foot colored light-up letters that spelled "Laulima" on Hawai'i Island.
"We did a three-day event for La Mer Cosmetics," Schneider says. "They flew in 10 social media influencers with huge followings.
"One day was at Four Seasons Resort at Ko Olina – we built a photo background and bench with their brand. On the second day there was a surf event – we took five surfboards and branded them 'La Mer.' The final day was a very special dinner at Kualoa Ranch. We set up a huge sailcloth tent, hung 40 glass chandeliers and lined the road with 60 chrome oil lamps."
Micah Thrasher, lead designer and project manager for Arch Hawaii, says, "We're a turnkey creative agency that will handle all the client's needs from start to finish." That includes everything from initial conceptualization and production to tear-down and cleanup. "Anything we can't do in-house, we will subcontract.
"I like to say we bridge the gap between dreams and reality."
Schneider says the company can't be pigeonholed because its events are so diverse. It produced annual events during the Pro Bowl in Hawai'i for the NFL and worked the FM 100 Birthday Bash for 21 years.
"But since around 2000, we've moved much more toward doing corporate work – meetings and conventions. We work with about 85% of the destination management companies here – primarily for O'ahu, but we've also gone to the Neighbor Islands."
Other corporate clients include Central Pacific Bank, Bank of Hawaii and Hawaiian Telcom.
Greg Johnson, formerly GM at Indigo Restaurant and Bar, brought his food and beverage expertise when he joined Events International as VP and head of events in 2009.
"He now owns 10% of the business. Over the past year, I've also vested four of our key staff who've been with us for at least 10 years," Schneider says.
So when a young artist and builder from New York, Evan Collier, wanted to bring his business here, Schneider took him on as a 5% partner. Arch Hawaii became a legal dba of Events International in 2017.
"There's great synergy between the Events International brand and the Arch brand," Schneider says. "They constantly feed each other.
"And Arch Hawaii and Arch New York support each other. When we built a design for a convention center in Columbus, Ohio, we designed it here, built it in New York, then flew a Hawai'i crew to put it together on-site in Ohio."
The agency has seven full-time and two part-time employees, and hires about 200 independent contractors a month.
Chris Resich is president and CEO of MC&A Inc., a destination management and event production company. "MC&A has worked with Events International since 1987 for large-scale event collaboration. We have had great success working as a team," he says.
"We hire Events International as a caterer 20 to 30 times a year on O'ahu. Secondly, we hire Arch Hawaii to build custom props for our theme events. They do high-quality fabrications that awe and amaze. Lastly, when we do events for thousands of people on any island, we rely on Events International to supervise implementation of these events.
"In every aspect of their service, it's the details – they don't miss a beat."
Schneider says he has goals for expansion. "Certainly for Arch Hawaii, we're looking for 3,000 to 5,000 square feet of warehouse space. We're gearing up for more machinery on the shop floor.
"We've self-invested and grown the business organically – we have very low debt load."