Amazon Queen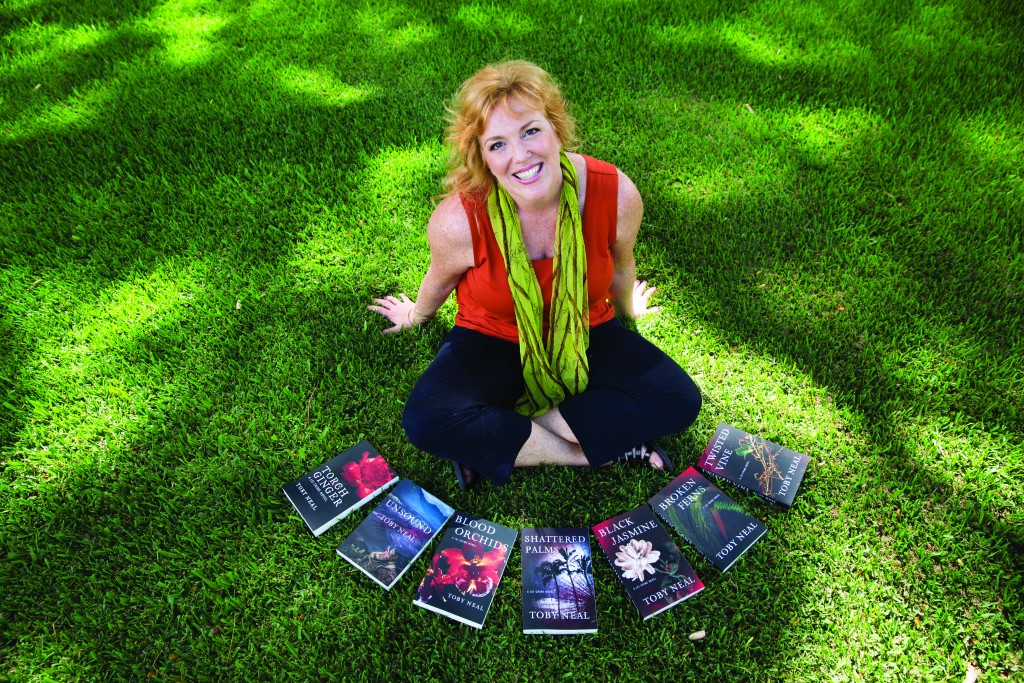 In the downstairs office of a quiet home tucked into a side street in Pukalani, a 49-year-old married mother of two is plotting her next murder.
And with a production schedule that sees her churning out five to six new books a year, she's got a tight deadline to keep.
Meet Toby Neal, a social worker-turned-novelist who may be Hawaii's most successful self-published author. Two years after releasing Blood Orchids, her first novel, she was able to leave her job as a school counselor with the state Department of Education. Today, she's in an elite club of self-published authors whose annual earnings run in the six-figures.
What's her secret? Neal says finding the right niche, investing in high-quality production, hooking readers with free downloads and cranking out new books almost as fast as her fans can devour them are what propelled her to the top of her genre's bestseller list.
"I've always had this passion for writing," she says. "Now it has an audience, and that is just so satisfying. To have people eagerly waiting for your next book is a dream come true."
Neal says she was a prolific writer of stories from early childhood, but was sidetracked in her 20s by her career and growing family. Fast forward a couple of decades and, with her children leaving the nest, she returned to her passion, at first writing fiction anonymously and posting her stories online. As she honed her craft and grew an audience, she realized she had enough material for a novel, and eventually booked a writing retreat to finish Blood Orchids, a psychological thriller about a damaged female cop investigating the murder of two Hilo teens.
"That was when the tide turned," she says. "I took myself seriously enough to buckle down."
She initially pursued the traditional publishing route, and was even represented by a well-known literary agent for a while, but was unable to get a book deal at a time when much of the industry was contracting. After several frustrating years, she took matters into her own hands and released Blood Orchids as an e-book in December 2011.
"I thought, 'This book is good enough, if I could just find the readers,' " she says.
So is self-publishing as simple as dusting off that manuscript in your bottom drawer, throwing it up on Amazon and waiting for the royalties to roll in? Neal says there's more to the story than just "happily ever after."
While self-published titles typically sell for a much lower price than traditional books, authors may earn more money if sales are high enough. Authors published directly with Amazon typically receive around 70 percent of a book's earnings, compared to 10 to 15 percent with traditional publishers. That might translate to $2 to $3 per self-published book, versus less than $1 per book with the traditional model.
On the flip side, self-published authors assume all the costs and risks of publishing their books, without the advances that guarantee at least some payoff to authors with traditional book deals.
Neal says it helps to be a genre writer, whose readers tend to be voracious for new titles, enticed by a low price and open to trying first-time or independent authors – with mystery and romance being especially hot.
And quality matters. Neal urges would-be authors to focus on making their books as good as they can be. Early in the process, Neal invested around $3,000 to hire an outside editor to help her through two complete rewrites and multiple revisions and edits of Blood Orchids. After she made the decision to self-publish, she spent another $12,000 on production, including copyediting, proofreading, cover design, layout and publicity. The goal, she says, is to make a self-published book indistinguishable from titles released by traditional publishers.
"This is where everybody goes, 'Well I don't have $15,000,'" she says. "And I always say, whatever you do spend, just make sure the book is absolutely as good as it can be. That is the single most important business decision I made, and I made it early."
Finally, Neal boosted sales of her book, paradoxically, by giving it away for free. A weekend giveaway drove Blood Orchids to the No. 1 slot of Amazon's "Kindle Free" category, and sales skyrocketed after the free download ended.
"What happens is, readers will try you for free as a new author, but they won't risk even 99 cents most of the time with all the plethora of crap out there," she says. "If you're good – and this is where you cannot not have a good product – they'll go back and buy your other books, and that's where you make your money."
Within three months of releasing Blood Orchids, Neal had made back her $15,000 investment.
Three years later, Neal has sold around 208,000 copies of Blood Orchids, and has released six more books in the series, including follow-ups Torch Ginger, which has sold 70,000 copies, and Black Jasmine, 98,000 copies sold. She's also published spin-off novels Stolen in Paradise and Unsound, as well as her first romance, Somewhere on Maui.
While she's streamlined her process, Neal says her books are still among the most expensive she's heard of in the industry, each costing around $4,000 to $6,000 to produce.
Neal points out that self-publishing success stories tend to fall into two camps: the "prolific self-starter" like herself, or established authors finding new life for their work by re-releasing a backlist of out-of-print titles.
"In either case, volume is where it's at in terms of being able to generate enough sales to live on," she says.
To keep up her astonishing production, Neal writes for four or more hours a day, seven days a week, turning out an average 2,000 words a day – sometimes up to 10,000 a day on one of her regular retreats, where she heads to a cabin and spends as many as 12 hours a day at the keyboard.
Neal averages another three hours each day on marketing: blogging, answering fan mail, developing direct marketing ideas for her email list, and working social media to raise her profile, build interest in her books and expand her network.
"I've always had an incredibly high work ethic," she says. "And I love what I do."
And while she no longer needs the income from her practice as a licensed clinical social worker, Neal still spends four to five hours a day seeing patients as a therapist with the Maui Counseling Group and the Maui Center for Child Development. She says she finds the work too rewarding to leave her profession entirely, not to mention that her study of human behavior is where she gets a lot of her ideas and inspiration.
Neal's success hasn't gone unnoticed in the industry. This year, an agent she met at a California writing conference snapped her up as a client. While Neal continues to self-publish her new mystery titles, the partnership has led to a lucrative sale for her series' audiobook rights ("That put a new roof on our house," she notes), an exploration of film and television possibilities, and the submission of a new young-adult mystery series to traditional publishers, where both Neal and her agent agree it stands a better chance of success.
With the publishing industry still in turmoil, Neal says she's acutely aware that books on fire today might fizzle tomorrow. That's why, despite her success, she still thinks it's smart to dabble in other genres and publishing models – even traditional ones.
"My philosophy is to cast a wide net and experiment with the changing marketplace," she says. "In terms of a business model, it's all about adapting, and that's something most writers in the past just didn't have to do."
---
Growing Market for Hawaii Fiction?
Toby Neal's mysteries take readers on a suspense-filled journey through a local's view of Hawaii, from the jungles of Kauai to urban Honolulu. But when she first started, publishers looked at her books' Island settings as a drawback – not a draw.
"The most frequent comment on rejection of my work was that writing about Hawaii was too niche, didn't have a wide-enough appeal, and I very much disagree," she says.
So, apparently, do readers.
"I think my sales numbers show there is a market, and publishers are ignoring it, and that has allowed self-publishing to fill that niche," she says.
Three years after she released Blood Orchids, a handful of other self-published Island authors have joined Neal in filling the gap, with varying levels of success.
"There is a big market for Hawaii fiction, both locally and on the mainland," says writer Laurie Hanan. "People in Hawaii enjoy reading about places they know, things they're familiar with and people they can relate to. On the mainland, there are those who have fond memories of time spent in Hawaii."
Hanan, author of Another Day in Paradise and other books, was previously published with a small, local publisher before deciding to self-publish. Sales are healthy, but in the range of "tens of thousands, not millions," she notes.
Kay Hadashi, whose self-published books include Kimono Suicide, says sales were "grim" at first – it took her a year and four books to earn her first $100. But the numbers improved over time; gradually her earnings went from around $115 a month, to $500, to $800 this past July – which, she notes, is still less than one would earn making minimum wage at a part-time job.
"A person really needs to be dedicated to the enjoyment of writing to do so much work for so little pay," she says.
Still, Hadashi says, she's grateful for the opportunity to find an audience for her medical-themed mysteries ("Never in a million years would I have thought I'd have 'fans,' " she says).
And she agrees the market is real.
"There really is a very large and growing readership of Hawaii-based fiction, especially mystery/intrigue with contemporary female characters," she says.

---
Price of Perfection
Maui author Toby Neal acknowledges her books are among the most expensive to produce in the self-publishing business – although she controls costs by negotiating "frequent flier" rates with the professionals she works with. Here's how a typical book budget breaks down:
Structural edit: $500
Copyedit: $750
Cover photo: $500
Cover design for e-book: $1,000
Cover design for print: $1,000
Formatting: $600
---
Tips from Other Self-Published Local Authors
Kay Hadashi, author of suspense novels including Kimono Suicide and Chasing Tradewinds.
What can you share about your sales numbers?
I've been a self-published author for only about two years. It began with "Kimono Suicide," the first in a series of intrigue novels, which now include seven full-length novels and four novellas.
I never pushed books onto my family or friends, and my workmates at my real job don't know I sell books. So, getting those first few sales was quite heady. But sales numbers were grim the first year or so, maybe only five to eight units a month. Amazon has a threshold of $100 in royalty profits before it sends a check, and it took a year and four published books before I ever saw a payment. With each successive book, sales increased with earlier titles. It meant sales went from $117 a month a year ago, to $500 a month in May, and $800 in July. I know better than to get too excited about that, since people have summer reading lists and vacations to fill with reading. Sales seem to be highest in the summer and in the winter holiday season. That being said, I have manuscripts that need finishing, which will add to inventory and push profits even more.
All in all, $800 a month is barely minimum wage in a part-time job. A person really needs to be dedicated to the enjoyment of writing to do so much work for so little pay.
Why self-publish?
With my earlier medical mysteries, and with Kimono Suicide, I made the rounds of literary agents like so many writers do. I have a file full of rejection letters to show for it. Also, like everyone else, I saw one too many new articles about self-publishing and decided to toss my hat into the ring.
I believed then, and still do now, that, with the work I do in healthcare and surgery, I have the basic plots for medical drama almost handed to me. Add in the common daily dramas that we all experience, or at least read about in the news, and there is a basis for fresh and interesting stories.
What is the market for Hawaii fiction?
I have found that most of my readers have a strong connection with Asian-American characters, or with Hawaii-based themes. Scenes of my fifth book, Orchids and Ice, were located on the Big Island, which caught many readers' eye. Once that story came out and was discovered by Hawaii fiction readers, the rest of that series was discovered. Apparently my main character, June Kato, was compelling enough to keep readers interested in the series. They also indicated they'd like more stories set in Hawaii. There really is a very large and growing readership of Hawaii-based fiction, especially mystery/intrigue with contemporary female characters.
The market for Hawaii-based fiction seems equally divided between Island and mainland residents. My first real fan was a local gal from Oahu, and I have a large group of fans based in California. All of them have a connection with Hawaii one way or another, either past residents, longtime frequent visitors, or just Island resident wannabes. As we all know, Hawaii is a popular place for the Japanese to visit or live, and I have a small following of Japanese that reads English well enough for my books. For them, I think the identity is both with the Japanese-American main character, and with the scene locations. With a few of my novellas I mix in folklore and ghosts, which is always a big hit with Asians.
What has most surprised you about the business side of self-publishing?
The amount of work that goes into a book. Yes, it takes a lot of time and dedication to writing that first draft. Just as difficult are all the rewrites and editing that need to be done, and the proofreading. Finding qualified help in this process needs to start as soon as someone sits down to write that first word. Believe me, I've made all the mistakes of not being as dedicated to the editing and proofing process, and sales have suffered because of it. It really does take a village.
Another surprise is all the work needed to promote and market myself as an author and my books. There are so many schemes these days for pushing a book in front of a prospective reader's nose. Some work, most don't. What I have learned is to keep the books moving in front of readers' eyes with a wide variety of promotional activities.
Best advice for others considering self-publishing?
Read two books before ever starting a manuscript: Strunk and White's "The Elements of Style." No matter how well we think we know grammar, we all need help constructing an interesting sentence.
The other book that has really guided and improved my story telling is Christopher Vogler's "The Writer's Journey: Mythic Structure for Writers." Read it, study it, keep it open on your desk next to the word processor as you type.

Laurie Hanan, author of mysteries including "How Far Is Heaven?" and "Another Day in Paradise."
What can you share about your sales numbers?
We're talking tens of thousands sold, not millions. Sales are always best when a book first comes out. When the numbers start to go down, I run a special for a few days. My first two books made No. 1 on Amazon's bestseller list both in the U.S. and in the U.K. Now, several years after publishing, I sell a few copies of each book per week. When my next novel comes out, I will run a special on my other books and I'm hoping for impressive numbers.
Why self-publish?
I was traditionally published before I decided to self-publish. As an indie author, I have complete creative control of every aspect of the book: the story, the cover and the title. I decide if and when I should take my book out of print. I set the price and decide when to run sales. I do my own marketing, and I alone am responsible for my success or failure. The best part is I reap the full reward of my hard work. I don't have to split the profit with anyone.
What is the market for Hawaii fiction?
There is a big market for Hawaii fiction, both locally and on the mainland. People in Hawaii enjoy reading about places they know, things they're familiar with and people they can relate to. On the mainland, there are those who have fond memories of time spent in Hawaii. It always warms my heart when someone writes to say my books took them back to the place they love. Now and then I receive fan mail from people in Japan, or as far away as Europe, who enjoy reading stories that take place in an exotic setting.
What has most surprised you about the business side of self-publishing?
I am most surprised by the amount of energy I have to put into marketing my books. Publicity could be a full-time job if I allowed it to be.
What's your most important advice to others considering self-publishing?
Write the absolute best book you can write. These days, anyone can publish a book. This is both a blessing and a curse. There is no quality control, so to make a name as an author you need to do your own quality control. Make sure your book is well edited, and the cover and formatting meet professional standards even if you do them yourself.

These interviews were edited for clarity and conciseness.