An Epic Match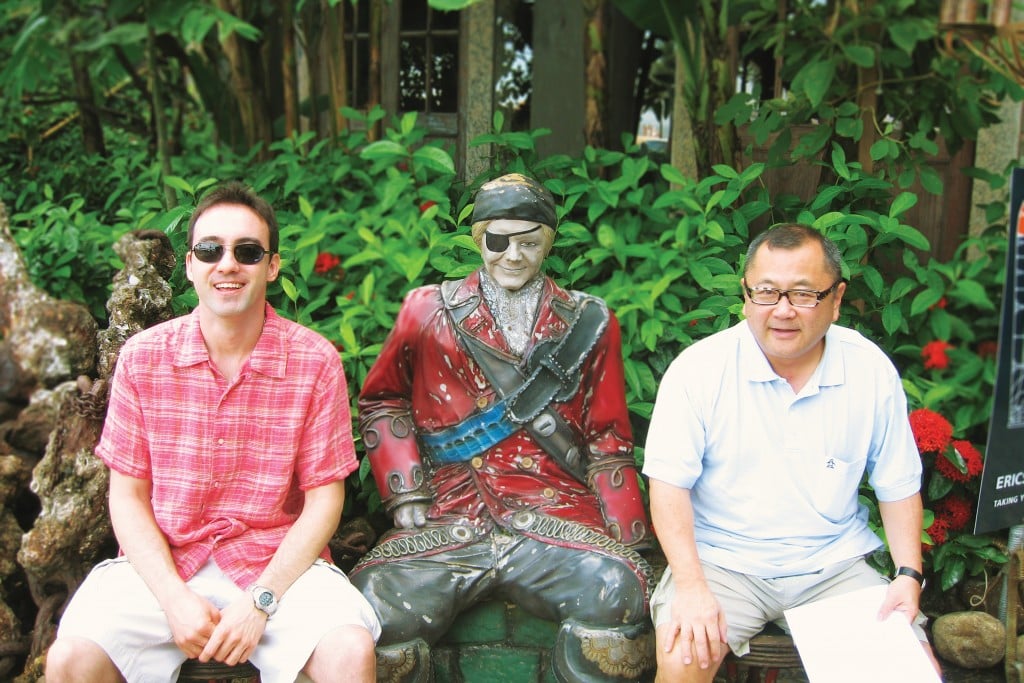 Noel Nedli is the founder and CEO of Room Service in Paradise, which delivers 50,000 meals annually from 75 Oahu restaurants, employs 45 people and grosses more than $2 million a year. But, back in 1991, Nedli was studying at Windward Community College and teaching tennis at the Kailua Racquet Club. The club's pro asked him to give lessons to a retired financial consultant named John Harada. "This guy comes out in his black convertible Porsche," says Nedli of their first meeting, "and we wound up talking more than playing tennis."

Those on-court chats led to an enduring friendship and mentorship.
"It was like having a nephew or another son," says Harada, who is 25 years older than Nedli and has three actual sons. Harada is a serial entrepreneur with a Harvard MBA, the kind of guy who just can't stay retired. "John is very ambitious," says Nedli. "I think he saw that in me even though I didn't see it in myself."
After Nedli graduated, he planned to head to Japan, but Harada talked him into sticking around. "He had a little side business, a restaurant in Kailua," says Nedli. Harada thought a great way to increase sales for his restaurant would be to offer delivery. "He prodded me into looking into it. He's very persuasive."
Nedli researched the concept of a food delivery service, and Harada provided advice, support and a loan for a 1996 launch. The two of them came up with the name Room Service in Paradise together. "I traveled with my parents a lot as a kid and it was such a treat to order room service," says Nedli. "I was saying, 'Room Service,' and John goes, 'In Paradise.' "
Initially, Nedli signed up 10 restaurants for Room Service in Paradise. He hired a graphic designer to publish a menu guide and sold advertising to help defray the $6,000 printing cost. "Sometimes we got merchandise in exchange, like bikinis from a swimwear place, instead of money," says Harada. "Or gift certificates … but I remember the bikinis! We'd give them to friends and family."
"John is very ambitious. I think he saw that in me even though I didn't see it in myself."

— Noel Nedli, Founder and CEO, room Service in Paradise
Once the menus were mailed to Kailua-area homes, the phone started ringing. Customers were thrilled they could get something delivered beside pizza. "Noel always approached tennis like it was a discipline," says Harada. "And he approached business the same way."
Nedli feels grateful to have had Harada as a mentor. "You have to be in the right place at the right time, because a lot of entrepreneurs are busy up to their eyeballs and don't have time to mentor someone," says Nedli. "For three months, I would call him every single day with an update. He always took my call, always."
In 1997, Harada unretired and moved to Chicago to pursue ventures in electronic trading. Nedli joined him there in 2001. "I think we've been through four or five startups together," says Nedli. The two also worked together on a company called Need to Know News, which provides economic data and was so successful, it expanded from Washington, D.C. to locations in London, Ottawa and Frankfort. In 2007, they also opened a computer data-recovery business in Studio City, California.
Harada is more intense, while Nedli is easygoing. "Most people would refer to John as a workaholic," says Nedli. "But to him it's a hobby. People who love to surf, they surf a lot. John loves to work on business. Working a 60-, 70-hour week is easy for him. He's quite restless."
To be a good mentor, Harada says, "You have to be honest. You have to be pretty open with your experiences, good or bad, or you lose credibility. If you don't know something, you have to say, 'I don't know. Let's brainstorm it. Let's go down a couple of blind alleys.' But know when it's a bad idea and go back and regroup."
What lesson was most important to Nedli? "John is incredibly tenacious. I saw that. There's nothing that he would allow to get in his way. You have to plow though all the obstacles, even when they seem infinite. He is really good at making things happen. There are sayers and there are doers. He's an absolute doer."