An Innovation in Hotel Uniforms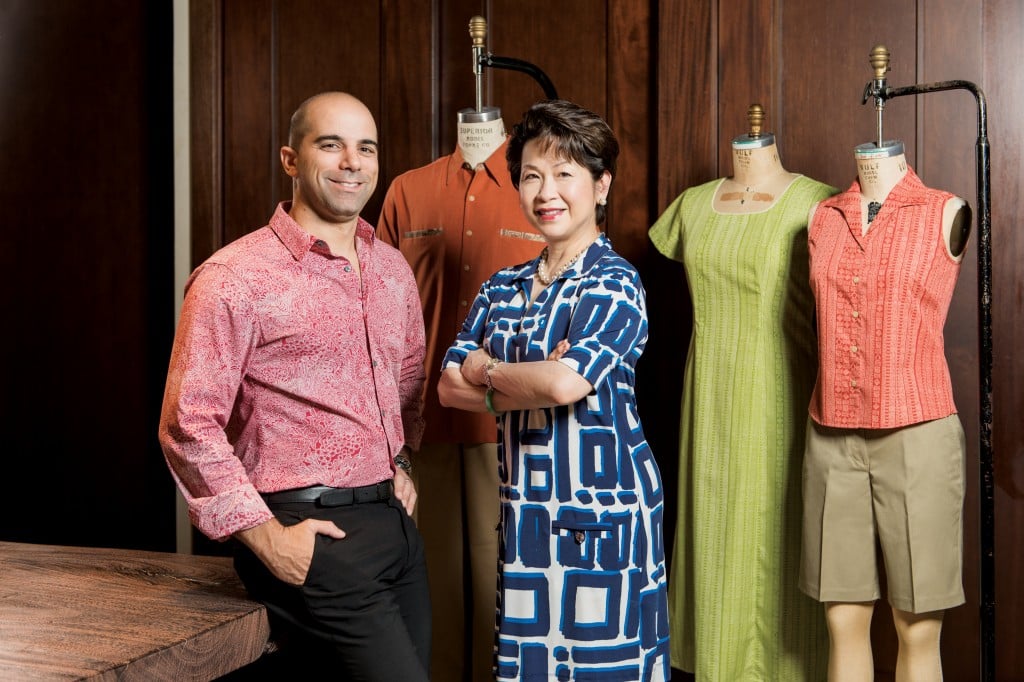 In Hawaii, the business of hotel uniforms has traditionally been messy.
A hotel would contract with a company to design and produce uniforms for its staff, but a different company would clean them. If the fabric shrank or threads came loose during washing, the cleaners often blamed the manufacturers for using faulty material, while the manufacturers would often blame the cleaners for ignoring proper washing instructions.
Either way, hotels ended up with damaged uniforms.
And, as uniforms ran out due to everyday wear and tear, identical replacements weren't always available, so the hotel had to settle for a hodgepodge of uniforms.
"The whole point of a uniform is to be exactly that: uniform," says United Laundry Services president and CEO Vicky Cayetano. "By having this disconnect between design and production and laundry, we saw a really fragmented process."
Cayetano asked longtime friend Josh Feldman, CEO of Tori Richard, to form a "uniform program" partnership between their two brands, which allowed hotels to get all their uniforms designed, manufactured, cleaned and replaced by a single local source, all for one fee. For hotels, this would be a turnkey solution to all their uniform issues.
"Hotels are in the business of providing hospitality, and their managers and operators should be focused on guest experiences, not worrying about their uniforms," Feldman says.
"When Vicky first mentioned this idea to me, I said, 'When do we start?' "
Cayetano and Feldman presented a proposal to Kelly Sanders, GM of the Sheraton Waikiki Hotel, who signed on as their first client.
"We liked the idea and thought it was interesting that this was more of a rental program than about purchasing (uniforms)," says Sanders. "If there was anything wrong or a uniform was damaged or needed repair, it would just get replaced. And, for us to manage that, as we had in the past, was always a challenge. Now, our employees are always in perfect condition."
From initial designs to final delivery of 4,000 finished uniforms to the hotel took close to seven months. The result was a series of one-of-a-kind uniforms for the Sheraton, custom designed by Tori Richard, with replacements available at a moment's notice.
"Another one of our competitive advantages is that we're located in Hawaii. Other uniform companies don't have facilities here so the quickest turnaround they can offer is four to five days for replacement uniforms, by the time they can pack up and ship to Hawaii. This requires a lot of hotels to maintain a backstock of uniforms, which is an extra cost," says Feldman. "But we've got 50,000 square feet of space at Tori Richard. United Laundry has 170,000 square feet. We can house uniforms here, service them on Island and get them back to the hotels immediately."
" Hotels often don't have a designated uniform person, so it creeps into every single manager's day, taking away from their ability to focus on what should be their core business, serving the guests."

– Vicky Cayetano, President and CEO. United Laundry Services
Refitting a hotel's entire staff with new uniforms seems like a big upfront expense, but, over time, the savings on cleaning, maintenance and replacements is substantial. For hotels, it's not simply a laundry cost; it's a matter of branding and marketing, too.
"A lot of hotels get a property-wide uniform once, when they open. But the uniforms for someone working in food and beverage at the hotel will experience more wear and tear than someone at the front desk. New uniforms for one department might get deferred for a long time, and that's where you get these issues," Feldman says. "A lot of times, new uniforms will be a line item in a renovation budget, but it might get cut because, let's say, the pool needs to be redone, so the uniforms can wait another year. Now they don't have to thinkabout it, they just replace the uniforms."
"People don't realize the amount of time they have to spend doing this," Cayetano adds. "Because the hotels often don't have a designated uniform person, it creeps into every single manager's day, taking away from their ability to focus on what should be their core business, serving the guests. This helps make their jobs easier."
The Royal Hawaiian has also signed up for the uniform program, and negotiations for other clients are under way. But Cayetano and Feldman say they want to bring on new clients slowly and carefully, so they are sure their companies can provide good service.