Your Company Needs a Pet Policy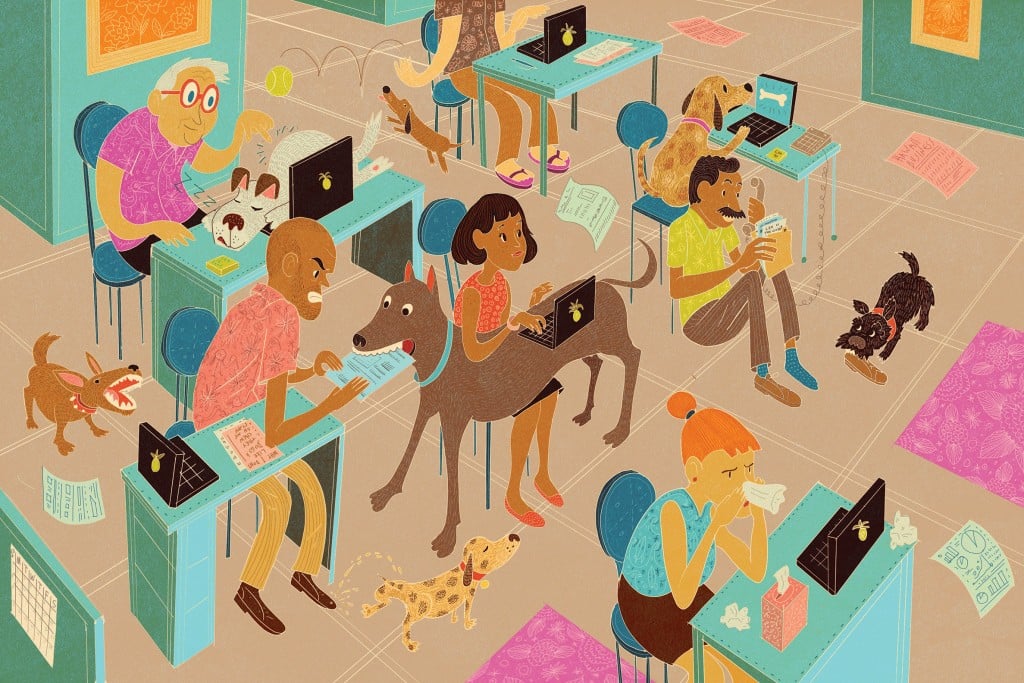 Allowing pets in the office can be a perk for some employees, but for companies it's a decision that shouldn't be taken lightly.
Q: An employee has asked if he can bring his dog into the office. I'm not against having dogs around, but what are  the logistics?
A: "What no-dog policy?" winks the character Richard on a recent episode of "Silicon Valley." As the boss, he's trying to be cool. Next scene, there are dogs all over the office, paramedics arrive with a gurney, and a dog raises its leg onto a hard drive array. 
About 8 percent of American workplaces allow their employees to bring pets to work, according to a survey by the Society for Human Resource Management. A pet-friendly office can provide employees with a sense of work-life balance, provide opportunities for greater interaction and may even lower stress. But unlike what Richard did, companies need to give pet policies serious consideration before stocking up on Snausages.
Not everyone is comfortable around Fluffy – some people have phobias while others have serious allergies, which could be covered under the Americans with Disabilities Act of 1990. As an employer, you'd need to provide accommodations for these workers to be in an animal-free zone. There are also insurance issues, as personal injuries and property damage may arise from bites or defecation. And be sure to check with the landlord if you are leasing your office space. Rover may simply not be allowed over.
The Hawaiian Humane Society in Honolulu is, however, a pet-friendly office, so I checked on how its policy works. "Employees must get permission from their supervisors before bringing in their pets and they must have adequate space to house their furry friends without disturbing other staff members," says communications and community events manager Suzy Tam. Pets have to be up to date on vaccinations, receive monthly flea and tick treatments and be microchipped. "Because there are so many animals in our immediate environment, these requirements ensure safety for all animals in our care."
There's a lot of talk about how great it is for pet owners to enjoy having their pooches around – "cat parents" don't seem quite as enthused, for some reason – but how does this work from the canine's perspective? Tam suggests pets need a safe zone, a place to "retreat to when office life gets too overwhelming or he needs a break." Humans call this Starbucks. For animals, Tam suggests: "Keep work-time visits positive and fun and provide your pet with ample water and rest. Pets also need potty breaks, so be sure to schedule enough time to take them outside."
If you're still in a pawsitive state of mind on this, you could conduct a confidential survey among employees to explore the issue further, consult with your insurance agent on general liability and experiment with a quarterly "take your dog to work day." (There's a national event held every June, thrown by Pet Sitters International; more at petsit.com/takeyourdog.) Another thought: Service dogs, which are required to have access to workplaces due to the ADA, are a separate but related issue, and we've covered this.
---
Q: With the Islands' unemployment rate so low, I'm finding it next to impossible to land workers at my company. Any genius ideas?
A: Are you looking at older workers? I spoke about this with Chip Conley, the author of the new book, "Wisdom@Work: The Making of a Modern Elder." Conley spent several successful decades in the hotel industry before surprising himself and becoming an exec alongside the Millennial co-founders at Airbnb. In his work, he points out that Americans ages 65 and older are the fastest growing segment in the U.S. labor force. Older workers face a stigma but are actually less expensive for companies, Conley says, as their health care benefits may be covered by the government if they are 62 and older. "They also tend to be more stationary; they don't take as much time off – and factor in the turnover of younger workers, which can be very expensive." Also, Conley notes, older workers make the people around them more productive due to their EQ, or emotional intelligence, and adds that teams that are diverse, not only in gender and race but also generationally, have been shown to be more effective.
So, how can you recruit these midcareer workers? "Some of your best new hires are going to be people who are in the orbit of people who are already in your workplace," Conley says. "Have a cocktail party or a lunch, and ask current employees to bring people from their realms, giving some extra attention to those who are older in your company." He also suggests thinking, "Are there longtime customers who might be interested in working with you?" And make clear to everyone that career opportunities within your organization aren't just for people right out of college. Conley also notes that many older workers want to work part time. "Part time, long term is what a lot of people in their mid-50s are looking for."
---
Ask the careerist
Have a question about work, life and that place in the middle where it all gets tangled up? Ask me at: feedback@hawaiibusiness.com