Best Results Ever – Again!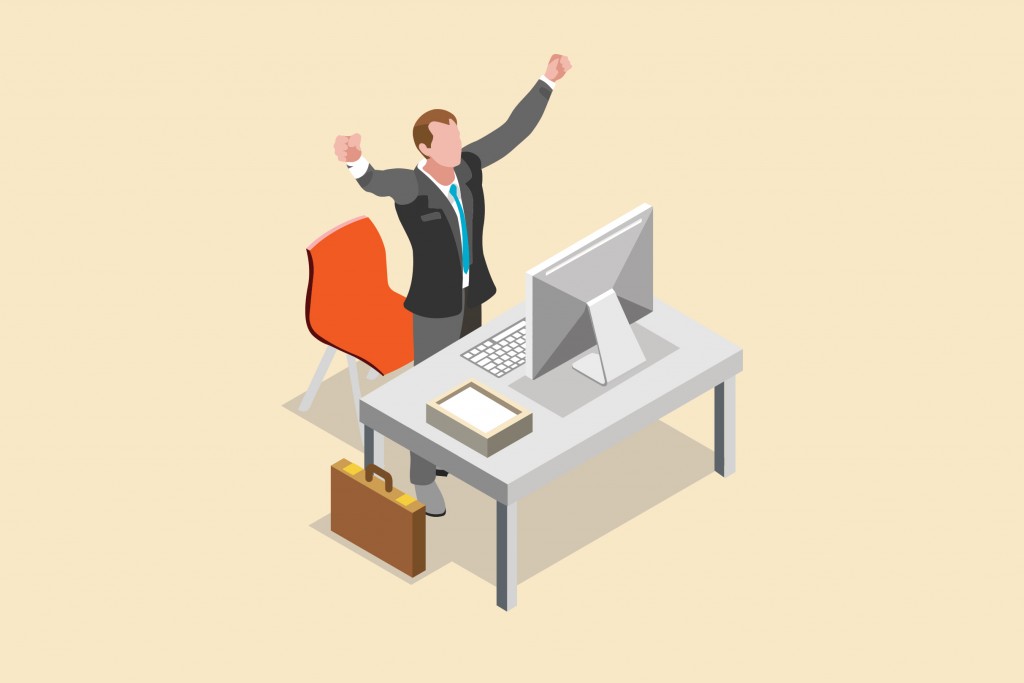 Record results in this spring's BOSS survey are exceeded in the latest survey of 402 local business leaders
BOSS Performance Index
In each survey, the BOSS Performance Index is based on about 400 companies' revenue, staffing and profit over the past year. The better the aggregate results, the higher the index. The index hit a record high this spring, then topped that record this fall.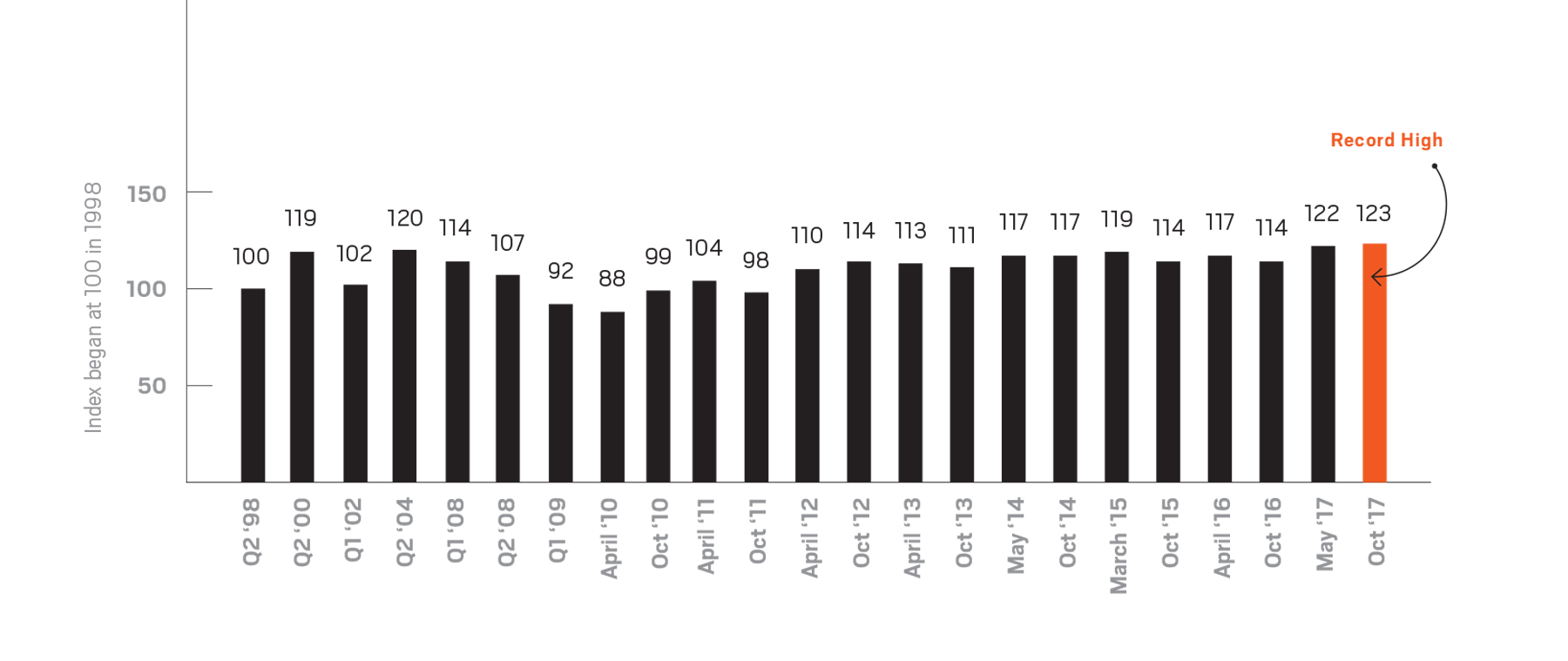 Performance Index Breakdown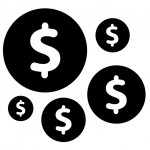 Revenue: 50% of the business leaders surveyed this fall said their companies enjoyed increased revenue over the past year; that is tied for the second highest level in 20 years of BOSS surveys. Even better: Only 16% of the companies reported lower revenue; that is a record low, 3 percentage points lower than the spring BOSS survey, which itself was a record.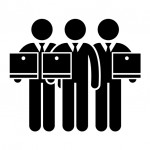 Staffing: A record number of the companies surveyed – 29% – said they added employees in the past year, which beat the record set in the spring BOSS survey. (In the latest survey, 53% said staffing stayed the same.) Even better: For nine straight surveys, more companies have added employees than have cut them.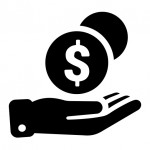 Profit: 41% of the companies reported increased profit over the past year, one of the highest levels recorded in two decades of BOSS surveys.
Even better: Only 18% of companies reported lower profits – a record low and 4 percentage points below the previous record low.
Boss Looks to the Future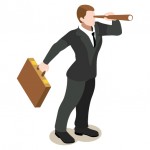 BOSS Optimism index
The BOSS Optimism Index is based on business leaders' expectations for the Hawaii economy over the coming year. Optimism about Hawaii's economy has remained strong for 16 straight surveys over eight years, stretching back to 2010.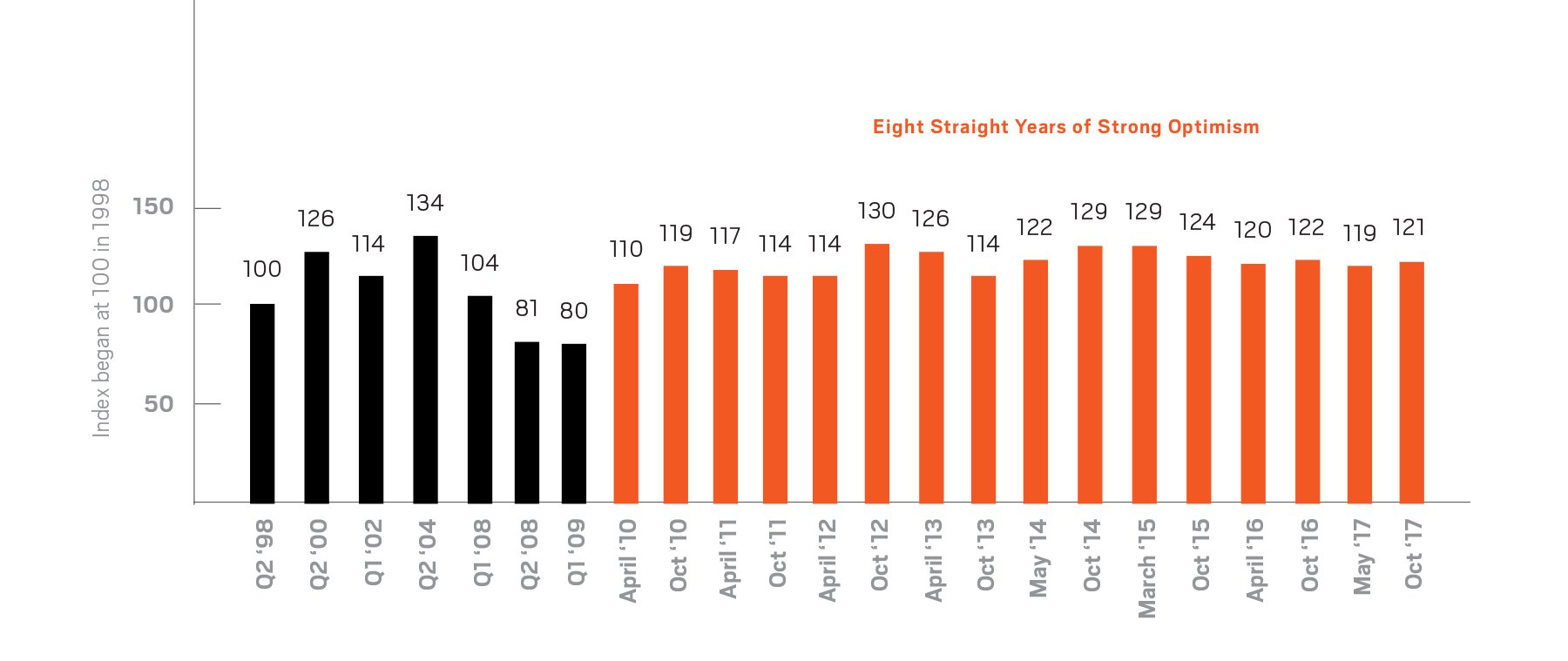 What 402 Local Business Leaders Said:
30%
believe Hawaii's economy will improve in the near future
53%
feel it will stay the same
13%
expect things will get worse

Island views: 39% of Neighbor Island business leaders predicted an improving economy, while only 26% on Oahu were similarly optimistic.
Which statement best describes your company's plans for the coming year.
| | |
| --- | --- |
| Substantial increase in spending on capital or other items | 18% |
| No substantial cost cutting and no substantial spending increases | 51% |
| Cost cutting | 16% |
| Don't know | 5% |

Large Firms More Likely to Plan Increased Spending
Among businesses with fewer than 10 employees, only 16% predict substantial increases in capital or other spending in the next year. But twice that percentage of businesses, 32%, with 100 or more employees expect to increase spending.
---
WHAT IS THE BOSS
BOSS stands for Business Outlook and Sentiment Survey. The survey of local business leaders is conducted twice a year for Hawaii Business by Anthology Research, previously known as QMark Research.