Big Hawaii Plans for Resort Developer China Oceanwide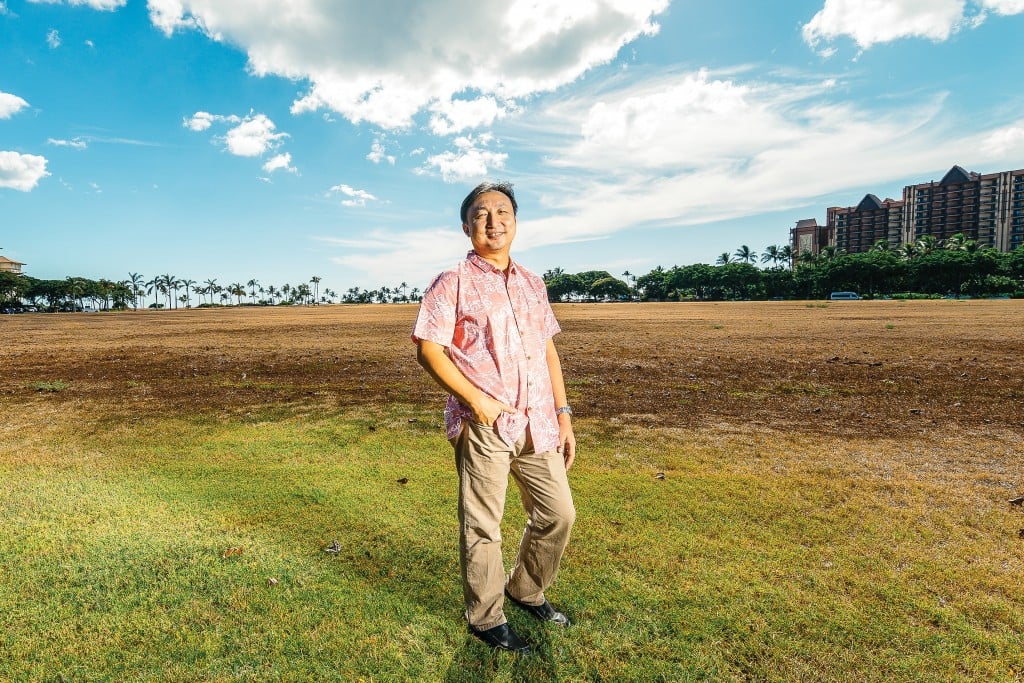 Most people in Hawaii have never heard of China Oceanwide. They will soon enough.
The little-known Chinese conglomerate has purchased $569 million of real estate in West Oahu, including the remaining oceanfront land between Aulani and the Beach Villas at Ko Olina. There, the company plans to first build a 1,300-unit Atlantis resort with hotel rooms and timeshares, then two other luxury hotels with a condo complex.
Later, on the border of Ko Olina and Kapolei, the company is considering building a residential subdivision surrounding a golf course. The company estimates a five- to eight-year build-out for its properties.
Hawaii is the latest installment in China Oceanwide's growing real estate empire in the United States. The company has purchased property in New York, as well as developing the $1 billion Oceanwide Plaza in downtown Los Angeles and the second-tallest tower in San Francisco, a 910-foot office building. China Oceanwide keeps a remarkably low profile, just like its president and chairman, Lu Zhiqiang. His $13 billion makes him the ninth-richest person in China, according to China's Hurun Report.
"He is a low-key person," says Wilbert Yao, the China-born VP of the local subsidiary, Oceanwide Hawaii. "He likes to do things first instead of shouting out, and he wants to make things right with good quality. He's one of the few leaders I've met who has emphasized quality most, so that's his personality and we try to keep the company low-key."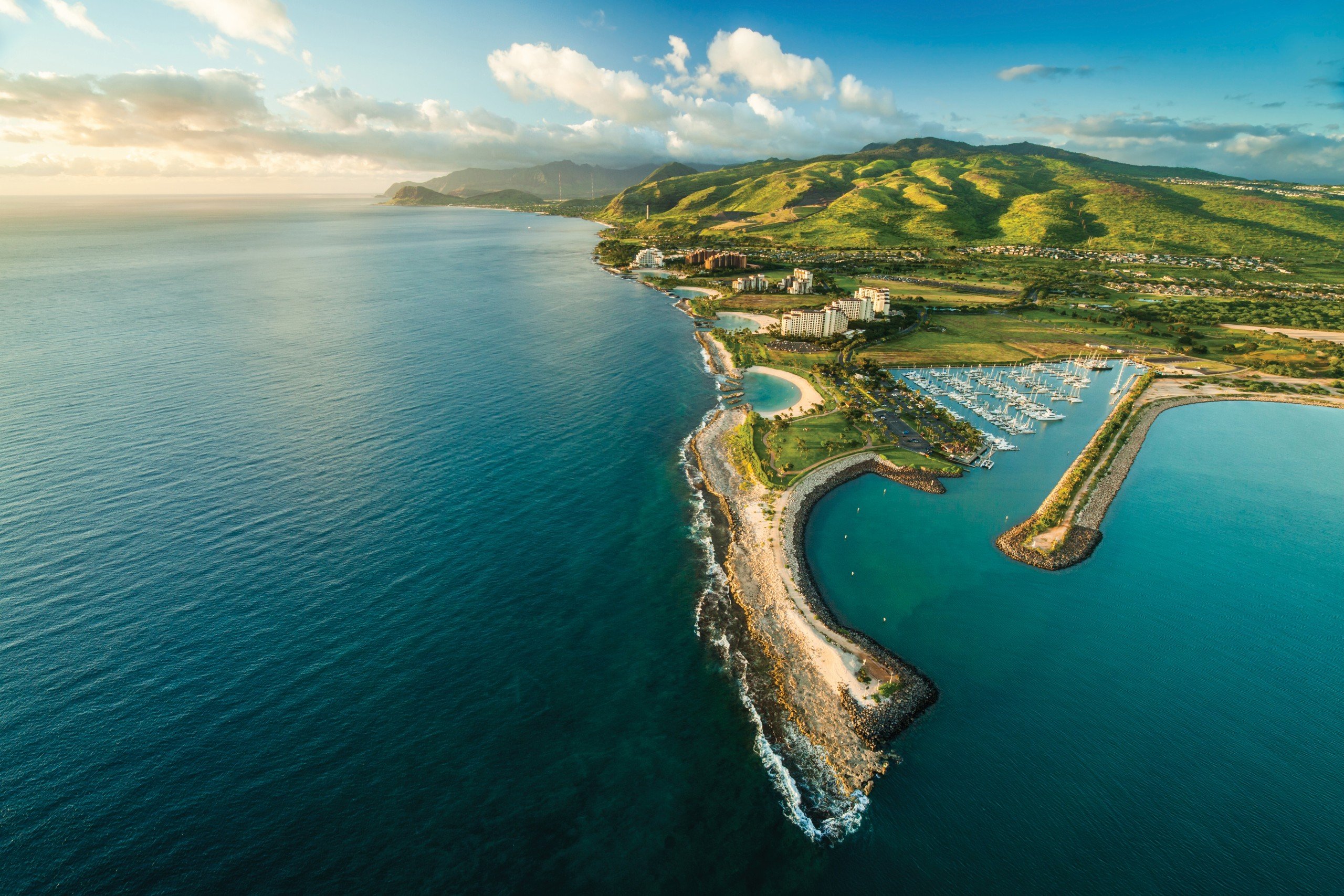 Why Hawaii?
Lu Zhiqiang and China Oceanwide see Hawaii as a middle ground with the potential to connect U.S. markets with the billions of consumers in Asia. "We take the Pacific as a Pacific ring, a basin of clean water," Yao says. "Hawaii sits in the middle of the water, just like a pearl in the Pacific ring."
"It's a precious land, a great environment, a nice climate and an especially rich culture. There's a mixture of cultures here that shows an open mind to the world. It's a good place for a resort to serve all the world."
Yao says China Oceanwide plans to both develop and retain its investments in Hawaii for the long-term.
Investors value Hawaii's real estate because its inherent scarcity helps ensure stable or growing value.
"The scarcity of a location is a very important factor when you decide whether you want to hold and keep a property or not," says Jiakai Chen, assistant professor of finance at UH Manoa's Shidler College of Business. "Los Angeles may not be a good example, but New York, Hawaii and San Francisco all have a very limited supply of land." And that's where Oceanwide has made its investments.
Chen explains that current market conditions in China have helped persuade Chinese investors to expand globally. "The real estate market in China has been very hot for probably a decade already, so the risk of having a huge bubble is there," he says. "The government is trying to curb the overheating of the market by limiting the land supply, making it harder to get a loan from the bank, and so on."
Subsequently, Chinese investments in Hawaii are increasing. China Oceanwide has acquired over $2.4 billion of real estate since 2005, with about a quarter of that investment in Hawaii. The rest is spread across Asia and the U.S. "These trends are something we did not observe, let's say, five years ago, on this scale," Chen says. "The investment from China is definitely picking up."
Water-Themed Resort
Yao says Oceanwide Hawaii chose to invest in West Oahu because the area splits the difference between Waikiki and the Neighbor Islands – it's less crowded than Waikiki but doesn't require visitors to take an extra flight to another island.
The company's most expensive purchase in Hawaii was a 26-acre oceanfront property adjacent to Disney's Aulani resort for $226 million. That's the site of the future Atlantis Resort and Residences – a water-themed luxury resort brand with properties currently in only three countries: the Bahamas, Dubai and Sanya, China. "They're very protective of the brand, and they operate in places where there is a strong tie between the ocean and the host culture," said Kalli Abernathy, senior account executive at the Bennet Group, the local PR agency for Oceanwide. "It's really based on the fabled lost city of Atlantis. Each of the resorts pulls inspiration from that country's ocean-based culture. It's going to be extremely special for Hawaii."
Ko Olina's Atlantis resort is slated to have 800 hotel rooms and 524 residential units, featuring an Aquaventure water park, aquarium and water-themed facilities. "You can swim, you can snorkel, you can sail in the river, you can see the fish … Anything you would expect from the water, you can get at Atlantis," Yao says. Yao, who is an architect, says Oceanwide is still in the early stages of planning Atlantis but intends to combine contemporary design with Hawaiian cultural elements. It says it is working with local designers and architects.
Yao says the design team finds inspiration in Hawaii's environment and culture. His favorite creative spark is the traditional Hawaiian fishing hook because it shows "how people fit in with the environment. … they work with nature, and they use the hook to make a living."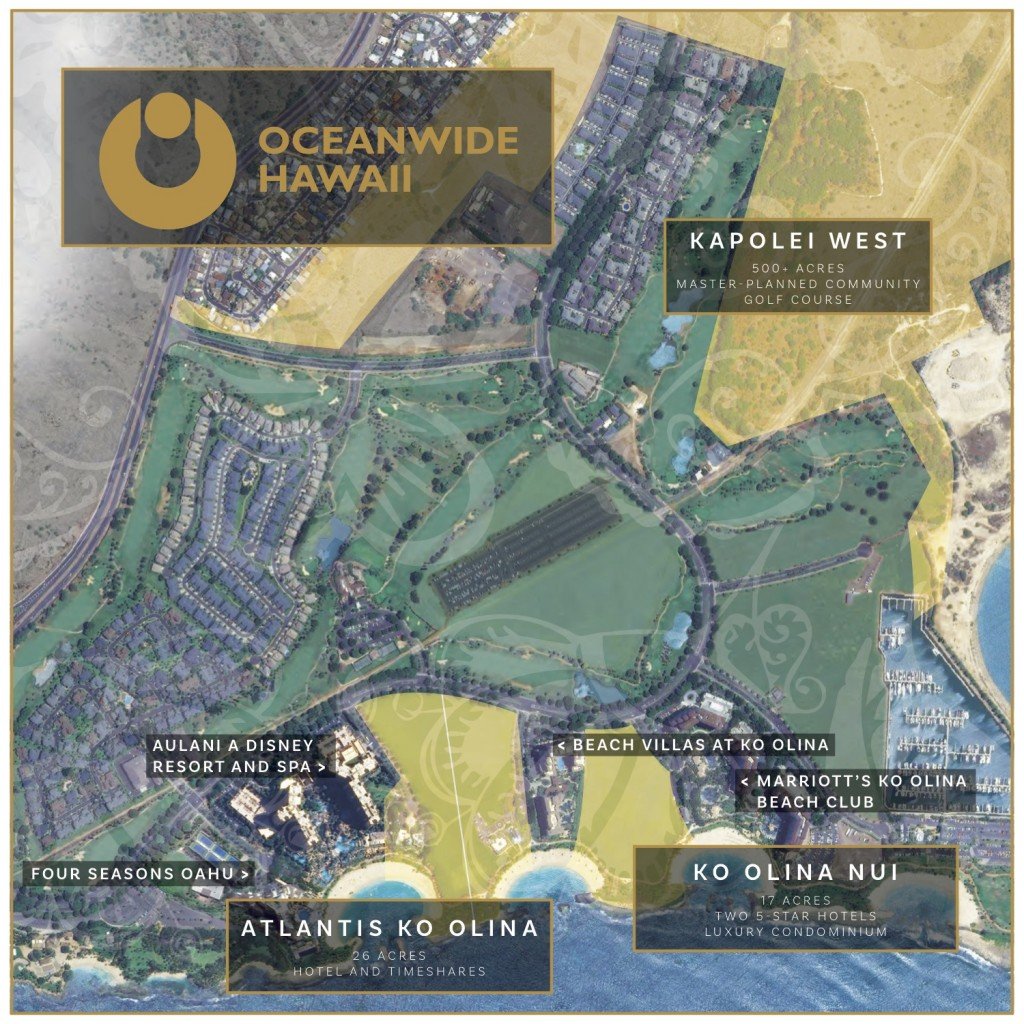 CHINA OCEANWIDE PROPERTIES
The map shows the two oceanfront properties the company bought at Ko Olina and its plans for those parcels. A little further inland (top right) is a larger parcel that China Oceanwide intends to turn into a residential subdivision with golf course.
Complementary Projects
Oceanwide plans to build two other luxury hotels and a condo complex on a neighboring 17-acre oceanfront lot near Atlantis, between the Marriott Ko Olina Beach Club and the Ko Olina Beach Villas. Oceanwide bought that land next to the Nalu Lagoon for $191 million in December 2015.
Building two hotels adjacent to the immense Atlantis Resort may seem counterintuitive, but Yao insists that the properties will complement each other rather than compete. Atlantis is geared towards Millennials and families, and he says the other hotels can o er quieter and more exclusive vacations. Brands for the two hotels have not been announced.
"We look at Ko Olina as an integrated community. Just like in the environment you will see there is a mountain peak and valley, things like that are an integrated community. Atlantis can be one of the peaks."
Oceanwide Hawaii's largest land purchase was a combined 514 acres in Kapolei West, located between Ko Olina and Kapolei Commons. It was purchased for $98 million in October 2016.
"It's a little far from the ocean, so it's different from Ko Olina. We have an idea that it can be a mixed-use residential community featuring a golf course, but we're still trying to figure out a detailed concept," Yao says. No prices for those homes have been set.
Although Oceanwide is a developer, it views Kapolei as a long-term investment and will work with an operator to manage the hotels.
"Building is the first step, but (our larger goal is) helping to establish the community around West Oahu and helping to build our time and talent to keep the environment better in the future," Yao says.
Yao says Oceanwide Hawaii plans to focus its energy on West Oahu before any talk of future purchases in Hawaii.
Economic Impact
With the future development at Ko Olina, the area will generate an estimated economic impact of $6.1 billion per year and 31,800 permanent jobs, according to an HVS Economic Impact Analysis from June 2016.
Yao says the Oceanwide projects will also lead to many temporary construction jobs and indirect jobs with retailers, food and beverage suppliers and others.
The first wave of Oceanwide Hawaii management hiring has been all-local, a trend Yao hopes to continue. "We need people with a broad view but recognition of local culture; they understand the people here, and they understand the guests from outside."
He also believes that expanding Ko Olina as a tourist destination and creating more jobs in West Oahu might reduce commuter traffic. "People won't have to travel to Honolulu; we can provide jobs here."
Yao says Oceanwide Hawaii recognizes the importance of balancing its low profile with developing local connections and learning about Hawaii. Company leaders, including owner Lu Zhiqiang, have personally visited Hawaii to better understand local culture and traditions.
"We try to keep the company low-key," Yao says. "But we are open to the community and the public to communicate more and learn more. You cannot build anything by closing your door – you have to reach out.
"We are new here, we are strangers here, so we have to learn from local friends and get support from them."
$21.5 BILLION COMPANY
CHINA OCEANWIDE HOLDINGS GROUP CO. LTD. is a privately owned investment company and the parent of Oceanwide Holdings, which is publically traded. Lu Zhiqiang started the company in the Shandong Province, situated between Beijing and Shanghai, as a property developer. Today, it has nearly 100 subsidiaries and 10,000 employees involved in the banking, insurance, energy, media, tech and real estate industries.
"The net worth – book value of all shareholders' equity – of the company was 18.3 billion renminbi at the end of 2016," says Jiakai Chen, assistant professor of finance at UH Manoa's Shidler College of Business. That translates to $2.68 billion U.S. "Nevertheless, the company has about 168 billion renminbi of total assets," which is about $21.5 billion U.S.
"The debt to equity ratio is above 8, so for every single dollar of shareholder's money, the firm borrows more than $8 from the debt holder or bank," Chen says. "This is pretty high leverage even a er taking the firm's industry sector into consideration."
China Oceanwide completed a massive U.S. investment in October 2016 with the $2.7 billion purchase of Genworth Financial Inc., an insurance company headquartered in Richmond, Virgina. Its majority stake in Boston-based International Data Group (IDG) was finalized in March 2017. The terms of the all- cash deal were not disclosed, but The Wall Street Journal reported the price was less than $1 billion.
Little is publicly known about Lu Zhiqiang himself besides his role as the owner, founder and chairman of China Oceanwide Holdings, which is in stark contrast with some other Chinese billionaires. For instance, Jack Ma, the richest person in Asia with $41.8 billion, is a very public personality and has been seen on the front page of The Wall Street Journal posing with Donald Trump and meeting with Steven Spielberg to partner with U.S. movie companies. Ma's Wikipedia entry runs six screens long; Lu Zhiqiang's Wikipedia page is exactly four sentences long and is outdated.
The home page of China Oceanwide Holdings says Lu is a member of the standing committee of the 12th Chinese People's Political Consultative Conference, a political advisory body allied with the Communist Party. He is also a VP of the China Chamber of Commerce and a member of the board of trustees at Shanghai's prestigious Fudan University.
---
What's in a name
Wilbert Yao, VP of Oceanwide Hawaii, says the company's name is an imperfect translation from the original Chinese.
"Oceanwide is not a correct translation of our Chinese name," he explains.
"In Chinese, our company name means 'sailing in the ocean.' Oceanwide means the ocean is wide; it's just a noun. But sailing is an action, it's a verb. It definitely explains our action, developing from China to the U.S. to the world."