The Boss Survey: Steady Performance, Falling Optimism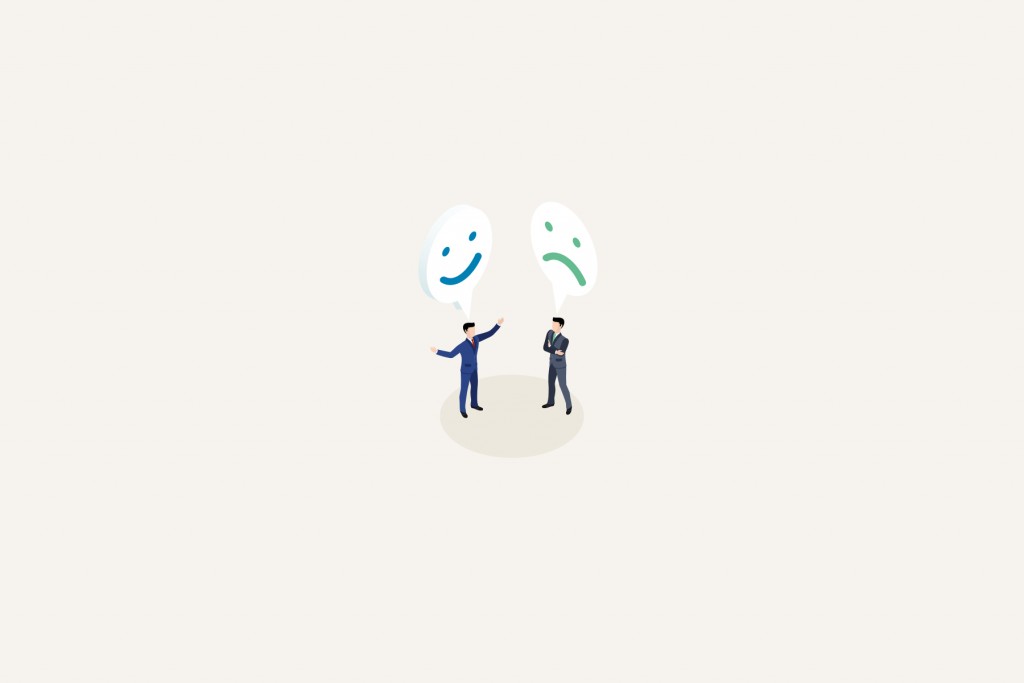 A BOSS survey of 433 business leaders shows continuing strong performance by local companies, but those leaders are now more wary of Hawai'i's economic future
We surveyed leaders at 433 Hawai'i companies and got 433 different sets of answers. When we compiled all the results, what emerges overall is good news for now but a growing sense of foreboding among many businesspeople.
The good news is in the BOSS Performance Index, which measures changes in employment, gross revenue and profit before taxes for the companies surveyed. The index is at a high level, 116, and has held steady at 116 in three consecutive BOSS surveys: fall 2018, spring 2019 and this survey, conducted in fall 2019. In 21 years of these polls, the Performance Index has never before held steady for three straight surveys.
The index is down from its all-time high of 123 in October 2017, but the relatively high reading of 116 indicates strong performance among Hawai'i's companies overall. Some are failing or have gone out of business, but most local companies are doing well or holding steady.
BOSS Performance Index
The 433 business representatives surveyed were asked about their companies' gross revenue, profit before taxes and change in staffing. Here is what they told us:
Gross revenue:

45% of the companies experienced increases in gross revenue in the past year compared to the previous year, 25% reported no change while 23% suffered a decline. Overall, those numbers are slightly improved from the previous two surveys.
Profit before taxes:

35% said profits before taxes at their companies in the past year were up from a year earlier, 24% reported no change while 27% suffered a decline in profits before taxes. Overall, those numbers are unchanged from the previous two surveys.
Employment changes: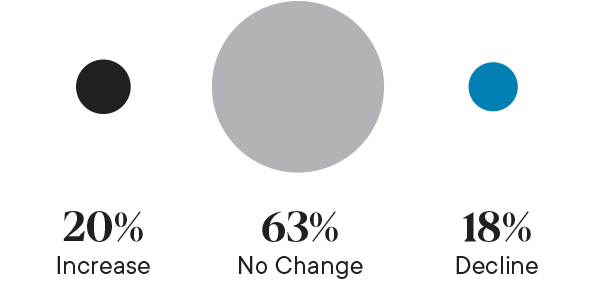 20% said their businesses added employees over the past year, 63% said the number of employees held steady while 18% reported staffing declines. The overall employment results continue a small decline over the past two surveys. The abundance of companies whose number of employees stayed steady may be a consequence of Hawai'i's low unemployment rate – there are few good workers to hire – rather than simply a reluctance to add staff. We plan to explore that issue in our next BOSS survey.
Local Business Leaders' Optimism Is Lowest Since 2011
Business leaders are more worried about the future than they have been in years. The BOSS Optimism Index, which is based on business leaders' assessments of the overall Hawai'i economy over the coming year, continued its downward trend. It fell a dramatic 7 points in the latest survey – one of its biggest falls ever – and now stands at 109, its lowest point since fall 2011.
More than half of the business leaders surveyed (52%) said they believe the local economy will continue at its current level for the coming year. Another 22% believe things will improve, while 24% feel things will get worse.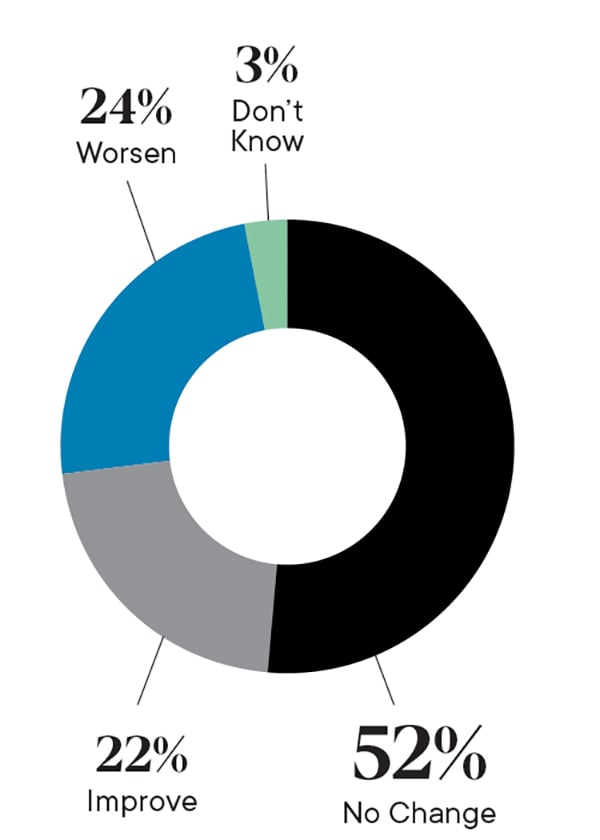 Feelings about the future may or may not come true, but business leaders tend to support expansion and investment in their companies when they are optimistic about the economy. Pessimism, on the other hand, can lead companies to delay new investments and hiring. If too many businesses act conservatively, the economy may slow.
BOSS Optimism Index
---
To further probe their perception of the local economic climate, business leaders were asked which of these three statements best describes their firms' plans for the coming year. The results were similar to our past two surveys.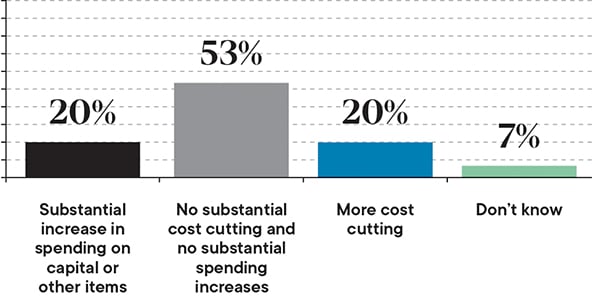 Local business representatives were then asked which of the following three statements best mirrored their own personal views of the local economic climate.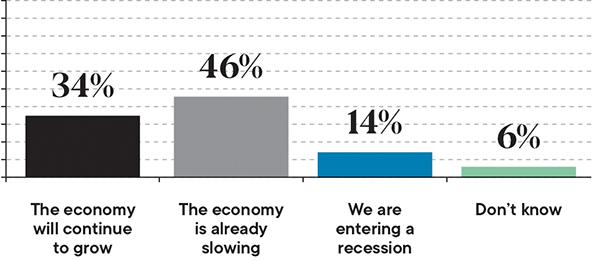 Visitor Industry Still Optimistic
This survey within a survey looks inside Hawai'i's tourism industry. Among the people we surveyed were 146 business leaders who said their companies get a majority of their revenue from visitors or from being related to the visitor industry. We then recalculated the BOSS Performance Index and the BOSS Optimism Index based on Nonvisitor Industry Companies and Visitor Industry Companies.
BOSS Performance Index

BOSS Optimism Index

The Performance Index results were similar but there was a big difference in the Optimism Index. For instance, only 18% of those polled from companies outside the visitor industry felt the local economy would improve in the coming year; 29% of those polled in the visitor industry felt the local economy would improve.
The BOSS surveys have consistently found more optimism within the tourism industry about the economic future than within the local business community as a whole. And the Tourism Optimism Index is down 3 points from the last time we measured. But frankly I'm surprised to see the relative persistence of optimism despite recent developments such as a decline in local residents' perception of the benefits of the tourism industry and the city and county of Honolulu's crackdown on illegal vacation rentals. We'll continue to track these sentiments in future surveys.
Visitor Spending
Business representatives in the tourism industry were asked to forecast whether visitor spending at their businesses would go up, down or stay the same over the next year or two. Here's how many said spending at their businesses would go up in our past five surveys of the tourism industry: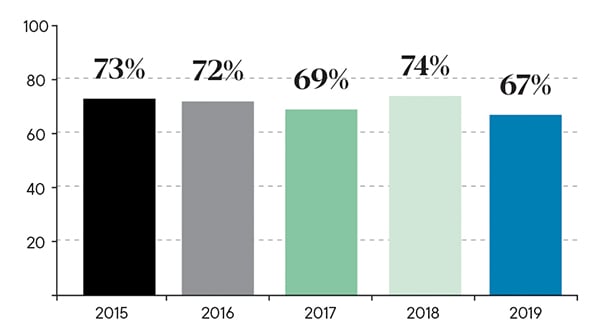 Next, those in the visitor industry were asked to forecast overall tourism spending in 2020. First, this chart shows the year the question was asked in the past five surveys, and then for which year the prediction was being made.
Spending will grow in upcoming year:

Will be less than current year:

The results show optimism in the tourism industry about the next year's overall spending is essentially the same as it was in 2016.
---
Methodology: The BOSS survey was conducted for Hawaii Business Magazine by the research division of the Anthology Marketing Group.
The study was conducted using a company listing purchased from Equifax Polk Business Directory as well as Hawaii Business Magazine's Top 250 list and classified Yellow Pages listings. The sample of companies was stratified based on number of employees. Small businesses were divided into two subgroups.
Businesses with three to nine employees were designated as "very small" and those with 10 to 49 employees were designated as "small." Medium-size firms were those with 50 to 99 employees while companies with 100 or more employees were classified as "large." The goal was to complete interviews with executives heading 50 businesses in the large and medium sectors with the remaining 300 interviews falling into the two smaller business size categories.
A secondary goal was to complete interviews with a minimum of 100 businesses that derive a significant proportion of their revenue from the visitor industry. A total of 146 companies were surveyed in this segment.
A total of 433 random interviews on all the major islands were conducted from Oct. 2 to 24, 2019. The data was weighted to reflect the proper proportions of each company segment based on number of employees as reported by the Hawai'i Department of Labor. A sample of this size has a margin of error of plus or minus 4.71 percentage points with a 95% level of confidence.