Brides Love Kauai Weddings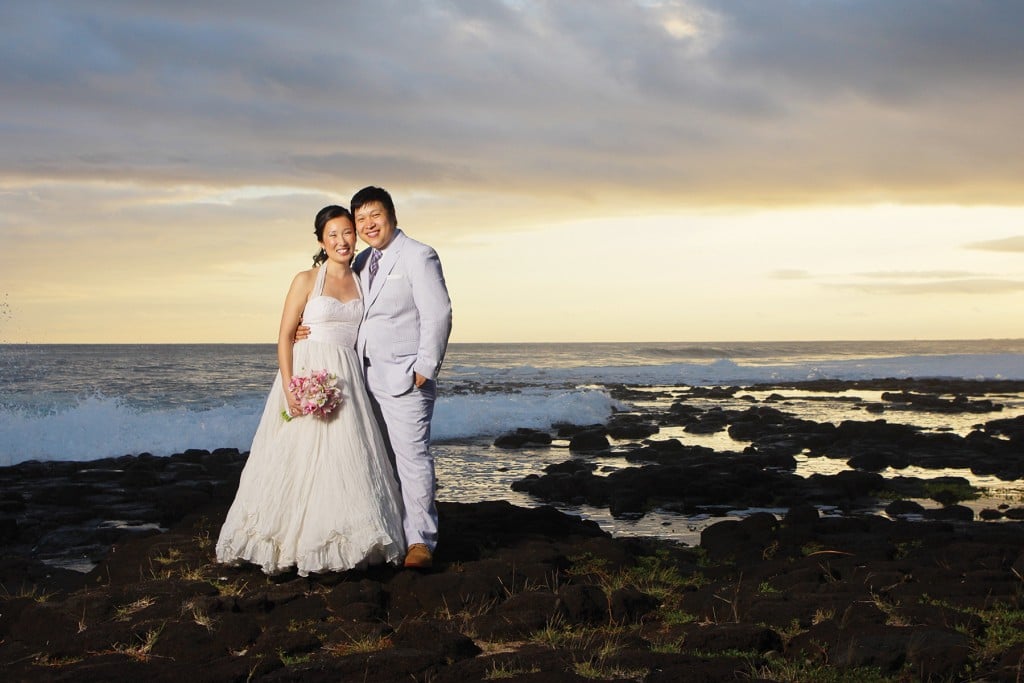 And Kauai's romance industry loves the money wedding couples and their families spend on the Garden Island
On an April afternoon, Pamela Wen stepped off a plane in Lihue, 5,020 miles away from and 40 degrees warmer than her New York home. After four days of final preparations – plus some beach play time – the first-grade teacher stood in a white-silk, organza wedding gown on a Poipu lawn, with ocean waves slapping the rocks a few feet away, a blazing sunset tinting the sky and tiki torches glowing in the dusk.
"I do," she said, gazing into Chung Chiang's eyes.
Gelston Dwight snapped pictures, guests dabbed at happy tears and the Kauai economy racked up another $20,000. That was just spending by the happy couple – half for their wedding arranged by planner Iben Dwight, and the rest for a 10-day honeymoon. Another $40,000 to $50,000 more was pumped into the Island economy by the rest of their 22-member group.
A Hawaii wedding has been the dream of many ever since Elvis tied the knot on Kauai in the Coco Palms extravaganza that closed the 1961 movie "Blue Hawaii." Last year, 14,801 nonresident couples made their way to the Hawaiian Islands to promise undying love and ring up tourist dollars for the state's economy.
Around 14 percent of those couples – 2,219 – said their vows on Kauai, where the romance industry is growing again despite uncertain economic times and new regulations from the state Department of Land and Natural Resouces. The rules, started in 2008, require permits for beach weddings and forbid chairs at those sandy ceremonies. The rules created trepidation but, in the end, did not cripple the wedding industry.
In fact, according to preliminary 2010 figures from the Hawaii Tourism Authority, tourist spending statewide on weddings and honeymoons amounted to $1.145 billion. That's 10 percent of the total $11.4 billion spent by tourists in Hawaii last year.
Wedding couples arrive from many Mainland states and countries, with Japanese couples traditionally being the biggest foreign market. However, HTA is seeing a shift as the number of wedding couples from Japan drop while the number from Korea surge. "Weddings are the No. 1 segment in the Korean market," says Daniel Nahoopii, HTA's director of tourism research, "and we're the No. 1 destination in popularity for romance in the Korean market."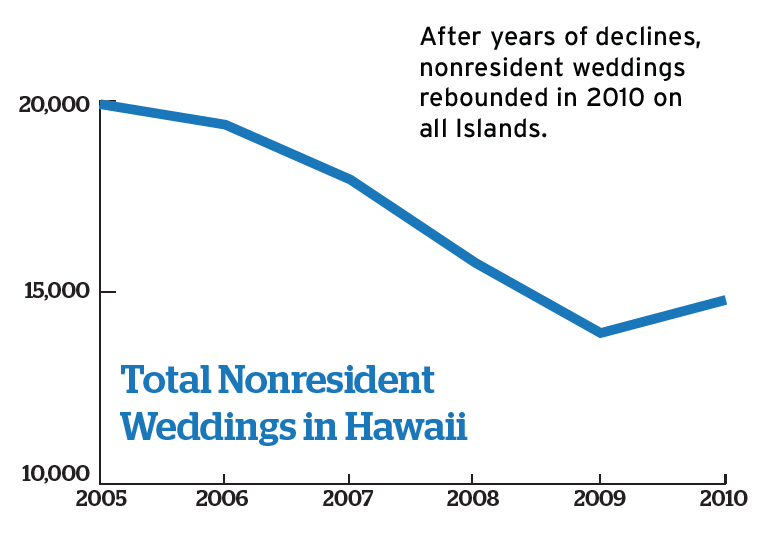 Though a Kauai ceremony meant a 15-hour flight from New York for her and others in the wedding party, Pamela Wen was delighted with her choice. "Kauai was definitely key in making everything special," says the new Mrs. Wen Chiang.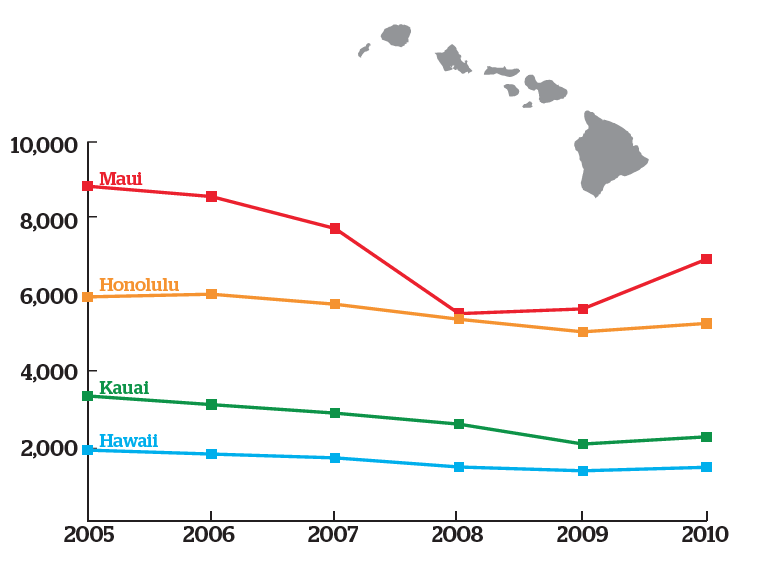 "It was much cheaper than if we had held it in New York. … And we were able to keep it small and personal, so it was totally worth the cost. We were amazed that we actually got to eat the food and enjoy the guests and all while sitting under the stars. … The ocean, the rocks, the waves, the sunset, the palm trees, the flowers, the smell. … That image is captured in my mind."
The "Romance Industry" is an economic bonanza for all of Hawaii, but is especially welcome on Kauai, where the unemployment rate is 2 percentage points higher than the state average.
"The way we position the island, one of our main focuses is the romance market," says Sue Kanoho, executive director of the Kauai Visitors Bureau. "For us as an island, it has always been a very important part of our tourism marketing plan and continues to have the potential for more opportunities. It's not only weddings and honeymoons, but vow renewals, proposals, anniversaries. So when you think about it, you have a multiple-year opportunity with somebody.
"I would say about 20 to 25 percent of arrivals come to the island for weddings."
Kauai wedding professionals offer a range of options for that market. They start with the affordable "wedding in a box," as some coordinators call it, from $100 to $495 for the bride, bridegroom, officiant and two lei, to extravaganzas that can cost up to $100,000 or more, and include arches, tents, tikis, flower pathways, limousines, entertainment, musicians and maybe even a fire dancer to polish off the evening. The most common, say planners, is something for 25 to 80 guests, costing around $30,000.
"Think of the impact on the economy," says Fern Merle-Jones, who has been performing and coordinating weddings since 1988 – now about 250 a year – and sees vow renewals growing into another huge market. She and her husband, Michael, currently perform as many renewals as weddings – often complete with flowers, cake, photography, the works.
"Hundreds of people are now working in this industry and it has tremendous long-range impact," says Merle-Jones. "People come to get married, bring their families, eat at the restaurants, stay in the hotels, go out for activities, and then go back home and tell all their friends and show the video. I get so many people coming for weddings and vow renewals because a friend of a friend of a friend told them about us."
Kanoho believes it's important to gather data on all of the corollary markets surrounding weddings, something that hasn't yet been done. "We need to verify statistics beyond marriage licenses and that's where organizations like the Kauai Wedding Professionals Association can help solidify the importance of these markets."
The 12-year-old association exemplifies how fast the industry is growing. It launched with about 10 members in the late 1990s and now has more than 50. Along with establishing ethical standards and unity, it has legitimized the industry and given it recognition on and outside of Kauai.
"The fact that we have a professional organization has also helped solidify a code of ethics as far as sacred sites are concerned," says president Larry LaSota. "Before, people were stepping on heiau and performing ceremonies there, and we laid down in the bylaws eight or nine years ago about honoring the land and sacred sites, and not doing weddings on heiau."
Kauai wins over brides to be with its beauty, serenity and security. "You don't have to dress it up, because it's so beautiful here," says wedding coordinator Diana Gardner, who plans up to 100 weddings a year. "You don't have a blank canvas – you have the beauty of Kauai as your backdrop."
Clever marketing has also played a part. "The hotels have connected with the airlines and have made it easy for people to click one box and buy a package that's a super deal," says Dode Martin, co-owner of MartinRoberts Designs, a business that stages several hundred event weddings every year. "That has really helped all of us. One of our hotel clients had predicted the recession (based on bookings) and within a month they had created these packages so that people (kept) traveling. I think that's what really increased the wedding traffic. It has made it more affordable."
That all-in-one package lured Melissa Wait to Kauai to marry, though neither she nor her fiancé had ever been to the Islands. "We found a hotel, car, airfare package that was like $4,000 for the week," says the Arizona audiologist, who left sticky hot weather in Phoenix at the end of March and arrived on cool Kauai with 19 family members for her April 3 wedding.
"Originally we thought of Maui, but as we talked to people we realized Kauai was more lush and a much more beautiful setting. We had talked about going to Hawaii for two years, so when we got engaged, we said we have the perfect excuse."
The perfect excuse turned into a storybook wedding: bare feet on the sand at Tunnels Beach on Kauai's North Shore as a magenta sunset faded.
"We both have pretty big families so it would have turned into a headache if we had done it in Phoenix," says Wait. "And it would have gotten crazy. This was a nice way to keep it more intimate and easier to handle. We just said anyone who wants to come is invited."
She and her fiancé, Mike DeMore, didn't set a budget, but they looked at the elements with cost-conscious eyes. The ceremony and wedding probably cost around $2,500, she says, but her parents picked up the tab for the reception dinner at the Bar Acuda restaurant in Hanalei and it probably cost just as much.
"We did a pre-selected menu of tapas and we had the patio reserved. It was so simple I can't even believe it."
The simplicity also sold Californian Christy Bechner Cates, who hired planner Iben Dwight to handle all the Kauai arrangements.
"It was the trip of a lifetime and the most beautiful wedding ever," says Bechner, who also chose Tunnels Beach with the Na Pali cliffs in the background as the site for her wedding last August. She spent about $1,500 for the wedding itself and a total of $15,000 for the whole package, which included airfare, hotel, car, island-hopping and spending money.
"It was just so beautiful, just the two of us on the beach in the middle of nowhere with an ukulele player in the background and Manulele's beautiful singing. It couldn't have been more perfect."
---
Pamela's Wedding Tab
Here's what Pamela Wen and Chung Chiang spent on their wedding:
Ceremony: $8,500, which included
Catering: $3,000

Photography: $800

Flowers: $500

Table arrangements: $600

Lighting: $255

Pamela's hair: $250
Plus about $10,000 for everything else: the beachside estate they rented, food for a next-day barbecue, a beach picnic for the whole wedding party, rental cars, rehearsal luau, surfing and hang-gliding lessons, and a pathway of purple orchids leading to the minister (rose petals tend to blow away).
And they plan to return in 10 years with all their guests to open a time capsule they created.
Wedding Beach Permits
Since 2008, state law has required every couple that wants to marry on a beach to have a permit from the Department of Land and Natural Resources.
"The DLNR has four pages of instructions about what you can and cannot do," says Larry LaSota, president of the Kauai Wedding Professionals Association. "There's a two-hour time frame and only so many permits are being issued in that two-hour time frame.
"There was this big fear in the industry (when the rules began) that 'There goes the wedding business in Hawaii,' but weddings still prevail. In fact, it really only had a positive effect as far as I can tell. It has worked with the fact that there are regulations (against) tiki torches and chairs on the beach."
LaSota says permits are easy to get, and wedding planners generally handle that for couples since you need liability insurance to get a permit. The cost is about $20 to $50 depending on how many square feet of space are needed; the minimum is 200 square feet, says wedding planner Iben Dwight, of Weddings Hawaii.
Dwight says brides are often disappointed when they learn they can't set up chairs or tiki torches on the beach – as they may have seen in Hawaii wedding pictures. However, "Once they come here, everything else doesn't matter because they're just so happy to be here. At home, they're all stressed out planning their wedding, so sometimes we joke with our brides, 'You've just got to get on that plane and get here and everything will be fine,'" says Dwight. "You just have to get here and get yourself a mai tai."
Auspicious Wedding Dates
It used to be that everyone wanted to be married on Valentine's Day, says Tim Saunders, photographer and production manager for Kauai's Kilohana Photography, which shoots about six weddings a week in the summer.
Not anymore. "Now it's all about numbers," says Saunders. "One of the trends we've seen since 7/7/07 is that people are really going after these numbers. Jan. 11, '11 was big. Nov. 11 is big this year. And 9/10/11 – that's Sept. 10, '11 – is even bigger."
The biggest so far was July 7, 2007, agrees Larry LaSota, president of the Kauai Wedding Professionals Association. "That eclipsed all the others by 2 to 1. But, right now, everybody is booked up for 11/11/11, and I think we probably were by last year."
Last year, says LaSota, there were quite a few weddings on 10/10/10 at 10 a.m. "After we hit 12/12/12, it will be 11/12/13 and then 12/13/14, but that's where it stops."
Making Marriage
Licenses Easier
State Department of Health registrar Dr. Alvin T. Onaka says 62 percent of the weddings in Hawaii are between nonresidents. Partly because of that, but also to improve efficiency, the state is simplifying the process of applying for a license.
By Jan. 1, 2012, DOH says it will introduce an Internet-based system for applications, though the couple will still have to appear in person to get the license.
"It will coincide with our implementation of civil unions," says Onaka. "It's important to provide a good service for the people flying in." Potentially, he says, licenses could be picked up at the clients' hotel, if it has a private agent who can issue the license in person.