Building Community – Meal by Meal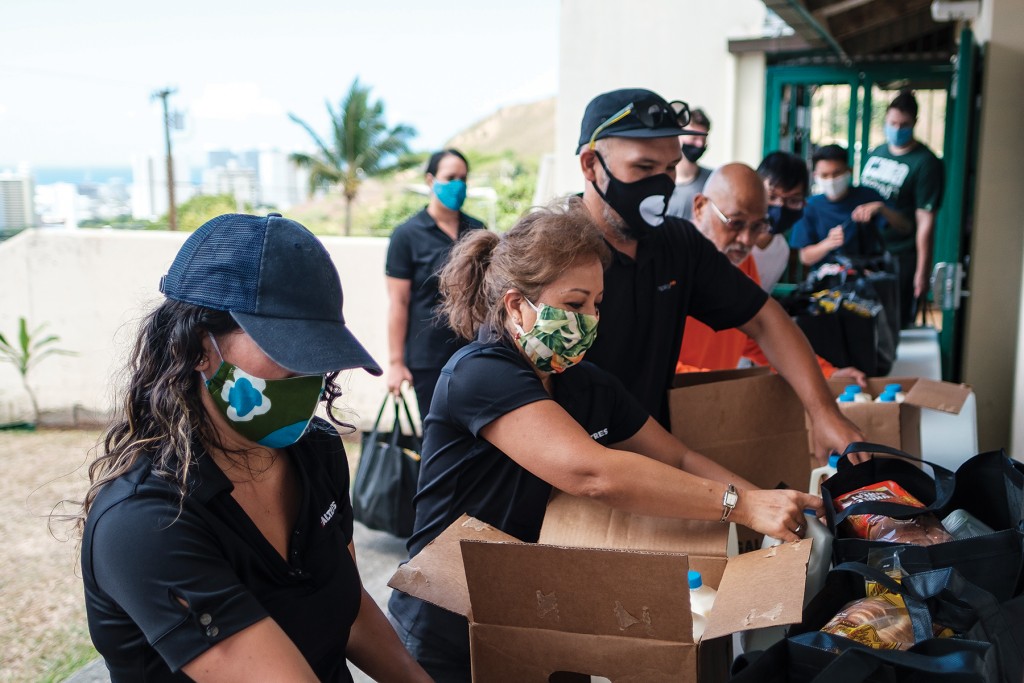 Volunteers from Papakōlea Homestead,
Y Fukunaga Products, Altres and Pili Group sort food for distribution to the needy through Feed the People HI.
The program is a part of Pili Group's Chef Hui, a collaboration of local cooks and food providers.
"We crank out about 30,000 pounds of fresh produce, meat, milk, eggs and bread every Friday" into the Papakōlea, Pālolo and Waimānalo communities, says Pili Group co-founder Amanda Corby Noguchi.
The goal is to keep local farmers farming, keep restaurants and distributors in business, and feed people – what Corby Noguchi calls their "triple bottom line."
Volunteers organize food to be distributed to Papakōlea residents. Recipients receive staple groceries plus a prepared meal for four to six people. "Volunteers coming into the community, working alongside volunteers from the community, makes this so special," says Adrienne Dillard, executive director for Kula No Na Po'e Hawai'i, a nonprofit that serves residents of Hawaiian Homesteads.
The weekly distributions have become a community builder during the crisis, Dillard says. "There are people who are in need who have never needed before."
Above: Volunteers place groceries and a prepared meal into a recipient's vehicle at the drive-up pick-up station in Papakōlea. The prepared meals are known as the Give & Go Community Meal program: 20 restaurants prepare meals for 30 different communities in this statewide program using as many local ingredients as they can and receive a modest stipend, Corby Noguchi explains.
Dillard says: "For many of our kūpuna who live alone, to know that this food comes their way … it's prepared with local flavor, they are loving what they receive. It's a good meal."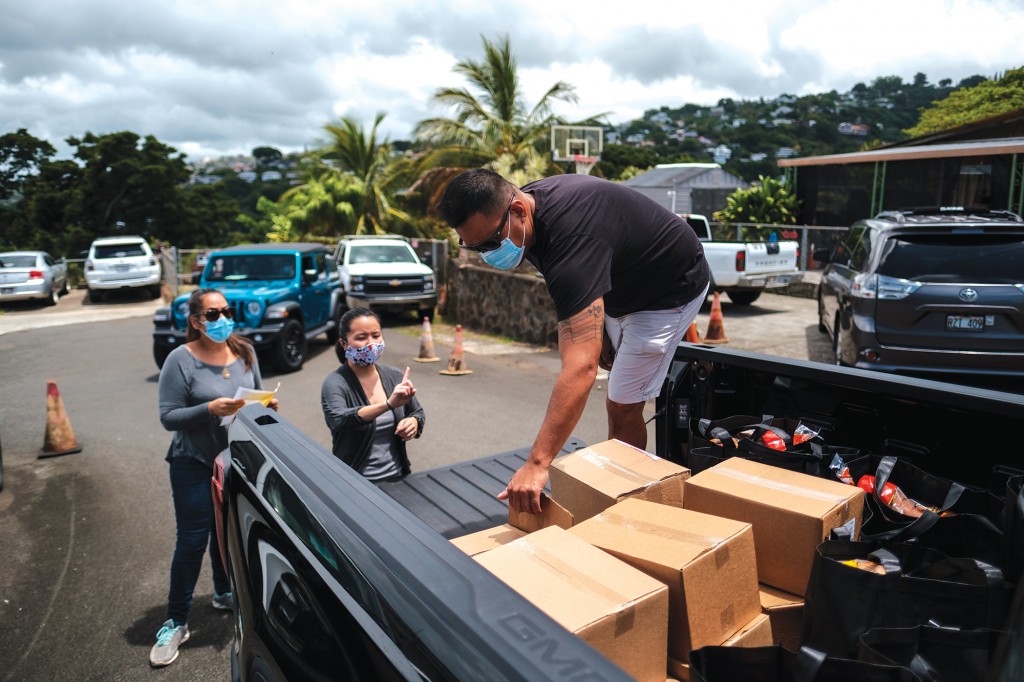 Above: Volunteers load food "sets" for delivery in Papakōlea. Sets are created based on families' needs learned through outreach, and volunteers are directed how to assemble each, Dillard says. For community members who are unable to pick up their food, Feed the People HI will deliver."People know when they come here, they're going to have (food), because it's been reserved for you," Dillard says.