Building for Climate Change in Hawaii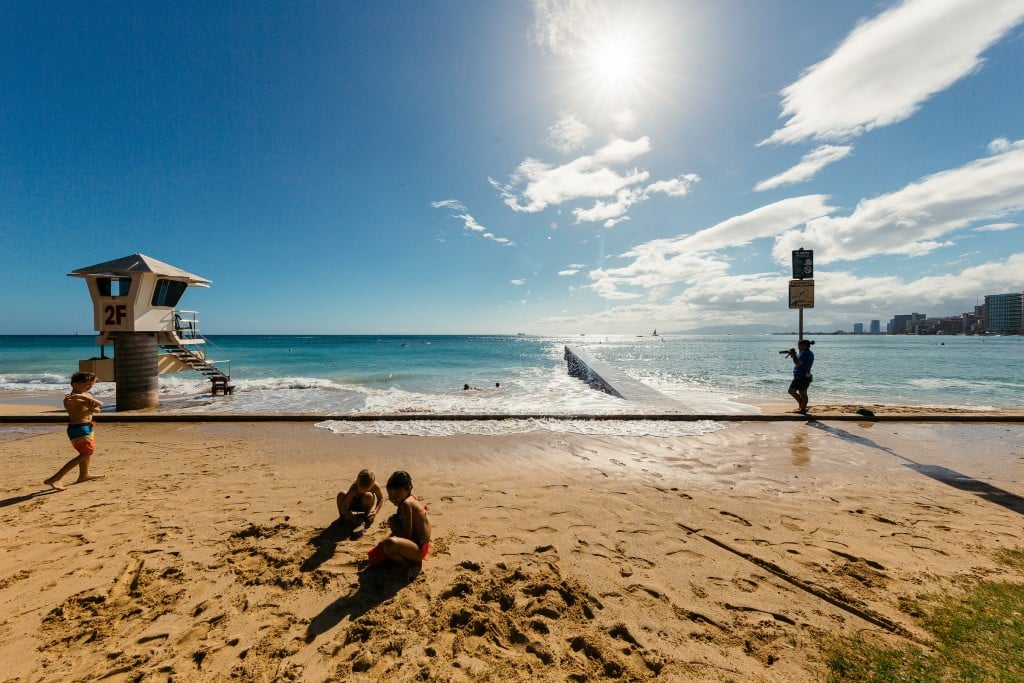 Part II: Building Industry Contributes to Climate Change Too
In 2010, the building sector was responsible for 44 percent of U.S. carbon dioxide emissions, according to Architecture 2030, a nonprofit that aims to reduce the amount of greenhouse gases emitted by the building industry.
Those emissions largely stem from energy consumption in building construction, materials and operations, says Mehnert of Architects Hawaii Ltd.
"The built environment is the largest contributor to (U.S.) carbon dioxide emissions, period," she says. "So when you start thinking about that, in our industry, yes, if the glass is half empty, you could say we are the biggest polluters. But if it's half full, you could say we are in the perfect position to affect change."
Some of the ways the building industry reduces energy use and carbon emissions are by designing green buildings and reusing materials.
Sustainable Design
There are several sustainability standards that buildings can achieve. The most common, according to Paul Silen, VP of Hawaiian Dredging Construction Co.'s commercial division, is Leadership in Energy and Environmental Design. LEED is a certification program created by the U.S. Green Building Council for building construction, design, and operations and maintenance.
Mehnert says some of her firm's clients have incorporated the green principles without obtaining the certification. What's most important, however, is that people make that effort. "It's good design," she says. "So that's a way your responsibility as an architect comes in too. You got to do the right thing."
In 2017, Hawaii was among the top 10 states in the nation for LEED-certified space per resident, with 3.32 gross square feet per capita. LEED-certified buildings have 34 percent lower carbon dioxide emissions and consume 25 percent less energy and 11 percent less water, and send less waste to landfills, according to the Green Building Council. Projects meet one of four rating levels – certified, Silver, Gold or Platinum – by accumulating points across several categories, like sustainable sites, materials and resources, and energy use.
Building for LEED certification is a way for UH's William S. Richardson School of Law to address climate change, says Denise Antolini, associate dean for academic affairs. The school is nearly done constructing its new 18,000-square-foot Clinical Building, which is aiming for LEED Gold certification. State agencies are required to design and construct buildings that meet or exceed LEED Silver or another comparable state-approved, nationally accredited standard or guideline.
"We're not addressing some of the coastal issues in terms of adaptation, but through achieving LEED Gold, we are helping the state with mitigation: less emissions than we normally would and, as you know, it's not just the building itself but it's the trucks, it's the whole project, everything," Antolini says, adding that the project is meant to be a model for the Manoa campus – which already has several LEED-certified buildings – to show how attractive green buildings can be.
"The built environment is the largest contributor to (U.S.) carbon dioxide emissions, period. … You could say we are in the perfect position to affect change."
-Bettina Mehnert, president and CEO, Architects Hawaii Ltd.
The law school's Clinical Building will feature such green elements as a double-paned glass exterior and sunshades over windows to reflect heat that would otherwise enter the building, solar panels that will produce an estimated 25 to 30 percent of the building's energy needs, and landscaping that uses native plants and minimizes runoff. The construction process also incorporated green practices: The building was erected on an already developed parking lot and most of the waste from the project – such as asphalt and concrete – was recycled.
Silen and Mehnert say LEED certification has become a common request from clients, and several employees at their firms have obtained LEED credentials. "You don't just do LEED. You don't just do resiliency. You have to live it as a culture, as a corporation. It has to be part of who you are," Mehnert says.
Materials Matter
Most companies are mindful about recycling and reusing building materials, says Dean Uchida, 2018 president of the Building Industry Association of Hawaii: "We're an island state so everything has got to be shipped in or shipped out. And people are becoming more aware of that and trying to incorporate those cost saving mechanisms into each of the projects they're working on."
This practice also reduces the amount of carbon dioxide emitted into the atmosphere, says Quinn Vittum, co-founder and executive director of Re-Use Hawaii, a nonprofit that opened in 2007 to reduce the construction waste sent to the landfill. Re-Use Hawaii is a licensed and insured demolition contractor that salvages material as it deconstructs buildings. That material is made available to the public for reuse at the organization's Kakaako warehouse. Since its establishment, Re-Use Hawaii has diverted an estimated 5,600 tons of waste from the landfill.
A lot of energy goes into producing building materials. Vittum cites lumber: There's building the road into the forest, cutting the tree down, transporting it to the mill, milling it, kiln drying it and shipping it to markets.
"So when we can recover material for reuse, not only are we keeping material out of the landfill and preserving that resource, but we're also preserving all the energy that was originally invested into that material in the first place," he says, adding that saving 1 ton of lumber prevents the emission of an estimated 60 pounds of greenhouse gases.
Silen says one way to earn points toward LEED certification is to segregate construction waste so certain materials, like concrete, cardboard and paper, and rebar can be recycled instead of being taken to the landfill. Projects also earn LEED points for using locally available building materials, like concrete that's made from local sand or aggregate.
Since opening, Re-Use Hawaii has performed more than 500 deconstruction projects. Vittum says he's slowly started to see more general contractors and other people in the building industry consider their impact on the environment. Currently, most people who use the nonprofit's salvaged materials are do-it-yourself homeowners, smaller contractors and people in the film industry. The nonprofit receives material from general contractors – about a dozen will work with the organization several times a year to recycle their demolition waste – homeowners and building suppliers. (When building suppliers misorder materials, they often just give the materials to Re-Use Hawaii.)
"When we first started, a lot of the construction guys we talked to would say like, 'Oh I've been thinking about this for years,' because you always have this material and you don't know what to do with it," Vittum says. "It's basically about having an avenue to manage all the deconstructed material or leftovers or material that shouldn't be thrown out but you don't have a use for it on the project."