Business is Brewing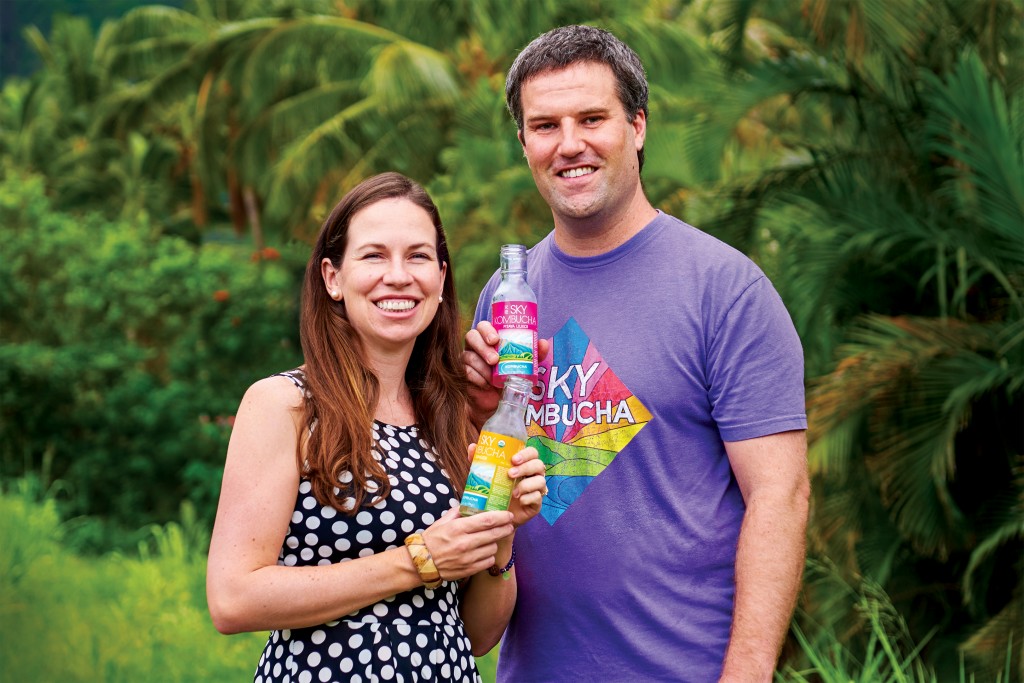 Kombucha's reputation for healing has spawned local startups and added a popular product to many stores' lineups
Kombucha's appearance, smell and flavor may resemble apple cider vinegar but don't let that fool you. People around the world have a thirst for this fermented tea.
Small businesses across the Islands have opened to make and sell this drink, and they say it's taken awhile for demand to build. In the early days of selling Lighthouse Kombucha in 2014 at farmers markets on Kauai, co-owners Narayan Dass and Bettina Kluensch say visitors had no clue what kombucha was.
Today, that's no longer the case. Consumers flock to markets, stores and eateries in pursuit of this effervescent and sometimes flavored tea that they believe improves their health. "We arrived in a good time to open this business," Kluensch says.
Kombucha is made by fermenting a mixture of sugar and tea – typically black or green tea – with a culture of bacteria and yeast, and is suspected to have Asian origins. The tea's popularity stems from its reputation as a functional beverage, says Kela Cosgrave of Big Island Booch. Customers share stories of the fermented tea helping their digestion, blood sugar and headaches. Some benefits have been studied in animals and test tubes but not through clinical research with humans.
"It's been pretty profound a lot of the things that people came back to us with," Cosgrave says, recalling Big Island Booch's early days in 2013 at Uncle Robert's night market in Kalapana. "And at that point it became more of a responsibility. And it was like 'OK, we have to do this.' And we never saw dollar signs. We saw the ability to help people, and that's been the motivating factor all this time."
Today, Big Island Booch is a $1.8 million a year business with a cafe, 7,000-square-foot brewery and 37 employees, and co-owners Cosgrave and Brendan Roberts were recognized as the Small Business Administration's 2017 Small Business Persons of the Year for Hawaii County. Their kombucha can be found bottled and on tap at about 300 locations across the state.
At Down to Earth Organic & Natural, kombucha is the grocery store chain's No. 1 selling drink, says Cynthia Cruz, marketing manager. She estimates the company sells hundreds of thousands of dollars of it each year across its six locations on Maui and Oahu.
Nationally, the kombucha industry continues to grow, says Hannah Crum, president of Kombucha Brewers International, a nonprofit trade association with over 200 members around the world. She also acts as a consultant to kombucha businesses, including some in Hawaii. She estimates the U.S. industry generates $800 million in revenue, and that number is projected to grow to $1.8 billion by 2020. These estimates are based on data collected by analytics and consulting company SPINS. However, Crum says the company's data is limited as not every brand and retailer provides information.
Despite the drink's popularity, local brewers are not immune to the challenges that other small businesses face in Hawaii. High costs of living, rent, manufacturing and shipping can make earning a profit challenging when kombucha sells for $5 or $6 a bottle. That's typically the price point that is needed for a brewer to make any money if they're manufacturing locally, says Dave Yarber, who owns Sky Kombucha in Waimanalo with his wife, Shannon. Their kombucha is sold at 30 to 40 locations around Oahu.
Even then, not a lot of money comes back to the business when selling a glass of kombucha for $5 or $6, says Lighthouse Kombucha's Dass. He and Kluensch make 200 to 400 gallons of kombucha a month and sell it at a dozen locations around Kauai. "When I go to markets along with my friends … who sell jewelry, they're selling for $40, $60 a piece, and at the end of the market they might make $2,000. And I might have made … maybe $300 to $400 on a really good night."
For Jason Coleman, now owner of Leahi Health, selling kombucha to stores wholesale wasn't a sustainable practice. He wanted to provide inexpensive kombucha to the community but found that he wasn't making enough money to keep the business running after paying for a commercial kitchen, bottles and labels: "If I'm trying to sell it for $4, I can't sell to a store for $3.90. They want it for $2. And so I just couldn't afford to do that with that business model, so I went retail." That allowed him to sell his kombucha at a better profit and expand his offerings.
Today, Leahi Health has 22 employees and three stores that sell smoothies, kombucha and food. The kombucha and smoothies – some of which contain the tea – make up 50 percent of his business; the other half is the food, which he says he needs to keep the business afloat.
"I don't think anybody is going to come to Hawaii to start a kombucha business to make a lot of money because all the materials have to be shipped out here; the bottles and the cost of doing business is a lot," Dass says. "I've considered moving to the Mainland and taking my business there so that I could make money from it. … If I want to stay here and do that, it's going to cost me a pretty penny."
Kristal Muhich, owner of Kauai Juice Co., which sells kombucha, nut milks, juices and other items, says kombucha has better profit margins than other drinks, like juice, which has a shorter shelf life and is comprised entirely of produce as opposed to tea, which is more affordable. "I would say each product has their challenges and each product has their different benefits," she says, adding that she expanded her business beyond kombucha not to have better margins but to pursue her interests in juice cleanses and the health industry.
But brewing and selling kombucha is not just about the bottom line, she and other brewers say. "It's about providing something for the community and a service for the community, a product that we're proud of," Shannon Yarber says.
Many brewers also support customers who have an interest in learning how to make their own kombucha by selling scobies – the pancakelike culture used to make the fermented tea – or offering workshops or informal lessons.
Bluetree Cafe GM Andrew Buckley says only a handful of his customers make the tea at home. He and other brewers agree that customers are more apt to buy kombucha off the shelf than they are to make it themselves because of the time required. Nevertheless, what keeps homebrewers coming back to the stores, says Down to Earth's Cruz, are the different kombucha flavors offered.
Most of the brewers and businesses interviewed for this story agree that the local kombucha industry will likely continue to grow – and face some hurdles. "I think it's one of those mainstays now," Cruz says. "I think it was getting very popular and I was feeling at one point like: Could there be any more kombucha brands out there?"
Chris Burke, owner of Maui Kombucha, disagrees; he doesn't expect the local industry to grow much more, saying he's already seen local brands impacted by heavy competition. "I think we're just capped out on how much more growth can happen in that area," he says. "There's already a bunch of really good companies."
The kombucha industry has been dominated by smaller companies, but that could change, says Dave Yarber of Sky Kombucha. Kombucha's popularity could draw large companies that can use economies of scale to sell kombucha at lower prices. He says local companies won't be able to compete if kombucha sells at soda prices, typically a dollar or two per bottle.
Roberts of Big Island Booch says he's already seeing shelves with Mainland brands that are selling for $1 or $2 cheaper than local brands. But he thinks the kombucha consumer will notice the difference in quality: "You can definitely buy a Budweiser off the shelf or you can buy a microbrew and … a difference in price point will be kind of major, and with that is a difference in quality."
Dave Yarber says it's important for local companies to communicate that their products are truly locally made. Tony Ren, GM and partner of Maui Brewing Co., which sells kombucha at its Kīhei restaurant, agrees, saying most consumers want to support locally made products and take pride in doing so. That's partly why Maui Brewing Co. offers the fermented tea – one of the company's values is to support other local craft brewers.
Ren says the drink has gained more recognition and consumers have become more knowledgeable about it over the four years that Maui Brewing has offered it, and he sees that trend continuing.
"I'm not sure we've seen it at its full potential as a market sector, as an industry, but just like craft beer, the more that people see it and the more that people are familiarized with it, the more it comes up in conversations," he says. "I think there's going to be a couple more tipping points along the way for this type of product to enjoy a greater market share."
Roberts says a larger market means more opportunity for local businesses. "I think that consumers not only in Hawaii – but maybe especially in Hawaii – are really interested in local products and supporting local products," he says. "That's why stores like Costco and Foodland and Safeway are coming to us local people and saying 'Hey we want to have your product. Can you do that?' It's crucial for us here in Hawaii."
Is Kombucha Good for You?
The answer: We can't answer that yet. More research is needed.
While advocates say kombucha remedies such ailments and conditions as headaches and eczema, lowers blood sugar, strengthens immune systems and aids digestion, a professor at UH's John A. Burns School of Medicine says no statement regarding "health benefit" can be made at this time.
Medical care is based on research, and so far only animal and test tube studies, not clinical trials, have been conducted on kombucha, according to an email from Amy Brown, an associate professor in JABSOM's Department of Complementary and Integrative Medicine.
Like some other advocates, Chris Burke, owner of Maui Kombucha, says he first became interested in the drink after learning that it contained probiotics, which deliver good bacteria to the gut.
The drink is made from tea that's fermented by adding sugar, flavorings and a culture of yeasts and bacteria. Brown writes the tea may act in the same way as other probiotic foods such as live-cultured yogurt, kefir, sauerkraut and natto.
"The natural bacteria in these foods may help to replace those lost by antibiotics, play a protective role against infectious diarrhea, and possibly alleviate leaky gut syndrome, but that needs to be confirmed with more research," she writes.
She adds that people who are more vulnerable to foodborne illnesses may want to reconsider drinking homemade tea. Those people include children, pregnant or lactating women, and those with compromised immune systems.
"If it's homemade, you have no idea what, if any, food safety measures were followed, and under what unhygienic conditions it was stored," she writes.