Celebrities Get Down to Business on Maui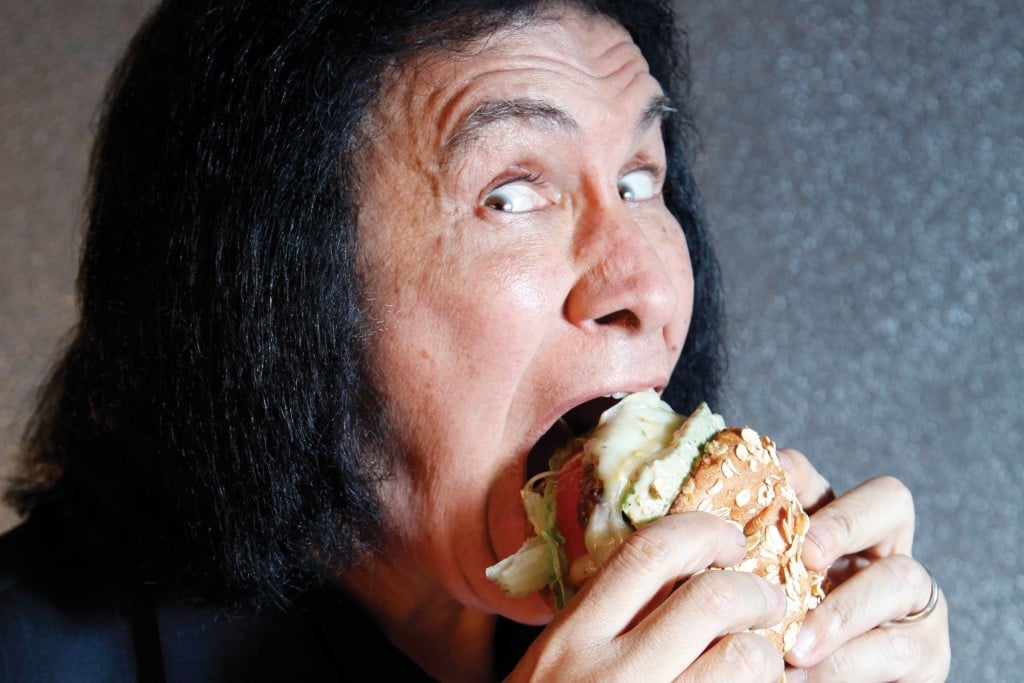 Open any celebrity magazine and you'll likely find photos of stars living it up in Hawaii: lounging behind oversize sunglasses, playing in the surf or sipping on an umbrella-adorned drink. But not every famous person who visits the Islands is focused just on rest and relaxation. The itineraries of some A-list entrepreneurs include everything from business meetings to product sampling.
Nowhere is this influx of celebrity businesses more evident than on Maui, where several stars have decided to work and play, including rockers-turned-restaurateurs Gene Simmons of Kiss, Mick Fleetwood of Fleetwood Mac and former Van Halen front man Sammy Hagar, who also produces his own line of rum. Basketball Hall of Fame member and former coach Don Nelson is also betting on success with his oceanfront events facility. Then there's the queen of media, Oprah Winfrey, who has filed a number of trademark applications and appears to be gearing up to sell organic products from her Upcountry farm.
Rock-Star Treatment
Simmons has worn many hats in his lifetime, including rock legend, reality-TV star, author and record-label owner. Now he's hoping to parlay his fame once again into success with his aptly named Rock & Brews restaurants, the first of which opened in 2010 in El Segundo, Calif. A location in Paia, Maui, is expected to open in late summer or early fall of this year.
"Our concept is all about making everyone feel like rock stars," Simmons explains, adding that diners will feel like they're backstage at a concert. The atmosphere will include big-screen TVs blasting classic music videos and concert footage from as far back as the '60s, plus posters and photos of America's classic rock bands.
Simmons, who is currently celebrating his 40th year with Kiss, says opening a rock-inspired restaurant is only natural.
"Rock 'n' roll is in my blood and it's part of everything I do, so Rock & Brews as a brand is an extension of my brand."
Like the name suggests, there will be plenty of beer – 100 craft beers to be exact, says Simmons.
"We believe in craft beers," he says. "In our Rock & Brews restaurants, you can get exotic international breweries as well as local ones. We intend to connect with Hawaii breweries to make sure that you can get some local beer."
Simmons hopes to attract more than the 21-and-older crowd. He says the family-friendly vibe will appeal to diners of all ages – and breeds, for that matter. All existing Rock & Brews welcome dogs, and Simmons expects the Maui restaurant to do the same.
"So far, every site has allowed it, so, barring any local differences, the Paia location will be dog friendly as well," he says, adding jokingly, "If you allow kids, why can't you allow their dogs? They both poop."
Drumming Up Success
Fleetwood, a full-time Maui resident and newcomer to the Lahaina restaurant landscape, has lent his famous moniker toFleetwood's on Front St., which opened in August 2012. It's no surprise that music has helped define the restaurant, and diners can enjoy live entertainment nightly on the rooftop lounge. The opening celebration saw jam sessions by drummer Fleetwood, Aerosmith's Steven Tyler and blues guitarist Jonny Lang, among others.
In addition to his famous friends taking the stage, Fleetwood has enlisted the culinary talents of celebrity chef Scott Leibfried, sous chef on the "Hell's Kitchen" reality show. As Fleetwood's on Front St.'s corporate chef, Leibfried helped create the menu and is working with Fleetwood to write a cookbook that could be on shelves sometime this year.
For the record, Fleetwood's business history hasn't been perfect. He blames a failed restaurant venture about two decades ago on the fact that he "wasn't present" in its daily operations.
"You can't do this without really being involved, and it's not advisable to sort of slap your name on it and disappear," he says, adding that he visits the restaurant up to four nights a week.
"I'm just not one of those public figures who hides from people. I'm very open and I think that is no doubt necessary when running a business," says Fleetwood. "If you're going to be there, you can't mind taking pictures, talking to customers and asking them how we can make it better.
"I'm that person, so if I was frightened and annoyed at people coming up to me all the time, this would not be the business to be in."
Fleetwood is currently on a four-month North American tour with Fleetwood Mac, but has plans to keep in touch with the restaurant virtually while he's away.
"We're going to have fun doing audio and video linkups to my dressing room so I can say hello to people behind the bar," he explains.
Beyond the restaurant, Fleetwood has plans to open a retail shop in the same building that will feature a wine gallery, food and creations from local artists, including some of Fleetwood's own art.
Spirit of a Rocker
Rounding out the celebrity restaurateurs is part-time Maui resident Hagar, who has added his Sammy's Beach Bar & Grill at Kahului Airport to his growing portfolio of mainland eateries, which include Cabo Wabo Cantina, Sammy's Rockin' Island Bar & Grill and El Paseo.
For Hagar, business and philanthropy are complementary concepts. Through his Hagar Family Foundation, a portion of restaurant earnings are funneled directly back into the community from which they came. On Maui alone, Hagar has donated nearly $1 million to nonprofits, including A Keiki's Dream, Hana Youth Center and Maui Food Bank.
"No. 1, I want to have restaurants – I love it. But it's like, at some point, I have plenty of money and I feel uncomfortable just doing things and taking the money and putting it in the bank," he confesses.
Depending on how you look at it, Hagar's leap into the rum business was either purely accidental or absolute synchronicity. While dining at a restaurant, a friend suggested Hagar try Pau Maui vodka, which is made by distiller Mark Nigbur.
"I tried it and it was the best damn vodka I'd ever tasted," Hagar says.
The next time he was on Maui, Hagar visited Nigbur at his Haliimaile distillery, a Quonset hut in the middle of sugar-cane fields. Sporting curly blonde hair and a goatee, Nigbur could pass for Hagar's doppelganger.
"I walk in and he looks just like me and I'm going, 'Well, what the hell is this?' " recalls Hagar. "I made a joke and said, 'Why would you be making vodka when you're in the middle of a sugar cane field?' I said, 'You should be making rum.' "
Nigbur agreed and the rest is Sammy's Beach Bar Rum history. Together, the duo has developed an award-winning white rum produced entirely on Maui using HC&S sugar.
"I wasn't looking to make rum, but when things happen like that, you have to go with it," Hagar says. "If it wasn't for Mark's genius, I wouldn't have made the rum."
Hagar says he isn't one to simply put his name on a product and walk away.
"If you want to run your own company, do things your way, I'm a nightmare, because I stay involved. I'm up there stirring the mash with a paddle, I'm helping him taste flavors, we're putting stuff in barrels," he explains.
Hagar, who says that he has been approached by investors looking to distribute Sammy's Beach Bar Rum, is adamant that the product stays true to its Maui roots.
"They say, 'But we want to move it, you have to make it somewhere else because it's too expensive to do it here.' I said, 'Oh s—, goodbye, I'm outta here.' "
"The reason this rum is great is because it's made right here on Maui. We are not getting the sugar anywhere else. And the guy goes, 'Well, you're so limited, you can only make so much.' And I said, 'If we get big enough to where we run out of sugar cane on this island, you see all them condos out there? I'm going to buy them, knock them down and replant sugar.' "
From Courtside to Beachfront
Former NBA basketball coach and full-time Maui resident Nelson describes himself as "a big-picture kind of guy." It's part of the reason the three-time NBA coach of the year and member of the Basketball Hall of Fame has been so successful on the court. Now, off the court, he's set a new challenge: the wedding business.
"There's competition in business, just like in sports, so I enjoy that," he says.
Sugar Beach Events, situated on land along Sugar Beach in Kihei, is an approximately 5,000-square-foot space that will include a reception area, commercial kitchen, bridal suite and parking lot.
"There's nothing like it on Maui," Nelson beams. "We've got everything: indoor, outdoor, beautiful setting, sand beach, parking for almost 50 cars."
He added that the center was designed with weddings in mind, although it can accommodate a range of events.
"The idea came from people wanting to get married on the sand beach," says Nelson. "The sand goes all the way up to my property, so we can be on the property, it can be private and people can still have a wedding on the beach."
Nelson, who owns a handful of properties on Maui, some of which he rents, is also considering selling olive oil harvested from his 22-acre farm in Kula. The property is home to 1,600 olive trees that he says "will be ready to pick this year."
He says he's routinely dreaming up new ventures, but calls upon his wife and business partner, Joy, to help make them a reality.
"I enjoy painting the big strokes of the picture and my wife likes to do the little ones, so we work real well together that way."