2019 CEO of the Year: Bettina Mehnert of AHL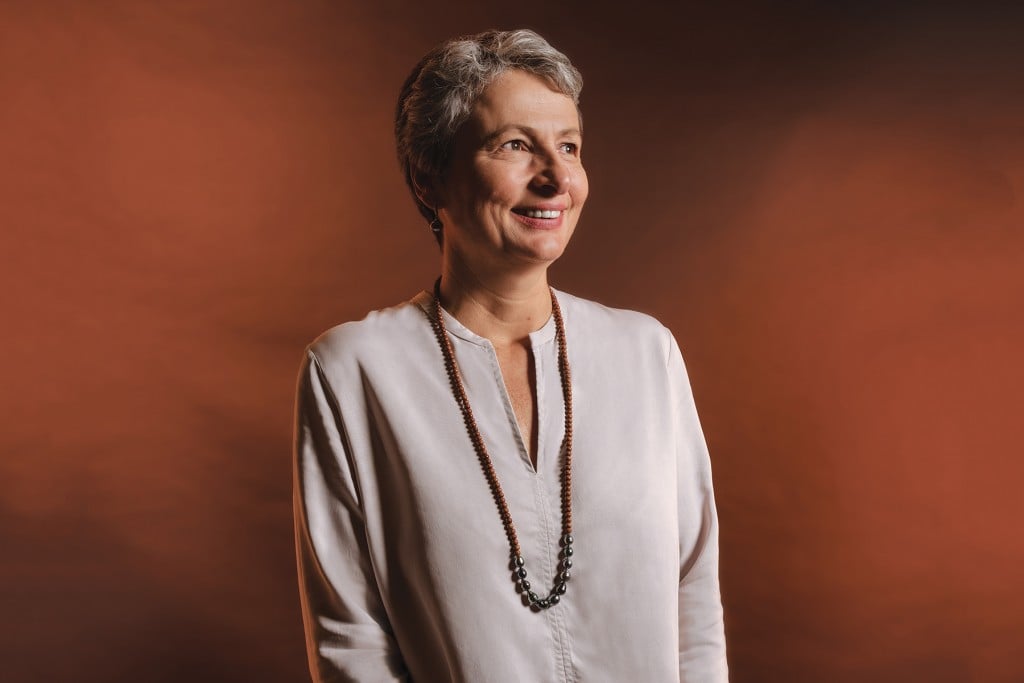 Leading with Passion and Innovation
While Planning for a Sustainable Future
The remote building was old, unoccupied for years and in disrepair when Bettina Mehnert first saw it three years ago.
A coalition centered on the nonprofit Ho'ōla Nā Pua wanted to turn it into a sanctuary where girls who had been abducted into the sex trade could receive care and rehabilitation. Mehnert had that in mind as she walked through the decaying structure.
"This facility would be for girls between 11 and 17. … My daughter Anna was 11 at the time, and it hit so incredibly close to home it made me physically sick. I had all these emotions: shock, sadness, upset. I had never thought our community had a problem of such proportions."
The next day she called a meeting of her AHL partners. "I found our next 1% project," she told them, referring to the architecture firm's pro bono work, whose value is a share of billing.
"One partner asked, 'What would have been the A and E (architecture and engineering fee) on this?' and I said, 'About $800,000.' That's one of the reasons why I love this firm – no one asked, 'Have you lost your mind?' Another asked 'How are you going to do that?' and I said, 'We will have to find a way.' "
Within minutes she phoned Design Partners, alternately a competitor and a collaborator with AHL. "That same day we had a commitment from them and we knew we would be able to do the project."
Mehnert brings that passion and commitment to all that she does, including her innovative work as a nationally recognized architect and architectural leader, especially in sustainable design; as a CEO willing to experiment in the AHL workplace to spur creativity and win the loyalty of her employees; and as a leader in helping Hawai'i face the challenges of climate change. For those reasons and others, Hawaii Business Magazine has named her 2019 CEO of the Year.
"Surrounded by Rock Stars"
AHL, formerly known as Architects Hawaii Ltd., has been around for 72 years and is the state's second-largest architecture firm. Mehnert is its first female CEO.
Construction, architecture and design can be a cyclical industry, with up and down years often based on just a few major contracts. Nonetheless, AHL has done well since Mehnert became CEO in 2013. In the year before she took over, revenue was $19.5 million with 78 employees. This year, AHL says, its revenue will hit an estimated $26.6 million with 92 employees.
"I believe it's easy to succeed when you're surrounded by rock stars," she says of her colleagues. "I always feel we just won the lottery with the people we have here. My leadership style is one of empowerment. I succeed because the people around me are brilliant, and in many ways I feel that they lift me up."
Mehnert was chosen last year as the only nonscientist on Honolulu Mayor Kirk Caldwell's new five-member Climate Change Commission. She hopes to use the latest climate change data to help create policy and put it into effect.
"Bettina certainly played a big role in (looking at) how a particular level of ocean rise in the future would impact architecture and community design," says Charles "Chip" Fletcher, vice-chair of the commission and associate dean for academic affairs at UH's Department of Earth Sciences at the School of Ocean and Earth Science and Technology.
"She's well recognized in the business community as a successful member, so she brings that element in addition to her architectural skill set."
Mehnert feels a profound urgency about rising sea levels and how they are already impacting construction in Hawai'i, and how those impacts will grow in coming decades.
"I am a fighter," Mehnert says. "I will do whatever I can to make a difference. It is a privilege to be on the commission with such accomplished and bright thinkers. We all share the urgency of needing to do something. There's no question in my mind that we have to be swift and purposeful and dedicated and make some very hard decisions. They're not hard in the sense of, 'This is what we have to do,' but some will be hard financially because it will cost money. But we are very fortunate in that our state and county governments are aligned in their commitment to addressing climate change."

Everyone Makes a Difference
One of the first questions from city agencies to the commission was: How high will the sea rise? Based on the current science, the commission estimated an increase of 3.2 feet, or 1 meter, above current sea levels by the end of the century. But because that is an estimate, the group recommended that large projects that cannot tolerate much risk should plan for a 6-foot rise.
Mehnert says that is just one aspect of local climate change impacts. "We have already lost an average of 60 trade wind days a year. The average number of days went from 270 to 210 a year, and that trend will worsen.
"I am one of those people who thinks every single person makes a difference. We can do simple things like making choices about transportation. If we need a car, should it be electric? We should be open to hydrogen. We need to be open to changing the way we move from point to point. We have a fantastic bus system, and we're working on changing the fleet. And the Biki bikes are out there. There are options. We need to be open to them."
Before the commission's first meeting, Mehnert devoured a 300-page state report on climate change. "It was like drinking from a fire hose," she remembers.
"She dove right in," says Fletcher. "She is certainly one of the brains in the room, one of the strong contributors to our thinking."
The commission is generating white papers to provide guidance and suggestions for policy, Fletcher says. "For the last six months we've been working on a detailed complex white paper on financial risk related to climate change, and we're also starting a paper on shoreline management. We have been thinking that one of our future white papers would be one based on Bettina's area of expertise, building sustainable and resilient communities."
Advocates for New Rules
Local firms are already designing with climate change in mind, but Mehnert would like to see some of the rules changed to support developers and clients who want to be part of the solution.
"With architecture, you're in this key position to make a difference. But a lot of what we do is defined by zoning laws and building codes," she says.
For instance, Mehnert asks, if a developer raises the ground level on a high-rise to cope with the rising sea, why can't the building code allow a height compensation?
"To build up the side or lift the building some other way adds additional cost. But if one builds up the site, according to current rules, the height limit does not get extended with it. The building department says you just have to chop off that top floor. You're double penalizing the developer."
She also would like to see rules changed so that architects can design for density, not building height. "A welcome side effect would be that our skyline would look a little more varied. Right now it looks like someone chopped off all the buildings at a certain height."
Mehnert says there are some obvious, common-sense things being done now such as moving electrical or mechanical equipment to higher floors. At the same time, she says, greenhouse gas emissions coming from existing buildings can be reduced simply by retrofitting those older buildings, including: replacing old inefficient air-conditioning systems; adding a "skin" to prevent temperature leakage; and window tints that keep heat outside.
Many questions remain to be discussed and answered, she says. "Why are we putting high-rises on oceanfront properties? We've got to think about what happens to them. And does that mean we cannot build on oceanfront properties at all? And what's the time frame for which we are designing? Climate change is such a new concern and it's happening at the speed of light. We don't have historical data to help us figure out the future. The change required from us as an industry is overwhelming in its urgency."
Serves with Many Groups
Architecture and climate change are just two of the areas where Mehnert focuses her energy and provides leadership. She is a member of the board of PBS Hawai'i; a board member at St. Andrew's Schools; a member of the Urban Land Institute; an advisory board member of the Center for Tomorrow's Leaders; a member of the U.S. Green Building Council and the AIA Honolulu Chapter; and one of a handful of Hawai'i women architects named as a fellow in the American Institute of Architects.
David Miller, AHL's board chair and principal architect, applauds her leadership in the community and the firm, and cites AHL's 1% initiative as an example of how her vision and values make a difference. AHL's pro bono commitment has amounted to more than 1,000 hours per year of free design work for community projects.
"It defines AHL as taking the high road and doing the right thing as an integral part of our practice in service to clients and the community overall," Miller says. "It also enables our staff to express their passions in this regard, and to participate in realizing them through working directly on those projects."
"Architecture gives back to the community big time, that firm especially."

Joe Ferraro,

President of AIA Honolulu and principal architect at Ferraro Choi, speaking of Mehnert's company, AHL
The pro bono projects AHL has participated in are legion, including renovation of the Aloha United Way headquarters; design of a roof garden to grow nutritious vegetables at the Institute for Human Services' women's shelter; a rain pavilion for the Hawai'i Nature Center in Makiki; renovation of the Salvation Army's family treatment facilities; and interior renovation of the Kahuku Medical Center Emergency Room.
The 3-year-old project for young women freed from sex trafficking is especially resonating in the community.
"When we told our consultants we would provide services at no charge, they followed suit," says Mehnert. "In the 15 years we've been doing pro bono projects we have never had a project where a consultant even asked whether we would pay them. They have always considered it a privilege to be part of a project like this."
The refurbished building is expected to take another year to complete.
"Architecture gives back to the community big time, that firm especially," says Joe Ferraro, president of AIA Honolulu, principal architect at Ferraro Choi and one of Mehnert's longtime friends. "Bettina's highly regarded in our profession as a leader and a businesswoman."
AHL'S Pro Bono Projects
The architecture and design firm led by Bettina Mehnert says it has donated 1% of its employees' on-the-job hours to pro bono projects since 2006. The projects are often collaborations with other people and organizations. Here's a rundown of the projects, from AHL, along with the number of employee hours donated.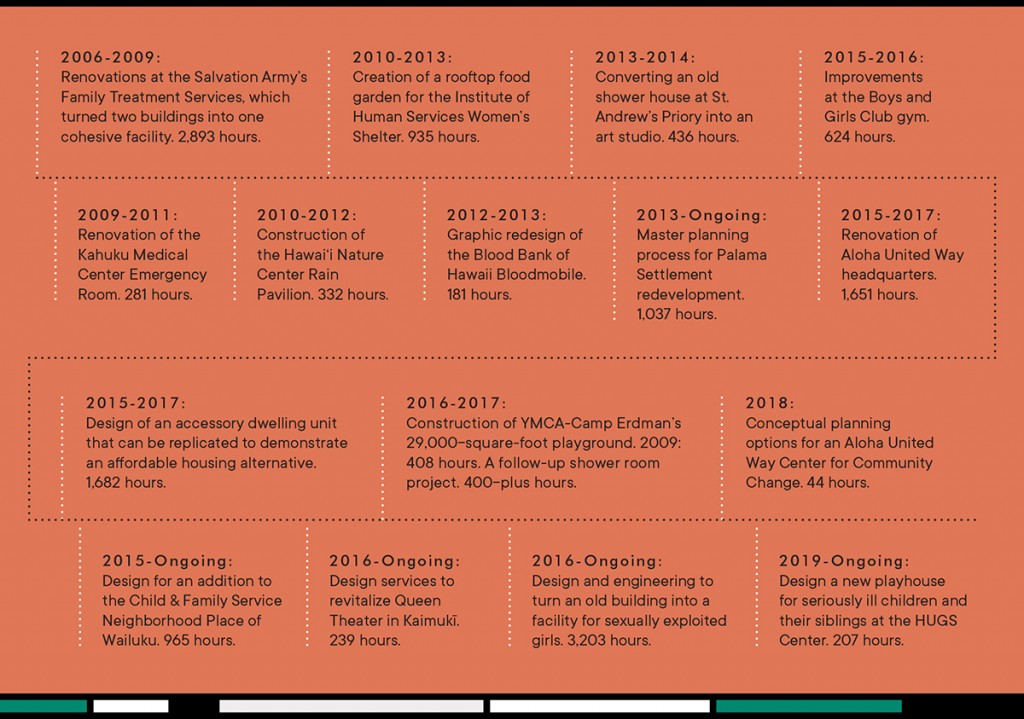 "Such a Sweet Person"
It's no surprise to Ferraro, who met Mehnert 20 years ago when she was a young architect who had joined his Rotary Club and was involved in service projects. "She's like a sister to me from knowing her at Rotary," he says. "We did a lot of community service together: painting school classrooms, women's shelters. She's just terrific. I highly admire her as a person, a mother and a professional. She's such a sweet person."
That seems to be a universal opinion among Mehnert's friends, the people who work with her, and others.
At first, Russell Iwamura, leader for planning and feasibility studies for the U.S. Army Corps of Engineers' Pacific Ocean Division, thought Mehnert was just another volunteer parent at their kids' swim meets.
"Over the years we've become friends," says Iwamura. "It's easy with Bettina. She's so friendly and approachable. She's just an average parent like everyone else. I didn't realize she was this powerful businesswoman until the YWCA honored her as one of the Women of the Year. I saw an article and there were pictures, and I said, 'Wait, that looks like Bettina!' "
Glen Kaneshige, president of Nordic PCL, has worked with Mehnert on many big projects. "She's a good listener and very thoughtful in her responses," he says. "She always looks at the big picture and thinks strategically, such as, 'What's the likelihood of certain things happening?' And she isn't afraid to broach things that people are afraid to talk about or tend to work around. You have to be courageous. I'm sure she's in a position that has to make hard decisions, and I see her as the type who does."
"Always Confident"
Leslie Wilcox, president and CEO of PBS Hawai'i, has seen that strength firsthand. Mehnert joined the public television station's board about six years ago, just after the company hired architectural firm G70 to design the new PBS building.
"Bettina is a detail-oriented professional who gave credit where credit was due in reviewing others' work," says Wilcox. "She spent hours with a small board/staff team, studying the qualifications and bids of general contractors seeking to construct our facility, and was 'all in' working collaboratively to get the best result."
If challenges arise, says Wilcox, "Bettina embraces the opportunity to help.
"'Not a problem,' she'll say evenly," says Wilcox. "She's always confident that the path will open."
Mehnert also does what other successful Type A's and busy executives may forget to do, says Wilcox, "and that is (to) celebrate small victories along the way, take time to thank people whose contributions may otherwise be overlooked, and be joyful."
Mehnert says she never expected to stay in one place as long as she has, let alone at one firm, but AHL has been her professional home from the beginning. Her elevation to CEO in 2013 came as a surprise to her.
"If you asked if I ever saw myself in this position I would have probably said no, because I think I live more in the moment," she says. "I always felt that as long as what I do was stimulating and impactful that was most important. What position it comes with was really secondary."
"One Big Family"
AHL's office in many ways reflects both the company's and Mehnert's openness. There are no closed doors, in fact no doors at all, and Mehnert's desk is just one among the staff in a large room, where groupings fall along project area lines. Every Friday morning at 9:30 the whole place stops for a 20-minute "coffee break" – with doughnuts – to hear about the latest projects, share announcements or ask questions.
"They really do a lot to make everyone feel like one big team and one big family," says architect Katie Stephens, a good friend of Mehnert's before joining the firm herself a year and a half ago.
"I was worried: Am I going to see a totally different side of her?" says Stephens, thinking back to the time just before she began working with Mehnert. "But she's still the same: playful and funny and very compassionate. All that shows through (as a boss)."
Both are distance runners and back in the mid-1990s, when Mehnert ran her first Honolulu Marathon, Stephens promised to take Mehnert's photo at the finish line. In the chaos of the crowd Stephens saw Mehnert approaching and got ready. As Mehnert crossed the line, she snapped the shot.
"Just in front of her crossing the line is a guy wearing a Christmas tree costume," remembers Stephens. "And Bettina said, 'You had to get a picture with a Christmas tree beating me?' "
It's been a joke ever since.
A Rough Start
Mehnert's introduction to Hawai'i back in 1988 was anything but funny.
She was chosen in Germany during a cold winter as one of two young professionals to receive work abroad scholarships. She picked Hawai'i and landed in Honolulu late at night with the promise of a job. Instead, there was no one to meet her, no real job and no place to stay. But it took just two hours for her to fall in love with the state and its good-hearted people thanks to a kindly taxi driver who took pity on the stranded 24-year-old and gave her a free ride from the airport to the Atherton YMCA.
"My very, very first experience in Hawai'i was one of warmth and compassion," says Mehnert. "How can you not immediately fall in love with that?"
Struggling with English, but undeterred and needing to support herself, Mehnert applied to AHL for a job and wouldn't take no for an answer, says her husband, Lou Johnson. She admits she stubbornly – but politely – stayed in the office until the president, Rob Hale, agreed to hire her. Rushing to learn English, she listened nonstop to a 9-inch black-and-white TV and read aloud from newsmagazines.
During her first month on the job, AHL colleagues taught her a new American expression each day while she taught them German ones.
"As soon as we hit week two it started to become boring," she remembers, "so I would teach them one thing that could have two meanings, and they would do the same for me."
One day, Hale, the AHL president, asked her how she was doing.
"I thought this was a good opportunity to use one of my freshly learned sentences," she says. As he left, she uttered her new American phrase: "Don't let the door hit you on the way out."
Mehnert says she thought the phrase "was a nice way of wishing someone a good day and ending a conversation."
"He looked a bit stunned and everyone around me dived under their desks trying not to explode with laughter. We had a lot of fun. But after that I started checking what they taught me."
Mehnert is still known to mangle American clichés, and to inadvertently amuse or perplex her colleagues, says Stephens. "Robbing Paul to pay Peter," is one. Another is "Like two ships crashing in the night." And then there's "Jumping at the bits" rather than chomping at the bit.
Grew Up in Germany
Though she grew up in a family of architects, Mehnert never aspired to the profession in her early years. Maybe a jockey, she thought early on, because she loved horses and the outdoors. Growing up in the tiny town of Grevenbroich in a close-knit family, she treasured long walks in the woods after supper with her mother and the dog. Though her parents still live in Germany, they are close and visit each Christmas.
Her ideas about her future began changing while she worked in a carpentry shop after high school. "I love carpentry. In many ways it cemented the idea, 'OK, maybe I should go into architecture.' It made that become the right choice."
As well, says Mehnert, she has always enjoyed being on job sites, seeing how things came together and how to make things work. Since she took the reins six years ago, the company has worked on an additional 2,279 projects. Some of the newest include the new Whole Foods Queen Street store; Ae'o Tower in Kaka'ako; Symphony Honolulu and its retail and restaurant space, Velocity Honolulu; Lau Hala Shops in the old Liberty House building in Kailua; and the performing arts center at King Kekaulike High School in Upcountry Maui.
"I am a fighter. I will do whatever I can to make a difference."

Bettina Mehnert,

CEO, AHL
When she finished architecture school in Trier, Germany, Mehnert was barely into her 20s, but because of Germany's high unemployment rate at the time, she stayed in school awhile longer and earned a graduate degree in computer science. "I loved the combo – architecture and IT. And when I joined AHL it was right at the cusp of CAD (computer-assisted design) spreading into the industry. We were cutting edge. We were the first firm in Hawai'i that had a CAD drafting system, and I understood it. I knew what the architects were doing and I knew what the computer needed. I was able to talk on both sides.
"As time evolved it became clear that the future is drafting with computers, and I handled that transition for the firm. That was my first companywide leadership opportunity, and what I was particularly proud of was nobody left the firm."
Mehnert thrives in spaces that are eclectic but orderly. For instance, she's taken a 1940s home in Kailua and updated it with contemporary lines without relinquishing its traditional spirit. Under languid ceiling fans – there's no air conditioning – a 5-foot carved wooden gecko made by an Australian aboriginal artist shares space with contemporary paintings and photos, more art brought home from trips or purchased from local artists, wood floors, Mexican tile and an ancient Persian rug inherited from the family home in Germany.
"The older you get the more a home turns into a reflection of one's passions," she says. "There was a period when I stood in the middle of my house and thought 'Nothing fits together!' It's an eclectic collection of stuff."
Still, she says, "A home is a shelter. … It's where we go to take refuge from the day. It's where we let our guards down, where our kids feel safe when there's a thunderstorm. It's safety and warmth and comfort and protection."
Morning Runs
It's also where she begins the day in her own unique way.
At 4:30 each morning, Mehnert climbs out of bed and heads outside to the garden with the family's two rescue dogs: three-legged Otis and timid Kaia. Resting in a comfortable chair, she relishes these moments, with stars overhead and the sounds of an awakening day.
These early morning hours are also the times she likes to run, especially if it's raining. Running is often when she solves problems.
"It's amazing what clarity comes with a nice long run. The further they are the more I solve. It's almost as if you're getting into this zone and your body just goes and your body is happy and your mind starts shedding some of the weight. I write speeches in my head when I run. I think of new approaches to certain issues and I am so happy when I get back from a run. My husband thinks it's all endorphins because I get so much work done."
Mehnert has run in marathons and other events all over the world but probably the most difficult and fulfilling were full and half marathons through the rough lava fields in Volcanoes National Park, following a path marked by small piles of lava rock.
Her love of athletic activity has been transferred to her daughter, Anna, whom Mehnert calls "a fish" for the young girl's love of competitive swimming. The sport is so important to the family that both Mehnert and her husband, a civilian security manager with the Marine Corps, have become USA Swimming officials and regularly assist with meets.
"Bettina and I are on the 'wet side.' It's called the wet side because you get wet!" Johnson, her husband, explains with a laugh. "We're both on the deck watching the swimmers. We're qualified starters and in training as referees. It was a bit of a challenge getting to the point of learning all of the strokes so we could be officials."
The couple met in 2009; their marriage was a first for both. Anna was just turning 5 at the time and was always included in the couple's first year of dating, says Johnson, so it seemed natural when he stepped into fatherhood.
Mehnert had been a single mother after adopting Anna in 2005. She visited Anna's orphanage in Kazakhstan daily for two months, getting to know the child. Mehnert says the child chose her, putting her arms out toward Mehnert the moment she first walked in.
Johnson describes his wife as down-to-earth, level-headed and very modest. "She came here not speaking English, wouldn't take 'no' for an answer in getting her job with AHL, and basically worked her way up from the bottom."
That, he says, is definitely someone "living the American dream come true."
Celebrating the 2019 CEO of the Year
The C-Suite Speaker Series celebrates 2019 CEO of the Year Bettina Mehnert of AHL at Pomaikai Ballrooms on Thursday, December 12. As part of the celebration our CEO of the Year will be joined by some of her counterparts to discuss innovation, agility, technology and more.
Register today: hawaiibusiness.com/CEO2019.