Collaboration Key to Tackling Hawaiʻi's Health Challenges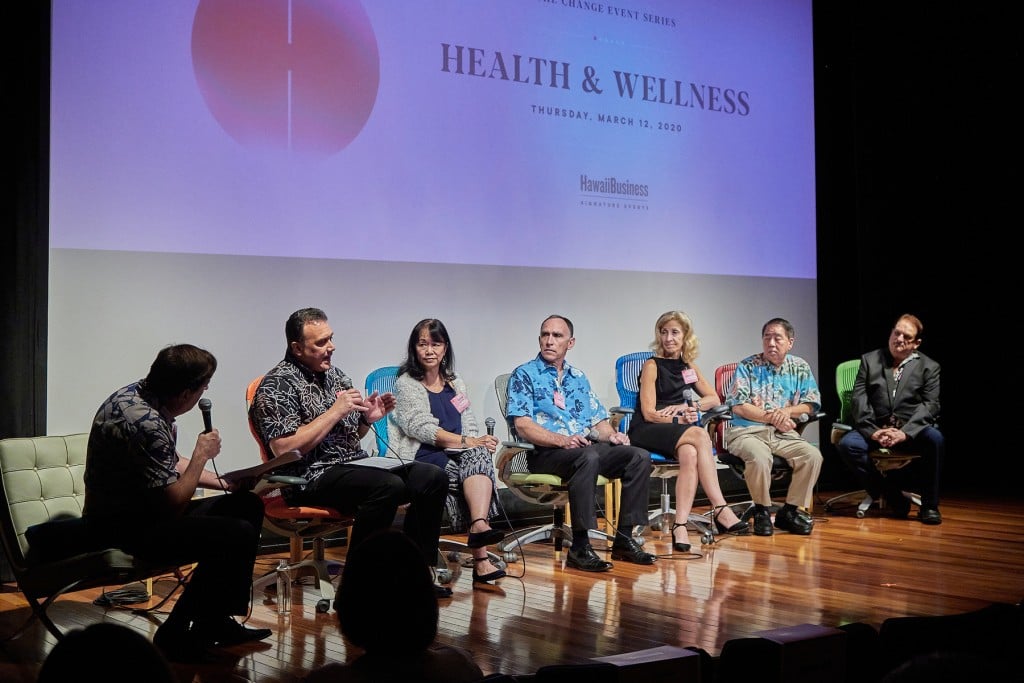 Six local leaders in health care discuss coronavirus, health disparities, tomorrow's doctors and nurses, and more at Hawaii Business Magazine CHANGE event
"Whenever you look at an emergency, the more we collaborate, the more we communicate, the more we're going to figure out what's the best thing to do and how to do it," said Jill Hoggard Green, president and CEO of The Queen's Health Systems.
"And we always find innovation in that."
Coronavirus testing is an example, she said. A month ago, it took two weeks to get test results. Now, it's down to three days and getting faster. Such innovation doesn't happen that rapidly without the attitude, "Let's, all of us, work together," she said.
Hoggard Green was part of a Hawaii Business Magazine panel discussion late Thursday afternoon on how to improve health and wellness in Hawaiʻi. It was the magazine's second in the six-event series based on the CHANGE acronym. Learn more about the series and buy tickets here.
In addition to Green, the panel included:
Richard P. Bettini, president and CEO, Waianae Coast Comprehensive Health Center
Bob Harrison, president and CEO, First Hawaiian Bank and chair of the Health & Wellness Committee of the Hawai'i Executive Collaborative
Dr. Joseph Keawe'aimoku Kaholokula, professor and chair of Native Hawaiian Health, John A. Burns School of Medicine
Connie Mitchell, executive director, Institute for Human Services
Dr. Mark Mugiishi, president and CEO, HMSA
Here are three key takeaways from the event:
Community is key to tackling Hawaiʻi's largest health challenges.
Hoggard Green said her husband was better able to manage his diabetes by accomplishing short, weekly goals designed to help him adopt healthier behaviors. But he couldn't have done it without his nurse and pharmacist coach.
"So it does take your family, it takes your work, it takes everyone working together with you," Green said.
Mitchell said young people with mental illnesses can benefit from friends and those around them who care. "Tell them what you see and tell them that there's treatment, there's hope for them, (and) they're more likely to seek treatment."
Mugiishi said that as people in Hawai'i use social distancing to cope with coronavirus, people should pay attention to the mental wellbeing of themselves and their families and friends that might suffer because of isolation.
We have to address social determinants of health, like income and education.
Kaholokula said your health is largely determined by your income and education, and gave this example: Watching what you eat and managing your stress are optimal ways to manage diabetes and other chronic diseases, but many people find that challenging when they work two jobs and are stuck commuting long distances in Hawaiʻi traffic.
"The challenge we face getting people to be able to manage their health better goes back to the social determinants of health," he said. "We really need to address these because the reality is when someone is in their 30s, 35, diagnosed with diabetes, they don't feel it at that moment. It's not until years later that complications come in. But they've got to feed their children at that moment in time."
Bettini said food insecurity is a major factor hurting the health of low-income people, especially keiki. He described how children on the Wai'anae Coast run from their bus when it arrives at school in the mornings to try to reach the cafeteria before it closes, because they have not yet eaten that day.
We need to invest in the next generation of healthcare workers and get more youth interested in health careers.
Many healthcare workers are older and lack the ethnic diversity that's representative of the communities they serve, panelists said. In addition, the next generation of physicians' training will need to focus more on chronic diseases, Kaholokula said.
"They have to be behavioral experts, social experts, now they have to be experts in healthcare delivery and payment transformation," he said. "This is a whole new generation for our providers. We need to double our resources and the other wraparound services and other things to really make it work."
Watch the recap video:
To learn more, read:
In-depth Hawaii Business Magazine report on Health & Wellness