This Nonprofit Helps Kaua'i's Farmers Start Up and Grow
Mālama Kaua'i's network increased sales by almost 6% in a year, with one farmer reaching six figures.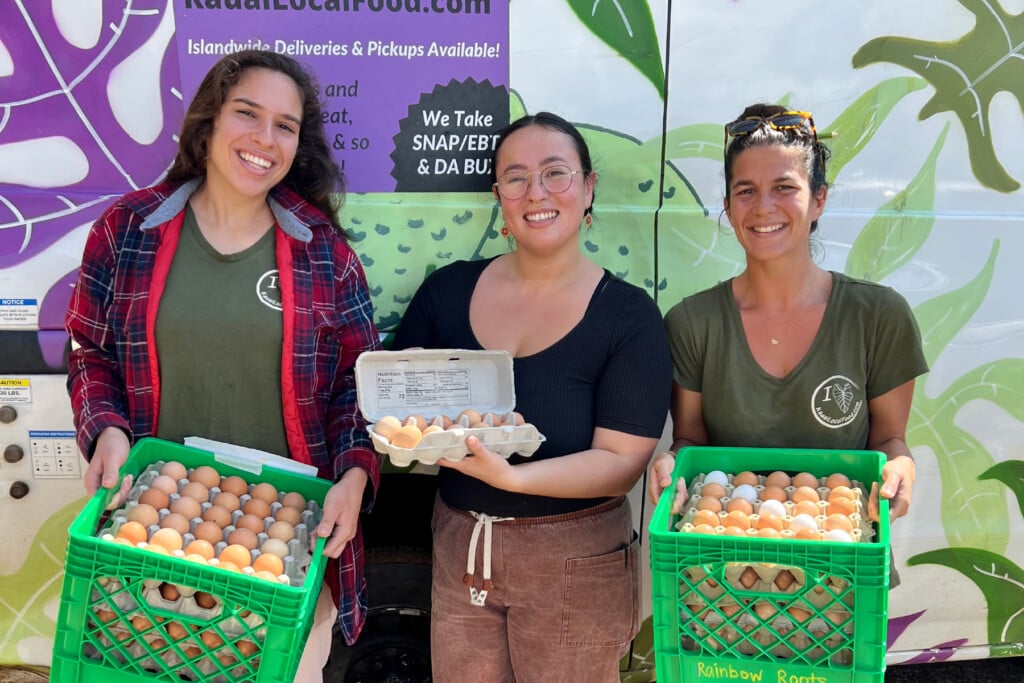 Jeth Parbo began raising chickens eight years ago to help feed her family and neighbors. Her farm, Mama Jeth's Farmstead, now houses about 175 chickens on a quarter-acre lot in Waimea, and they produce about 45 to 60 dozen eggs a week.
She's one of 17 egg producers who participated in Mālama Kaua'i's Poultry Egg Education Project, or PEEP, which began in 2022 and provided Kaua'i farmers with startup equipment, supplies, education and peer support.
"When they had a program open up, I wanted to join and help out, do whatever I can on my part to help feed the island," Parbo says, adding that her peers taught her about best practices for feeding schedules and chicken health.
Created in 2006, Mālama Kaua'i's mission is to increase local food production and access. Its staff of 10, along with hundreds of volunteers, distribute food through an online food hub, keiki and kūpuna programs, and food pantries. In 2022, Mālama Kaua'i distributed $500,000 worth of food from 130 food producers, 60% of which were minority-owned businesses. Most of those producers were based on Kaua'i; a handful were from other islands.
The nonprofit also collects produce harvested from the community and donates it to community partners. And it helps farmers build capacity through internships, grants, grant writing and management services, and educational programs.
Now in its second year, PEEP helped increase the number of Kaua'i egg producers from four to 27, says Megan Fox, executive director of Mālama Kaua'i. The nonprofit plans to use the program's third year to support graduates who want to scale further.
"Because obviously, the more production everyone's doing, the more food that's available for the community, and these are the people that were the most excited on the island about taking it seriously and bringing it to that level," she says.
PEEP farmers provide the eggs that Mālama Kaua'i sells through KauaiLocalFood.com. Anni Caporuscio, PEEP program manager, says the online food hub is selling about 150 dozen eggs a week at prices competitive with mainland eggs, whose prices have sharply increased over the past year.
Higher prices for mainland food means "local food is starting to become pretty competitive and in some cases is less expensive than imported food," Fox says. "And it just tastes better."
KauaiLocalFood.com became an essential facilitator for farmers and customers when farmers markets closed early in the pandemic. It currently serves over 1,200 residential and commercial customers across the island. Customers can pick up their groceries or pay $5 for delivery. Fox says the food hub has helped the nonprofit reach more low-income residents; about half of its residential customers use Supplemental Nutrition Assistance Program benefits.
Mālama Kaua'i is planning to scale its food aggregation and distribution efforts with a new food hub it's building in Moloa'a in partnership with the Moloa'a Irrigation Cooperative, a hui of 70 farms on more than 600 acres. The two-story Moloa'a 'Āina Center will have a commercial kitchen, cold storage, processing equipment and a marketing office. Fox says this will take some burden off producers so they can focus on growing food.
"Having to run all over the island to sell $50 worth of stuff , it's not worth your gas," she says. "But if (Mālama Kaua'i is) already going to do that run in the vans and whatnot, it makes a lot of sense for us to aggregate."
The new facility is scheduled to be complete this summer.
The nonprofit wants to keep expanding access to healthy local food. One of its newest grant programs helps farmers like Parbo address shortages of broccoli, watercress, carrots, liliko'i and other crops, and to sell to food pantries and other food access channels.
Mālama Kaua'i's 2022 food insecurity survey found that one in three participating Kaua'i households were unsure if they would have enough to eat each week, and two in three households had to decide monthly between paying bills or buying food. The survey was based on responses from 177 Kaua'i residents who represented 472 food-insecure individuals.
Fox says Mālama Kaua'i has accomplished a lot in the 10 years she's been with the organization, but says she is especially passionate about how it has helped people. Its vendors saw an average 5.9% increase in sales from 2021 to 2022. One of its farmers even reached six figures in sales last year.
"It's really cool to see all those big numbers when you do good work, but it's cooler when you see that one person and how your work impacts that one person and their business and their family and their kids and, at the same time, you get to see smiles every week of all the people that love their food," she says. "We're just pretty lucky we get to do what we do."