Virtual Interview on COVID-19: Doug Simons, Executive Director, Canada-France-Hawaii Telescope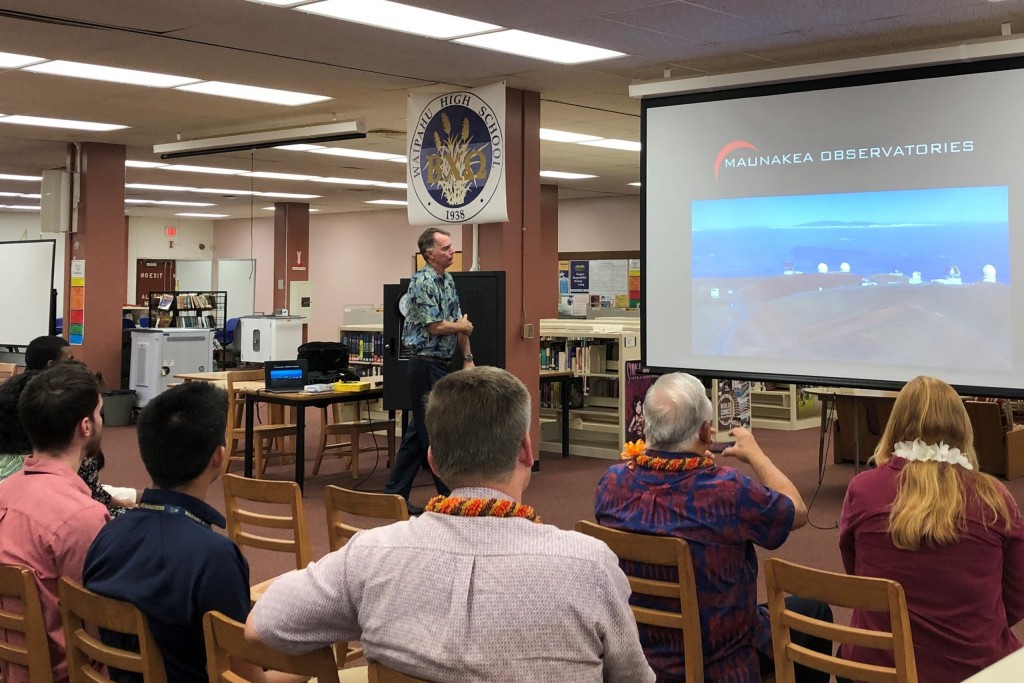 What has been your organization's latest pivot or innovation?
After Gov. David Ige's stay at home order was announced, the Canada-France-Hawaii Telescope, along with all the Maunakea Observatories, suspended operations. Our CFHT staff immediately innovated new ways to do their jobs from home. One engineer set up an experiment in his family's bathroom, substituting his bathroom mirror for CFHT's mirror at the summit. He recorded data and sent it to one of our computer programmers for analysis. The creativity of our staff to continue to do aspects of their job at home amazes us.
What has been your organization's latest opportunity or opportunities?
We rethought our entire education and public engagement program. Spring is typically a busy time with classroom visits, community festivals and one of the astronomy community's signature annual events, Astro Day. With everything cancelled this year, the entire Big Island astronomy community, CFHT included, decided to take our efforts virtual with our newly launched MKO@Home program. Most of the videos are stand alone and cover a huge range of content: astronomy art, careers, at home activities and, of course, science. Others are part of theme weeks. We sponsored Black Hole Week to celebrate the first anniversary of Pōwehi, the first image of a black hole ever, which included a live Q&A about black holes. With our annual Astro Day cancelled, we decided to offer MKO@Home Astro Day edition. It's three weeks of activities, demonstrations, our annual Maunakea Coin Contest awards ceremony and another live panel.
How has your organization's experience been with any level of government during this crisis?
Over the last several years CFHT has worked with numerous state and county agencies as well as local chambers of commerce. In this time of crisis, instead of engaging directly with government on regulations, we chose to collaborate with our small business colleagues to help advocate for Hawai'i Island needs, both immediate and longer term, with a unified voice.
In what ways do you think your organization will be different at the end of this year?
We think the post COVID-19 world will include more e-meetings and a heightened sense of vulnerability (health, jobs, society, Hawai'i's fragile economy, etc.). On the positive side, we anticipate deeper community links typical of shared crises and a broader appreciation for ingrained social needs. Closer to home, the shutdown of all Maunakea Observatories will have a significant impact on our combined research this year, with roughly 100 scientific publications per month lost. At CFHT we have significant uncertainty about our future (2021 and beyond) funding given the emerging global recession. Our principal sources of funding are the governments of Canada, France and the State of Hawai'i. Economic downturns in those economies may impact our future funding.
In what ways have you been able to support the broader community beyond your employees and customers?
We are involved in several Big Island initiatives to support the community. We joined the Hawai'i STEM Community Care coalition, which is dedicated to leveraging the STEM resources on the Big Island to provide innovative solutions to the COVID-19 crisis, specifically PPE shortages. Our instrument designer, Greg Green, has taken the lead on designing and fabricating hands-free door openers. The openers, designed in collaboration with medical staff, help hospital staff open doors without touching the door lever. Additionally, CFHT joined the Connect Aloha hui, a North Hawai'i organization designed to find and fill the gaps in COVID-19 response in the area.