Teaching in a New World: Chaminade University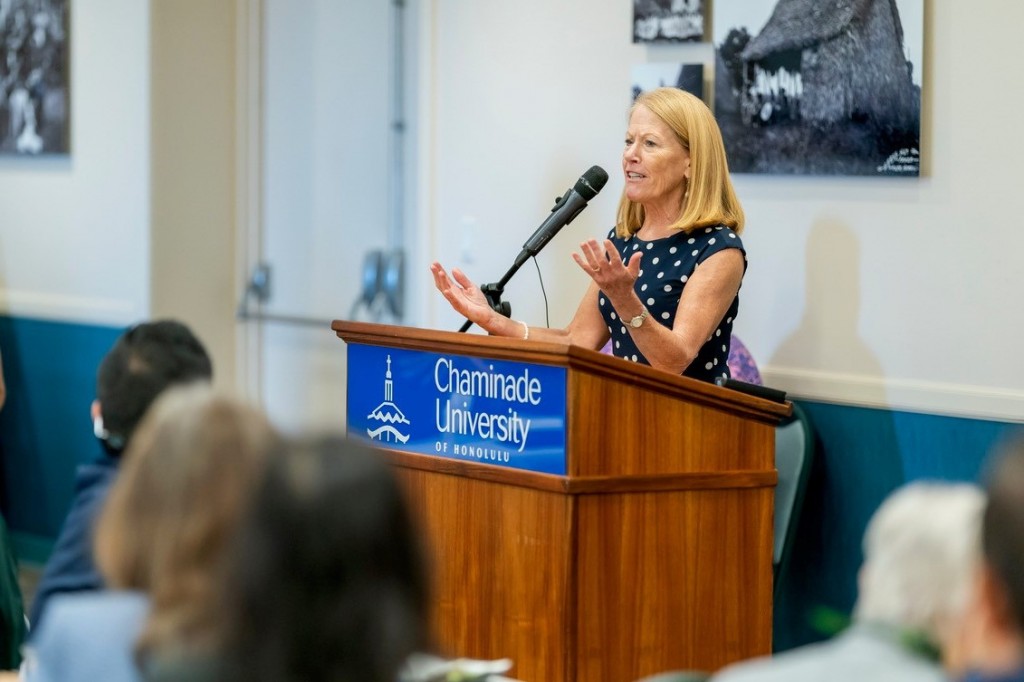 Virtual Interview: Dr. Lynn Babington, President, Chaminade University
What changes did you make to finish this school year, and have you made plans for summer school?
Chaminade University made a number of significant adjustments to the final five weeks of our spring semester to support our students' academic success and continue to provide all essential student services. Drawing upon an institutional legacy of more than 20 years of online teaching experience, Chaminade was able to quickly and effectively transition all of our didactic, lab and studio course instruction to online delivery.
Additionally, all of our student services and offices as well as residence halls and dining facilities have continued to operate with social distancing and PPE accommodations or have been moved to online and distance-based modes. Our students have also been provided with supplementary support services, crisis counseling and academic grade accommodations in recognition of the current pandemic conditions. These online and distance-based accommodations will continue through our Summer I term, and we hope to return to in-person instruction for the Summer II term in July.
How had the COVID-19 crisis affected your financial situation? 
Chaminade University has not laid off or furloughed any employees. We are proud of this fact, but this means our current budget is under stress. The biggest challenge we face is constructing a budget for the coming year based on so many uncertainties. Like all universities, we are developing multiple scenarios to estimate tuition revenues for the coming academic year. At Chaminade, 97% of our students receive some form of financial aid or scholarships and we also have a four-year graduation guarantee. This commitment requires funding to support our students. Endowment earnings are down, leaving less monies available to support financial aid. In addition, with today's market uncertainty, it is also more challenging to fundraise.  
How will the coming school year be different from previous years?
Chaminade University is planning for a return to in-person instruction for the fall semester while also preparing necessary PPE, social distancing protocols and other Coronavirus mitigation interventions that will ensure the health, safety and well-being of our campus community. We anticipate that changes may be necessary to classroom seating arrangements, course scheduling and university-sponsored events. We also anticipate that some students will require greater flexibility in their studies alongside increased financial, academic and emotional support; accordingly, we will be providing a range of individualized resources and accommodations to ensure our students continue to make progress toward their degrees while maintaining good health and well-being. 
How have your partnerships with other organizations changed?
This crisis provides an opportunity for us to leverage partnerships. All of the universities in Hawai'i are working together to support our students, including proposals to the Governor's Office requesting student financial support. We are working closely with Hawai'i high school counselors to assist students in the college admissions process and we continue to work with local nonprofits to provide volunteers and with many local businesses to provide educational and training needs.
In addition, we believe our articulation agreements with 11 different healthcare graduate schools across the nation will be seen as even more valuable now that some local college-bound seniors are questioning whether to go away for school. Through these agreements, our students are eligible for early admission to colleges like Boston University, George Washington University, Tufts and Pacific University. As long as they meet all academic requirements, they are provisionally accepted into the universities' medical schools upon graduation. 
Will you adjust tuition payments, or the schedule for paying tuition?
At the moment, we are planning for an on-campus educational experience in the fall, therefore there is no need for adjustments in tuition payments. We have a smaller campus footprint, a smaller residential student body and smaller classes, which makes it easier to provide a classroom experience while maintaining social distancing guidelines. We are currently planning multiple scenarios for on-campus classes. We have provided the Governor's Office and the Honolulu Mayor's office, in collaboration with HPU, with a set of procedures for on-campus classes in the fall, including specifics as to accessing university campus buildings: classrooms, laboratories, common areas (libraries, study rooms, computer labs), residential halls, dining halls, fitness centers, event and other activities.  
Do you think you will make more use of online and remote teaching than usual even after the pandemic passes?
Chaminade University will continue to supplement in-person instruction with online and distance-based teaching methods after the pandemic has passed and as we have for more than 20 years. Nevertheless, we also recognize that online instruction is only a powerful platform for learning when it is predicated upon strong, meaningful relationships with professors and opportunities for substantive interaction with peers. These strong interpersonal relationships and collaborative dialogues encourage students to move beyond the transaction of information sharing and knowledge retention as they also facilitate deeper intellectual growth across cognitive, social, and emotional domains of learning. While such relationships and higher order learning certainly can occur within online mediums – and with the right teachers, curriculum and pedagogy – Chaminade will continue to emphasize the primacy of face-to-face classroom learning for our students whenever possible after this pandemic has passed.