Small Business/Big Challenge: Debbie Ah Chick-Hopkins, Co-owner, Global Village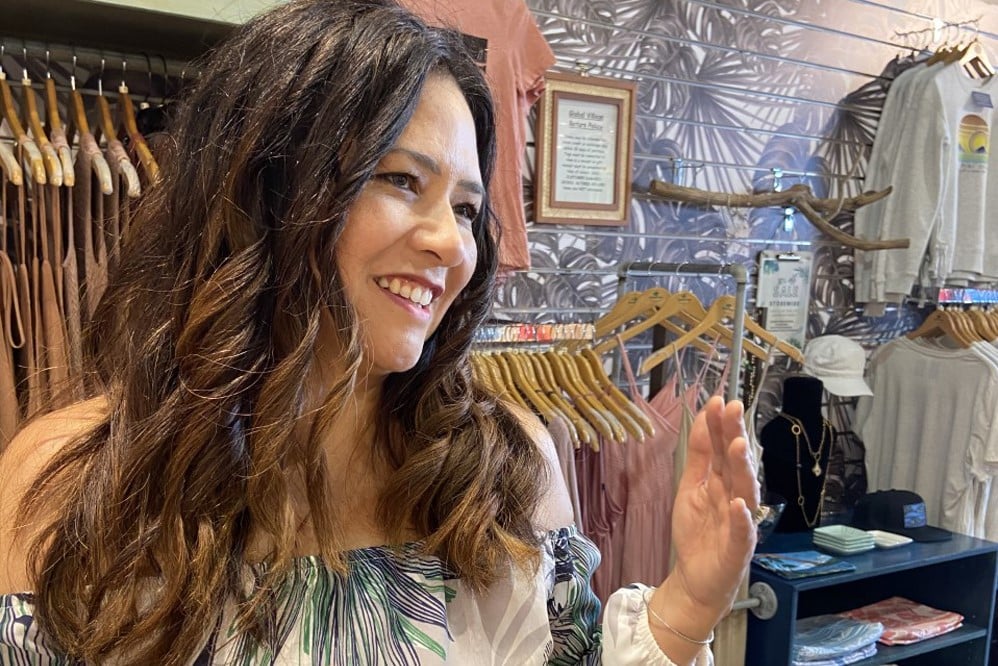 Please describe how and when you are conducting your return to your offices, stores, warehouses or other physical locations.
Global Village originally targeted June 1 as an opening date based on government proclamations in April; however once given the go ahead, we opened on May 15 and carefully reintegrated staff and provided additional support and training. As a member of the Retail Merchants of Hawaii, we relied on their email updates and their Hawaii Retail Reopening Guidelines & Checklist for Shopping Safe During Covid-19. We used this as a base to create our own guideline, establishing best practices and cleaning protocols for the safety of our team and our customers. When you shop with Global Village you will find a new floor plan, signs encouraging social distancing and wearing masks, hand sanitizer stations, staff wearing face protection, and new equipment for contactless service and enhanced protocol for sanitizing high touch areas.
After your transition period ends, how do you think your "new normal" will be different from your old normal?
Like many other retail businesses, our old normal and survival/growth strategy has been focused on recognizing retail trends and understanding customer preferences to improve our offerings and customer service – all the while, using previous years' numbers to project for the next year. As a result, we have typically been able to improve operations, events and sales year after year.
We have always understood the importance of maintaining a strong local customer base to temper impacts that might occur due to tourism downturns. However, we had not planned for and could not imagine how deeply something like COVID-19 could impact our community, our economy, and our business. We are expecting the transition period to be a long haul and everchanging, and we have to be prepared for the possibility that we could potentially be shut down again if there is a second outbreak.
We recognize that defining and implementing the new normal demands that we be creative and flexible with how we communicate with and train employees to provide a safe work place, and to ensure great and safe shopping experiences for our customers.
How do you think your new normal will affect your finances and customer service?
The financial impact to our business has been severe because we primarily model our business on friendly, face-to-face interaction with our customers and in-store sales for our revenue. During this transition period and through the rest of 2020, we anticipate that sales will only be 15%-20% of 2019. We also anticipate increased operating costs required to implement enhanced safeguards.
As the state tries to navigate their way through re-opening, Global Village will have to navigate through the changing needs of our customers and their new normal experience. We must really ask and listen to what our customers want, recognizing that COVID-19 may have affected them and that what they wanted a few months ago may be totally different from what they are wanting today. For example, many of our customers really wanted to support us and asked about our website and online sales capability.  We were extremely grateful for their support and while we had planned to increase our online presence, we were able to get our webstore up and running, provide curb side pick-up, and ship product during the stay-at-home order. While we use social media and email as a way to stay connected with our customers, our new normal will include continuing to improve our website and online store for our customers and supplement our in-store sales.
How are you going to ensure good employee performance and engagement under your new normal?
Our Global Team is our greatest asset and we may be uniquely well-positioned to adapt to a new normal workplace. During this transition period, we are communicating, providing training, and implementing best practices to ensure a safe work environment for our employees and customers. For the longer term, we believe transparency is key to promote trust and ensure good team performance and the phrase "we are all in this together" holds true for our work environment. Being flexible, empathetic, open to team input, and committed to find what works best is what it is going to take to be successful. We recognize that may mean changing policies we've had for over 20 years but if that's what we need to do, we will do it.
Besides our employees, we also remain deeply committed to continue to offer mentorship and training experiences through our extended Global Team which includes community partner agencies like Ko'olau Clubhouse, once we get our footing. It is extremely important to us that Global Village continue to be a great place to work.
Are there other important lessons your organization learned from this crisis?
The downtime has allowed us to reflect and focus on our strengths and weaknesses. Specific lessons we have learned include:
Maintaining positivity and harnessing the collective strength of small businesses like ours: We've really had to dig deep to stay positive, and whereas we've always strived to be self-reliant, we recognize that we are not alone or unique in how the crisis has affected us and that during times like these, working together with other small businesses is important. Kailua Small Business, direct and indirect competitors, pulled together forming kailuamerchants.com utilizing our collective strengths to tackle common problems like managing financial difficulty, developing guidelines, and influencing business and government policies is sometimes necessary to ensure that our voices are heard.
More than brick and mortar: We realize that relying too much on in-store sales made us more vulnerable and the crisis forced us to accelerate plans to increase our online presence and online sales. A robust website with online sales will be the key to whether another storm.
Understanding the fine print: Even though we have been in business for almost 25 years, and even though we've hired lawyers to review documents like our lease and insurance, we are realizing how important it is to understand the documents further especially when it relates to force majeure and business interruption insurance.