Virtual Interview on COVID-19: Jill Hoggard Green, President and CEO, The Queen's Health Systems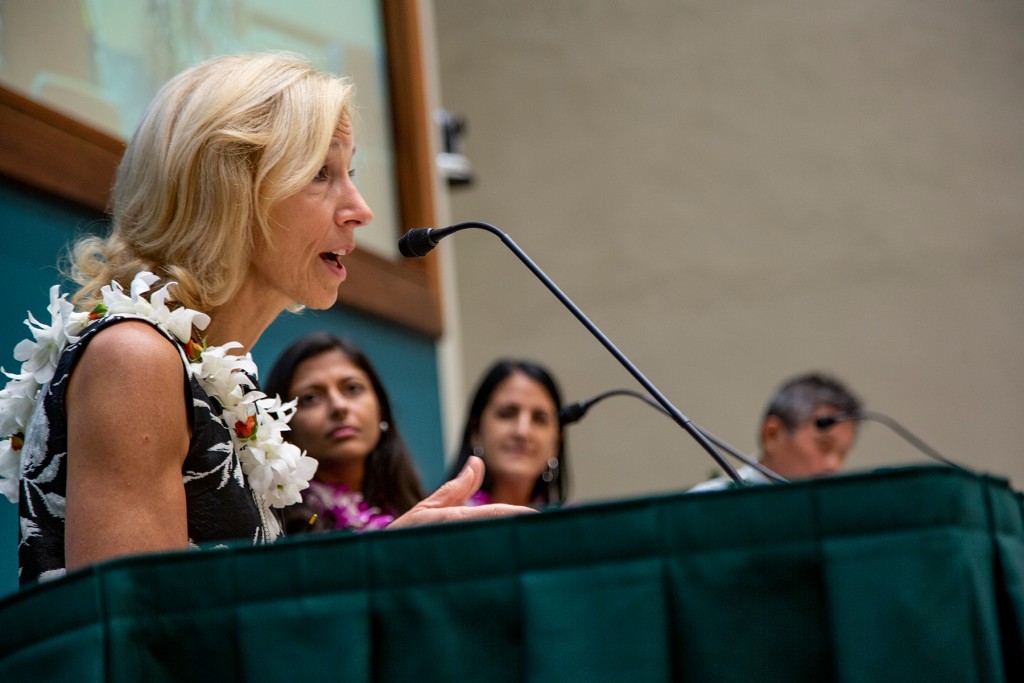 How are you coping amid the COVID-19 crisis?
The Queen's Health Systems recognizes this is a crucial time and is working around the clock to minimize and suppress the spread of the disease while preparing and caring for patients with COVID-19. We have activated our emergency management protocols. The safety of our patients and caregivers is our primary concern. On a personal note, I have been very impressed with the quality of care our teams are providing during this challenging time, and I want to thank our physicians, nurses and staff for their compassionate and the professional care they continue to provide.
Did your business continuity plan work or were there surprises?
Our teams – led by Jason Chang, QHS EVP and COO and QMC President Dr. Whitney Limm, Dr. Scott Gallacher and Dr. Julius Pham – and our Emerging Infectious Disease Task Force have been working nonstop to ensure we continue our mission of providing quality health care to all of the people of Hawai'i. We are not only addressing Queen's readiness, we are partnering with our health care community and government officials to ensure we meet our community needs together. As Hawai'i's only Level 1 trauma center, we regularly train and prepare for adverse events like this one. We have activated our emergency management protocols, and Jason is our Incident Commander leading our plans and interventions.
Have you found silver linings in these difficult times?
I have been impressed by the way our caregivers have demonstrated compassion, innovation and caring to our patients during these challenging times. Very early on, The Queen's Medical Center at Punchbowl opened tents, and Queen's Urgent Care sites, to increase testing and medical access. We also set up a Queen's COVID-19 infoline for information about the virus. Callers can speak live to a registered nurse by selecting the number 2 on the call. The number is 808-691-CO19 or 808-691-2619. We have received thousands of calls from the community and our teams have done an outstanding job in responding to this community need. We are also exploring opportunities with our telehealth program to provide virtual care for those seeking consultation around COVID-19, and looking at ways to implement pro-active ways to protect our kupuna.
How are you maintaining your company culture?
Most of all, we remain deeply committed to the people of Hawaii. As I've shared since very early on in my role here, I'm so inspired by the level of compassion I witness from our caregivers. Right now, I'm only seeing an increase in that compassion and care for our patients and for one another. On a daily basis, we're remaining focused on our mission and the legacy of our founders. Queen Emma was a tireless leader who loved the people she served. Following the example of our foundress, I believe we must work together to ensure the best outcomes.
We also recognize that our caregivers must have their needs met because our communities are depending on them to be at their best. So, we're doing all we can to keep them well – it's a critical priority. We continue to screen both caregivers and visitors for fever and flu-like symptoms as they arrive at the hospital. We continually educate all of our caregivers about the importance of using their personal protective equipment, proper hand hygiene and social distancing, and to postpone nonessential meetings. Although social distancing is difficult, as the leader of health care in Hawai'i, we want to be an example of promoting community health.
Do you have advice for other local companies?
We always recommend staying up to date from the most trusted sources like the CDC and Department of Health websites. For the most current information about how Queen's is responding to COVID-19, please visit www.queens.org/covid19. Our site is updated regularly with information for patients and our community. If you have specific questions, please call our infoline at 808-691-2619.