Virtual Interview on COVID-19: Murray Clay, President, Ulupono Initiative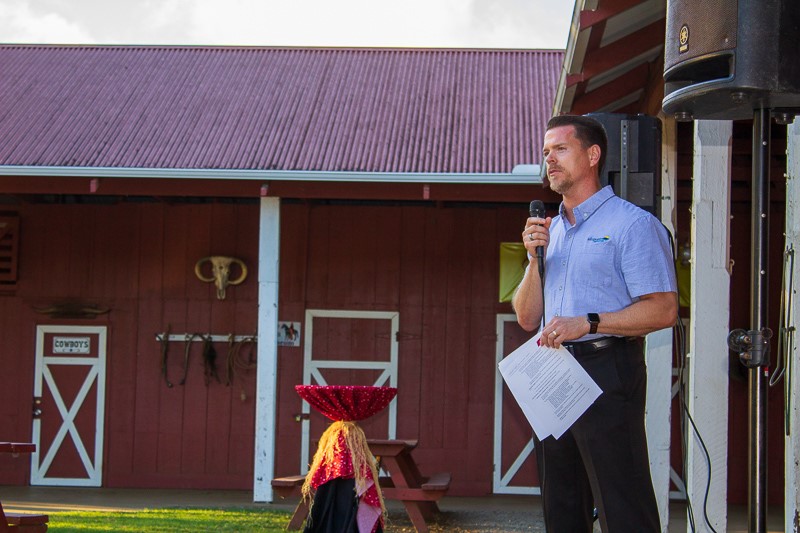 What has been your company's latest pivot or innovation?
The decision for our firm to begin working from home was made March 12 and went into effect the next day. I'm so encouraged by our team's commitment to help stop the spread of the coronavirus, staying home, sharing extra masks and operating like an extended family.
I've been especially impressed by our team's ability to adapt while continuing to proactively support our partners' critical efforts – even at an accelerated level – over the last several weeks.
We were fortunate to have already transitioned to Zoom as our primary video conference platform, complete with all-staff training. In that sense we were in a good position to hit the ground running. Embracing the technology allowed us to offer immediate assistance by virtually convening partners, some for the first time, in those first critical days.
But it's not always about the high-tech solution. We recently launched a farmer story series to highlight local agriculture producers and their experiences during the crisis and recovery. We knew that getting fresh photography would be a challenge with social distancing, so we are working with a local artist to create custom illustrations of each featured farmer, with great results. Readers can subscribe to the free story series at ulupono.com.
What has been your company's latest opportunity or opportunities?
After health issues relating to the coronavirus, feeding our community is the biggest challenge our state faces in the continuing crisis. This situation has highlighted what we as a firm have always believed, that our state's dependence on just-in-time delivery and importing 90% of our food leaves our communities exposed.
As a result, we are even more committed to investing, educating and advocating in support of locally produced food, as well as renewable energy, clean transportation and wise management of freshwater and waste. It is especially apparent now how local food production is an essential element of Hawai'i's self-sufficiency and resiliency.
How has your company's experience been with any level of government during this crisis?
Nearly every member of our team over the last four weeks has been lending support to local and state government in some way, ranging from connecting officials with local food producers and nonprofits, to message development and scenario modeling for situations that may or may not occur.
With no definitive end to the crisis within sight, we are already talking with leaders, both locally and from around the world, shifting adequate attention to food priorities as producer markets contract and transportation networks are disrupted. Right now, a second curve to "flatten" is food insecurity. Efforts in recent years to increase local food production may have put Hawai'i in a slightly better position to meet the present challenge, but clearly far more needs to be done.
In what ways do you think your business will be different at the end of this year?
Our team has been very fortunate to not only be able to continue working but to do so while remaining extremely effective. On the administrative side, our firm has been doing what we can to support the team by making sure they have sufficient resources at home for business needs, technological or otherwise.
In some ways it has forced us to be more receptive to entirely paperless solutions and processes for day-to-day needs, such as electronic payments and e-signature solutions. We have pushed our financial and mission partners to move more quickly without getting bogged down by inefficient, paper-based or in-person process requirements that are now being proven unnecessary, especially when time is of the essence to help those most impacted by the crisis.
Looking further ahead, post-COVID-19, we will certainly be more open to situations that allow work-from-home options. Our team has proven their ability to be extremely productive while working remotely.
In what ways have you been able to support the broader community beyond your employees and customers?
A large focus has been on assisting Hawai'i farmers who are struggling to adapt to severely disrupted food distribution channels during the pandemic.
An initial $150,000 grant through the Ulupono Fund at the Hawai'i Community Foundation was expedited to the Hawai'i Farm Bureau Foundation, which distributed the needed financial capital to local farmers as well as nonprofits that purchase food from local farmers. Since then we've provided nearly $500,000 of aid to a diverse group of nonprofits that are working statewide to provide access to local food for those who need it most. This is in addition to other support through connecting partners and monitoring where support is needed, all aimed at strengthening local food production and access, as well as our overall resiliency both now and in the future.
But perhaps even more importantly, our team is individually directing their resources, networks and time to help wherever they can. For example, Jesse Cooke, VP of investments and analytics, and Micah Munekata, director of government affairs, have been working nonstop to connect and forge new relationships between farmers and sources of funding and food distribution. We are also donating our time as volunteers at the Hawai'i Farm Bureau's Farm to Car program.