CSAs Became a Lifeline in the Pandemic for Consumers and Farmers
The organizations that sell produce directly to consumers have enjoyed dramatic increases in demand during the pandemic. Much of their produce came from farmers whose sales to restaurants declined.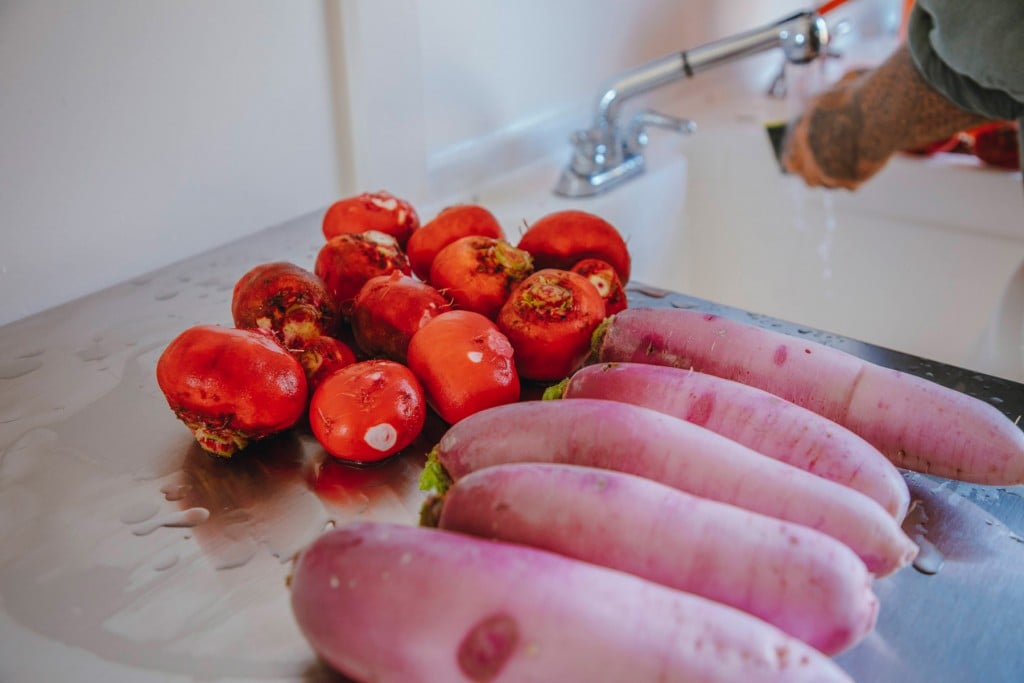 If you walked into a grocery store on Kauaʻi in March 2020, you would have found the shelves bare. A delayed barge in July 2021 left the island short of burgers, pet food and more.
"Kaua'i is at the very end of a 45-day fossil-fuel based supply chain of food from the Mainland," says Megan Fox, executive director of Mālama Kauaʻi, a nonprofit that works to increase local food production and access on Kauaʻi. "So when there's a shortage, we're going to be one of the first to get caught up."
Pomai Weigert, an agribusiness consultant at the UH agency GoFarm Hawaiʻi, says the dependence on outside food sources is a statewide problem, especially during the pandemic.
"There were so many blind spots in the food system. It really brought to light that we don't grow enough food in Hawaiʻi to feed everyone," Weigert says.
Many people turned to CSAs, organizations that sell local food directly to residents. Some CSAs, which stands for community supported agriculture, saw orders spike more than 300% in a week, Weigert says.
Oʻahu Fresh's orders jumped from 200 a week to 1,500, says Matt Johnson, owner of that CSA and co-owner of the O'ahu Food Hub.
It was good timing for farmers who lost their sales to restaurants closed by a lack of tourists and local customers and by government restrictions. CSAs also became an outlet for wholesale suppliers to reroute their crop supplies.
"It kept our growers in business. It gave us a chance for all of the food that was already planted," says Maureen Datta, co-owner of Adaptations Inc., a Kona farm and distributor for other local farmers. "It had a significant impact on keeping farms in business and employing their staffs, and also feeding kamaʻāina."
Ashley Watts, owner and operator of Local Iʻa, a company that buys seafood from local fishers and sells direct to consumers, says she's seen residents making more of an effort to seek out direct sources of food and to visit farmers markets.
The pandemic reinforced the value of farmers growing a variety of crops; that way, when one is no longer in demand, the others keep the business afloat.
Weigert says the agricultural market is always changing, "for the consumer and also for farmers. We have to be aware of that and keep our flexibility, not put all of our eggs in one basket.
"We should hope that CSAs never go away because having food access for ourselves, even in times of crisis, is going to be really vital to our survival," says Weigert.
The Aloha+ Challenge is an online dashboard run by the state government to educate the community on social, economic and environmental challenges. Among its measures are how much food is grown and sold locally, how much land is designated farmland, and the number of local food processing facilities and farmers markets.
Kaimana Bingham, Aloha+ dashboard and partnerships manager at the nonprofit Hawaiʻi Green Growth, says CSAs help Hawaiʻi's efforts toward agricultural sustainability. However, she says, the Aloha+ challenge goals are broader and include reducing hunger.
"It's not necessarily just tied to how much food we produce," says Bingham. "We're currently looking at our whole local food production goals and diving deeper into other metrics of food security, low food security, vulnerability, community food security, resilience, justice equity. Those are all factors that are going to contribute to whether we can achieve our goal."
Some of the people interviewed for this story also believe in educating people about local farming and its importance, building new food processing facilities that can be shared by many small businesses and encouraging families to grow their own produce.