Daughters Rule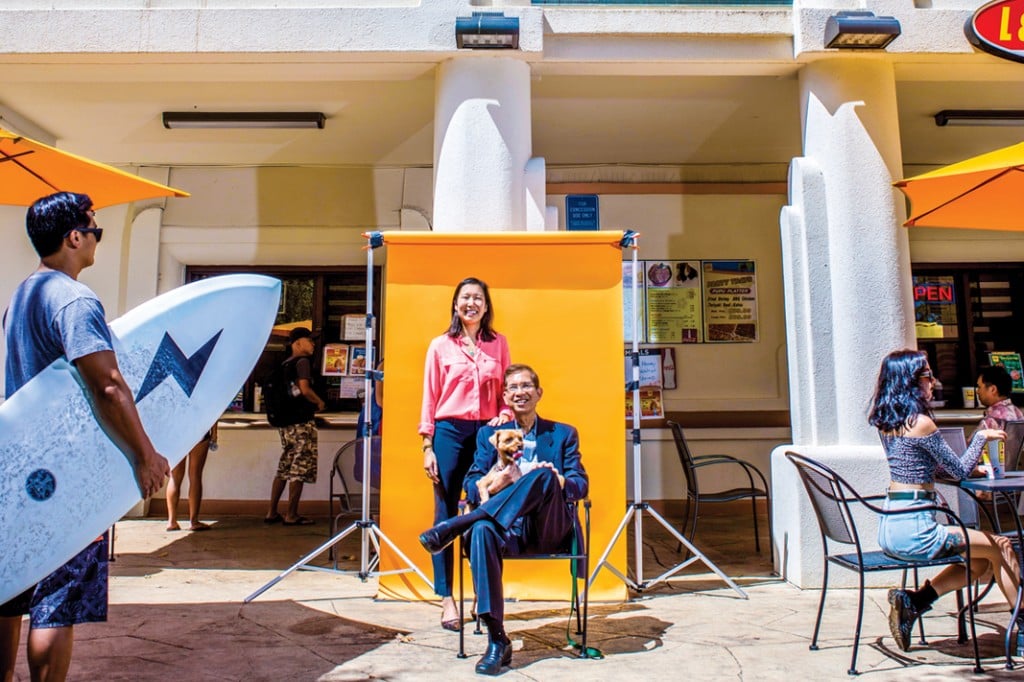 While his daughters were growing up, Eddie Flores remembers being careful to keep the family business looking peppy and upbeat in their eyes. No long days of toil in the kitchen, just fun trips to trade shows. No schlepping dishes, chopping vegetables or stirring giant pots over hot stoves. He reasons that you don't want to destroy their love of the family business by making them work in it while they're young.
"I hoped one of them would take over the business one day, but I didn't want to influence them," says the 69-year-old Flores, who built the local mom-and-pop-style L&L Hawaiian Barbecue into global overdrive with 200 outlets in six countries employing 2,500 people.
"I didn't want to turn them off. I have a lot of friends who had the kids work in the restaurant and the kids just hate the restaurant."
That "kid glove" philosophy worked with his daughters, who have both taken prominent roles at L&L: Elder daughter Elisia is L&L's CFO and the one who will eventually take the helm, while younger daughter Ellice Flores handles social-media marketing.
When a daughter, not a son, steps into the corner office, it doesn't have to make things more complicated, say several small-business consultants. In fact, it may not make any difference at all. What's important, consultants stress, are the qualifications, skills and mindset of the person taking over – not the skirt.
Malia Lageman can attest to that. In 1999, she took over the family business, Cardinal Mailings Services, by buying out her father, Charles "Scott" May. An older brother and sister weren't interested, but she had been since she was young. When she took over, Lageman was just 32, and had known many of the workers most of her life.
"I lost one or two employees who just didn't want to work for a female," she says, "but very few out of the 40 we had. The majority saw me as a child growing up through the business, and were very accepting of me becoming their boss. I know my dad wanted one of the children to take over, and both my siblings had worked in it, but that wasn't where their interests were. By the time we were in college, my parents knew it was going to be me, or the business would be sold."
Her father wasn't bothered in the least that his younger daughter, not his son, took over.
"If that person could take the reins and do the job, it didn't matter if it was male or female," says Scott May. "The only thing they had to have was the ability and willingness to do it. The important thing to me was that the business wouldn't falter. And it wasn't just the business, but the employees, some of whom had been with me 30 years. I had an obligation to them."
On whether to turn a family business over to a daughter rather than a son, Michael D. Miyahira says there are no hard and fast rules. In fact, there are no rules other than those that apply to any successful business succession, says Miyahira, who specializes in helping family-owned businesses as founder of the Hilo-based consulting firm Business Strategies. Every succession needs to be planned well in advance so all the necessary training and transition can occur. That can take years, he says.
"I think it doesn't matter if it's a son or a daughter. A lot is driven by circumstances, such as how you raised your kids, and the individual strengths they have, and how you tried to influence them in different ways when they were growing up."
While traditional families might once have looked at a son or son-in-law as the obvious successor, more and more family businesses in Hawaii and across the nation are being taken over by daughters. And, as gender roles continue to evolve, ramifications are playing out in boardrooms and graduate schools.
Nationally, since 2007, the number of women-owned businesses has grown by 45 percent, to 11.3 million enterprises, compared to a 9 percent increase in the number of firms overall. That means women-owned firms have increased five times faster than the national average, according to the recent State of Women-Owned Businesses Report by Amex Open, a division of American Express. The report also shows that the number of women-owned firms in Hawaii has increased 25.8 percent since 2007 while their revenue has grown 51.3 percent. Among the states, that puts Hawaii 39th for growth in number of firms, but ninth in total revenue growth.
And college business programs today are as much an environment for women as for men. Nationwide, 37 percent of all MBA students are women, according to a study by Catalyst, a nonprofit that promotes inclusive workplaces for women.
At the Shidler College of Business at the University of Hawaii Manoa, women outnumber men in the graduate program, 58 percent to 42 percent, a ratio that has remained around that level for the past five years, says Dean Vance Roley. However, among undergraduates in the fall of 2015, men still outnumbered women 55 to 45 percent.
"Our traditional executive MBA is still more men than women," says Roley. "But about four years ago we launched a distance learning executive MBA program that includes online classes in the evening during the week with one Saturday a month coming together on Oahu, and it has more women than men. There are currently 18 women and 12 men. That could speak to the convenience of that program, which we're recruiting for now." (Learn more at shidler.hawaii.edu/distance-emba.)
Convenience also played a role in succession at City Mill, where Carol Ai May is VP, and runs the business in partnership with her brother, Steven Ai. Her succession to the C-suite was far from automatic, she remembers, partly because her very traditional father seemed torn about whether his daughter would play a role someday.
"My dad was very old school: 'If you get married, you go wherever your husband goes.'."
—Carol Ai May
VP, City Mill
"There was no expectation of me coming here," May says from her City Mill office. "I'm the daughter, the Chinese girl. Growing up I had a lot of summer jobs, including some at City Mill, but not like my brother – it was the only one he had. It seemed like it was optional for me. My dad was very old school: 'If you get married, you go wherever your husband goes.' All the same, he said, 'Major in accounting, we need a CPA.' Or 'Go into psychology, we need an HR manager.' I did want to please him, so I would consider those things, but they weren't me."
Ai May ended up as an art history major, then went into marketing, and only came back to City Mill after she ran a successful juice business selling the Hawaii's Own brand.
Before that, she says, the conversation with her father had always been one way: from him to her. Afterward, they could talk as equals before he passed away in 1996.
"Because of the juice business, my father and I were able to talk on a business level," she remembers. "We talked about margins, returns, profitability, expenses, insurance, payroll. I think at that point he saw me in a different light."
Eddie Flores relishes talking business with his daughters. He says he never pushed his daughters toward the family business, but when Elisia expressed an interest in studying entrepreneurship in college, he gently suggested finance instead, saying it's the key to every business and a better base for a business career. When she took him up on that suggestion, he saw it as another good sign.
"I had that gut feeling she would come back," he says now. Even when she mentioned entrepreneurship, he says, "It was the signal she was interested."
He says it never fazed him that it was a daughter who might someday take over the corner office. His wife was always a strong partner, he says, and, besides, he'd launched L&L originally as a business for his mother. Women leaders are part and parcel of the company's DNA.
"I have a lot of friends who had the kids work in the restaurant and the kids just hate the restaurant."
— Eddie Flores
President and CEO, L&L Hawaiian Barbecue
Even when Elisia took a job with General Electric and traveled the world for five years after college, he was delighted she was experiencing life in a large corporation and the learning curve that went with it.
But every so often he'd mention that, in corporate America, you don't always control your destiny. You could be down-sized or out-sourced. Only when she saw her own boss being down-sized did her father's words resonate, says Elisia. Then she returned to school for an MBA, to bolster her undergraduate degree in finance, and took a hard look at joining the family business. That was when Eddie Flores knew the soft and gentle approach had been the right one.
"I feel like my dad had such tremendous foresight," says Elisia Flores.
She loved being able to take over a finance position in the family company when she came back to Hawaii. "I enjoyed starting from a place where I was able to build that up," she says. "It made me feel more confident in myself that I could actually make some changes."
She's never felt that her father would have preferred that a son take over, if there had been one. "I don't think a brother would have been favored," she says. "That's old-school thinking, and he's not like that. It's who shows interest and has the appropriate skills."
The kid-glove strategy also worked for Guy Akasaki, who built Commercial Roofing and Waterproofing Hawaii Inc. from the ground up into an empire of six allied companies. In fact, it may not have been a strategy to draw in his two daughters at all, but simply the dream of a father passionate about his business.
"When they went off to college we had hopes of them coming back. And it happened," says Akasaki today. "But you don't want to force the issue. It's just the conversation that Mom and Dad have in the backs of their heads."
Akasaki, an avid surfer, and a man who looks 20 years younger than his age, is far from ready to turn the reins over to his daughters – Dana, 33, and Candace, 30. While there's been some discussion of succession, he admits, both daughters are still taking the future one step at a time, learning from Dad and the company CFO.
When asked about a possible succession, Candace says, "We'll just see when it gets there. I'm not in a position to think about that."
She joined the company as assistant controller five years ago. Dana now heads corporate marketing and echoes her sister's words. "Taking over? I don't know what that looks like," she says.
Akasaki admits he never would simply hand over a business to a child or children. They must prove themselves ready, he says. Dana backs that up: "It was never an automatic thing. He said, 'You have to prove yourself.' "
Akasaki says he was acting on the suggestion of a friend, banker Warren Luke, who told him: "You don't just bring them into the business. You make them work out in the world, and get promoted on their own, and learn the business."
That's the exact advice given by Jimmie Bush, vice chairperson and assistant director of Score Hawaii, a nationwide business mentoring organization that has been nurturing small businesses for 50 years.
"Having family take over needs to be planned," he maintains. "It's not something that, on their 18th birthday, you say, 'Now you're going to take over the business.' Whichever children are involved, they've got to get in the business training, whether they start from janitor and work their way up or learn every phase of the business somewhere else.
"The best way is sending them out and having them work with someone else for three to five years to let them learn, especially to learn that businesses aren't all the same," says Bush. "Then you start them in the company at the lowest position and let them work their way up, and groom them that way. You might also think of having one of your key employees mentor the children because, if you get too close, you might not have a good relationship and they might say, 'Forget this.' "
Succession has always been tricky, no matter whether a son, a daughter, an in-law or another relative takes over. Many personal issues and intimate family relationships come into play. Families have been split forever by business issues, and have even ended up in court.
Sometimes, says Bush, if there are both sons and daughters in a family, a daughter might be the best choice.
"Sometimes the sons are so wild, the daughter makes more sense
(as a successor)."
— Jimmie Bush
Vice chairperson and assistant director, Score Hawaii
"Sometimes the sons are so wild, the daughter makes more sense," he says. "Sometimes women are stronger than men. But it doesn't matter, as long as the person is capable and qualified."
(However, Bush points out, some Asian families in Hawaii still prefer that a man takes over. )
What may happen, notes Jayne Kim, who took over Eki Cyclery from her father, is a gradual slide into succession that starts with "helping out."
Kim has enjoyed hanging around the bike shop since she was little more than a toddler. "We were all encouraged to help at the store," she remembers, "but not all of us enjoyed it. I was probably the only one who did. I guess I liked hanging around the shop, talking with the boys, and being in the office with my mom and dad and having lunch with them."
As the "baby" in the family, Kim enjoyed the small jobs she was given, even dusting the bikes or counting nuts and bolts. Her dad paid her to help, and she remembers that was a powerful incentive. She worked part time at the shop all through high school. By the time she left for college to study teaching, she had a good chunk of personal spending money.
It wasn't until she returned, and had begun teaching, that the pull of the bike shop returned.
"Dad needed help and he asked me to come and work. Initially it was just to help out for a while, but then he asked me to work full time."
Her boyfriend (now her husband) was also working in the shop while he finished his MBA, and the two realized they enjoyed doing it together. "We were thinking this is a nice line of business, a wholesome business, and family-oriented," says Kim. "And I had good memories of growing up in the shop."
With her siblings happy doing other things, Kim was delighted to be the successor. Though she says she was never formally groomed for the job, it was in her blood since childhood.
"When I was here with my dad, I was learning the day-to-day aspects and the daily operations he was teaching me, but my husband is the go-to guy because of his MBA, and he's also the shop manager."
Eki Cyclery and the youngest daughter's succession falls more in line with what could happen in a typical family business, says Miyahira.
"A family business as a whole needs to have the support of a lot of the family," he says. "Someone's going to do the books, someone stocks the shelves, moves the bags around, whatever. Frankly, that's how a lot of kids get involved in their parents' business. They're thrown into it from an early age.
"The hardest part is realizing that the next generation has their own ideas of what success means. So when a decision is made that's not to your liking, what do you do? Every time sitting owners reverse a decision by the next generation, they undermine them. It's symptomatic of a lot of transition issues. The father and mother still consider them their children. Hopefully in transition planning, you look at them as adults with the abilities of managers and leaders instead of sons and daughters. That makes a world of difference."
Eddie Flores is still working on letting go.
"She and my COO make most of the decisions," he says of Elisia. "I'm going to be 70 years old this year and I've already slowed down some. I'm not working as much. In fact, I don't come to the office that often."
But there are still a few uncertain moments. Elisia has no qualms about disagreeing with dad in business meetings with associates, something that doesn't always sit well with her father.
"I've told her not to challenge me in front of my staff and she still does," he says, with a half-hearted laugh. "The staff is afraid to challenge me but she challenges me. I make a lot of wacky decisions and she'll say, 'That's not good.' "
But she is still learning the ropes from him and their relationship has always been close, with a give and take that is part of the family dynamic.
"I was never one to be afraid to fight for something if I really believe in it," she says. "Here in the company, he's my dad, and if I talk back to him, well, he's my dad. We've always had a very open and close relationship so I can express my ideas. He's never said, 'Don't talk to me.' Even if he doesn't agree with my ideas, he's open to talk about them. But he's open to talk about ideas with anyone, not just me. I just have less fear because he's my dad."
---
What Changed Attitudes?
Fewer Babies, for One Thing
The world changed and that's why family businesses changed, too.
"Beginning in the late 1960s, people (in America) began having far fewer children, and this meant the likelihood of a male heir decreased," says John E. Butler, chair of entrepreneurship and a professor of management at the Shidler College of Business at UH Manoa. "At the same time we saw an increasing number of women going into law, business and medicine. The traditional career roles for women are dramatically different from 40 or 50 years ago, when they tended to go into teaching, and then drop out of the workforce when they had a child.
"And the number of family businesses has increased," he says. "There used to be a tendency for people to get jobs in large corporations and now there are options to go into family businesses. So the two main trends are the demographics that mean some families won't have a male child, and the trend for women to have opportunities open to them that were denied in previous generations."
Butler also says the generation that's retiring now has different attitudes about women in the workplace.
"When they were entering the workplace, they weren't thinking about opportunities being denied their daughters," he says. "But, all of a sudden, when the daughter reached the age to work, they (parents) have different attitudes about their daughters' opportunities, thinking, 'Why can't they have what were formerly thought of only as male jobs?' "
Another demographic trend plays a role: "On average men die about five years sooner than women. So when the male owner dies, typically the female spouse will get ownership of the business."
Butler feels a lingering bias toward male heirs remains, although that is eroding. "Family-business owners increasingly look toward daughters," he says, "and there are more role models for women business leaders."
Butler has done much of his research on family businesses in Asia, and notes that, often, control is handed to both a son and a daughter. "Typically the daughter is supposed to handle the financial side because running the factory is kind of unpleasant work, man work," he says. "And running the finances is cleaner, inside, with air-conditioning. So, often, the CFO is female, and the president of operations is the oldest son."
Marjan Houshmand, faculty associate director of the Family Business Center at Shidler and a Shidler assistant professor, agrees that sometimes family businesses are passed to children as a group. "Maybe one person is in charge of one part, and another a different part of the business, and so on," she says. "Sometimes cousins are also involved. There are a lot of variations these days."
Houshmand acknowledges that "more and more women are becoming successors of their family business firms," but adds they still face hurdles. "We have a lot of women executives who are mothers, too," she says. "There are challenges, but some of them are super women and they are trying to do a great job at both."