Did APEC change the Hawaii Convention Center's Future?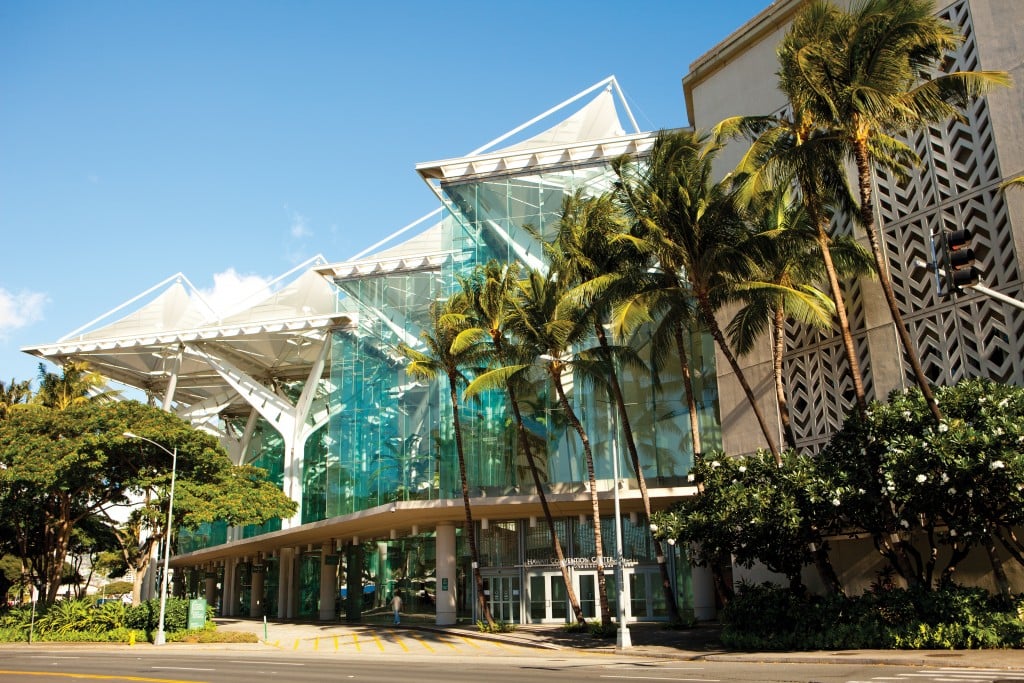 The expansive Hawaii Convention Centerhasn't always lived up to its original billing as a regular gathering spot between East and West. It is rarely fully used and has often sat empty since it opened in 1998, squeezed onto the former lot of a car dealer.
But, in recent years, the number of meetings has grown and the convention center's leaders think the success of APECwill spur an even greater increase in business.
"We hit the jackpot!" exclaims Randall Tanaka, HCC's assistant general manager, still reveling in the afterglow of the international conference hosted by President Barack Obama, where the convention center was the main venue.
"APEC was like a poker game when you're all in," Tanaka says. "It was a great moment. We've always known we could perform. We just needed the chance, and we got the chance. So now, we go dow what we do well."
"What we do" means going after other big meetings and one of the biggest on the horizon is the 2016 World Congress of the International Union for Conservation of Nature, a gathering every four years that brings as many as 15,000 participants from 160 countries.
Charles "Chipper" Wichman, director and CEO of National Tropical Botanical Garden on Kauai, has already been working for three years to bring the congress to Hawaii and the convention center, and says both are naturals for the global organization.
"The convention center is one of the foundational elements for our competitive proposal," says Wichman. "That's because of a whole bunch of things: its open green nature, the architecture, its site, its adjacency to large blocks of hotels. Everything is ideal. Waikiki is virtually within walking distance and it's close to the beach and close to Ala Moana for people to eat and shop."
Wichman likes to compare the Hawaii Convention Center with the convention center in Barcelona, Spain, where the last IUCN congress was held, in 2008.
Barcelona's is "a great convention center, but it's located miles out of town," he says. "Participants felt very isolated. There was no way to sneak out of a meeting and go see something in Barcelona. Here, with the juxtaposition of Waikiki, the beach, the shopping center and all those places to eat, it's perfect."
Wichman also lauds HCC's layout, with its flexible room configurations, space for a plenary session of 10,000 to 15,000 delegates, its excellent audio/visual capabilities and the open-air rooftop garden.
"You have a combination of rooms that can be set up in many different configurations and you can have all different sizes of plenary sessions," he says. "As well, the inclusion of indigenous people is very important and every time we have cultural ceremonies on the rooftop garden. To be able to walk out of a conference, where you're not always confined in a big convention center, and be breathing clean air is really a plus."
A convention with 20,000 participants pumps around $120 million into the Hawaii economy, according to a national model that Hawaii uses to measure economic impact. The trickle-down effect means the dollars end up in many people's pockets.
"I talked to a number of my friends in the car rental business about what the availability of cars was even on the Neighbor Islands and they sold out" during APEC, says Tanaka. "I think we all have a better appreciation of how we're all in this together."
APEC Week provided further proof that Hawaii is the best site for the International Union for Conservation of Nature's world congress, says Tanaka, who has to make that case to planners for the IUCN and the U.S. State Department. (The State Department is involved because the U.S., not Hawaii, would be the official host.)
"We've been working with them for about a year and a half," Tanaka says, "and when we were in D.C. for one of the meetings with the Department of State, we said 'By the way, we're doing APEC,' and they said 'OK, you guys can do this because you've done APEC.' "
It was the American Dental Association convention in 1999 that gave the Hawaii Convention Center its first big win. "It helped our takeoff," Tanaka says. "Now all the other conventions say, 'If Dental can come, we can, too.' "
That convention was such a success that the dental association created a 10-year cycle. The dentists returned in 2009 with between 25,000 and 29,000 delegates, and are looking at a third visit in 2019.
"Our business goes in cycles," says Tanaka. It depends on the economy, how well individual professions or industries are faring, and unexpected events, such as international scares like the SARS virus of 2003.
Chris Vranas, executive director of theAmerican Association of Orthodontists, remembers that the 2003 convention in Hawaii was a major success despite a fear of SARS from Asia that scared some attendees away. "It was one of the largest doctor and staff attendances we've had in recent years," he said, and drew 16,000 people to the convention center.
Vranas is deep into planning for the group's next Hawaii convention, May 4 to 8, and expects 18,000 participants.
"We're able to plan the program so the members who come can attend the program and can also see Hawaii," said Vranas. "If you have a meeting of over 2,000, the convention center is the place to be. If it's around 800 to 1,500, you have other options like the Sheraton Waikiki or the Hilton Hawaiian Village, which are wonderful. But bigger than that, you need the convention center."
The convention center staff helps make it easy, Vranas says.
"In some cities, once you've booked, it gets turned over to your client services, but in Hawaii, your sales people stay involved because they want you back. They have an excellent relationship with the key hotels you need and they all work hand-in-hand. When we get a bid, we ask the convention center to secure about 70 percent of the blocks of the hotels and when we come for a site visit they coordinate everything with the hotels, the destination management companies … everyone. They interface for us."
Vranas envisions a need for 30,000 room-nights for the orthodontists because 60 to 70 percent of the doctors will bring families with them and extend their convention time into vacation time, and that often includes Neighbor Island visits. Extra educational sessions have been planned for hotels on Maui, Kauai and Oahu's North Shore Turtle Bay Resort.
"You have one of the best destinations that make convention attendees truly feel welcome," says Vranas. "And when 17,000 or more are coming, you're talking about a significant impact to the economy."
In 2009, when the American Association of Dentists booked Hawaii for its convention, about 50 participants came from China, Japan and Korea. Tanaka says that points to the future for the convention center and for Hawaii.
"That's where we're going," he says. "We want to be the port that brings the international business to meet with the domestic business. That's how our positioning has been for the last three or four years. We're really working on trying to get this hybrid of national and international participation."
The convention center staff is willing and able to link American groups with their counterparts in Asia, even flying with leaders of U.S. groups to Asia to organize meetings with their Asian counterparts.
"That was something engineered by June Matsumoto, who is in charge of global outreach," says Tanaka. "It's helping U.S.-based associations begin to reach out to similar associations in Asia. For instance, like the American Dental Association, there's one in Japan called the Japan Dental Association and what we do is reach out to them and say 'Hey, maybe you want to come to Hawaii and meet with your counterparts?' They'll ask, 'Can you help us with translation. Can you arrange the meetings?' So we become like the protocol officers. We're the matchmakers. And we know how to work with the embassies and the commercial services. We can help them do a trade mission."
In some instances, staff can also translate websites with direct links to the association to ease registration and hotel reservations. "It has to be for the right size association, though, because the costs can get a little prohibitive," says Tanaka. "If we think the potential is there, it could be the defining moment on why they choose Hawaii."
Tanaka says his staff goes out of its way to bridge cultural gaps, make connections and follow up loose ends. "We're much smarter now," he says. "We know where we can get help: the embassies, the American chambers of commerce and the specialty associations in those countries." It also helps that convention center employees are skilled in Asian languages.
Attracting scientific, academic or business groups is not necessarily a moneymaking operation for the Hawaii Convention Center or any convention center.
"Ninety-nine point nine percent of convention centers do not run an operating profit," Tanaka says. "What they are is magnets to attract and fill hotel rooms."
To that end, HCC staff work closely with hotels to arrange attractive convention packages.
"We have an ongoing relationship with all the hotels," he says. "We know what they need. They'll give us an offer and we present that to the client, and they'll say, 'OK we can work with this.' It's a dynamic process. For instance, I may need 2,000 rooms in a four-star hotel and I need them on a Monday-through-Friday-arrival pattern. But we may exceed that hotel's inventory at that time, so we go back in to look for other rooms. That's the dynamic process."
Hawaii and the convention center's success with APEC did not go unnoticed. This month, Tanaka will sit down in Chicago with the crew that runs the nation's largest convention center – 10 times the size of Hawaii's – and give them pointers.
"The man we worked with on APEC from the Department of State, he tells these guys in Chicago that they need to talk to Hawaii about how to run a host committee and get a city ready," Tanaka says. "So this friend of mine from the Chicago Visitors Bureau that handles sales and marketing for citywide conventions, calls me and says 'Can you guys sit down with us and tell us how you put this together?' "
In May, Chicago will host back-to-back summits of NATO and the G-8 leaders, a role that Hawaii has already played well.
"We're going to tell them what we did," Tanaka says. "It's a classic moment. Yes, we can play. We can perform."
What's Available at the Hawaii Convention Center
An expansive, tropically appointed registration lobby.
2

Permanent, tiered-seat theaters
A roof-top, landscaped garden with breathtaking views.
A divisible exhibition hall of more than

200,000

square feet.
Connectivity to the Maui Super Computer, the 10th fastest in the world, along with satellite uplink and downlink capabilities, as well as microwave transmission.
47

Breakout rooms
Extensive fiber-optic and Cat-5 infrastructure with connection points in all meeting spaces and common areas, using a 100 Mbps fiber connection and dual-homed network architecture.
A huge production kitchen
A ballroom of

35,000

square feet.
Simultaneous interpretation rooms and press rooms that can be equipped for global links.
Local Meetings at the Center
The number of meetings at the Hawaii Convention Center has grown steadily since it opened in 1998.
In the beginning, it was booking only about 19 events a year. Now, it averages about 34, with the best years hitting up to 45 events with as many as 100,000 people.
One growth area has been locally organized events, such as the 2011 Asia Pacific Clean Energy Summit, which drew 1,200 delegates from 20 countries. Add in the Miss Hawaii contest, the First Hawaiian International Auto Show, the Honolulu Festival, Hawaii Business magazine's Wahine Forum and the Honolulu Marathon Expo.
Coming this October is the 11th annual Native Hawaiian Convention, organized by the Council for Native Hawaiian Advancement and billed as "one of the most important gatherings of leaders on Native Hawaiian issues."