Easing the Stress of Leaving Home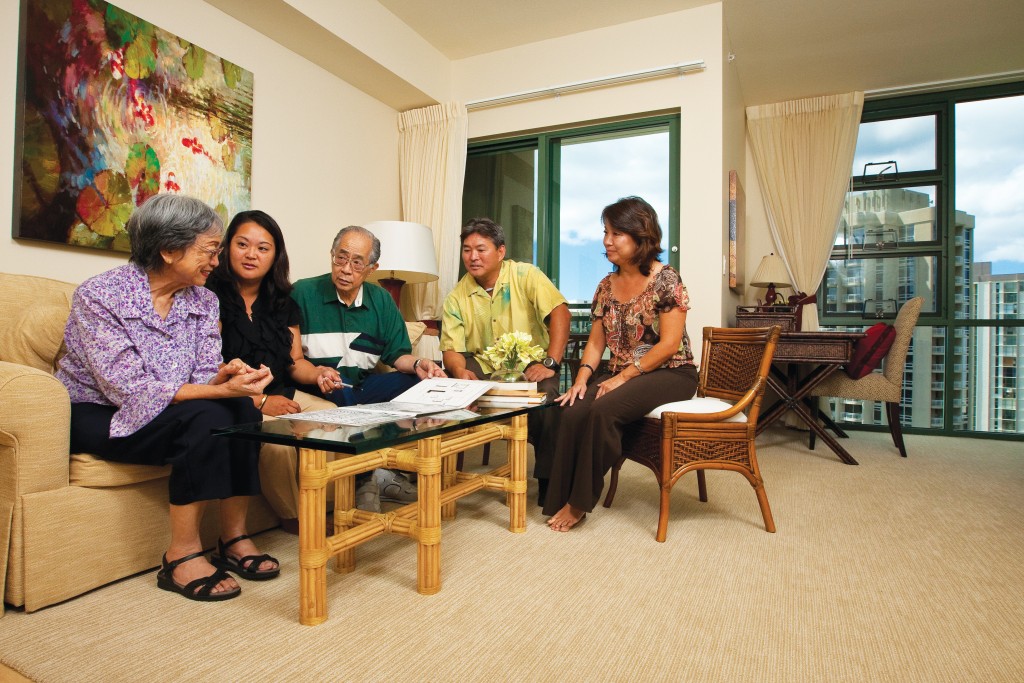 Cynthia Arnold, second from left, sits between Nellie and Herbert Lum, who needed help moving out of the home they had lived in for 40 years. Arnold and Dan and Julie Ihara, at right, operate Senior Move Managers to help people like the Lums make difficult transitions.
Moving is tough, especially for seniors who have lived in the same house for decades. Realtors Dan and Julie Ihara were often asked for help, so they started Senior Move Managers last year. The company helps seniors downsize, de-clutter and prepare their homes for sale, although clients need not be seniors or home sellers.
This year, SMM became the first Hawaii member of the National Association of Senior Move Managers.
Clients include Herbert and Nellie Lum, who had long planned to move to the senior community at 15 Craigside, but were overwhelmed by the process of moving from their home of 40 years.
"We didn't realize it, but we were losing weight" from the stress, says Nellie, who lost 12 pounds, and her husband 25 pounds, over a few months. "The move-out date got closer, and I kind of panicked. After their help, now we can laugh about it."
The Lums also relied on Dan Ihara to sell their home. "He really gained our confidence. I wouldn't know where to begin," says Herbert Lum.
Dan Ihara's niece, Cynthia Arnold, manages services for clients. Every job is different, she says, but, on average, they cost about $2,000 to $3,000.
The company creates a moving schedule, based on the client's deadlines, doctor's appointments and other obligations. Arnold and her staff help clients reduce their possessions and plan their future living spaces. When clients understand the dimensions of their new place – down to measurements of drawers and cabinets – they can make good decisions about what to take. On moving day, the company sets up the clients' new living space so they can feel at home.
"It's rewarding to see their expressions when we're able to help them," Ihara says.
Senior Move Managers
221-8345
seniormovers@gmail.com