Talk Story: Eric Yeaman, CEO, Hoku Capital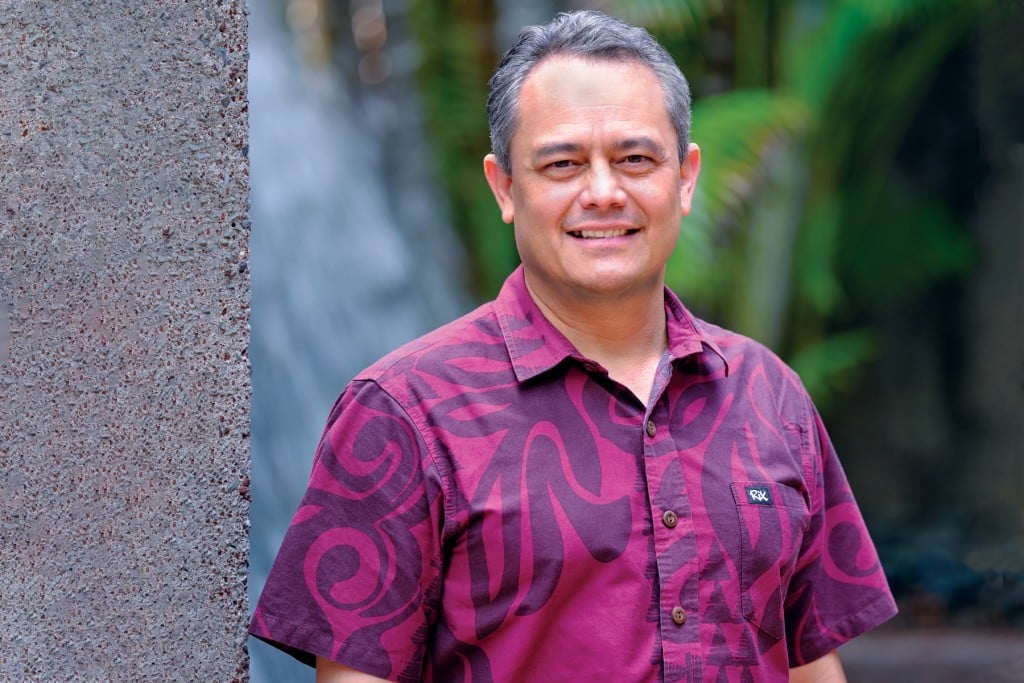 At 52, the executive once touted as the next CEO of First Hawaiian Bank is now flying solo, servicing a few select clients with his new strategic advisory firm, Hoku Capital. His vision is to remain engaged in Hawai'i's community and business world, while spending more time with loved ones.
Q: What services does Hoku Capital provide?
Yeaman: I provide strategic advisory services to help my clients take their assets and businesses to the next level.
For instance, I have one client that has a real estate portfolio which has been managed a certain way for many years. After seeing all the assets, I put together ideas on how we might enhance the holdings as well as some redevelopment opportunities. I'm also bringing in fresh ideas on other aspects – even potentially the financing.
I have another client that has a manufacturing business in a different country. They are the majority owner and want to monetize that holding. So I help them think through it strategically and create a plan.
My clients are primarily families that I have known for many years and we trust each other.
Q: Do you have expansion plans for Hoku Capital?
Yeaman: I do see us down the road evolving into collaborating with other colleagues and doing acquisitions of local businesses or other opportunities. But my primary focus is not to grow my business. It might sound boring, but I'm focused on doing things I love with the people that I care about and trust.
I don't need more work. I don't plan to have any employees. My clients already have employees. The goal is to carry out the strategy through their people.
After my announcement, I got a lot of calls about projects. I told everybody I didn't have any capacity to do anything else because I had previously arranged what I was going to do and who I was going to do it with.
Q: Did any of those offers tempt you?
Yeaman: It is easy to get tempted. But this is not about money. I have created enough wealth for me and my family. This is more about a lifestyle change. My focus is to take care of my health and to spend more time with my family, but still be engaged in business and the community.
Q: How are you leveraging your experience helping to run large companies like First Hawaiian Bank and Hawaiian Telcom?
Yeaman: I have 11 years in consulting and almost 20 years as a corporate executive, as well as the time I have spent on a lot of boards.
That experience translates into ideas and things that have worked for me or for others. That is the easy part. The thing that I need to always look out for is trends that are relevant today but not necessarily in the future. Technology is making everything evolve. How you leverage data and analytics is something that I try to keep abreast of.
Q: How does it feel to be on your own after having been in leadership positions at some of Hawai'i's biggest corporations?
Yeaman: The nice part is I have a more normal and flexible life. That was the driving reason for doing this.
That being said, I miss the people that I worked with over the years – most recently the folks at First Hawaiian Bank and Hawaiian Telcom. I stay in touch with a lot of them.
I like my new lifestyle because it provides me with more time with my family. I took my kids to get set up for college at the end of August. I'm hoping to watch the Michigan-Notre Dame football game in Ann Arbor before visiting my daughter in Boston.
Q: Your FHB departure was surprising because you were widely thought to be in line to be the next CEO after Bob Harrison.
Yeaman: It was surprising because it is not normal for people to make this type of a move. FHB is a prominent company and was paying me well.
My timing and Bob's were not in sync, and it is OK. I didn't want to force Bob's timing. I care about Bob. I didn't want to put him in a situation where he had to change his plans. Plus a corporate executive's life is demanding and I did it for 20 years. Most people don't ever have a chance to do it until they are in their 50s – I started at 32.
Q: You're in your early 50s now. Is that too young to retire from the C-Suite?
Yeaman: I tell people I have retired from corporate executive life, but not from business. I became a CFO at 32 and worked in leadership roles for four large companies in Hawai'i, and all of them went through something major.
Kamehameha Schools was right at the time when the trustees got removed and we had to establish a CEO-based management structure. When I went to Hawaiian Electric, Congress had passed the Sarbanes-Oxley Act and public companies needed to implement a whole slew of things. Then I went to Hawaiian Telcom, which was in bankruptcy, and took it public. Then when I went to First Hawaiian Bank, we took that public and then did five secondary offerings.
I've done a lot during that time, and I really don't have anything to prove to anybody or to myself. I have been blessed beyond what I ever expected in my life in terms of family and work experience.
I probably didn't spend as much time with the people that I care most about in my previous life, but it is better late than never.
This interview has been edited for clarity and conciseness.