Family Tradition of Feather Work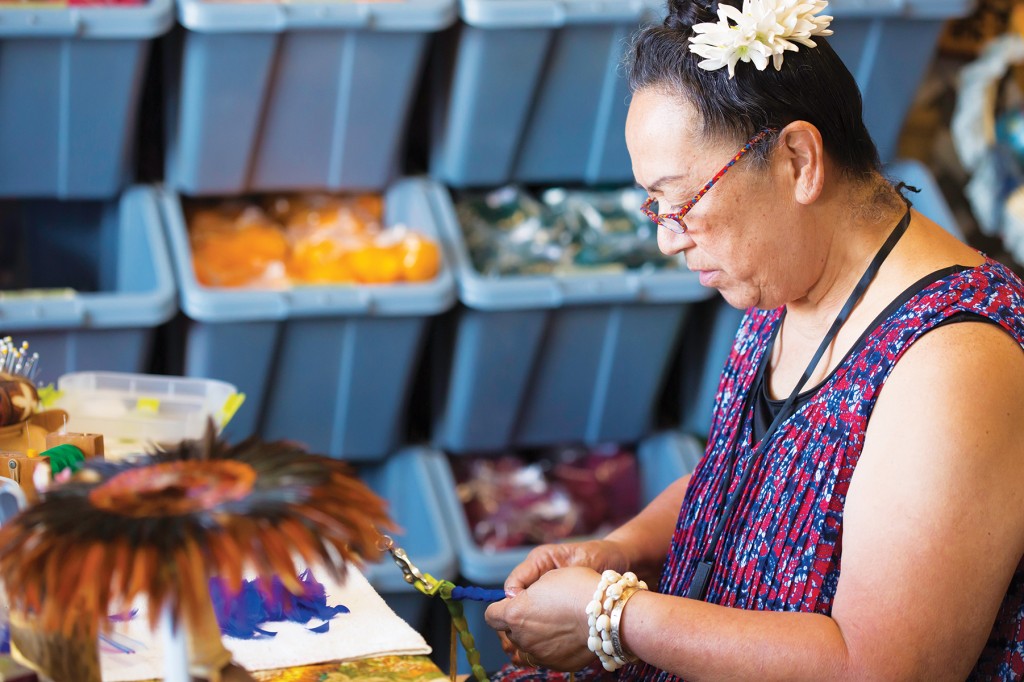 Name: Paulette Kahalepuna
Job: Feather artist and owner of Na Lima Mili Hulu Noeau, a store where Hawaiian feather work is taught, and supplies and finished pieces are sold.
Experience: 21 years.
START: In 1991, Kahalepuna helped her feather-expert mother Mary Lou and father Paul Kekuewa open the shop at 762 Kapahulu Ave. "We've been here ever since," she says, though both of her parents have since died. The shop's name, meaning "skilled hands touch the feathers," was given to her mother by kumu hula, composer and teacher Edith Kanakaole.
SKILLS: Kahalepuna says her skills get tweaked daily. She and a small but devoted cadre of students do their utmost to meet customer requests, but they often have to educate the buyer. "Sometimes the order is unrealistic. The person or business ordering doesn't know what it will entail," she says.
MISCONCEPTIONS: There are many, Kahalepuna says. For instance, "People have no idea of the time involved in feather work." Another misconception involves the feathers themselves: "Some, when they see all the feathers, they say, 'Ah, that's why all your birds are dead.' No! Hawaiians gathered feathers during the molting season. If they caught a bird they took a few feathers then released the bird to grow more."
Also, because many Hawaiian birds are either extinct or endangered, Kahalepuna orders feathers from a company in Long Island, N.Y. Most feathers are byproducts from wild game birds that people hunt or other edible birds (duck, chicken, goose). To emulate colors of native birds – yellows, reds and blacks – the feathers are ordered pre-dyed. Kahalepuna can't order feathers by the ounce, so she usually orders in five-pound lots.
TOUGHEST PART: The business end as always been most challenging. "I don't want to know what my baseline is supposed to be. I'd go home with a headache every day." If she can pay the rent, buy gas, etc., she's happy. Working with feathers and people is her joy; she turns everything else over to her accountant.
REWARDS: "Seeing students' faces light up on their accomplishments."
SPECIAL EVENTS: Kahalepuna does two fairs a year, the Made in Hawaii products show at the Blaisdell Center and the Merrie Monarch Festival. She brings only "finished product" to those shows. When people learn the featherwork is "student made," it's her best marketing tool, she says.
STORE HOURS: Monday through Saturday, 10 a.m. to 4 p.m.