Fast and Accurate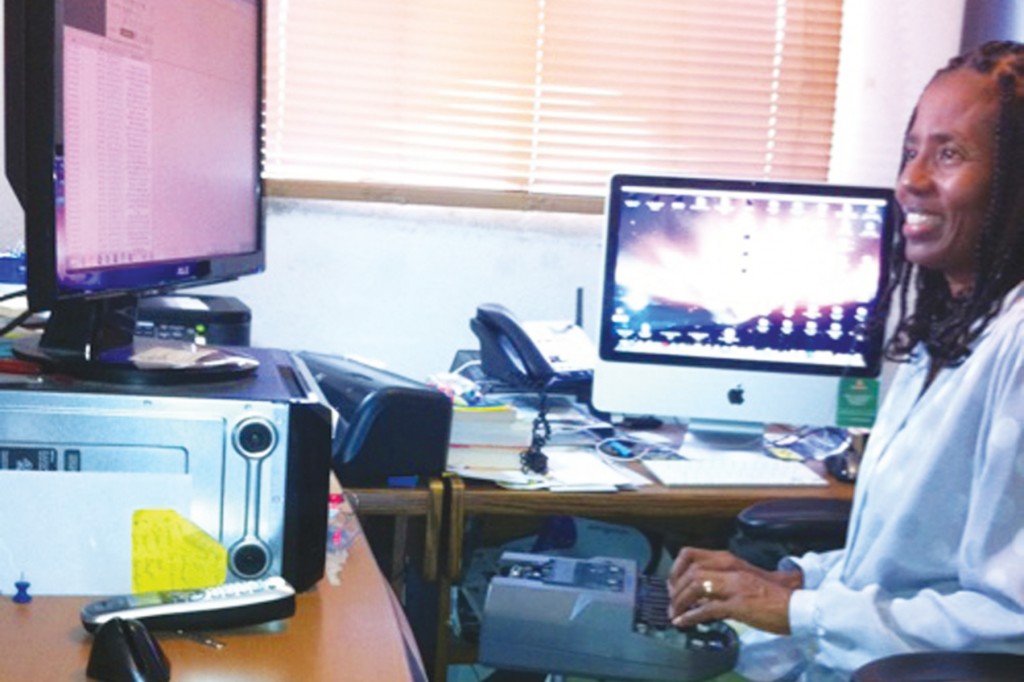 NAME: Sharon Mujtabaa
JOB: President, Hawaii Court Reporters and Captioners Association; owner, The Caption Co.
EXPERIENCE: 15 years in captioning, nine years as a court reporter
STARTING OUT: When Mujtabaa went to court-reporting school in Chicago, she loved it all, even the difficult, letter-less stenotype machine. "I found that little machine with no writing on it so fascinating."
She moved to Hawaii on New Year's Eve 1984 to work as a court reporter, and then started her own captioning company about 10 years later. She has been focused entirely on her TV caption business since 2001.
CAPTIONING: Court reporters and captioners can type more than 200 words a minute on
the stenotype machine, which has only 22 keys. Captioners also have to prepare for each show by inserting information into their electronic dictionaries. For a football game, they need to know beforehand the players' names, where they went to high school, their coaches – anything commentators might say.
LONGEST DAY: The March 2011 earthquake and tsunami in Japan turned into a 12-hour overnight marathon for local TV anchors and captioners as the tsunami headed to Hawaii. "We started at 9 p.m. and worked until 9 a.m. the next morning, just rotating captioners every two to three hours. There were no commercials. Usually, when there are commercials, we can get up, shake our hands off, go to the washroom, but not this day."
USERS: In Hawaii, 100,000 people are deaf or hard-of-hearing. Add seniors, children, immigrants and those who just like having the closed captions on, and the potential audience is about 400,000.
PAY: Court reporters and captioners can earn from $25,000 a year to a six-figure salary, depending on how hard they work and what they do, Mujtabaa says. Most captioners are independent contractors who work from home, though a lot of court reporters are employed by the judicial branch of the government.
REWARDS: "Every day is different." One day for a captioner is a volleyball match, the next is a city council hearing. "You don't know what to expect, and that's what keeps the job interesting," Mujtabaa says.