Five Things to Know About Local Family Businesses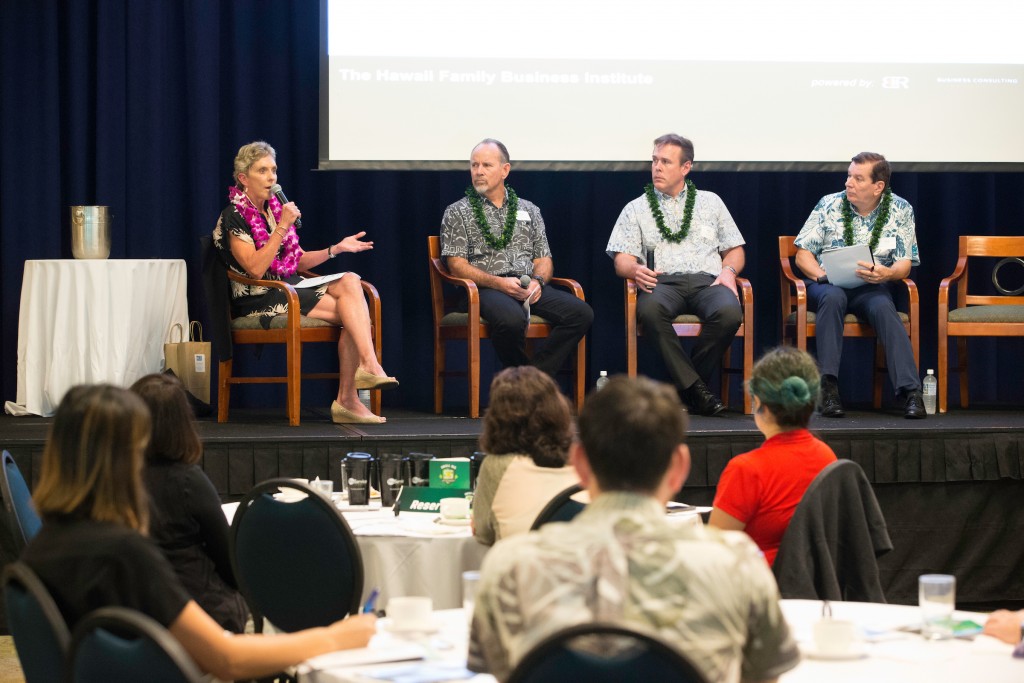 Hawaii loves locally owned family businesses, and that gives them an advantage over Mainland companies.
The problem is that it's challenging for these businesses to continue operating beyond the first generation of family owners.
"Only about 30 percent make it to the second generation, and about 12 percent make it to the third," said Laurie Foster to a group of about 140 people at Hawaii Business magazine's SmallBiz Academy on Thursday at Koolau Ballrooms. Because family businesses represent about two-thirds of the businesses in Hawaii, "If we can make these numbers better, think about what it does for the state. So we don't have these Mainland companies coming in and scooping up all the family businesses."
Foster is a partner at Business Consulting Resources and was part of a panel that discussed the results of a statewide survey of local family businesses. Other panel members included Marketing Trends Pacific president Wanda Kakugawa, Cades Schutte partner Marc Rousseau and Kualoa Ranch president John Morgan.
Here are five key takeaways from the survey:
1.
Family businesses face the same challenges as other businesses. The biggest business-related challenges cited by the companies surveyed were employee quality, followed by the economy and cash flow; the most common leadership-related challenges were succession and management, Kakugawa said.
"Those are typical family businesses having exactly the same challenges as every other business," Foster said. "Then overlaid on top of that they have the family stuff that they have to deal with." Family conflicts can often interfere with the smooth running of the business, she said.
2.
However, family businesses have several advantages over other kinds of businesses, the panelists said. These advantages can include strong mutual trust, shared values and speedy decision-making. Another advantage is that Hawaii consumers often prefer to patronize locally owned family businesses.
"We don't stop to think about advantages of a family business – that, by the way, no other business has. … Let's capitalize on them and use them as advantages," Foster said.
3.
Family businesses need to deal with conflict early and often because it's going to happen. Conflicts arise around how decisions are made and where money is spent, about the business' future direction and vision, balancing the needs and desires of family members and the business, and generational differences, Kakugawa said.
The best way to deal with a conflict is to communicate. "Talk about it, talk about it, talk about it," Foster said. Instead of avoiding difficult conversations, "Get into the danger zone, really go overboard with the communication. Bring in a third party when needed," she said.
4.
The best way to prevent conflict within family businesses is to create rules to govern the businesses and relationships, Foster said. Some governance structures include family councils and family constitutions. A family council is made up of family members who meet regularly to talk about assets, which can include the business and property, and other important issues. Foster recommends bringing young family members into this process early so they understand the ins and outs of the business. A family constitution is a written document – but not legally binding – that sets rules for family members regarding things like employment requirements, compensation and performance.
5.
Seventy percent of family businesses do not have a succession plan, Kakugawa said. Succession plans are essential but many businesses don't have them because they're complex and take time to create, Rosseau added. The issues include who in the next generation will take over and when, who gets shares, who gets paid positions, how nonfamily employees will be treated and many other issues.
About 11 years ago, Morgan joined the Family Business Center of Hawaii, where he learned that successionplanning is a 10- to 12-year process. That year, Kualoa Ranch began holding family retreats, and this year Morgan announced he would retire in eight years. He said, "It's mainly to put a flag in the sand just to make everyone realize we need to plan for this and it's not just my job. It is my job, but we need buy-in from the entire family." Foster added that buy-in is also needed from key employees who aren't family members.
Download the event slides here.