Five Things to Know About the Trump Effect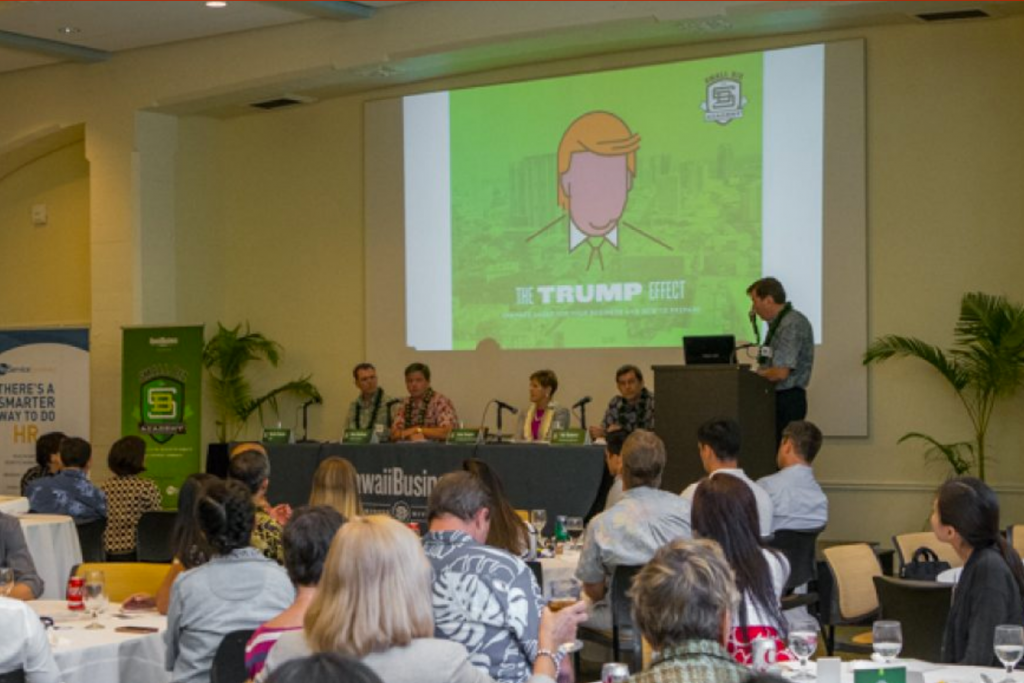 "Change is ahead for your small business, and how do you prepare?" Jane Sawyer, Small Business Administration Hawaii district director, asked a room of more than 100 people at the YWCA Laniakea on Thursday.
With a new administration in place, there's a lot of uncertainty about what will happen to things like taxes, financial regulations and healthcare – and how they may impact the small businesses in the state.
So, Hawaii Business assembled a panel of business leaders to discuss this topic as part of its inaugural SmallBiz Academy on Thursday.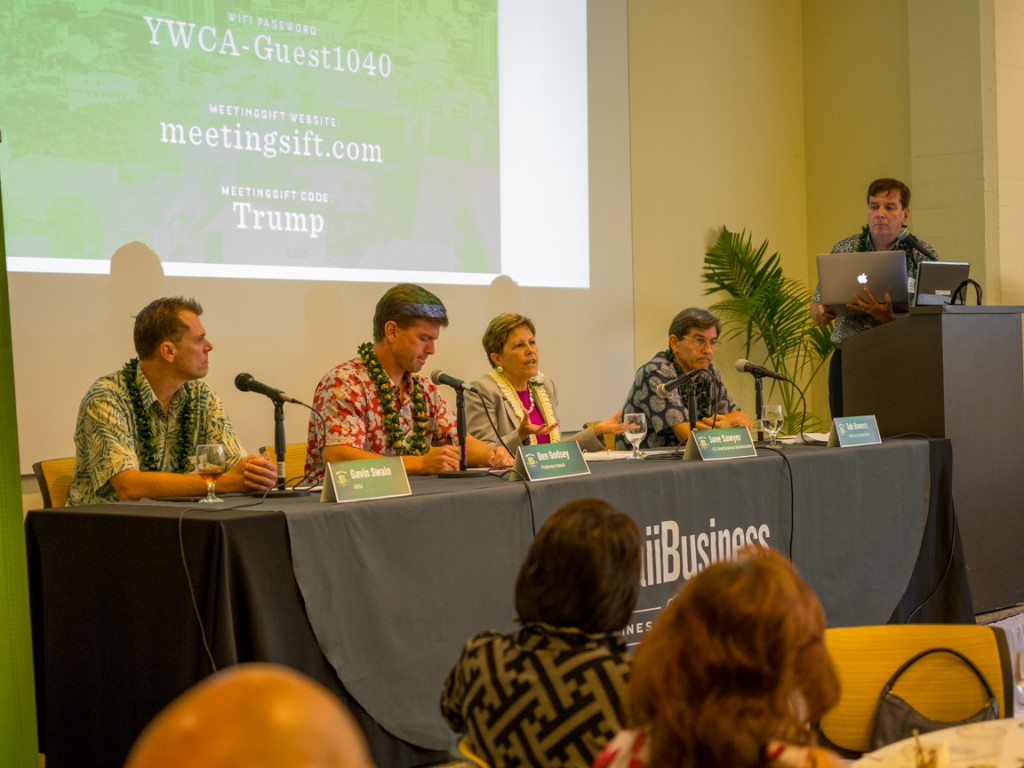 The panel featured ProService Hawaii President and CEO Ben Godsey, HMSA Vice President of Actuarial Services and Market and Product Strategy Gavin Swain, American Savings Bank Executive Vice President for Marketing and Business Development Tab Bowers, and Sawyer, who was also the keynote speaker. Hawaii Business editor Steve Petranik moderated the panel.
From President Donald Trump's budget to the orders given regarding the federal Department of Labor's fiduciary rule and to prioritize American workers, Sawyer offered this advice to the small businesses in the room: "Know your business, do your homework, know your people, know your customers, because business will continue to change rapidly with any administration."
In case you missed the event, here are five things we took away from how Trump's administration may affect small businesses in Hawaii:
1. As long as the state's Prepaid Healthcare Act sticks around, Hawaii's small businesses will be relatively insulated to impacts resulting from the Affordable Care Act being repealed, Swain said. Last month, Republicans unveiled proposed legislation that would repeal and replace Obamacare with a plan that relies on tax credits and the elimination of tax increases on wealthy Americans.
2. "For those of you who finance your business with credit cards or with short-term loans from banks, your costs are going to go up," Bowers said. On Wednesday, the Federal Reserve increased its short-term interest rate by a quarter percentage point. Bowers advised the businesses in the room to go out and lock in fixed-rate funding, whether it's a short-term loan or, if you can manage it, a long-term loan.
3. The federal Department of Labor's proposed fiduciary rule may lower costs for businesses to provide retirement plans, but it could also mean such financial plans would be advised by automated platforms, Bowers said. However, that proposed rule, which was supposed to take effect next month, is being reviewed by the department by the president's request.
4. Trump is not going to change access to talent in Hawaii, Godsey said, referring to an executive order that said officials must prioritize the interests of American workers and their jobs, wages and well-being over foreign workers. Many local companies, like the University of Hawaii, apply for H-1B visas to bring in employees from foreign countries because they cannot find qualified candidates in the local labor pool, Petranik said.
5. Trump's proposed budget slashed funding for some Hawaii programs. According to Petranik, the fact that there is no money earmarked for the East-West Center is probably the biggest news that directly affects Hawaii. The center is an education and research organization that promotes better relations in the Asia-Pacific region. Last year, $16 million was set aside for it. Funding was also left out for programs that support the Minority Business Development Agency Business Center in the Shidler College of Business – which helps minority-owned businesses get things up and running – and the rural Kalaupapa and Kamuela airports.