Fractional Ownership Puts You on the Deed for a Quarter of the Price
In Hawai'i, it's a way for the rich to buy luxury properties that they only want to use a few months of the year.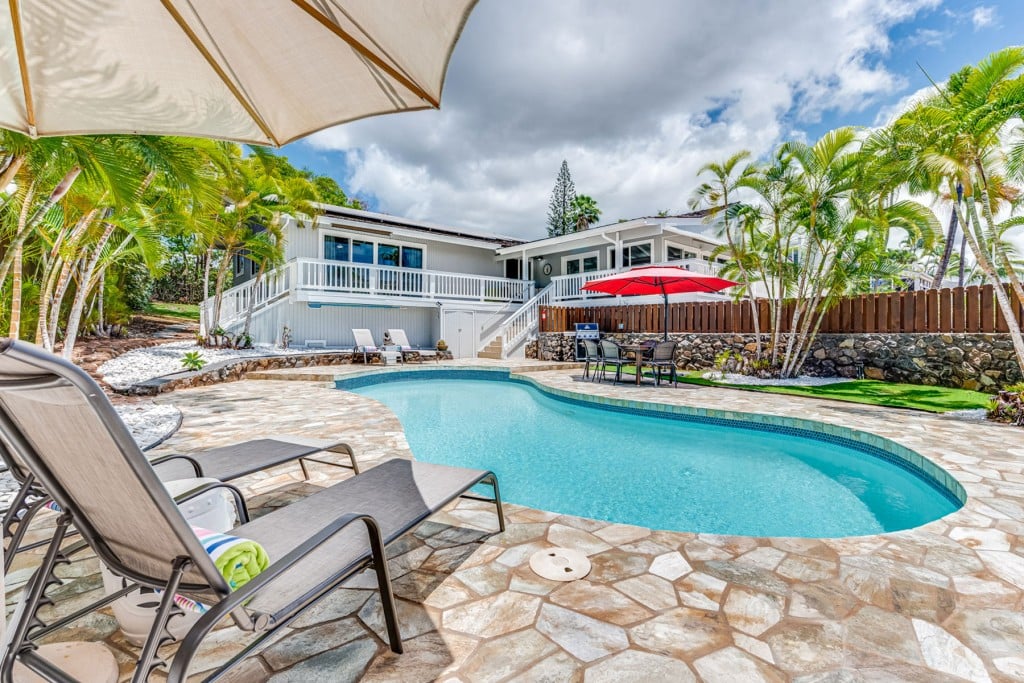 Fractional ownership has long been a way for multiple buyers to share in owning a home in Hawaiʻi – most often a pricey vacation property on a Neighbor Island.
Today at least one national company has made more fractional properties available in the Islands, and another could soon join them.
The new models of vacation ownership are a far cry from the old time-share model where slick salespeople lured buyers to seminars where they were pressured to buy one week of time in a beachfront condo they sometimes couldn't afford.
Many of today's fractional owners could afford to buy $6 million condos or homes in Hawai'i on their own, but choose not to, often because they don't plan to spend that much time on the island, says Realtor Tyler Coons of Keller Williams Realty Maui, who also owns a luxury vacation rental website called Exotic Estates and a property management company called Welcome Hawaii Properties.
"It's somebody who doesn't want a $6 million or $7 million home on Maui, even if they can afford it, because they wouldn't use it," and they can't rent it out because of the laws here, Coons says. With fractional ownership, he says, "they can get a slice of paradise at the level that they'll enjoy when they're there."
Starts with 3 Properties
The biggest new fractional player in Hawaiʻi is Pacaso, which announced in March that it had entered the local market with its purchase of a luxury three-bedroom condominium at the Kapalua Resort on Maui.
Pacaso was co-founded by CEO Austin Allison, who sold his first real estate tech company, Dotloop.com, to Zillow for $108 million. Pacaso calls its business model "co-ownership." Pacaso buys a home using a limited liability company, then sells shares of that LLC to its clients, meaning each buyer gets the equivalent of a few months to use the home each year. In Hawaiʻi, Pacaso is selling only quarter shares and half shares of its properties, which means owners get three or six months of time.
Pacaso's second Hawai'i home is a three-bedroom, 3.5-bath unit at the Hoʻolei Villas at Grand Wailea, which is available for quarter-share ownership at $1,886,000. And Coons says he recently worked with Pacaso on an acquisition of a third property on Maui, a new single-family home being built near Kaʻanapali.
The company is likely looking for more properties on Maui, and perhaps other islands, Coons says, but since the homes it targets start at over $4 million, it's unlikely to compete with many local buyers.
"Pacaso is focused on helping people purchase an existing luxury home four or more times the destination's median home value," Allison said in a statement in March. "Our homes are occupied almost 90% of the year, and we look forward to having Pacaso owners contribute to the local economy and take part in the community year-round."
Bezos and Benioff-backed Company
A third company that may soon enter the Hawai'i market is Arrived Homes, a Seattle-based company whose backers include Salesforce CEO Marc Benioff and Amazon.com founder Jeff Bezos. It's primarily a real estate crowdfunding platform that allows investors to put in as little as $100 for shares of single-family rental homes.
Arrived Homes' website recently announced: "Vacation Rental Properties Coming Soon."
"Our team has been quite busy preparing our latest investments for you. Each of our vacation rental properties is currently in staging and will be released soon! We are excited to create access for anyone to this incredible $13B market."
There is no mention of Hawai'i, but Benioff is a long-time, part-time resident of Hawaiʻi Island and Bezos is a part-time Maui resident, so it's likely the company is at least considering entering the fractional Hawai'i market.