The Future of Hawai'i Health Care Is Now – Part I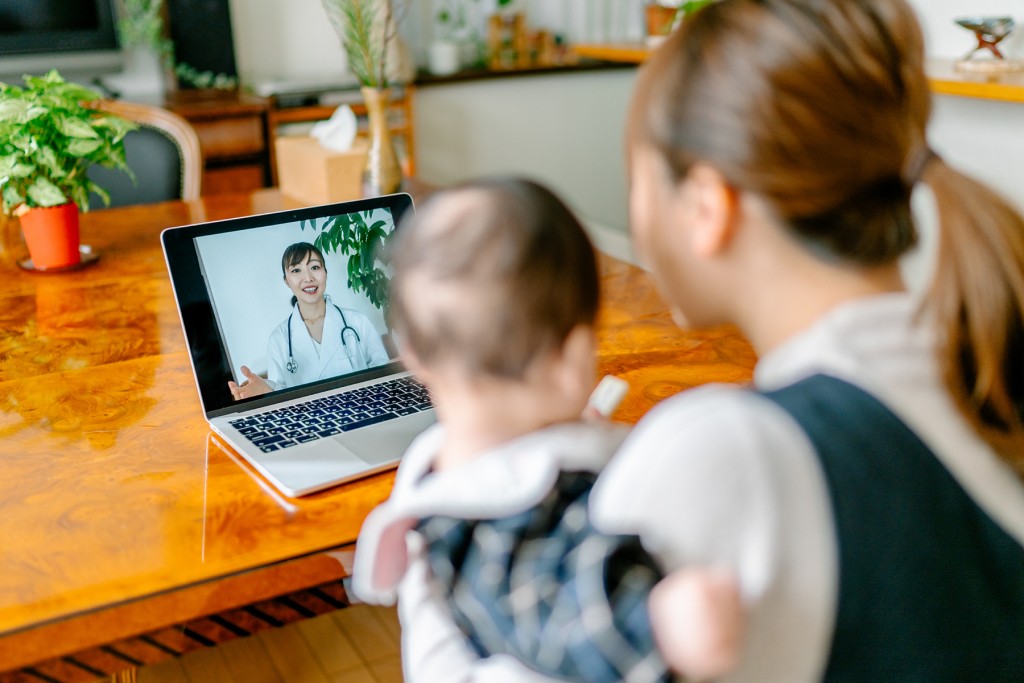 Among the many changes accelerated by COVID-19 is the widespread use of telemedicine, which increases access and, hopefully, will reduce costs. But increased use of telemedicine will also require changes in training, reimbursements, regulations and more. 
COVID-19 has changed the future of medical care in Hawai'i and around the globe.
The biggest transformation is the shift toward telemedicine. Forward-thinking health professionals have tried for years to persuade patients, doctors and health care administrators that telemedicine is an excellent tool – both because it can reach more patients and, hopefully, reduce costs. Hawai'i was already ahead of most of the nation in telehealth and has increased its use during this crisis. The leaders and experts interviewed for this article foresee even further increases in its use.
COVID-19 is accelerating other changes in health care in Hawai'i, including how doctors, nurses and other health care professionals are trained; new rules on vaccinations and testing; and how we handle future pandemics. And yes, there will be other pandemics.
This article focuses on telemedicine and how to make it work properly, which requires new forms of training, reimbursements, regulations and more. Part II in this report on the Future of Hawai'i Health Care focuses on changes beyond telemedicine. 
In the HMSA network, the number of physicians using telehealth almost doubled in a few weeks, jumping from 470 before COVID-19 to 860 one month into the crisis, says Dr. Mark Mugiishi, president and CEO of the state's largest health insurer.
"I'll bet it's pretty close to equal now – virtual and in-person medical care," Mugiishi says. "Both the population and the providers have a unique opportunity to learn what works for each other. So the best thing that may come out of here is the broader adoption of telehealth."
Hawai'i Pacific Health, the state's second-largest health care network with four hospitals and about 70 clinics, is also seeing an uptick. The network has been using telemedicine since 2003 and had already invested $100 million in building a digital system for medical records and computer-based outreach for physicians.
"Hawai'i Pacific Health has been recognized three times as the most advanced adapter of electronic technology in the country to improve patient care," says President and CEO Ray Vara.
"This is an initiative we wanted to advance at our own pace, and were able to escalate the pace in very short order. There's no logical reason we would fall back to pre-COVID levels. That would not be in the best interests of patient care or the cost of health care. Within a matter of weeks we've been able to accomplish what would have taken two to three years (absent COVID-19)."
Doctors and nurses can use telemedicine to monitor, diagnose, mentor, provide specialty care and, potentially, keep health care costs from continuing to skyrocket, say Hawai'i's medical leaders.
Kaiser Permanente Hawaii Regional President Ron Vance says research shows that telehealth has the potential to save Americans billions of dollars each year in health care costs. "Telehealth is increasingly central to how we practice medicine at Kaiser Permanente, and we use it to improve outcomes and deliver better care experiences every day."
Says Dr. Aimee Malia Grace, director of health science policy for the University of Hawai'i System: "It's absolutely a priority, unfortunately by necessity. This is one of the enduring benefits that we'll see from the COVID-19 challenges. One colleague in D.C. said, 'This is our moment. Finally people are going to be seeing how beneficial telehealth is.'"
Grace previously served in Washington, D.C., as health policy advisor to U.S. Sen. Brian Schatz of Hawai'i, who has been an advocate of telehealth services. Some of the things he has advocated have been enacted into law and last year he introduced the Creating Opportunities Now for Necessary and Effective Care Technologies (CONNECT) for Health Act, which would expand telehealth services and reimbursements under Medicare among other things.
Several people interviewed for this story say telemedicine between states should be encouraged but that it requires more freedom on how physicians can practice and be reimbursed – including the ability to consult remotely with specialists who may be thousands of miles away.
The Queen's Health Systems' COVID-19 Infoline has been a valuable telehealth resource for the community, says Queen's President and CEO Jill Hoggard Green. It has provided information to thousands of people and relieved pressure on Hawai'i's health care system by guiding them on the best choices for their individual situations. Call 808-691-2619; option 2 offers the opportunity to speak with a registered nurse.
Howard Lee, president and CEO of UHA Health Insurance, points out another potential benefit from mass adoption of telemedicine: reduced physician burnout. "It's perhaps a solution to better manage their time," Lee says.
In the first weeks of the pandemic, Hawai'i medical personnel rapidly turned to computers and electronic linkups with patients to broaden their service – and keep everyone safer.
The UH System's Grace says: "Calls have been flooding in from private providers to the Pacific Basin Telehealth Resource Center at UH, which provides technical assistance, with questions such as: 'Am I allowed to set up this platform?' 'Is this HIPAA compliant?' and 'Am I allowed to bill Medicare?' And the center is helping to walk people through that telehealth training, and get people up and running with their telehealth programs and then billing appropriately.
"There has been nothing like this that has compared to the advancement of telehealth."
(HIPAA refers to the Health Insurance Portability and Accountability Act of 1996, which governs medical records and protects the privacy of people's medical information.)
Dr. Jerris Hedges, dean of UH's John A. Burns School of Medicine, says the school is helping medical professionals make the transition to telehealth. For instance, medical students are sharing their knowledge of technical systems with people on the front lines.
"Within a week, with a little help on the job and given some guidance, one could make the transition" from in-person medical care to telehealth, says Hedges. "Right now everyone is doing some form of transition."
He says the school continues to "explore what's possible to help current practitioners" and revising the curriculum to better prepare medical students for telehealth."
Medical professionals have different ideas about what is a "routine" visit that can be conducted via telemedicine. Some estimate that such routine visits are only about 30% of all visits, while other estimates range as high as 80% of all medical visits and these people say that telemedicine is often suitable for specialties such as dermatology and psychiatry.
Dr. Kathleen Kozak, a practicing physician and medical director at UHA Health Insurance, says that before the crisis, less than 10% of the patients seen by the four doctors in her office were by video. Now for routine visits, "We're almost exclusively using video platforms. Patients appreciate the convenience of this and attaching images is ideal for simple things that don't require face-to face interaction.
"But sometimes patients truly need to be examined. And we have to be careful with our elderly patients who need face-to-face. Whatever telemedicine that we choose, we provide options on different platforms that meet the needs of the patient.
"Our Neighbor Island community has already spearheaded the use of telemedicine. From a specialty standpoint, this is going to be a game-changer. Queen's has already been using Zoom technology and doing videoconferencing for stroke patients. So there are some places it really serves as a niche."
Telemedicine may require changes to the way some medical insurance reimbursements are configured. Mugiishi says HMSA started basing some reimbursements on patient outcomes more than a decade ago, and it's helping now. Back then, there were concerns about the new reimbursement model, but he says it offers physicians the flexibility to choose the best therapy for each patient, rather than sticking to a standard 15-minute office visit.
 "Our providers are still getting their monthly payments and they're able to care for their patients in a multitude of ways. … That's all the more reason to believe in our model."  
Dr. Bruce Anderson, director of the state Department of Health, says Hawai'i has already enacted legislative changes that allow telehealth visits to be compensated on par with in-person visits.
Lorrin Kim, the DOH's chief in the Office of Planning, Policy and Program Development, notes in an email that "Hawai'i has among the nation's most progressive and comprehensive telehealth reimbursement laws in the country (since 2016) that require reimbursement parity for in-person and telehealth visits, including Medicaid."
Kim says Hawai'i law allows for many technologies and permits telehealth consultations in a patientʻs home, school or workplace.
Medicare now also provides more flexibility. "They've come out with all these different codes and that's what we're using to pay providers," says Mugiishi. "They also say, 'We are not going to enforce HIPAA compliance in telehealth platforms.' It means you're still breaking the law, but nobody's going to prosecute you."
Mugiishi says a big drawback to telehealth has been HIPAA compliance, especially around privacy concerns for patients. "But that has been waived by the government during this period," he said, "and if we find out during this that it's relatively safe and people want it, and it's easy, then it becomes very broad.
"One of the things different with health care today is it has started to evolve into a consumer activity. Consumers are going to demand certain things. It used to be, 'Come into the office,' and now consumers say, 'Hey, I want to see you on my phone,' or 'at night when I come home from work,' and we're starting to learn to accommodate them.
"I'm sure Apple and Google will say, 'Let's ramp it up and figure out a way (to ensure security).' We'll get to a better place where there's less chance for breaches and security hacks, so it's good enough where people will feel comfortable."