Gecko's: Serving Comics Fans for 28 Years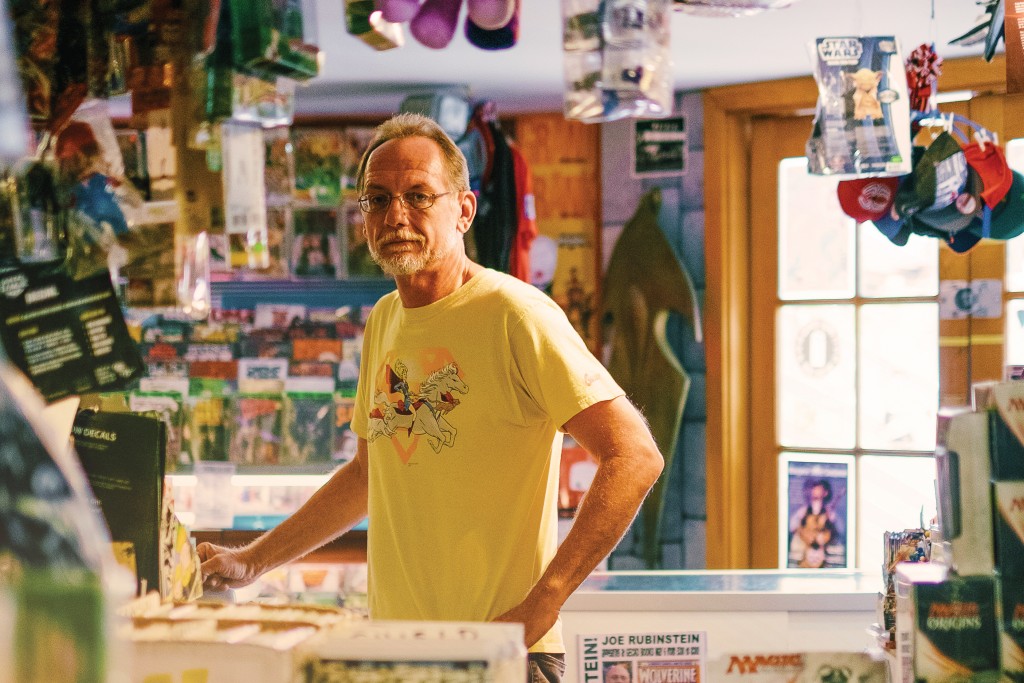 "It's sensory overload. Eye candy for the geek," enthuses Rusty Baily, 42, as he describes Gecko Books & Comics for newcomers to the local world of fantasy and fandom.
"It's very well-organized, but it's got things everywhere. And it's just disorganized enough to make you think you can find that little treasure in the corner if you look hard enough."
Baily is one of Gecko's many loyal customers – "at least 50 percent are regulars," estimates owner Ted Mays. Baily is a maintenance supervisor at Manoa Cottage and has been patronizing the books, comics, games and toy store since moving here from his native North Carolina six years ago.
"Charlotte's got the greatest comic book store in the country, but Ted's place is a really close comparison," he says. "I went to all of the other stores on the Island when I originally moved here, but I should've gone to Gecko's to start.
"Going there rewards the inner kid in me."
Mays is 55 and the father of a grown daughter, Toni, who helps run the shop. But he was just in his mid-20s when he opened the store in Kaimuki in 1987 at its first location on Waialae Avenue, where it prospered for 22 years; the business moved into a larger space just around the corner on 12th Avenue
in 2009.
He came from Richmond, California, to Hawaii in 1980 to be with "a girl from college." The relationship didn't work out and Mays was left destitute on the street with "only 37 cents in my pocket."
He took on odd jobs, one of them at Aldamar, a comics and bookstore on North King Street near Aala Park. "For the first few weeks, since I didn't have a place to stay," recalls Mays, "the owner would literally lock me in the store so I could sleep there."
But he knew his stuff. "To get the job, the owner asked me to name 50 movie posters hanging on the wall," explains Mays. "I nailed them all."
"Owner Ted Mays "is an encyclopedia of pop culture. You don't need a computer with Ted around."

— Rusty Baily , Gecko Books & Comics regular customer
Mays served in the Army from 1981 to 1986, and took advantage of the G.I. Bill when he returned here to attend UH, earning a bachelor's, a fifth-year diploma in education and a master's in U.S. history. After returning, Mays also worked briefly at Froggie's and Interlude, both used-books and comics stores that have since closed.
In 1987, "a weird kismet happened. I had $2,000 in the bank, about four months of educational checks came in all at once and I cashed in my leave from the Army, so I had about $4,000 to $5,000 I could use to start my own business," Mays remembers.
Housed in about 1,000 square feet, the initial inventory was mostly nonfiction used books, vinyl records, CDs, magazines and "about 20,000 comics from my own collection."
Today, the store has expanded to 2,800 square feet, more than 200,000 comics and a plethora of sports cards, games, action figures, costumes and toys.
Mays attributes his love of "pop kultch" to growing up like a lot of children of the '60s did, watching Batman on TV and reading comics, but he also admits to a troubled childhood. "There's a preponderence of those from law enforcement and lawyers who make up our regular customer base. I think the superhero comics provide an outlet for those who want justice, but who don't think they get it in their everyday lives."
Also, as a curious youngster, it was important for Mays to follow a plot line from issue to issue, so he takes great pride now in being able to offer customers collectible back issues or complete collections.
As for the challenges of being a small business, "We survived the downturn of two Iraq invasions and when the bottom dropped out from the comic book industry in '94, so we've weathered every storm," Mays reflects sanguinely, "but I'm not ignoring that the pendulum will swing the other way.
"A lot of what we sell is exempt from the Internet revolution because customers want to see it and feel it and it's fun and makes them happy. But from a business standpoint, I have to err on the side of caution and not ride an entertainment wave too long."
What's also made Gecko's successful for so long is its personal service, which Baily describes as "top-notch."
"Ted is an encyclopedia of pop culture. You don't need a computer with Ted around. He knows what's on TV this week, or in the movie theaters, or how the San Francisco Giants are doing. He knows everything. I don't think he sleeps." 
---
Gecko Books & Comics
1151 12th Ave., Kaimuki
732-1292