Growing Gardeners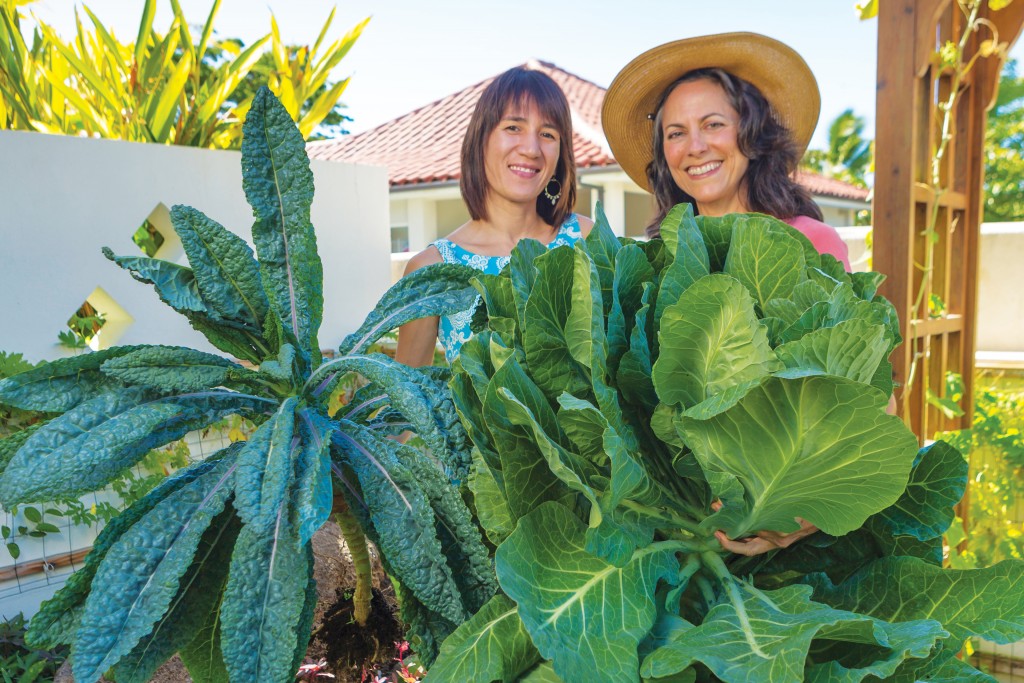 When Taiji Terasaki needs fresh herbs for a pot of stew or the ingredients for an organic salad, he'll send his 7-year-old son, Kenta, and 4-year-old daughter, Miya, out to the family's kitchen garden.
There's quite a selection in the 25-by-11-foot, raised garden bed at their Aina Haina home, including basil, sage, Swiss chard, strawberries, mizuna, bittermelon, collard greens, arugula, tatsoi and tomatoes.
It's all thriving, thanks to Foodscapes, a local company that helped Terasaki build his garden and maintain it.
"It might look like a lot of work, but it's actually not," says Terasaki, a ceramic artist. "There are drip water sprinklers installed and the work is seasonal." But the harvest is so bountiful that Terasaki's neighbors also enjoy the fruits of his labor.
Foodscapes owner and gardener-in-chief, Fran Butera, says she finds joy in "growing gardeners." The former graphic designer, who has been gardening for most of her life, launched the edible landscaping company in 2008, a few months before first lady Michelle Obama announced the installation of the White House kitchen garden. Butera and her assistant, Jenny Engle, a former Foodscapes client, help budding gardeners with everything from design to set up and periodic maintenance of their gardens.
Foodscapes charges $150 for an initial site visit lasting about two hours. Butera works with clients to determine their ideal garden configuration, depending on site and budget, and provides an estimated cost for installation. Maintenance ranges from $65 to $200 per visit, depending on the work involved.
"Our ideal situation is someone who wants to learn how to garden and wants to keep learning," explains Butera. "Gardening is like learning to play a musical instrument. When you first pick up the cello and don't know how to play it, but want to be good, you take lessons and commit to learning. You keep at it and, with the help of those who know what they're doing, someday you'll surpass your teacher."
Terasaki, who admits to not having a green thumb before contacting Butera, says he still has a lot to learn, but he and his family now call themselves gardeners.
"The garden changed our lives when it comes to eating fresh and locally," he says. "I'm planning to move to a new house and our new garden will be four times the size of this one."
Foodscapes
Fran Butera, 375-8025
www.foodscapeshawaii.com