Kaua'i's Habitat for Humanity Outbuilds Other Habitats in Hawai'i. Here's How They Do It.
The nonprofit erects 15 to 20 homes a year in batches, largely using the labor of volunteers and the eventual homeowners.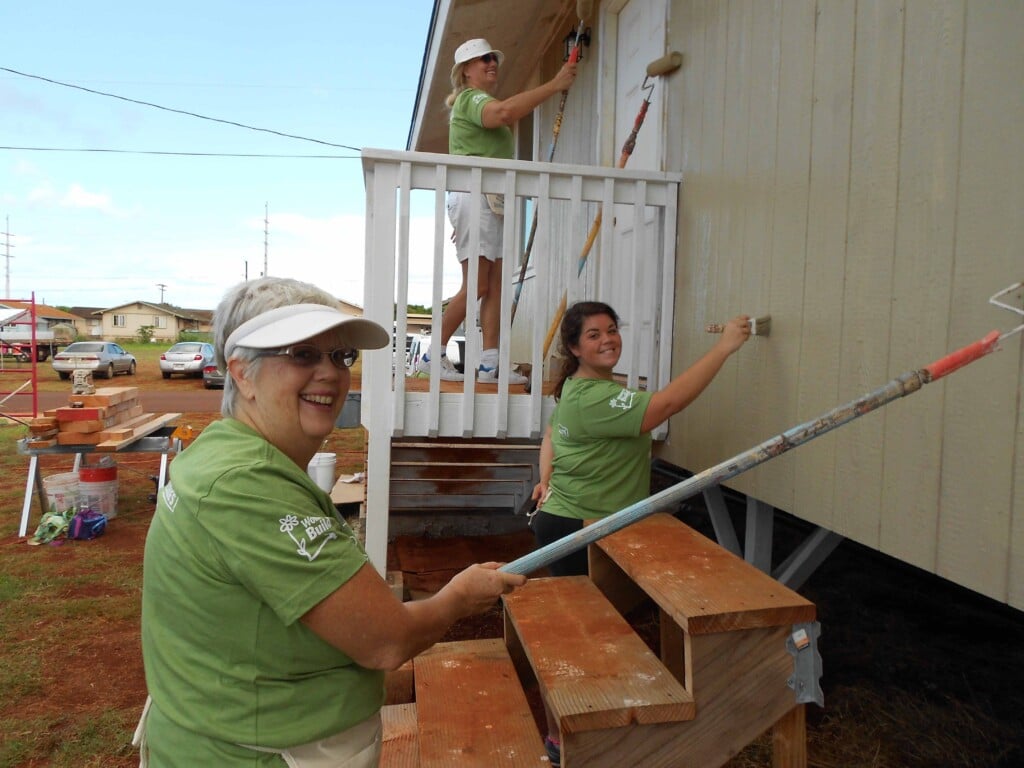 Four years ago, Hanapēpē resident Ashley Conner thought homeownership was out of reach. She had lived on the Garden Island for most of her life and worked three jobs to afford rent on the 600-square-foot studio she shared with her two sons.
Then she learned about the nonprofit Kaua'i Habitat for Humanity, whose staff helped her to get qualified for a home of her own. With that done, she spent seven months building the home in the 24-acre 'Ele'ele Iluna subdivision, with the help of family members, co-workers, volunteers and other Habitat homebuyers.
"To be able to give (my sons) a home where they have a yard to take care of, they have a house to take care of, maintenance, keeping your walls clean and just simple things like that, has given them a sense of stability," she says. Her sons are now 12 and 15, and she has an infant daughter. "They know we're never going anywhere."
Kaua'i Habitat is the highest producing Habitat affiliate in the state and constructs 15 to 20 homes a year for low- and moderate-income homebuyers. The Kaua'i nonprofit is the only local affiliate that develops its own subdivisions in addition to building on land partner homebuyers have purchased on their own. This enables the nonprofit to build homes in batches, saving both money and time.
Those homes are helping to fill gaps in Kaua'i's housing supply. According to the state's 2019 Housing Planning Study, Kaua'i needs 375 for-sale homes between 2020 and 2025 for households that make between 30% and 80% of the area median income. For a Kaua'i family of four, that's between $34,200 and $91,200 a year.
"If it wasn't for Habitat and this home, we wouldn't be here. We would have been forced off by now for sure," Conner says. "The cost of living out here is unbelievable and it just sets you up for failure."
Self-Builds
Stephen Spears, who served as Kaua'i Habitat's executive director from 2001 to 2002 and 2007 to 2020, estimates the nonprofit has provided about 1,000 people with stable places to live since it was founded in 1992.
The affiliate was created after Hurricane 'Iniki destroyed 1,500 homes on Kaua'i and damaged more than 5,000 others. Since then, Kaua'i Habitat has built 228 homes and repaired 37 across the island, including some on Hawaiian homelands, with the help of 4,641 volunteers who contributed 239,723 hours of work.
Habitat homes are built on land owned by partner homebuyers, by Kaua'i Habitat or in Kaua'i Habitat subdivisions. Kaua'i Habitat requires partner homebuyers to commit at least 30 hours a week to construction – called "sweat equity" – in lieu of a down payment. Milani Pimental, the organization's executive director, says homebuyers do at least 65% of the construction while being instructed by Habitat supervisors. Subcontractors are only used for the drywall, electrical and plumbing work.
The homes Kaua'i Habitat builds are meant to be simple and decent. They often have rectangular shapes, small lānai, exterior siding made from engineered wood, and asphalt shingle or fiberglass roofs. A four-bedroom, two-bathroom home will have about 1,250 square feet of living space.
The homes are sold to homebuyers based on the price of construction, not market value. Pimental says a two-bedroom home in its newest subdivision, Waimea Huaka'i, costs about $177,000 to build; a four-bedroom costs about $200,000. The modest sizes, volunteer labor, plus private contributions, grants and affordable mortgages from the U.S. Department of Agriculture Rural Development program, keep costs low.
"It's such hard work, then plus working with three jobs on top of it and trying to have fun with the kids," Conner says, adding, "but I could see the light at the end of the tunnel. And I felt like I had a whole community holding my hands, rooting for me, saying 'It's OK. You don't have to do this forever.' "
Building in Batches
Located in the western town of Hanapēpē, Kaua'i Habitat for Humanity's headquarters makes use of the property's past life as a lumberyard. Staff, volunteers and homebuyers sort and store building materials out of an open warehouse there, and the spacious yard allows trucks to easily load up for transport to the build sites.
It's also where Conner spent her first day with Kaua'i Habitat, prefabricating wall framings with other volunteers and homebuyers for the four homes they were batch building in 'Ele'ele.
Erik Mann, executive director of the Hawaii Habitat for Humanity Association, says Kaua'i Habitat's ability to build homes in batches and on larger parcels of land sets it apart from other local and national affiliates. Most affiliates build one or two homes a year at scattered sites, he says.
"Kaua'i is a pretty unique affiliate and one we should be proud of," he says. The association provides technical assistance and loans to the local Habitat affiliates.
Kaua'i Habitat has experimented with different construction methods and processes to build faster and cheaper. One of those methods is prefabricating wall framings so that it only takes a half day to raise them at the build sites. It has also learned that building homes in batches of five maximizes the efficiency of a single on-site Habitat construction supervisor, who guides the homebuyers and volunteers, Spears says. The pandemic disrupted operations, but before Covid, it would only take seven months to complete five homes.
Standardized processes also mean homebuyers must follow the nonprofit's guidelines for interacting with vendors and contractors. Homebuyers, for example, can't tell an electrician to add 10 more outlets because that would skew the home's cost and increase the construction timeline. Spears says small modifications extended construction timelines by 60% when Kaua'i Habitat was building one or two homes a year.
"Once you're building en masse, like we are and some of the other affiliates out there, you really have to get to this point of standardization and having all your participants in the program understand that, hey, we're building the same way, same materials, same methods," Pimental says.
It's also tweaked home designs based on homeowners' feedback. One change was building closets that are open from floor to ceiling and from side wall to side wall, instead of having smaller openings that require framing and extra corners. This change can save a couple of thousand dollars per house in labor, material and drywall costs, and it's easier to store items in the new closets.
Spears adds that the organization has also changed its culture to develop an ownership mentality among staff. And cost analyses are constantly done to see if certain materials have increased in price or if different construction methods can be used to save money.
A Safe Community
Conner and the three other Habitat homebuyers finished their homes in July 2019. She and her sons were so excited to be home that they slept on a rug with blankets and pillows before there was furniture in the house.
Conner recently welcomed a baby girl, so she's no longer working three jobs. And her mortgage payments are based on her income, so she can work around her children's schedules.
The 'Ele'ele Iluna subdivision – a lively place, with kids playing in their yards and riding their bikes – has 122 completed homes. And Conner says it's a respectful, safe community. At press time, the final three homes were under construction.
Kaua'i Habitat, with its 24 staff members and $8.5 million budget, pushed even harder to scale its capacity amid skyrocketing home prices during the pandemic. The nonprofit is working on the first eight of 32 homes in the 6.5-acre Waimea Huaka'i subdivision, which is within walking distance of Waimea's hospital, middle school, high school and several grocery stores and eateries. Pimental calls it a "perfect community."
Staff members are also getting ready to start work on two other affordable housing projects: Kauhale o Waipouli will feature 17 units co-developed with the nonprofit Permanently Affordable Living Kaua'i, and Pu'u Maluhia in Kalāheo will have six units. Both projects will use Habitat's self-build model and are on parcels about 0.85 acres in size.
"The idea now is if we can work with sellers to negotiate a really great purchase price on land, if we can work – and hopefully things fall in our favor – with pricing on the infrastructure development, we can still continue to bring affordable projects to the buyers," Pimental says.
Conner has been a board member with Kaua'i Habitat for the last two years and says she's grateful that she still gets to be part of the organization. As a board member, she's now one of the people congratulating Habitat homebuyers on their finished homes and handing them their keys.
"Still almost every single day as I drive away and look back, (I'm) just astonished that's mine," she says. "I built that."