A Look at the Rail's Increasing Price Tag and Pushed Back Completion Dates
We tracked some of the project's major milestones, including cost increases, funding deficits, lawsuits and voter input.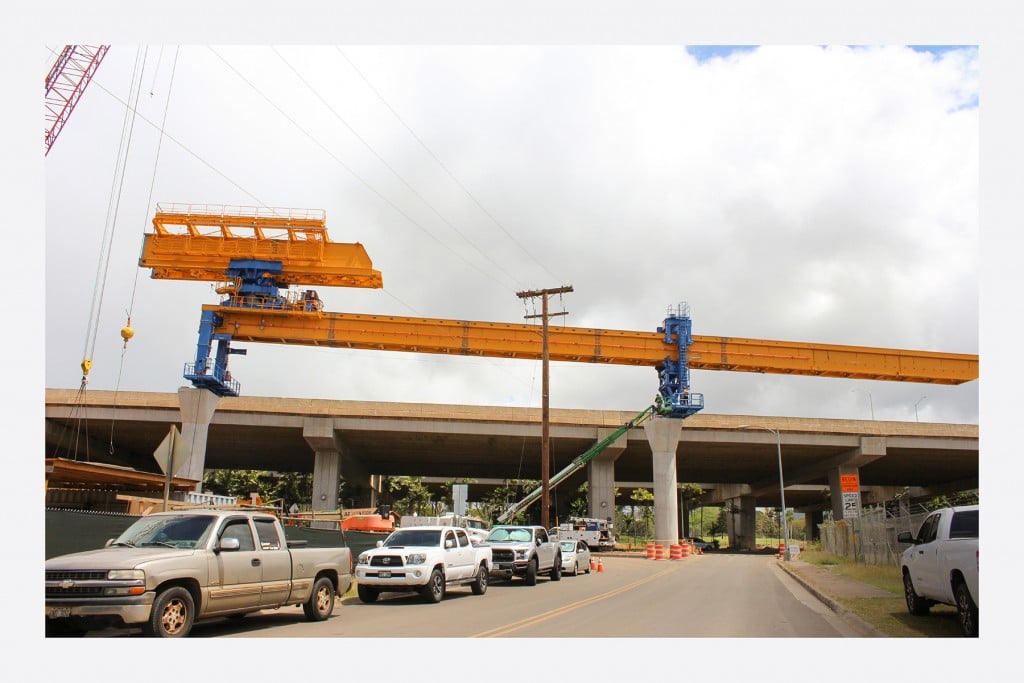 The cost of the state's largest public works project and when it will be finished have changed many times over the years. These are just some of those milestones.
●
When the rail was paused or stopped
●
When rail was in progress
2003: Then-Senate President Bobby Bunda suggested during his opening day speech to the Legislature that the state dust off its plans for a light rail system.
In October, then-Gov. Linda Lingle proposed an elevated 22-mile light rail system stretching from Kapolei to Iwilei. Her plan also included an elevated highway above Nimitz Highway. She thought both ideas would help solve O'ahu's traffic congestion. The $2.6 billion estimate comes from her proposal. Planned Completion Date: 2018
Estimated Cost without Finance Charges: $2.6 billion
2005: The state Legislature passed Act 247, which allowed the counties to levy a county surcharge on the general excise tax to pay for public transportation systems.
In August, Honolulu Mayor Mufi Hannemann signed into law a bill that increased O'ahu's GET from 4% to 4.5% to help pay for rail. The surcharge would end Dec. 31, 2022.
The rail was still estimated to cost $2.6 billion. Hannemann, who was Honolulu mayor from 2005 to mid-2010, says this estimate was a ballpark construction cost in 2005 dollars based on similar automated metro systems in cities like Vancouver and Copenhagen. Future costs – right-of-way acquisition, financing, contingencies, and professional services – were not known at that time, so they were not included.
October 2006: A 20-mile fixed guideway between Kapolei and Ala Moana Center was estimated to cost $3.6 billion. A 28-mile guideway spanning Kalaeloa to UH Mānoa was estimated to cost $4.6 billion.
These numbers come from the Alternatives Analysis commissioned by the county Department of Transportation Services for the Honolulu High-Capacity Transit Corridor Project. This analysis looked at four options to slow the growth of traffic congestion: no build, improve management of the transportation system, build a two-lane highway as a toll road, and construct and operate a fixed guideway transit system. Four guideway alignments were also evaluated. These numbers do not include financing costs.
A fixed guideway system between Kapolei and UH Mānoa was selected by the Honolulu City Council via Bill 79 as the locally preferred alternative in December 2006. The mayor signed the bill in January 2007. The bill authorized the city to proceed with system planning and engineering. The council also passed Resolution 07-39 in February 2007. This resolution approved the shorter segment from East Kapolei to Ala Moana Center as the first construction project. Planned Completion Date: 2017
Estimated Cost without Finance Charges: $3.6 billion
2008: This estimate is for a 20-mile, 21-station elevated rail line that takes passengers to and past the airport.
The draft environmental impact statement was released in November by the Federal Transit Administration. It also provided costs for an alternative route via Salt Lake Boulevard ($3.921 billion) and another via the airport and Salt Lake Boulevard ($4.803 billion). The airport alignment had the highest ridership estimate: 272,800 daily linked trips in 2030. In November, 50.6% of Honolulu voters chose to amend the City Charter to authorize the establishment of a steel-wheel-on-steel rail transit system. Planned Completion Date: 2018
Estimated Cost without Finance Charges: $4.125 billion
January 2009: The Honolulu City Council adopted Resolution 08-261, which specified the rail's minimum operable segment would start at UH West O'ahu, follow Farrington and Kamehameha highways to Aolele Street serving the airport and then run along Dillingham Boulevard and Nimitz Highway to Halekauwila Street and end at Ala Moana Center.
2009: In mid-October, the Federal Transit Administration approved the project application to enter preliminary engineering.
During this phase, the city refined the project's engineering aspects, including a more precise construction schedule and project management plan, plus an updated financial plan and completion of the federal environmental review process.
In November, the city executed its first construction contract with Kiewit Pacific Co. – to design and construct the guideway from the East Kapolei station to the Pearl Highlands station. The amount was nearly $483 million. Kiewit's bid was $90 million lower than the city's estimate for the contract. Planned Completion Date: 2019
Estimated Cost without Finance Charges: $5.057 billion
Estimated Cost with Finance Charges: $5.348 billion
June 2010: The rail's final environmental impact statement was completed. Planned Completion Date: 2019
Estimated Cost without Finance Charges: $4.281 billion
Estimated Cost with Finance Charges: $4.583 billion
November 2010: 63.6% of Honolulu voters approved an amendment to the city charter to create the Honolulu Authority for Rapid Transportation, a semiautonomous public transit authority that would be established on July 1, 2011, be made up of 10 board members, and be responsible for the planning, construction, operation, maintenance and expansion of the city's fixed guideway mass transit system.
January 2011: A Native Hawaiian cultural practitioner sued the city and state, arguing that the city shouldn't have started construction on the first section of the project without first completing archaeological surveys and receiving approval from the State Historic Preservation Division for all four project sections. The lawsuit requested declaratory and injunctive relief to delay the start of construction.
In its 2019 Revised Recovery Plan, HART says "the city's action was consistent with long-standing practice in the state for large construction projects, as well as being consistent with federal regulations."
The Federal Transit Administration issued its Record of Decision on the project's final EIS. This allowed the city to acquire real property identified in the final EIS, relocate utilities affected by the project and acquire rail vehicles.
February 22, 2011: The city held a ceremonial groundbreaking and blessing for the project along Kualaka'i Parkway, reaching a milestone that previous rail attempts never met. More than 400 people attended the ceremony. Speakers included Mayor Peter Carlisle, U.S. Sen. Daniel Inouye, Lt. Gov. Brian Schatz and City Council Chairman Nestor Garcia. Protestors also attended.
May 2011: A second lawsuit, Honolulutraffic.com vs. FTA, was filed in U.S. District Court by plaintiffs who claimed there had been inadequate consideration of alternatives in the EIS about environmental impact issues and cultural and historic sites.
November 2011: HART signed $1.4-billion contract with Ansaldo Honolulu JV for the project's core system. It includes the design, construction and delivery of the train vehicles, train control systems and the operation and maintenance of the rail system after installation.
December 2011: The FTA approved HART and the city's request to enter final design.
February 2012: The Federal Transit Administration allows HART to move to the next phase of construction and to spend nearly $185 million on it. This allows construction of foundation and pillars along the West O'ahu/Farrington Highway and Kamehameha Highway segment, plus work on the maintenance and storage facility and three Waipahu stations, according to a city press release. In 2011, the city began relocating utilities from East Kapolei to Pearl City as part of preliminary construction.
August 2012: The first lawsuit was appealed to the Hawai'i Supreme Court, which ruled in favor of the plaintiff. According to a HART monthly progress report, HART issued a partial suspension of construction work on Aug. 24, for all ground-disturbing activities. On Sept. 7, HART told its contractors that no construction activity would continue until future written notice is provided.
November 2012: Kirk Caldwell was elected as Honolulu's new mayor, defeating former Gov. Ben Cayetano in a race that centered on the rail project. Cayetano, who was also a plaintiff in the federal lawsuit against the project, had said he would kill the project if elected.
The U.S. District Court held that only three of the Honolulutraffic.com vs. FTA plaintiffs' multiple claims required further analysis. In December, the court temporarily enjoined construction activities and halted all real estate acquisition activities in the project's City Center segment.
December 19, 2012: These numbers are from the Full-Funding Grant Agreement between the Federal Transit Administration and the City and County of Honolulu. Planned Completion Date: January 31, 2020
Estimated Cost without Finance Charges: $4.949 billion
Estimated Cost with Finance Charges: $5.122 billion

June 2013: The city completed a supplemental environmental impact statement to address the three issues in the Honolulutraffic.com vs. FTA case.
September 2013: The State Historic Preservation Division approved the archaeological survey reports for the project, and construction resumed. Concrete for columns was poured and utilities relocated along the first 10 miles of the rail route.
February 2014: The Honolulutraffic.com vs. FTA case was resolved after the 9th U.S. Circuit Court of Appeals upheld the District Court's dismissal of plaintiffs' claims. The injunction was lifted.
August 2014: HART opened the bids it received for construction of the nine westernmost rail stations. HART had budgeted $184 million for this work.
Nan Inc. bid $294.5 million, Nordic PCL bid $312.3 million, and Hensel Phelps bid $320 million. HART's then- CEO Dan Grabauskas told HART's board the disparity was due to the recent legal challenges that halted construction for more than a year and a hot construction market that has changed since the project was first budgeted.
December 2014: HART reported in December that the project's first deficit was as high as $910 million, according to a 2019 state audit on the project. This shortfall resulted from cost increases following delayed federal approvals, plus "higher-than-anticipated inflation, as well as a court-ordered injunction on construction resulting from a decision to short cut archaeological reviews." A June 2015 Hawaii Business Magazine article reported that part of the reason for that deficit was $310 million in income that was removed from the project: $100 million in GET revenue that had been budgeted for the project and a loss of $210 million in Federal Transit Administration Urbanized Area Formula Funding monies, which support urban bus and transit systems.
HART's plan to address the shortfall included:
Repackaging the bid for the first nine stations into three contracts.
Repackaging the remaining 12 stations and last 10 miles of guideway.
Exploring public-private partnerships.
Seeking to extend, or eliminate, the GET surcharge sunset date.
HART also reported that more than a mile of elevated guideway was completed. That work included constructing 136 columns and 181 shafts. Nearly 1,800 segments had also been cast and 56 spans constructed.
November 2015: The City Council approved legislation enabling the city to issue up to $350 million in commercial paper to help finance the project.
December 2015: According to HART's report to the governor and Legislature, this increase was due to legal challenges, construction delays and increased cost projections for utility relocations.
Earlier in 2015, Gov. David Ige authorized an extension of Honolulu's GET surcharge until the end of 2027 to help pay for rail. Planned Completion Date: June 2021
Estimated Cost without Finance Charges: $6.167 billion
Estimated Cost with Finance Charges: $6.477 billion

June 2016: HART reported during a June 8 board meeting that because estimated revenues from the GET surcharge were insufficient, the project had a potential deficit of $1.14 billion. The board discussed options for budgeting to build and building to HART's existing budget, such as stopping the project at Middle Street, constructing as far as funding allows, soliciting public-private partnerships for all stations, and changing the rail's alignment to Nimitz Highway. Planned Completion Date: December 2024
Estimated Cost with Finance Charges: $7.97 billion
November 2016: 60.8% of O'ahu voters approved a charter amendment that transferred responsibility for operations and maintenance of the rail system from HART back to the city Department of Transportation Services.
That amendment also clarified the HART board's responsibilities to establish policies, rules and regulations regarding:
Development of the rail system.
Internal management and organization of HART.
Allocation of decision-making authority between the board and the agency.
The amendment also revised the responsibilities of the HART board to include determining the policies for approval of certain agreements with federal, public or private entities.
July 2017: The City Council voted to approve $350 million in general obligation bonds to help pay for the rail project.
September 2017: This number comes from HART's Sept. 15, 2017, Recovery Plan.
The state Legislature approved a second extension of the GET surcharge until the end of 2030 and a 1 percentage point increase in the state transient accommodations tax, which will also expire at the end of 2030. Honolulu Mayor Kirk Caldwell on Sept. 7 signed Bill 45 into law extending the GET surcharge. Planned Completion Date: December 2025
Estimated Cost without Finance Charges: $8.165 billion
Estimated Cost with Finance Charges: $9.023 billion
2018: These numbers are from HART's 2018 Revised Recovery Plan. In November, Caldwell signed Bill 42 into law, earmarking $44 million from the city's general fund to be used to help pay for rail. The legislation allowed a maximum of $214 million in general fund monies to be used and overturned an 11-year ban on spending city funds on the project. Planned Completion Date: September 2026
Estimated Cost without Finance Charges: $8.299 billion
Estimated Cost with Finance Charges: $9.194 billion
May 2020: The rail authority said it underestimated how much it would cost to relocate utilities along the City Center segment. The contract to do this work was awarded to Nan Inc. in 2018 and was expected to cost up to $400 million. HART expected the work would cost $135 million to $235 million more.
December 2020: These numbers are from HART's December 2020 monthly progress report. HART canceled its public-private partnership procurement for the rail's City Center section in November after bids came in $1.3 billion higher than expected. Planned Completion Date: May 2027
Estimated Cost without Finance Charges: $9.131 billion
Estimated Cost with Finance Charges: $9.971 billion

March 2021: These numbers are from HART's June 2021 monthly progress report.
In March, President Joe Biden signed the American Rescue Plan Act of 2021 into law. The $1.9 trillion package included $70 million in Capital Improvement Grants for HART to help the city pay for part of its share by covering the loss in local tax revenue caused by the pandemic. Planned Completion Date: March 2031
Estimated Cost without Finance Charges: $11.37 billion
Estimated Cost with Finance Charges: $12.45 billion
---
Read More
The attempts and discussions to build a rail on O'ahu date back even earlier than the 2000s. Click here to continue reading to learn more about those efforts. Later, we'll tell you about some of the rail column designs and the stories they tell.
Up Next: Honolulu has talked about building a rail system since 1967. Click here to read more >>
---
Engraved columns depict legends and unique elements of each station area. Click here to read more >>
---
Back to the Beginning: We sorted through more than a decade of cost overruns, audits and reports to explain how the price soared and why completion fell behind schedule. Click here to read more >>
---
We looked through the project's publicly available documents to identify the biggest contracts and how much they cost. Click here to read more >>
---
Go Back: It's common for rail projects to have cost overruns, but few are as large as Honolulu's. Click here to read more >>
---
Interested in how the writer put this story together? Read "Inside My Reporting on Honolulu's Rail Project" to learn about her process.