The Three Largest Rail Contracts
We looked through the project's publicly available documents to identify the biggest contracts and how much they cost.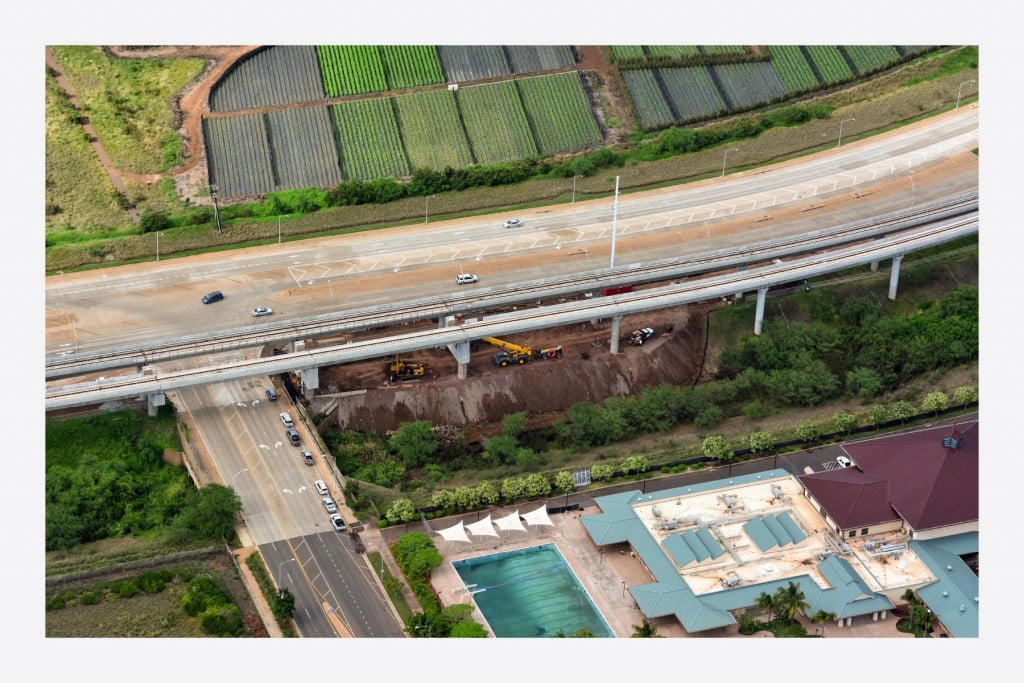 The following table shows the three largest contracts that have been awarded for Honolulu's rail project, plus the amount of approved change orders and contract values as of July 31, 2021.
Companies Making the Most Money
Hitachi Rail Honolulu JV: $1.610 billion for one contract for the design, construction, operation and maintenance of core systems.
Shimmick/Traylor/Granite JV: $886.31 million for one contract for design and construction of airport guideway and stations.
Kiewit Pacific Co./ Kiewit Kobayashi JV/ Kiewit Infrastructure West: $1.353 billion for three contracts (West O'ahu/Farrington Hwy. Guideway, maintenance and storage facility, Kamehameha Hwy. Guideway).
Nan Inc.: $356.69 million for five contracts (West O'ahu station group, Kamehameha Hwy. station group, airport section utilities construction, relocation of utilities in the City Center segment, UHWO Temp Park and Ride and Campus Road B).
We looked at HART's publicly available documents to identify this information but found discrepancies.
HART maintains a list of contracts by contract packaging plan number in its monthly progress reports. These lists contain the contract packaging plan (CPP) title, the original contract value, change orders, the current contract value, the amount incurred, the award date and completion dates. They do not list the companies that received the contracts.
To find the contractors, we looked at the contract agreements in HART's "Contracts" Docushare folder and matched the values and names with the information on the CPP list from HART's July 2021 monthly progress report. The "Contracts" folder does not use CPP numbers and does not list all the agreements for the CPP contracts. Out of 84 contracts included in HART's July CPP list, we could only identify contractors for half of them. In addition, some newer contracts are missing from the Docushare folder; only 75 contracts were available.
The monthly CPP lists also do not include the operations and maintenance portion of the Hitachi Core Systems Contract – about $823 million out of $1.61 billion. Operations and maintenance will be the responsibility of the city Department of Transportation Services, but this cost is included in earlier pages of HART's July monthly report that discuss the Hitachi contract.
Joey Manahan, who became HART's director of government relations and public involvement at the beginning of this year, did not know why the two information sources differed. Colleen Hanabusa, who joined the board for a second time this spring and became chair at the end of July, also did not know why the discrepancies existed and says she has asked the rail authority similar questions.
Change Orders Raise Costs
More than $1 billion has been added to the cost of rail by change orders, which are alterations to construction contracts that increase the cost of the contract after the contract is signed. Here are key numbers on change orders as of July 31, 2021:
$4.433 billion
Original value of the contracts
$1.008 billion
Change orders
$5.441 billion
Current contract value
Examples of change orders:
Some of the approved change orders to Kiewit's contract to build the 7-mile West O'ahu/Farrington Hwy Guideway include:
$15 million for delays to the start of construction after federal approval of the project's environmental impact statement and federal authorization to begin final design work were received later than expected
$930,000 for the relocation of trees
$7.2 million for design impacts related to delays
Documentation is required at every part of the change order process to justify the request for changes. Nathaniel Meddings, HART's director for project controls, describes the process as "vigorous" and says it is reviewed by both the Federal Transit Administration and the project management company hired by the FTA.
HART's construction engineering and inspection staff manage the project's contractors and are HART's first line of defense against changes in the field. They report weekly change management logs to HART's project controls team. Those logs are reconciled with the project managers, the construction engineering and inspection staff and HART's project controls team monthly.
A change is listed as a potential change order once it shows up on a change management log. HART's project controls team will then list that change's potential impact to the project's allocated contingency in its monthly progress reports.
"We're conservative, meaning we take the most appropriately highest number that we can, and we report that as a potential impact to contingency," he says, adding that the amount of total potential changes for the project may fluctuate from month to month until they are categorized as "executed."
HART's Change Control Committee reviews and approves whether changes have merit. The next step is supporting documentation for how the change will be negotiated with the contractor. That document then gets routed for internal signature and approval.
A negotiation summary memo is also created. This document states when the negotiation took place, who was present and what value was agreed to for the change.
"Part of the criticism in the past is how long it takes because of this vigorous process of vetting change orders, but it spends a lot of time and oversight both at the field and then the HART management level," Meddings says.
$488 million
Cost increase due to changes
(FY 2008-2016)
A 2019 city audit found that the city and HART awarded 96 contracts during fiscal years 2008 to 2016. A total of 641 change orders and amendments were made to 69 of those contracts; the changes increased project costs by at least $488 million.
---
Read More
The next section of this story looks at whether Honolulu is the only rail project to have such a large cost overrun. Later, we take you through two timelines we compiled of the project's major milestones and tell you about some of the designs behind the engraved rail columns.
Up Next: It's common for rail projects to have cost overruns, but few are as large as Honolulu's. Click here to read more >>
---
We tracked some of the project's major milestones, including cost increases, funding deficits, lawsuits and voter input. Click here to read more >>
---
Honolulu has talked about building a rail system since 1967. Click here to read more >>
---
Engraved columns depict legends and unique elements of each station area. Click here to read more >>
---
Back to the Beginning: We sorted through more than a decade of cost overruns, audits and reports to explain how the price soared and why completion fell behind schedule. Click here to read more >>
---
Interested in how the writer put this story together? Read "Inside My Reporting on Honolulu's Rail Project" to learn about her process.