DeForest Buckner Tops Our List of Hawai'i's Best-Paid Athletes in 2023
Here's what 41 football, baseball and golf pros with local ties are earning, including Kolten Wong, Tua Tagovailoa, Kirby Yates and Isiah Kiner-Falefa.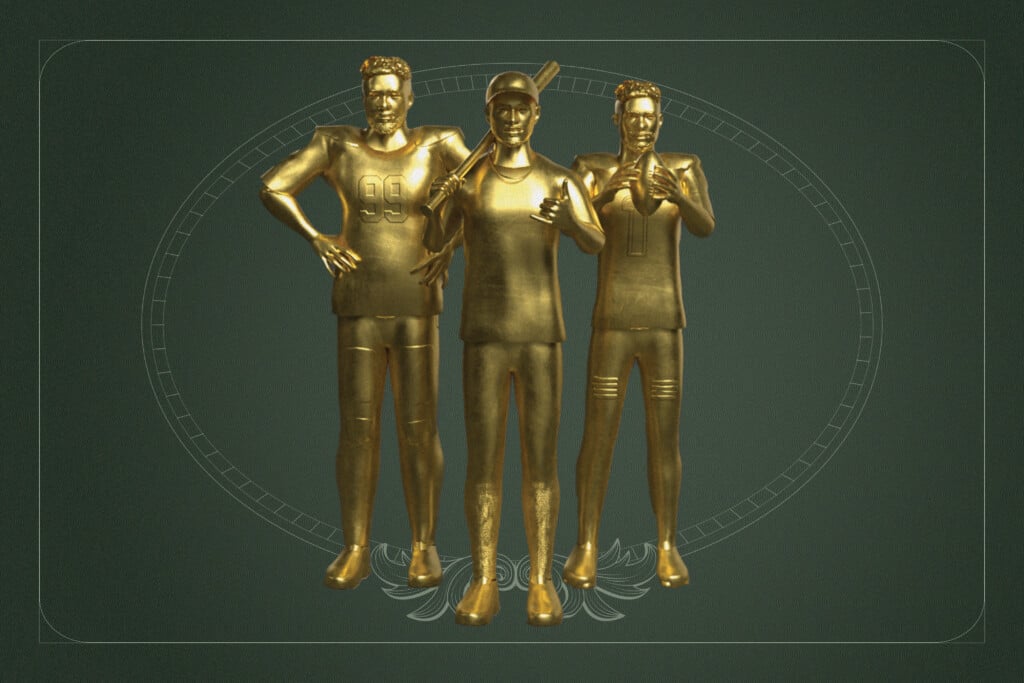 In 1993, the year Marcus Mariota was born, the average annual salary in the National Football League was just under $800,000. In 2019 – Mariota's fifth season in the league – the Honolulu native banked more than $1 million. Per game.
Want another example of how sports salaries have changed? Jay Berwanger, the first recipient of the Heisman Trophy, was also the first pick in the inaugural NFL Draft in 1936. When the Chicago Bears balked at his salary demand – $15,000 per season – Berwanger abandoned his pro football career and took a job at a rubber company.
One thing hasn't changed: While a pro athlete's first contract is primarily based on potential, everything after that is about results. Mariota, for example, made $20.9 million in that 2019 season. In 2023, after being plagued by injuries and inconsistent play, the nine-year veteran is on his fourth NFL team and will "only" make $5 million as a backup quarterback for the Philadelphia Eagles.
Below is our list of athletes with Hawai'i ties and their 2023 salaries. Our primary source is Spotrac.com, a website that tracks the contracts of athletes in the major professional sports leagues.
1. Deforest Buckner
Defensive Tackle, Indianapolis Colts
Wai'anae, Punahou School
2023 Salary: $17.25 million*
Four-year Contract (2021-2024): $84 million
*Includes a $1 million roster bonus and a $2.5 million restructure bonus
2. Kolten Wong
Second Baseman, Seattle Mariners
Hilo, Kamehameha-Hawai'i, UH
2023 Salary: $10 million
Two-year Contract (2022-2023): $18 million
3. Tua Tagovailoa
Quarterback, Miami Dolphins
'Ewa Beach, Saint Louis School
2023 Salary: $9,633,094*
Four-year Contract (2020-2023): $30,275,438
*Includes a $4,894,625 signing bonus and $3,728,469 roster bonus
4. Kirby Yates
Relief Pitcher, Atlanta Braves
Līhu'e, Kaua'i High
2023 Salary: $6 million
Two-year Contract (2022-2023): $8.25 million
5. Isiah Kiner-Falefa
Shortstop, New York Yankees
Honolulu, Mid-Pacific Institute
2023 Salary: $6 million
One-year Contract: $6 million
6. Ka'imi Fairbairn
Placekicker, Houston Texans
Kailua, Punahou School
2023 Salary: $5,657,500*
Four Year Contract (2020-2023): $17.65 million
*Includes a $750,000 signing bonus and $1,257,500 restructure bonus
7. Marcus Mariota
Quarterback, Atlanta Falcons
Honolulu, Saint Louis School
2023 Salary: $5 million*
Two-year Contract (2023): $5 million
*Includes a $3,835,000 signing bonus
8. Jamin Davis
Linebacker, Washington Commanders
Born in Honolulu
2023 Salary: $3,762,048*
Four-year Contract (2021-2024): $13,794,176
*Includes a $1,848,032 signing bonus
9. Isaac Suemalo
Guard, Pittsburgh Steelers
Born in Honolulu
2023 Salary: : $3,616,667*
Three-year Contract (2023-2025):$24 million
*Includes a $2,316,667 signing bonus
10. Rigoberto Sanchez
Punter, Indianapolis Colts
UH
2023 Salary: $2.9 million
Four-year Contract (2020-2023): $11.6 million
11. Josh Rojas
Third Baseman, Arizona Diamondbacks
UH
2023 Salary: $2,575,000
One-year Contract (2023): $2,575,000
12. Nate Herbig
Guard, Pittsburgh Steelers
Līhu'e, Saint Louis School
2023 Salary: $2,540,000*
Two-year Contract (2023-2024): $8 million
*Includes a $1.46-million signing bonus
13. Jahlani Tavai
Linebacker, New England Patriots
UH
2023 Salary: $2,258,333*
Two-year Contract (2022-2023): $4.4 million
*Includes a $283,333 signing bonus, $425,000 roster bonus and $100,000 workout bonus
14. Kamu Grugier-Hill
Linebacker, Carolina Panthers
Honolulu, Kamehameha-Kapālama
2023 Salary: $1,317,500*
One-year Contract (2023): $1,317,500
*Includes a $152,000 signing bonus
15. Marcus Kemp
Wide Receiver, Washington Commanders
UH
2023 Salary: $1,155,000*
One-year Contract (2023): $1,155,000
*Includes a $50,000 signing bonus and $25,000 workout bonus
16. Netane Muti
Guard, Las Vegas Raiders
Leilehua H.S.
2023 Salary: $1,145,000*
One-year Contract (2023): $1,145,000
*Includes a $62,500 signing bonus, $22,500 roster bonus and $50,000 workout bonus
17. Alohi Gilman
Safety, Los Angeles Chargers
Born in Lā'ie
2023 Salary: $1,056,969*
Four-year Contract (20220-2023): $3,483,204
*Includes a $46,969 signing bonus
18. Breiden Fehoko
Defensive Tackle, Pittsburgh Steelers
Honolulu, Farrington H.S.
2023 Salary: $940,000
One-year Contract (2023): $940,000
19. Bradlee Anae
Defensive End, New York Jets
Lā'ie, Kahuku H.S.
2023 Salary: Y: $940,000
One-year Contract (2023): $940,000
20. Nick Herbig
Linebacker, Pittsburgh Steelers
Kalaheo (Kaua'i), Saint Louis School
2023 Salary: $918,230*
Four-year Contract (2023-2026): $4,512,920
*Includes a $168,230 signing bonus
21. Malaesala Aumavae-Laulu
Tackle, Baltimore Ravens
Kea'au H.S.
2023 Salary: $793,298*
Four-year Contract (2023-2026): $4,013,192
*Includes a $43,298 signing bonus
22. Andrei Iosivas
Wide Receiver, Cincinnati Bengals
Honolulu, Punahou School
2023 Salary: $789,846*
Four-year Contract (2023-2026): $3,999,384
*Includes a $39,846 signing bonus
23. Ilm Manning
Tackle, San Francisco 49ers
UH
2023 Salary: : $755,000*
Three-year Contract (2023-2025): $2,710,000
*Includes a $5,000 signing bonus
24. Alama Uluave
Center, Miami Dolphins
Honolulu, Punahou School
2023 Salary: $753,333*
Three-year Contract (2023-2025): $2,507,000 million
*Includes a $3,333 signing bonus
25. Zion Bowens
Wide Receiver, Washington Commanders
UH
2023 Salary: : $750,833*
Three-year Contract (2023-2025): $2,697,500
*Includes an $833 signing bonus
26. Kana'i Mauga
Linebacker, Las Vegas Raiders
Wai'anae, Wai'anae H.S.
2023 Salary: $750,000**
One-year Contract (2023): $750,000
**NFL minimum salary
27. Justus Tavai
Defensive Tackle, New England Patriots
UH
2023 Salary: : $750,000
One-year Contract (2023): $750,000
28. Jordan Murray
Tight End, Houston Texans
UH
2023 Salary: $750,000
One-year Contract (2023): $750,000
29. Rico Garcia
Pitcher, Oakland Athletics
Honolulu, Saint Louis School, Hawai'i Pacific University
2023 Salary: : $720,000
One-year Contract (2023): $720,000
Winter/Spring Football
The United States Football League (USFL) and XFL each provides a proving ground for players who hope to earn roster spots in the NFL. USFL and XFL players with Hawai'i ties include:
XFL
1. Jordan Ta'amu
Quarterback, DC Defenders
Pearl City, Pearl City H.S.
2023 Salary: $74,000
2. Cole Mcdonald
Quarterback, Houston Roughnecks
UH
2023 Salary: $66,000
3. Rojesterman Farris
Cornerback, Seattle Sea Dragons
UH
2023 Salary: $66,000
4. Sama Paama
Defensive Tackle, Seattle Sea Dragons
Waipahu, Kaimukī H.S.
2023 Salary: $66,000
5. Kohl Levao
Guard, San Antonio Brahmas
UH
2023 Salary: $37,000
6. Cedric Byrd
Wide Receiver, Houston Roughnecks
UH
2023 Salary: $27,000
7. Calvin Turner
Running back, San Antonio Brahmas
UH
2023 Salary: $4,000
8. Cortez Davis
Cornerback, DC Defenders
UH
2023 Salary: $3,200
USFL
1. Gene Pryor
Tackle, Michigan Panthers
UH
2023 Salary: $53,500
2. Hercules Mata'afa
Defensive End, New Jersey Generals
Lahaina, Lahainaluna H.S.
2023 Salary: $53,500
PGA
1. Brent Grant
Pro Golfer, PGA Tour
Moanalua H.S., BYU-Hawaii
Earnings so far in 2023: $361,396
LPGA
1. Allisen Corpuz
Pro Golfer, LPGA Tour
Honolulu, Punahou School
Earnings so far in 2023: $355,778