Hawaii Business BOSS Survey – June 2012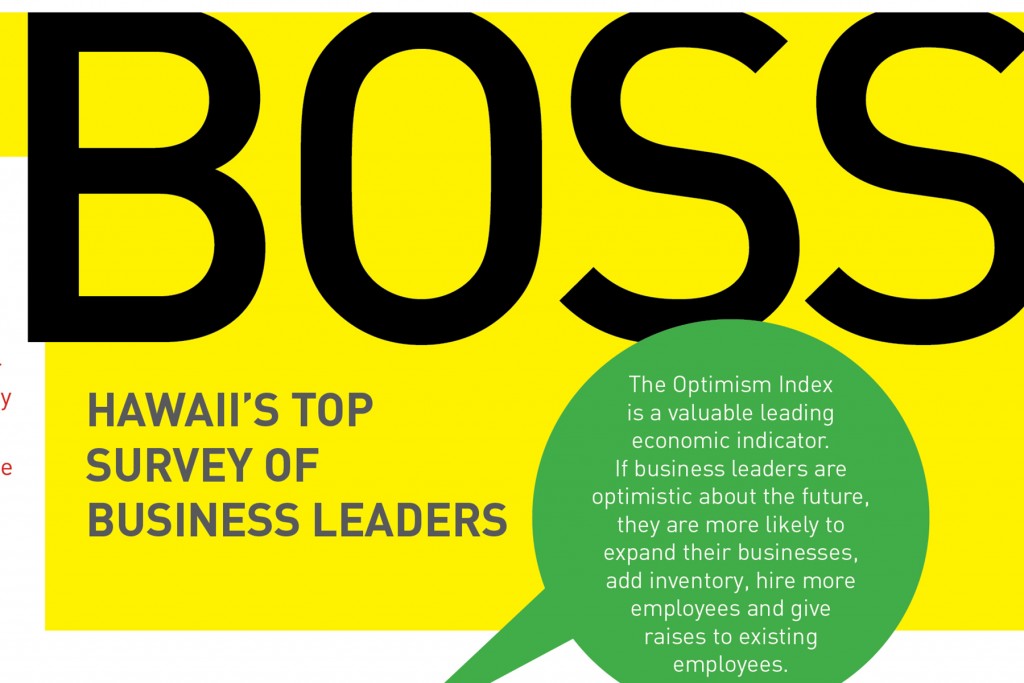 Highlights:
Revenues and profits at Hawaii businesses up strongly.
Optimism remains high for the overall Hawaii economy in the coming year.
Retail sector's performance stronger than overall Hawaii businesses on all measures: revenue, profit, jobs and future spending plans.
The Optimism Index is a valuable leading economic indicator.
If business leaders are optimistic about the future, they are more likely to expand their businesses, add inventory, hire more employees and give
raises to existing
employees.
The OPTIMISM INDEX
The Optimism Index is based on the business leaders' outlook for the next year: Will the overall Hawaii economy improve, remain the same or get worse? The latest survey is the fifth consecutive survey showing strong optimism.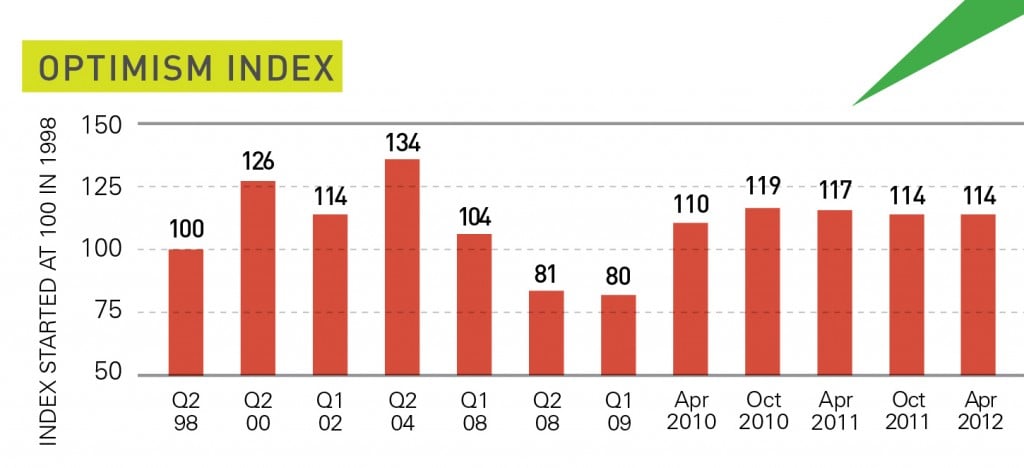 PERFORMANCE INDEX
The Performance Index has fluctuated since it began to rebound in October 2010, but is at its highest level since the first quarter of 2008. The index is based on three factors: changes in gross revenue, profit and employment at the surveyed companies over the past year.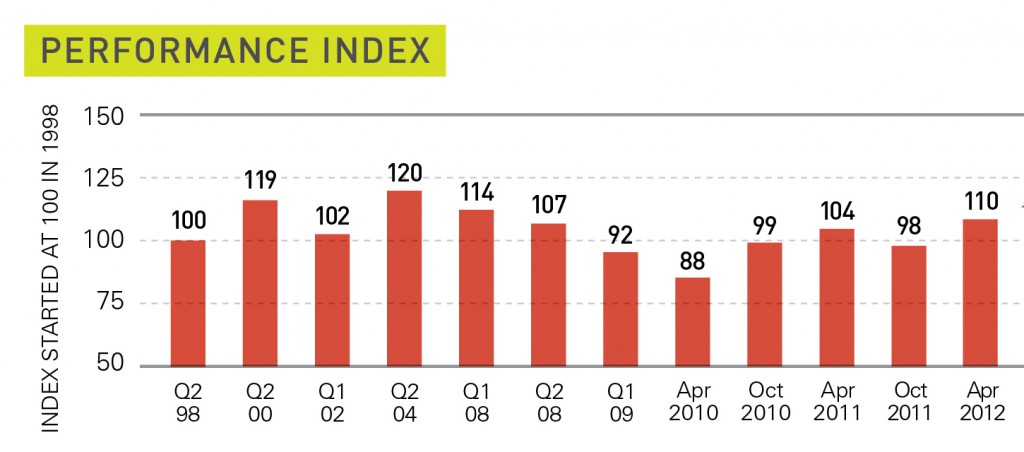 About the Survey
BOSS stands for Hawaii's Business Outlook and Sentiment Survey. This edition of the twice-a-year survey was based on 400 random interviews of business executives and owners conducted by Qmark Research from April 11 to April 23, 2012. The sample of companies was stratified based on number of employees: Businesses with 3 to 9 employees were designated "very small;" 10 to 49 employees "small"; 50 to 99 employees "medium"; and 100 or more employees "large." A targeted sample of 100 businesses in each size was the goal. For the retail section of the survey, interviews were completed with 101 leaders who described their companies as retail. Executives on all the major islands were interviewed. A sample of this size (n=400) has a margin of error of +/- 4.90 percentage points, with a 95 percent level of confidence.
BOSS Answers to Key Questions
5 Fascinating Facts
1. In the coming year, do you plan to increase capital spending and other spending overall, or cut costs?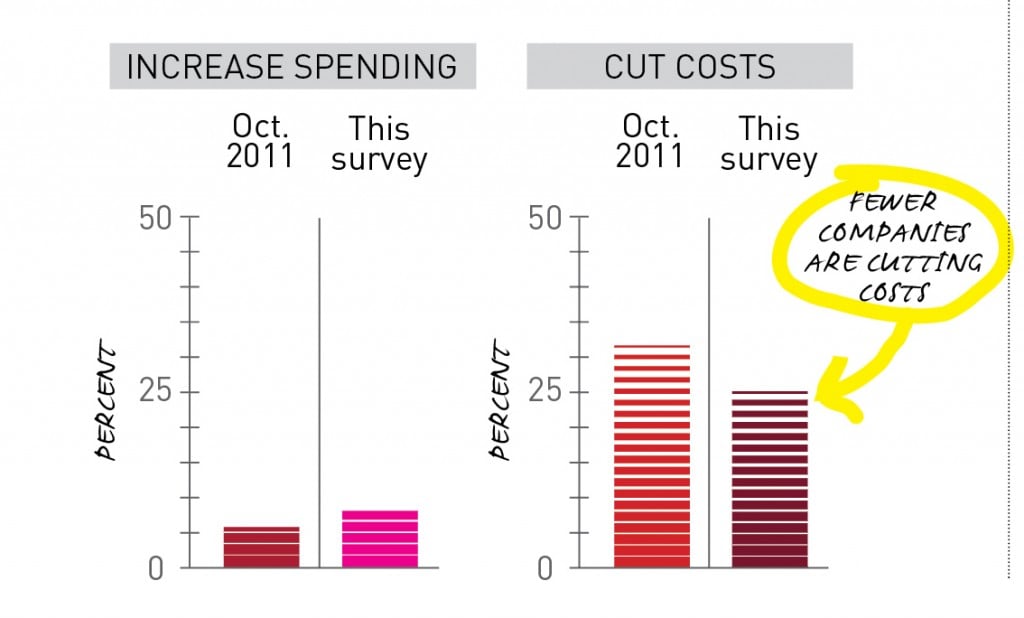 2. Companies indicate the bleeding has slowed down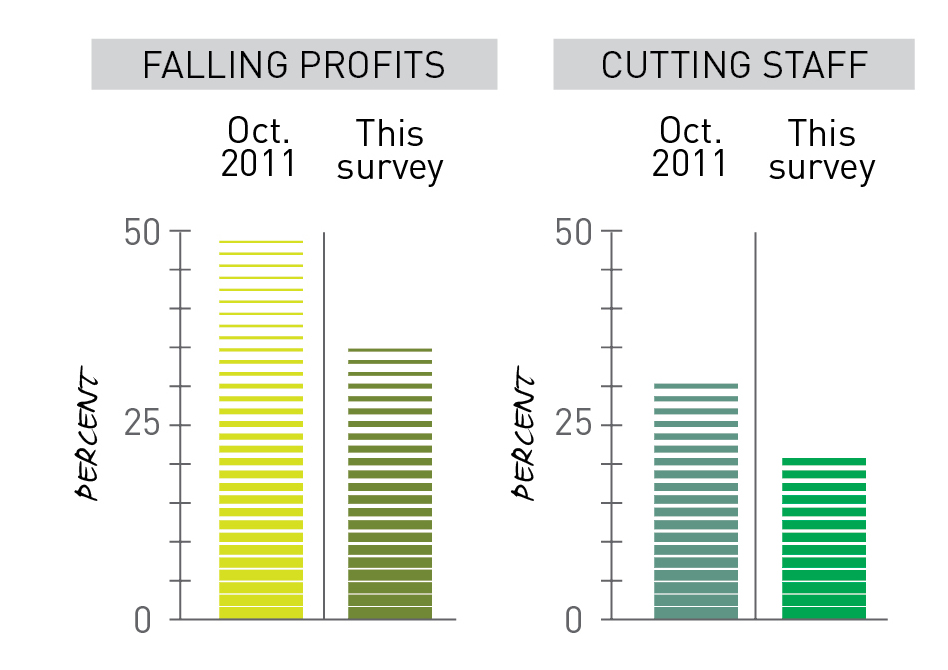 3. Has your revenue, profit or staffing increased in the past year?
44 percent of companies reported revenues are up, but only
33 percent said profits are up and even fewer –
16 percent – said they had added staff.
4. Which of these are serious threats to the Hawaii economy?

5. Which of these green initiatives are you taking?
83% More recycling
63% Issuing electronic reports (not paper)
54% Purchase of energy saving equipment/machinery
45% More biodegradables
30% Alternative energy
Trends and Concerns
Strong Gains in Revenue and Profit; Weaker Gains in Employment
The BOSS survey asks each business leader about his or her company's performance over the past year on gross revenue, profit and employment. The answers are compiled into an index for each measure. The charts below show that strong gains in revenue and profit were not matched by equally strong gains in hiring/retention. That indicates that, overall, business leaders are reluctant to hire new people, despite better revenue and profit for their companies.

Recruiting and Retaining Staff
Here are six ways to recruit and retain high-quality employees. Which methods are crucial to your company's strategy?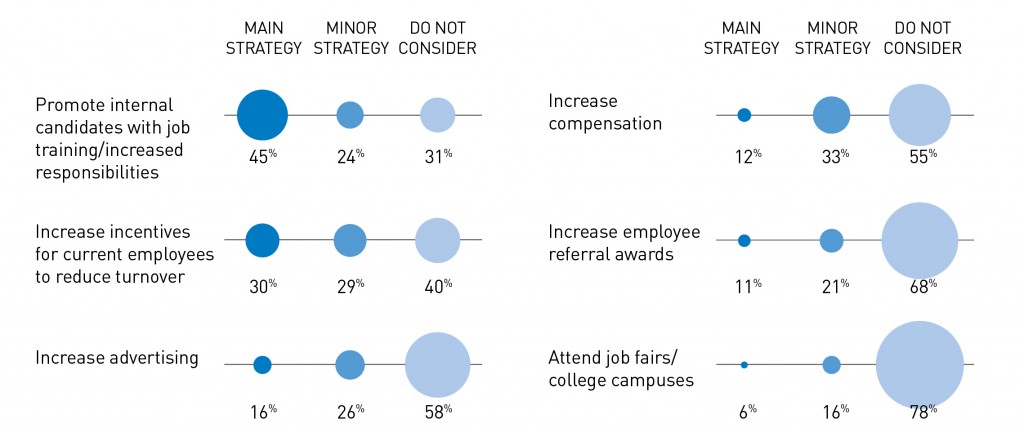 [ SECTOR ANALYSIS ]
Hawaii's Retail Businesses: Better Performance, But Less Optimism
The overall BOSS survey is based on interviews with the owners or key leaders of 400 Hawaii businesses. This part of the survey is based on interviews with 101 leaders in Hawaii's retail sector.

2011 Holiday Spending
Each retailer was asked to evaluate the latest holiday spending season (for instance, this 2012 survey was based on the 2011 Christmas shopping season).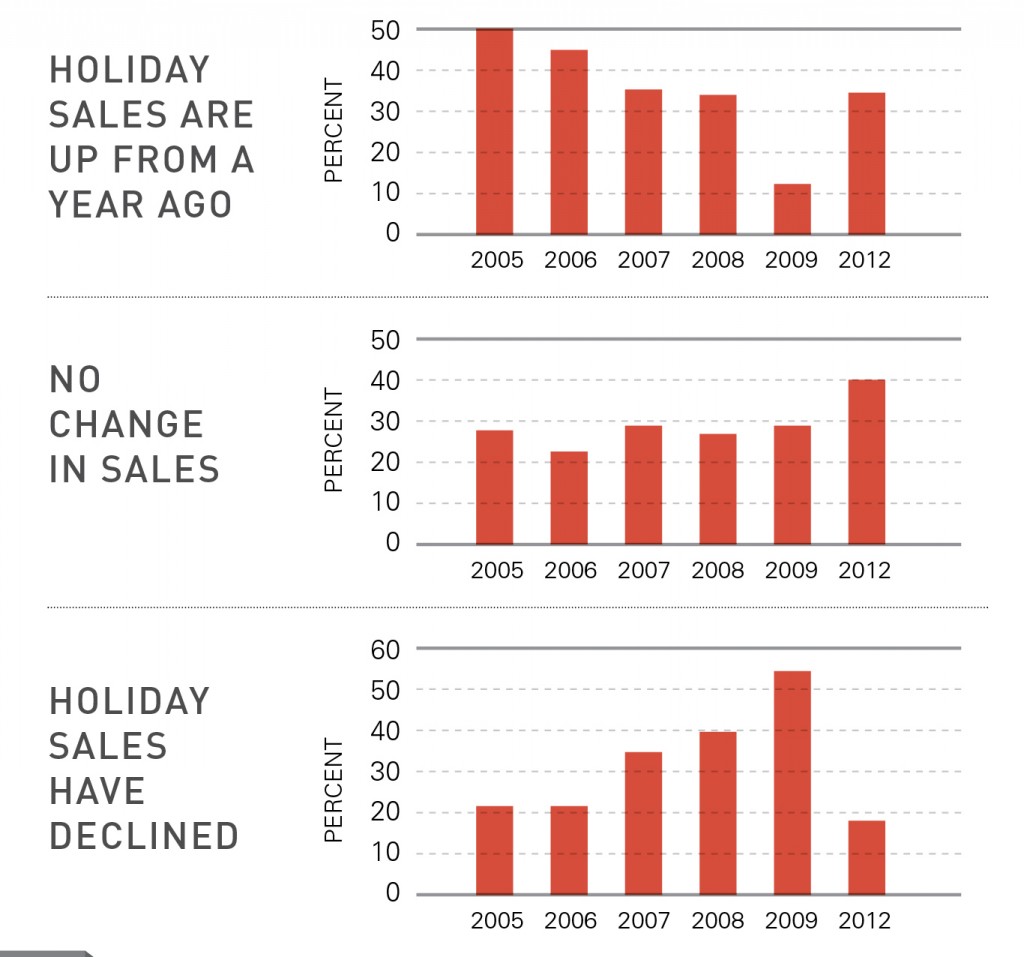 2011 Holiday Gift Card and Gift Certificate Spending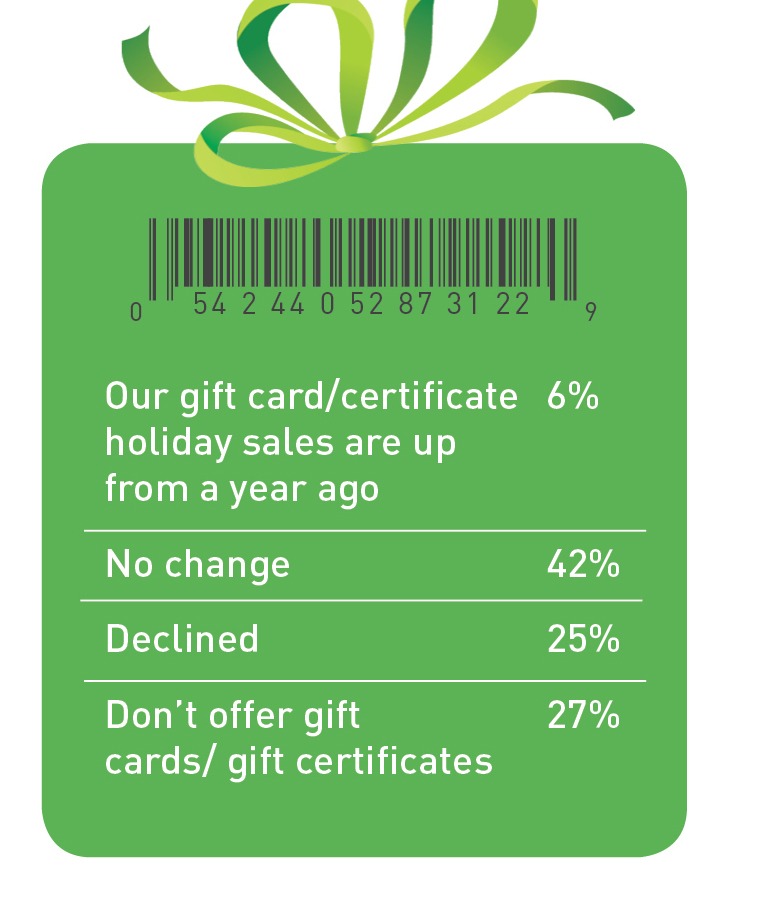 Each retailer was asked to compare the 2011 holiday spending season with 2010 in terms of gift card/gift certificate sales. The findings indicate these sales have declined.
Marketing Strategies
Retailers were presented with 11 different sales strategies and asked if any have been employed by their company. Here are how many answered yes to each question: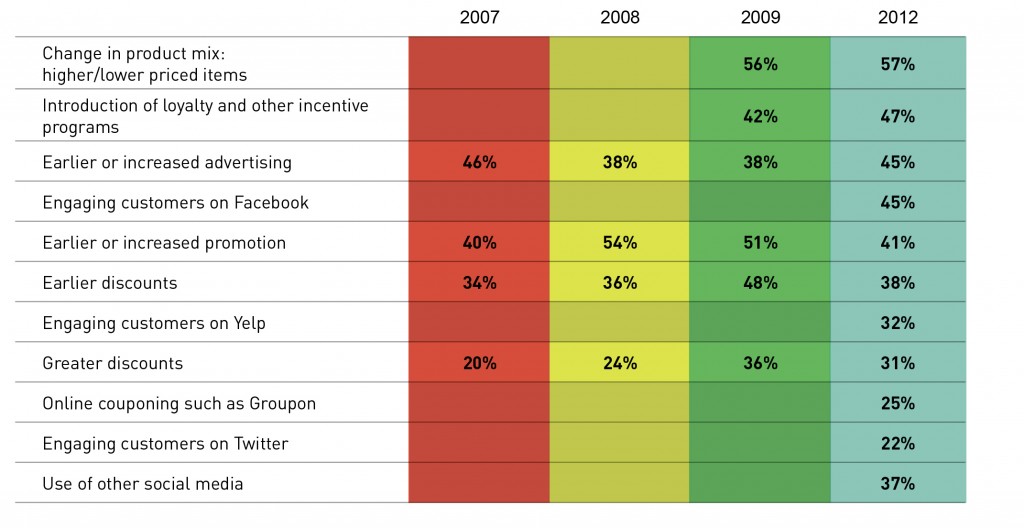 Future of Retail
How optimistic are you about Hawaii's retail industry over the next year.
Which of There Issues are Hurting Your Business?