Older High-Rises on O'ahu Pressured to Install Fire Sprinklers – But They Have 15 Years to Do It
After the deadly Marco Polo fire of 2017, older Honolulu high rises were required to install sprinkler systems or pass a safety evaluation, but compliance is slow going. Now state legislation asks them to add the costly systems to their reserve studies.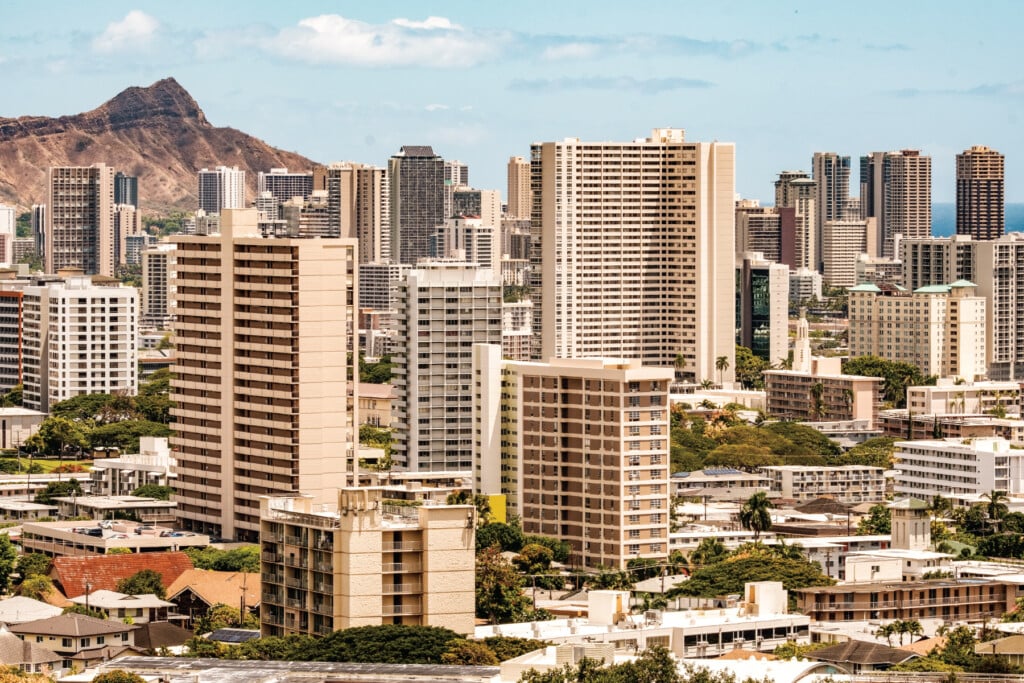 It's been six yers since a fire tore through the 36-story Marco Polo condominium on Kapi'olani Boulevard in Honolulu, killing four people. That tragedy prompted a new local ordinance requiring existing high-rise residential buildings to beef up their life-safety systems, which includes installing fire sprinklers.
Automatic fire sprinkler systems detect heat and put out fires before they spread. Since the July 2017 fire, the 36-story Marco Polo has been retrofitted with an automatic fire sprinkler system at a cost of more than $6 million.
Despite the new law, a rush to install fire sprinkler systems is unlikely. One reason: The law gives building owners and condominium associations another seven years to come up with an acceptable life-safety evaluation and nearly 15 years to complete the installation.
The updated City and County of Honolulu Fire Code, ordinance 22-02, requires buildings built before 1975 – when fire sprinklers were first required to be installed in new high-rise buildings – to undergo life-safety evaluations by third-party licensed design professionals. The ordinance called for those evaluations to be completed by Aug. 31, 2022.
In a report to the City Council last fall, Honolulu Fire Chief Sheldon Hao said results of those evaluations had been submitted for 302 buildings; only 21 of those buildings received acceptable scores.
Those 281 buildings with unacceptable scores have until May 3, 2030, to bring their properties up to standard or declare that they intend to install fire sprinkler systems; installation of those systems would have to be completed by May 3, 2038, says Fire Capt. Kendall Ching of the Honolulu Fire Department's Fire Prevention Bureau.
"They have a choice of whether they want to get an acceptable level of safety or sprinkler their building and that's obviously the (building owners') decision," Ching says.
Ching says fire sprinklers are the gold standard for building safety because they snuff out fires before they can kill or cause extensive damage.
"These fire sprinklers are designed … to go off when the fire is small, so it puts out the fire," he says. "Sprinklers are very important. That's why in the new building code, in all high-rises, sprinklers are required since 1975."
Sprinkler Installations are Costly
Installing sprinklers is expensive and many condo associations at aging buildings are already dealing with other urgent issues, such as replacing aging, leaking cast-iron pipes and concrete spalling.
The Legislature sought to address that challenge with a bill this year that requires condo associations to add sprinklers to their reserve studies – annual documents that analyze current cost estimates for repairing and replacing building components, from the roof to elevators to balconies. The reserve study not only estimates the costs but also how the association will pay for them. Most condos maintain a reserve fund to cover major expenses, funded by a portion of owners' monthly maintenance fee payments.
Unless those maintenance fees are raised dramatically, saving for a multimillion-dollar sprinkler project could take a lot more than 15 years. So lawmakers added a provision to Senate Bill 855 that allows associations to forecast using a loan or a special assessment to pay for "life safety components or installation." Gov. Josh Green signed the bill into law.
Installing sprinkler systems is complicated work and costs can vary widely for each building.
"I don't think people really fully understand what goes into retrofitting these buildings for the sprinklers," says Tom Roselli, GM and VP of HCA Consulting Group International, an engineering and construction consulting firm. Roselli previously worked with insurance companies and was a claims adjuster on the Marco Polo fire.
A number of professions are involved when retrofitting high-rise buildings with fire sprinklers, including architects and engineers who have to figure out where to put all the new pipes that will carry the water to the sprinkler heads in common areas and apartments.
"From the get-go, when you're talking about a retrofit, you're calling on a fire engineer to design the system," Roselli says. "You need a civil engineer to figure out how it's going to tie into the Board of Water Supply and whether or not there's enough water pressure to support the building."
There's also the logistics of where the pipes and the sprinkler heads will go, and whether to install a dropped ceiling to cover the pipes, build soffits, or use decorative molding or boxes. And environmental consultants need to assess potential exposure or removal of hazardous materials, such as asbestos, during construction. Then there are the pipefitters, electricians and other trades involved in the installation.
Marco Polo Retrofit Finished in 2021
The Dorvin D. Leis Co. Fire Sprinkler Division, which has its own licensed engineers on staff, took on a lot of the work for the Marco Polo sprinkler installation, including acting as the general contractor, says Jordan Holley, the division manager.
Holley says the Marco Polo installation, which included a new fire alarm system, began in April 2019 and was completed in October 2021. The project took longer than planned because of the Covid-19 pandemic, which put everything on hold for several months since residents couldn't vacate their units during the day for the work to get done.
The company is in the permitting phase for another high-rise retrofit; other projects are in the design phase but haven't gone out to bid yet.
Although deadlines to comply with the new fire code are years away, that doesn't mean building owners and associations should wait, especially since they're now required to plan for fire sprinkler retrofits under SB 855.
HFD's Ching recommends people check out the resources on the HFD website, which includes links to the fire code and facts about fire sprinklers, as well as the list of high-rise buildings that still need to be in compliance with the law.
"The sooner that you're in compliance, the lower your risk and hazards," says Ching. "The faster you rectify deficiencies, the better."